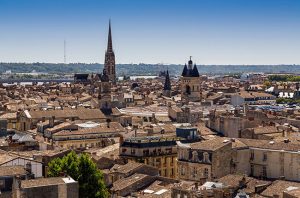 Anson: Inside Bordeaux's craft whisky distillery
Bordeaux has joined the craft whisky trend, reports Jane Anson after meeting the founders of a new distillery and talking a tour of the premises.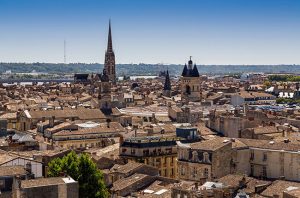 Eighteen months.
That's how long it took to hew 20 six-tonne blocks of concrete out of the side of the bunker, simply to make one door that is something like two metres wide by three metres high and to prepare the space inside that had seen zero activity for 70 years.
If you were ever wondering, the difficulty of that task pretty much sums up the reason why the Nazi submarine pens are still standing in the Bassins à Flots sector of downtown Bordeaux.
Every study commissioned by the local government in how to take them down has resulted in the opinion that it is simply unfeasible to do so.
They comprise 42,000 square metres of reinforced concrete, measuring 245 metres long, 12 metres wide, 19 metres high, with a roof that is almost 10 metres thick. All built by over 6,000 Spanish and Portuguese prisoners of war.
I am standing in front of one of the bunkers that lies just a few hundred metres behind the main sub-pen, built by the Kriegsmarine during the Occupation to store the fuel needed to power the submarines. The walls here are a mere six metres thick, but they still proved an almost impossible challenge for the team that has converted this former fuel store – built with a capacity for four million litres of diesel – into a barrel-ageing space for Bordeaux's newest drinks company, Moon Harbour whisky distillery.
It also explains why the distillery is split into two main parts – the newly-built space of 600m2, where they have 200m2 given over to a tasting area and boutique, and 400m2 to the production. This part took 11 months to build, has floor to ceiling glass for the entrance and shop, and several different rooms at the back for the toasting, washing, fermenting and distilling. Separate to this is the barrel ageing facility in the World War II bunker, the first time the space has been used since 1946. A restaurant and bar is planned on the roof that once held anti-aircraft guns.
Founded by whisky enthusiasts and old friends Jean-Philippe Ballanger and Yves Medina, Moon Harbour could be seen as something of a risk, even with a €600,000 grant from the city to get it going. Bordeaux, for a start, has never made whisky. It is surrounded by regions with far more experience and reputation in making grape-based alcohols, in the form on Armagnac and Cognac, but it isn't even known for making them, let alone grain-based whisky.
They are starting with some advantages; not least that France is the country with the highest annual whisky consumption per capita worldwide (2.15 litres per head at last count). There is also an esteemed local company, Stupfler, that has been making stills and alembics in Bordeaux since 1925. Then ther's the benefit of the local oceanic climate, which their consultant and master distiller/blender John McDougall tells me 'is pretty perfect for the ageing process of whisky'.
And to add to all that, they have the benefit of the name of Bordeaux, which they are sensibly capitalising on by forming partnerships with the local wine industry. The Lurton family has provided barrels from Château La Louvière for ageing the whisky, as has Richard Mestreguilhem from Chateau Pipeau in Saint Emilion. Other barrels come from 'high-profile' Sauternes estates that (for now at least) have asked to remain nameless. Local merchants are also helping, most notably Philippe Castéja through his recently-acquired Mahler Besse négociant, that is helping with distribution.
'We knew that links with the local industry were essential', Medina tells a group of us on the tour – I'm with a dozen office workers from a local finance firm, who are here on a day out. 'Not only did we know we had to find a location in the city itself, we knew that the great advantage Bordeaux has is the access it offers to wine barrels from its main industry.
'Whisky depends on great quality barrels for smooth tannins, and giving colour, structure and flavour to the distillate. We are lucky here to have the best barrels in the world that have been ageing incredible wines before we get them. The flavours imparted by them are unequalled.'
I tend to think of purity of water as essential for whisky (Moon Harbour uses distilled, filtered water from the local Bordeaux reservoir) but when I caught up with McDougall afterwards – a legend in the whisky industry who has worked in every distilling region of Scotland over his 57 years in the business – he told me that casks contribute between 65-80% of the character of the product, especially a single malt or single grain.
'There's no doubt this gives them an opportunity to stand out,' is how he puts it, before adding,'if you produce poor spirit, no matter how good the casks are you are going to get poor whisky. If you produce the best spirit and put it into the best casks, then you have a 99% chance of success.'
To further give a sense of place, they have planted barley on the Ile de Patiras in the Garonne river (there are vineyards here also) as well as in the local village of St Jean d'Illac. For launch, the base distillate is coming in from Scotland and being aged here (McDougall did the same thing with the now hugely successful Box distillery up in Sweden for its first few years) but the grain will soon be entirely locally-sourced.
The whiskyies I tasted so far – Pier One blended and aged in Sauternes casks, plus Pier Two blended malt in the red wine casks – are extremely young and need further softening. The whole thing just opened in September 2017, and their own homegrown single malts will not be available for another two and a half years, in September 2020.
'For now,' McDougall says, 'the whisky is just giving an indication of the potential. It's an ambitious project in a location that has its own extremely distinct history by pretty much any measure'.
The post Anson: Inside Bordeaux's craft whisky distillery appeared first on Decanter.