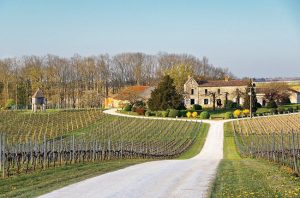 Anson: Tasting Château Corbin
Jane Anson tastes a vertical of the Bordeaux Right Bank's Château Corbin – a St-Emilion estate which won't be producing a 2017 vintage because of the frost…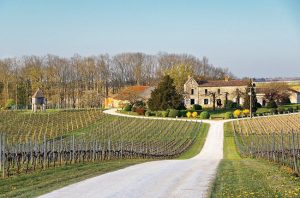 Anson: Tasting Château Corbin
There is, as you probably know, going to be no Château Corbin in 2017, after the frost that so badly affected the vines in this corner of St-Emilion – although there will be a small amount of the second wine Divin de Corbin.
It's a tough decision for any winemaker to sit out an entire vintage, so it seemed like a good time to head over to the château for a vertical of older vintages and to see which years are ready to drink right now, and which need to stay in the cellar for a little longer.
---
Scroll down to see Jane Anson's Château Corbin tasting notes, exclusive to Decanter Premium members
---
The last decade has been particularly interesting to follow over at Corbin, as Annabelle Cruse-Bardinet and her husband Sebastien Bardinet bought out the rest of the Corbin family in 2006, so taking decision-making from a family board to just the two of them.
Annabelle puts it as 'taking our own risks and seeing our own rewards', although really she is the one in control – the fourth generation Cruse woman at the helm –as Sebastien has another job running a brokerage firm.
Since then she has changed her consultant (still the Rolland team but now Jean-Philippe Faure) and replanted around 35% of the vineyard (the young vines mainly go into the second wine, but the final decision is only taken after fermentation, rather than in the vineyard).
As of the 2016 vintage, she also unveiled a new cellar that uses entirely neutral cement tanks, with 18 small sizes from 50 to 80 hecolitres; previously there were 10 tanks, also in cement.
Cruse-Bardinet is one of my absolute favourite people to taste with, as she is such a thoughtful winemaker and totally open to discussing where each vintage went wrong and right. You find this in Napa also, and it's always fascinating and educational.
Her readiness to question and refine is evident at every stage, in details large and small. She is, for example, the only Grand Cru Classé St-Emilion that I know of to put her second wine in AOC St-Emilion not AOC St-Emilion Grand Cru.
The change happened as of 2005 (its first vintage was 2000) because she felt that she wanted to focus on the fruit, and the ageing. A small thing to consumers, almost certainly, but the minimum allowed in oak for St-Emilion Grand Cru is 12 months and for a straight St-Emilion is closer to six, and they are able to go on sale the April following harvest.
'Perhaps I was wrong, it is not so prestigious an appellation of course,' she says, 'but I was very sure that a generous fruit structure was the key to my second wine'.
---
'It's a wine worth keeping your eye on.'
---
Nothing is set in stone at Corbin – the second wine production might vary between 15% and 30% of the overall crop, depending on the vintage, and ageing for the both wines will vary between 14 and 18 months, again depending on what the vintage requires.
And you can be constantly surprised by the wine – a reminder that it is so different from much of St-Emilion, with a clay subsoil replacing the limestone, and sandy-gravel in parts of the vineyard that remind you of just how close Pomerol is.
This translated, for me, into a few surprises – how enjoyable the 2007 and 2011 are for drinking right now for one thing. It's a wine worth keeping your eye on, and trusting to do well in the difficult years.
'You second-guess yourself at first,' she says when asked about her winemaking style since 2006, 'but gain in confidence as you go along. Today I feel more able to act on what my instinct is telling me both in the vineyard and cellar'.
---
Château Corbin fact file
Château Corbin is 13ha, located in northwest St-Emilion on the Corbin plateau, close to the Pomerol border and planted to 80% Merlot and 20% Cabernet Franc.
The terroir is split into two different soil types (in two contingent blocks around the chateau), with sand-gravels over clay subsoil, and deep clays.
Vines are an average of 30 years old, planted between 6,700 and 8,300 feet per hectare. Since 2017 the estate is certified as Haute Valeur Environmentale and ISO 14001. It has been in the Corbin family since 1924 and has been recognised as Grand Cru Classé since the inaugural ranking of 1954.
The entire vineyard had drainage channels added in 2000, but has an excellent natural drainage from a north to south slope that has a 15% gradient.
---
The post Anson: Tasting Château Corbin appeared first on Decanter.