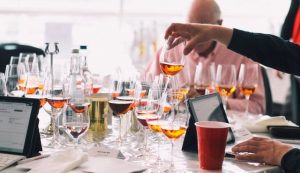 Decanter World Wine Awards 2018 judging week begins
More than 270 of the world's top wine experts have gathered in London to begin judging the 2018 Decanter World Wine Awards, the world's largest wine competition.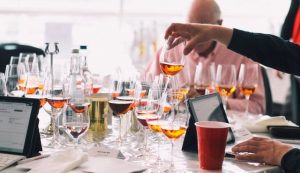 Nearly 17,000 wines will be judged at the Decanter World Wine Awards 2018 (DWWA 2018) judging week by 275 international experts, including 59 Masters of Wine and 25 Master Sommeliers from 33 countries.
---
---
This year's competition will see Andrew Jefford, columnist for both Decanter.com and Decanter magazine, joining the chairmanship currently shared between Sarah Jane Evans MW and Michael Hill Smith MW.
The three will take on their roles as Chairs of the competition to oversee and lead all Regional Chairs and judges to blind taste wine entries received this week, whilst co-founder Steven Spurrier will remain as chairman emeritus.
Joining the panel of Regional Chairs will be:
Jane Anson – Bordeaux Regional Chair
Karen MacNeil – USA & Central America Regional Chair
Rod Smith MW – Provence Regional Chair
Alessandro Torcoli – Northern Italy Regional Chair (excluding Piedmont & Veneto)
Other new judges this year include:
Kelli White from GuildSomm, USA
Sandia Chang from Bubbledogs & Kitchen Table, London
Julie Dupouy, one of the world's top female sommeliers, from Ireland
Jeremy Cukierman MW, from France
Sebastian Crowther MS from Australia
Ruben Desport, from Alain Ducasse London
Giovanni Ferlito, from the Ritz London.
---
---
Over the next two weeks, the DWWA judging will take place in Excel CentrEd, where judges will work in small teams according to their regional or stylistic speciality to blind taste this year's entries.
This year, the DWWA has received wines from 61 countries, including Azerbaijan, Kazakhstan and Poland on top of the most common wine producing countries. There has been an increase in entries from emerging markets, such as The Balkans, the Caucasus & Eurasia regions, Czech Republic, Moldova, Japan, and Brazil.
Christelle Guibert, Decanter's international tastings director, said, 'When we launched the DWWA back in 2004 with 4,500 wines, the central purpose of the competition was to reward quality.
'Furthermore, we hoped to offer an opportunity to those smaller producers who don't have marketing budgets to be easily recognised internationally, to put new countries on the wine map, and of course to provide authoritative recommendations to consumers.
'Fifteen years later, we are proud that the DWWA has established itself as one of the most trusted wine competitions. We couldn't have done it without the support of our excellent panel of tasters, many of which have been with us since the start.'
The competition will also introduce a new system this year to award the top medallists – Platinum and Best in Show.
Gold medal-winning wines will be re-categorised by grape or style and re-tasted by a panel consisting of Regional Chairs and Co-Chairs.
The wines will be judged according to their origin and the judges will be aware of countries, regions, sub-regions, grapes, vintage and price bands.
'Platinum' medals will be given to the top wines, and wines with a price band below £15 will be awarded the 'Best Value Platinum' medals.
The Best in Show category is the ultimate accolade at the DWWA and, for this, Platinum winners will be judged in a separate tasting by the three Co-Chairs and selected from the Platinum winners.
---
---
DWWA 2018 co-chair Sarah-Jane Evans MW said, 'As co-chairs, the pleasure for us is working with the judges to recognise and reward the best, to share their excitement, and to find the wines we can confidently recommend to all wine lovers.'
Over the two weeks of judging, Riedel has supplied 49,000 glasses. There will also be 2,796 bottles of Ty Nant water, 912 packets of water biscuits and 120 kg of cheese. There are 131 staff helping to run the event.
---
The post Decanter World Wine Awards 2018 judging week begins appeared first on Decanter.