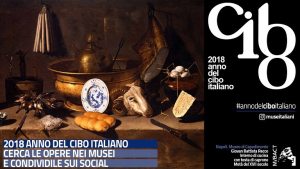 Italy Tourism launches The Year of Food
After the series of events proclaimed by Mibact to enhance Italian tourism activities, such as the Year of the Villages and the Year of the Path, now comes this year's topic: The Year of Food.
2018 opens with the announcement of the White Night of food, scheduled for August 4 in the squares and museums throughout Italy, and the new promotion campaign "Made in Mibact" to attract also international tourists using the image of Bacchus holding a glass of red wine, the banquets of the frescoes of Pompeii, or the still lives of the Uffizi Gallery in Florence. This is a union between culture and food that wants to tell the story of Italy starting from its typical food.
It has been confirmed that 48% of travelers who choose to visit Italy do so because they love its cuisine, explains Francesco Palumbo, Director General for Tourism at Mibact, "Food is, therefore, a key factor in the tourist image of our country, able to give birth to a strong desire that translates into a motivation to travel, and food and wine experience for tourists and visitors, both Italian and foreigners.
"The demand for food and wine tourism has grown and today wants to live authentic experiences. In Europe, there are about 600,000 trips in the name of food and wine and over 20 million of those [are visitors] that include food and wine experiences."
To satisfy the demand of food and wine lovers, the ministry is ready to field a series of events and initiatives such as the presentation of excellent food and wine products in Italian embassies and Italian institutes of culture around the world on the occasion of Italian Cuisine Week. This is being made possible through an agreement with Cassa depositi e prestiti (a bank) to develop reception services (information, teaching, guided tours, agri-museums) for tourists who choose slow tourism itineraries, the creation of a unique calendar of food and wine events that brings together small and large initiatives in all the regions, and a campaign in collaboration with cultural institutes abroad that tells what it means to "live the Italian way."
To oversee the initiative there will be a committee of twelve experts nominated by Franceschini which include entrepreneur Oscar Farinetti, chef Massimo Bottura, and Carlo Pedrini of Slow Food.
The promotion of all activities, including social media channels, will be carried out in collaboration with ENIT. "Through our 25 locations," said Gianni Bastianelli, general director of the institution, "we will promote the different territories, highlighting their products and the typical impact from region to region.
"Food is of interest as much as the monuments to tourists who come to Italy; for this reason we have already planned 52 specific initiatives on food. We will continue in the social campaigns, coordinating with the regions, which have already given excellent results."
"Food is an integral part of the Italian cultural heritage and the image of our country in the world," concluded the Minister of Culture and Tourism, Dario Franceschini, "For this reason, we have decided to launch a series of initiatives able to promote the wealth, excellence, and variety of our food and wine tradition."
Italy, therefore, starts from the dishes, and everyone has their favorite. And his "landlord" at Mibact has no doubts. "My hashtag will be #salamadasugo (a kind of sausage cooked in tomato sauce)."