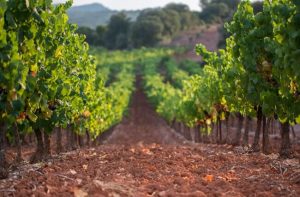 Jefford on Monday: Schist versus Limestone
Andrew Jefford attends a breakthrough terroir tasting…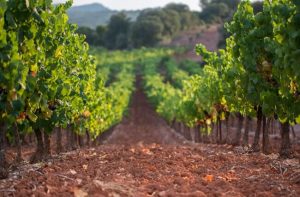 We might, at last, be getting somewhere.
Regular readers may recall my March 2017 column about a tasting organised by the 'Terroirs de Schiste' grouping, attempting to discover if there was a common sensorial thread to wines grown on this soil type. It was challenging, not least because the wines came from a wide variety of climate zones and were based on many different grape varieties. I suggested in that blog that a step forward might be to try to organise a tasting based on St-Chinian wines alone, since that appellation has soils based on both rock types in close proximity. One week ago, Terroirs de Schiste ran just such an event, replicated for the Institute of Masters of Wine in London.
The results were fascinating. We examined young, unfinished, mostly single-varietal red wines from the 2017 vintage. Young wines were chosen to minimise the impact of post-fermentation cellar work, and single-variety samples to lend their own focus to the soil differences.
After a limpid introduction to the zone's geological context from Jean-Claude Bousquet, author of the useful Terroirs viticoles: Paysages et géologie en Languedoc, terroir-specialist and former INAO insider Jacques Fanet provided historical insights. He revealed that INAO had initially wanted to create a single schist AOC from the northern part of St-Chinian together with Faugères and Cabrières, but that the social unity of St-Chinian as a broader community had seen off that challenge.
This underlines the importance of the human element in terroir concepts – and has subsequently proved greatly to St-Chinian's advantage, giving it an enduring point of interest. (Fanet also suggested that the INAO commissioners of the time came overwhelmingly from France's established fine-wine regions, and were determined to classify as little AOC land as possible in Languedoc in order to prevent the threat, as they saw it then, of this 'sleeping giant' stealing their own market share.)
It's important to stress that this tasting comparison wouldn't meet rigorous scientific criteria – we didn't taste blind, and the samples not only came from fruit from a plurality of sites, but were also made in a variety of vessels in different cellars using different primary fermentation techniques. My own feeling, nonetheless, was that this was a stride forward in an area which normally sees little more than shuffling to and fro, accompanied by copious whistling in the dark. Perhaps other areas capable of organising such tastings (notably Alsace and Roussillon) might be tempted to duplicate this one?
The Results
I won't provide specific tasting notes for these unfinished and unblended wines – but it is worth saying that there were some very exciting 2017 samples here, notably from Vivien Roussignol of the outstanding Domaine des Païssels and from former sugar-trader Tom Hills at the up-and-coming Domaine La Lauzeta. The full list of domains providing samples is given below.
In most cases, we worked with pairs of wines, one from limestone and one from schist, beginning with two Grenache pairs, then moving on through two Carignan pairs, two Syrah pairs, two Mourvèdre pairs and finally a single pair of blended Syrah and Grenache wines. The least satisfactory of these pairings for me were those based on Mourvèdre, a variety sometimes ill-at-ease in the Languedoc hills: issues of ripeness muddled the soil comparison picture here. The other comparisons, though, were telling. Here are my conclusions, which I stress are tentative and provisional, as well as relating principally to wines grown in St-Chinian.
Colours
All of the wines were darkly coloured, but those made from fruit grown on schist soils seemed to be a little darker than those from limestone soils, perhaps most significantly from the two pairs derived from the same domain and therefore made in an identical way and identical vessels: Clos Bagatelle's two Grenache wines and Borie la Vitarèle's Syrah/Grenache blends.
Aromatic Profiles
A clear point of difference for me was that the wines made from limestone-grown fruit had, at least at this very early stage of their development, more aromatic charm, lift, energy and vivacity than the wines made from schist-grown fruit, which were in general aromatically much quieter and more subdued.
In terms of precise aromatic characters, limestone-grown wines suggested flowers, cherries and blackcurrants, whereas the schist-grown wines tended to suggest dried fruits (prune and fig) in a more liquorous style, together with earthiness and sometimes a little smokiness. In general, I felt that 'varietal character' emerged more clearly with limestone-grown wines than with schist-grown wines. We expected some reduction from these unfinished, brut de cuve wines and indeed found it, and it seemed to affect the limestone wines more than the schist wines, though this is likely to be a matter of handling, or may be related to a greater percentage of clay in some vineyards.
Flavours
On the palate, the limestone-grown wines came across as more vivid, fresher and more lively than the schist-grown wines. The strong point of the schist-grown wines, by contrast, was greater density, compression and intensity than their limestone brethren, perhaps based on generally lower yields in this generally 'tough' soil medium.
St-Chinian is a zone where balance comes not so much from acidity as from tannin and the repertoire of flavour allusions. Acidities seemed to be slightly higher in the limestone wines; they also had less forceful, more graceful, and sometimes brisker tannin structures (though they weren't necessarily any less tannic or less ample overall); in alcoholic terms, they seemed a little less warm. The schist wines were warmer and more richly tannic, more succulent, more exotic in allusion though often sombre and brooding in their energy profile.
In terms of precise flavour allusions, the limestone wines hung with their stonefruit style, while the schist wines seemed by turn meatier and spicier (notably liquorice), as well as showing pruney and other dried-fruit notes. They were certainly, for me, the wines which conveyed notes suggestive of crushed stone and pounded rock more effectively, whereas the 'minerality' of the limestone wines was a finer, sweeter, more powdery and sometimes more fugitive affair. Balance in the schist wines comes from that delicious ooze of powerful tannin and rock slurry. If you are looking for classic notes of Languedoc garrigue, by contrast, then the limestone wines seemed to provide this more clearly than the schist wines, which rarely suggested these notes.
It's something of a guess, but in general I felt that the wines based on limestone-grown fruit would be ready sooner, whereas those based on schist-grown fruit would need longer before being presentable.
Most incontrovertible of all was the overwhelming sense that wines based on fruit of both origins had their own form of beauty; there was nothing inherently superior in either group. When I chatted to Jacques Fanet afterwards, he reminded me that another of the reasons why St-Chinian was allowed to retain its dual soil origin by INAO was the testament of former merchants pointing out how well the wines of each origin blended together. That, too, is something we may see more of in future from this highly promising zone.
Domaines and growers providing samples:
Limestone
Mas Champart (Isbelle and Matthieu Champart)
Ch Coujan (Florence Guy)
Domaine Sacré-Coeur (Luc Cabaret)
Ch Viranel (Arnaud and Luc Bergasse)
Schist
Moulin de Ciffre (Miren de Lorgeril)
Dom Lanye-Barrac (Bernard Backhaus)
Dom La Lauzet (Tom Hills)
Dom des Païssels (Vivien Roussignol)
Ch Prieuré des Mourgues (Jérôme Roger)
Both soil types
Clos Bagatelle (Christine Deleuze and Luc Simon)
Ch Belot (Lionel Belot)
Borie la Vitarèle (Cathy Izarn)
---
The post Jefford on Monday: Schist versus Limestone appeared first on Decanter.