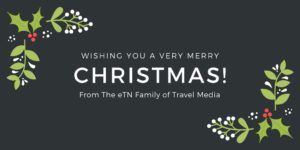 Joined and inspired by travel and tourism: eTN issues a Mele Kalikimaka
The eTN Team in Hawaii is in Holiday spirit today and issued a Mele Kalikimaka, a Hawaiian Phrase for Merry Christmas, to share this magical spirit of Christmas and Aloha with their 230,000 travel industry subscribers, with their 17,000 journalist subscribers interested in travel and tourism news, and their fans of 1.3 million readers everywhere on the globe inspired and joined by their love for travel and tourism.
Who is part of eTN Corporation?
eTN is a group of publications operating 24/7 around the globe and currently publishing
and soon to

start

Investments.travel
Distribution and Newsletters:
eTN Rush: Breaking news updates hourly 24/7 when news happens.
eTN Daily: One daily feature edition, and one daily news edition on global travel and tourism news.
eTN Weekly: Weekly summary of feature news items
TravelWireNews: Updates every hour from news-sources around the world
WorldTourismWire: New updates relevant for Tourism leaders
Seperate Weekly newsletters for Meetings, Aviation, Wines, Hawaii, and LGBT
Daily update for journalists interested in travel and tourism
TravelIndustryDeals: Sales tools and relevant messages for the selling trade (travel agents)
Readers can update subscriptions on
www.eturbonews.com/subscription
The eTN Publisher's and administrative office is located in Pupukea, overlooking the beautiful beaches of the Surfing Capital of the World on Oahu's North Shore, Hawaii. VP Dmytro Makarov and the company's president Juergen Steinmetz are in charge of the small team of administrative staff and interns supported by Scott Foster, Jalyn Nobriga, and George Taylor.
The editorial office is 15 miles away in Wahiawa under the leadership of Linda Hohnholz and Oleg Siziakov.
eTN's German office is located in Duesseldorf and operated by Michael Seipelt in cooperation with business-travel.de
The Sales office is in Hollywood, Florida under Courtney Gilligan.
The eTN Operation in New York Manhattan is under the leadership by Dr. Elinor Garely.
Boontham Namhongsa in Chicago, Nel Alcantara, and Mel Webster are in Palm Springs, Photographer Christian del Rosario is based in Orange County California and operates his own photography company with 7 world class staff.
Frequent contributors to eTN include Peter Tarlow in Texas, Prof. Geoffrey Lipman in Brussels, Andrew Wood in Bangkok, Anil Mathur in Delhi, India, Anita Mendiratta from the CNN Task Group in London and Capetown, Apolinari Tairo in Dar-Es-Salam, Tanzania, Dean Bernardo, Manila, Will Cathcart, Tbilisi, Georgia, Dr. Anton Anderssen in the beautiful Midwest USA, Elisabeth Lang is based in Munich, Germany, Haresh Munwani in Mumbai, India, Hon. Thomas Dickerson, New York, Alain St.Ange, Seychelles, Kwakye Donkor in South Africa, Dr. Walter Mzembi, Zimbabwe, Keli Cypriano Island of Hawaii, Lucky George, Nigeria, Bea Broda in Canada, Felice Friedson in Jerusalem, Mario Masciullo in Rome, Italy, Nel Alcantara in California, Rita Payne in London, Srilal Miththapala in Colombo, Sri Lanka, Tony Ufungi in Uganda, Louis D'Amore from IIPT New York, Daniel Vivas in Lima, Peru, Motaz Othman in Amman, Jordan, Stanley Turkel in New York, plus more than 50 additional contributing eTN Ambassadors worldwide.
eTN owns TravelMarketingNetwork in New York. Current network partners include Juergen Steinmetz, Alain St.Ange, Mel Webster, Dr. Elinor Garely, Christian del Rosario, Vanessa Baldwin, Thomas Roth, Kwakye Donkor, Frema Ashkar, Burkhard Herbote, Frank Tetzel and The Bradford Group.
eTN is the main sponsor and operates
the Hawaii, Brussels, Seychelles, and Bali based
International Coalition of Tourism Partners (ICTP
), an organization that stands for Green Growth & Quality – Business. Members are tourism boards and stakeholders from around the world. eTN Publisher Juergen Steinmetz is the chairman of the organization, the president is Professor Geoffrey Lipman, other board members are from Rwanda, Seychelles, Washington, Johannesburg and Bali.
eTN Publisher said on behalf of all staff: "We would like to take this opportunity to wish you a very merry Christmas and a prosperous, happy new year.
As we look back through 2017, we are pleased to have brought to you important breaking, and investigative news reporting that was often overlooked by other media outlets.
Thank you for following closely our reporting on this year's UNWTO Secretary-General election, which featured prominently throughout the family of eTN travel media brands in 2017.
Your support and encouragement to continue reporting on this complex story
enabled us to diligently watchdog the convoluted, twists and turns of the UNWTO election.
Throughout 2017 we traveled far and wide to bring you travel industry
breaking news, updates, and profiles on a diverse range of subjects and events.
We usually don't publish second-hand news, we believe in putting our own boots on the
ground to bring you first-hand reporting.

2017 saw us attending the UNWTO Executive Council in Madrid, and the General Assembly in Chengdu, China, MITT in Moscow, SKAL in Bangkok, STEP lunches in London, Addis Ababa and Berlin, WTTC in London, the Travel Weekly security event in London, and the UNWTO conference in Jamaica, the ministerial conference in London. In addition, our reporters worldwide covered many conferences, trade shows and other important events and breaking news from around the globe.
eTN exhibited at IMEX in both Las Vegas and Frankfurt, Arabian Travel Mart in
Dubai, at MITT in Moscow, IGLTA in St. Petersburg, World Travel Market in London and various cities, WTTC, OTTM, partnered with WTM in London plus with more than 30 other trade shows, summits, and events.
eTN organized a number of Road Shows for Nepal Tourism in Germany, Czech Republic, Poland and the United States. eTN also organized the Bhutan travel industry event in New York.
2017 was a very exciting, sometimes challenging year for our industry. We look forward to working with you and continuing to provide unbiased, breaking travel industry news and investigative reporting throughout 2018 by our incredible eTN team, based around the globe.
All of this wouldn't be possible without our sponsors and advertisers. A special word of thank you goes to our biggest contributors World Travel Events, Zimbabwe Ministry of Tourism and Hospitality Industry, Zambia Tourism Board, Green Globe, Uniglobe Travel International, Travellanda, Tralliance Registry Management Group, Trinidad and Tobago Tourism Development Company, Rwanda Development Organization, Tourism Council of Bhutan, South African Airways, Seychelles Tourism Board, Saudi Arabian Airlines, Reed Travel Exhibition, Outrigger Hotels and Resorts, Nepal Tourism Board, Ministry of Tourism Jamaica, Mauritius Tourism Promotion Authority, Malta Tourism Authority, Korea Tourism Organization, Kenya Tourism Board, Etihad Airways, Jetwing Hotels, Jamaica Tourism Board, Guam Visitors Bureau, Chauffeured Services, FRAPORT, Euroexpo, Delta Airlines, Community Marketing, Corinthia Hotels International, Limited, Amahoro Tours, Lobster Frankfurt, City of Hamburg and many more.
For more information on how to advertise, become a sponsor or gain visibility please go to www.buzz.travel , www.eturbopr.com and www.travelmarketingnetwork.com
Join me in wishing you a very happy holiday season and a prosperous, safe new year. As always, feel free to reach out to me directly, I look forward to hearing from you.
Juergen Steinmetz, Publisher [email protected] "'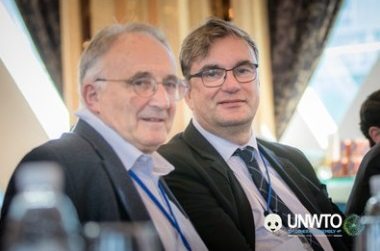 Geoffrey Lipman, President of International Coalition of Tourism Partners (ICTP) and eTN Publisher Juergen T. Steinmetz