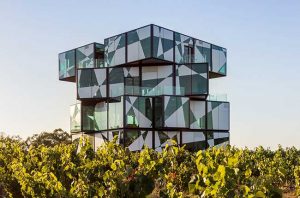 Multi-million dollar d'Arenberg Cube wins top design award
The Rubik's Cube-inspired visitor centre in the middle of d'Arenberg's McLaren Vale vineyards has been awarded one of Australia's highest honours for architectural design.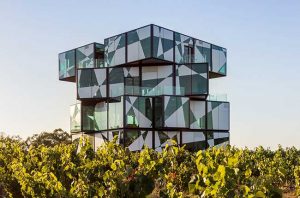 d'Arenberg Cube wins Good Design Award 2018

Centre cost 15 million Australian dollars to build
The avant-garde glass, concrete and steel structure sprang from the vision of d'Arenberg's fourth-generation winemaker, Chester Osborn, who likened winemaking to solving a puzzle when describing how he came up with the concept.
'This installation has captured attention and driven a massive increase in visitor numbers,' said the Good Design Awards Jury. 'The Jury applauds this innovative project.'
'A lot of people were worried it would be an eyesore but people have been complimentary about the design of it,' Osborn said in response to reports that 1,000 visitors a day flocked to the Cube within the first month of opening in December 2017.
---
How it started: d'Arenberg plans giant 'Rubik's Cube' visitor centre
---
d'Arenberg, a founding member of Australia's First Families of Wine, built the five-story Cube complex in the heart of its McLaren Vale vineyards.
It houses tasting rooms, an art gallery, bars and a fine dining restaurant. It also has virtual reality experiences and a wine sensory room – filled with aromas, textures and flavours found in wine.
The Cube's cost exceeded d'Arenberg's 2015 projection of AUD$11 million. It was aided by a AUD$2 million State Government Regional Development Fund grant.
The Good Design Awards were presented by Jan Utzon, son of the architect behind Sydney Opera House, Jørn Utzon.
Winners will be showcased and celebrated during the Vivid Sydney festival, taking place 25-27 May.
Entry to the d'Arenberg Cube costs AUD$10. Find out more
---
See also:
The post Multi-million dollar d'Arenberg Cube wins top design award appeared first on Decanter.