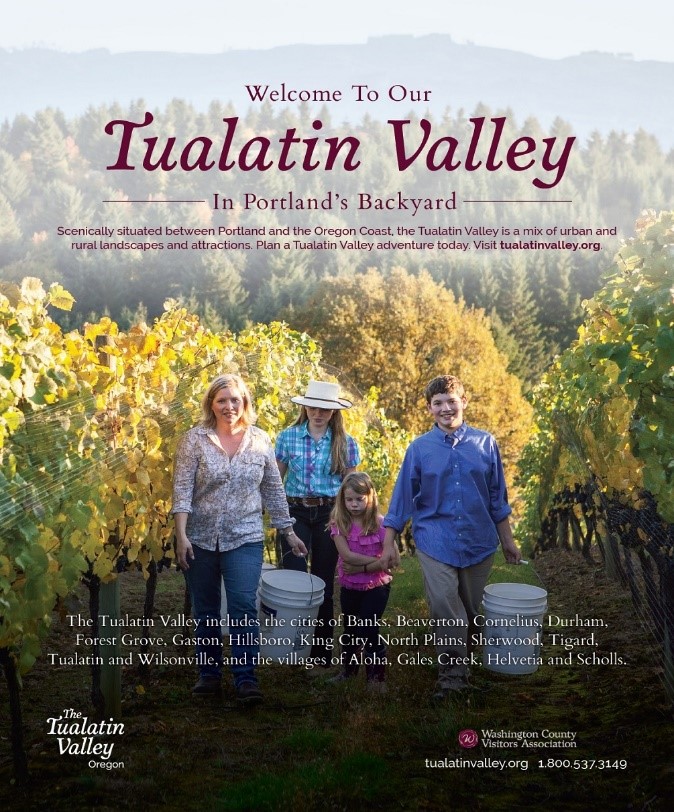 Oregon wines in Tualatin Valley: Prepare for the WOW
For many decades, American wines (except perhaps for California) were not "go to" wines." Bottles wearing labels from states such as New York, Oregon, Missouri, Colorado, Arizona, Texas, or New Jersey were frequently peppered with sarcastic remarks or ignored in favor of wines from just about anywhere else in the world.
Thanks to science, improved palates and a new tool box for growing grapes and producing excellent wines, this derogatory position (that was definitely anti-USA), is no longer valid. The wines of some American states are as good as, and sometimes better than, wines from Europe or South America.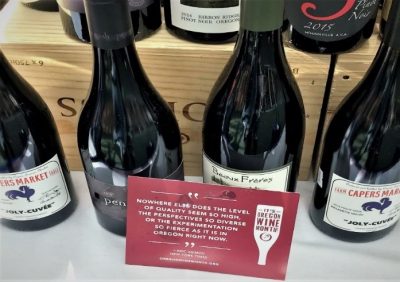 Tualatin Wines in Oregon
I recently returned from Oregon where I was introduced to the wines of Tualatin Valley (northwest corner of Willamette Valley). Tualatin is the term that identifies the local indigenous people and translates to "gentle and easy flowing," referencing the local Tualatin River as it meanders into the Willamette River.
The Willamette Valley is the largest and most important AVA in Oregon. Cool weather viticulture is enabled through warm and dry summers and almost no winter frost. There are mountain ranges on three sides of the valley (including the Chehalem Mountains) with options for higher elevation, and cooler vineyard sites.
There are three soil types:
1. Iron rich, basalt-based Jory volcanic soil in Dundee Hills – rich in clay and holds water
2. Chalky and sedimentary soil found in Robbin Ridge, Yamhill Carlton and McMinnville – encourages the root system to struggle in search of water and minerals
3. Silty loess soil found in Chehalem Mountains – fertile and well-draining but erodes easily presenting challenges and requiring careful vineyard stewardship
Bonus
One of the perks of visiting the Tualatin wineries in Oregon, is the opportunity to see the beauty of the state and enjoy the quality of their fresh fruits and vegetables, as well as experience their affection for international cuisine and pair well with the local wines.
The wines from Tualatin Valley have been winning national and international attention and for good reasons. The diversity of the terroir and the micro-climates, crystal clear rivers, forests and hillsides are giving growers opportunities to bring the dynamic duo of variety and quality to our attention. In addition, the Oregon wine makers are creative, enthusiastic, and successfully pushing the envelope -creating a new definition of what makes a great wine. From sparkling bubbles and Rieslings to Viogniers, Pinot Noirs and Syrah's, from Roses and Cabernets to dessert wines, wine lovers, regardless of age, are quickly finding that the wines of Tualatin Valley in Oregon are a perfect match for their mood and food preferences, at value prices.
Tualatin Valley Wine History: Short and Long
By the end of the 19th century, grapes were grown and wine produced at the Rueter family homestead in Tualatin Valley and the Kevner wines received awards. Kevner, the Alsatian term for Pinot Blanc and Chardonnay, received a prize at the St. Louis World Fair (1904). Unfortunately, Prohibition stopped the growth of the Oregon wine industry and all the Rueter planted grapevines were removed and replaced with fruit trees and potato plantings.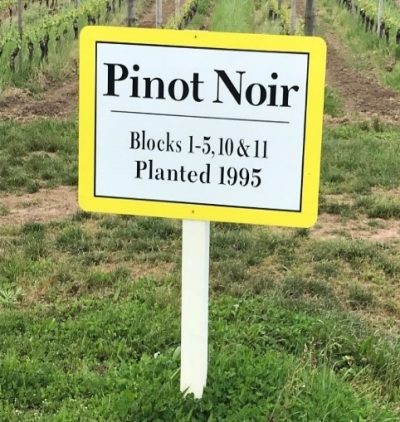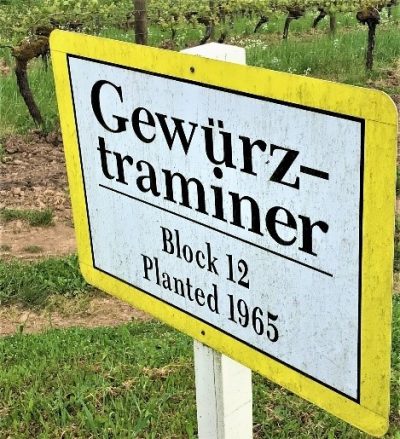 In the mid-20th century, Charles Coury, David Lett, Dick Errth, Dick Ponzi and David Adelsheim picked up the mantel of Oregon winemakers and planted root stock from Alsace and Burgundy, cultivating the Pinot Noir clones in Forest Grove. Coury also planted Gewurztraminer, Sylvaner, Semillon, Pinot Blanc and Riesling and to this day these vines are cultivated on the David Hill property.
Grapes Growing
On a national level, Oregon is the third largest wine grape producing state in the nation and the wineries produce small batch artisan wines (under 5000 cases a year). Thinking small assures consumers that the winemakers take personal pride in every grape that is picked, and each and every vine and cluster is nurtured as if they were their own children and personal friends. The stainless-steel tanks and barrels are prudently selected so that they deliver exactly the flavor and concentration envisioned before the grapes are harvested and the process is closely monitored all the way through production and bottling. Tualatin winemakers can frequently be found pouring wines in the tasting room, and interacting with visitors, as they are eager to hear the rave reviews of their guests.
David Hill Winery
David Hill is a 40-acres Estate vineyard that is a contiguous southeast, south and southwest facing hillside within a 140-acre property in the Northern Willamette Valley with a historical past and an innovative and dynamic future. Currently owned by Milan Stoyanov (1992), the mission is to connect the past with current operations. The vineyard supports many of the oldest plantings in the state and includes Pinot Nor, Chardonnay and Pinot Gris. The grapes are grown with a focus on sustainable farming and the wines score at 90 points and higher in important wine trade reviews and competitions.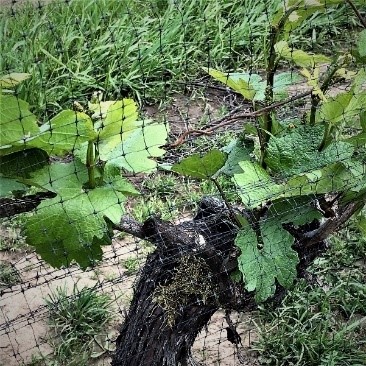 David Hill is one of the Northern-most vineyards in Willamette Valley and follows the LIVE standards, focusing on farming methods that promotes biodiversity, protects soil, reduces chemical input and takes a minimalistic approach.
C-Suite @ David Hill
Experiencing the restaurant and wine industry from the perspective of the food and beverage manager, Kuenz began to recognize his primary passion was for the grapes in the glass. He attended the Oregon Pinot Camp and started Bacchus Fine Wines for Willamette Valley Vineyards where he honed his skills in production and increased his love for Oregon. Joining the Mitchell Wine Group (2010), Kuenz developed a strong bond with the quality of the David Hill Vineyards and Winery to the point where, in2013, he became managing partner and vineyard manager.
Van Zanten found wine as a college student in Walla Walla, Washington and was attracted to both the art and craft of wine making. While in college he visited and volunteered at wineries and upon graduation, began to work in the industry where he has been for over 17 years, focusing on production and making wine.
Intrigued by the history of David Hill, he seized the opportunity to work with one of Oregon's oldest and historically important vineyards. His keen sense of the art and craft of winemaking permits him to allow the vineyard to set the pace with the fruit expressing a sense of place using gentle handling and long fermentation.
David Hill Curated
Fruit: 100 percent Pinot Noir; Dry Farmed, Laurelwood soil; aged in stainless steel.
Picking the fruits at 21 brix in the early morning, the grapes retain a fresh profile all the way to the finished wine. The intriguing caramel cashmere color of the Rose is a delightful way to introduce the nose and palate to this unique Rose. Produced in a traditional Provencal style, the nose is rewarded with the aroma of lychee, citrus and peach that is not sweet thanks to the structured acidity in mid-palate. The medium finish presents complex and sophisticated notes of almonds and truffles.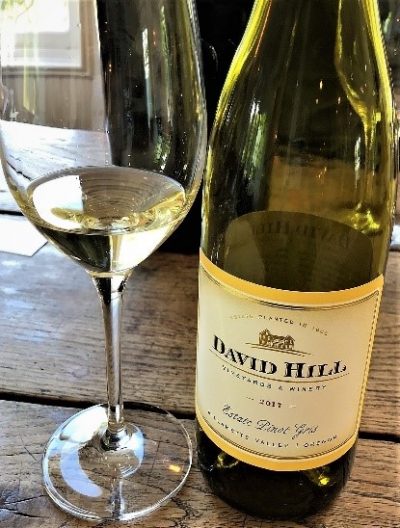 David Hill Pinot Gris 2017
Grapes: 100 percent Pinot Gris Clone 152, dry farmed, Laurelwood soil, aged in stainless steel. Two Pinot Gris blocks are harvested and fermented separately with different yeast strains, then blended prior to bottling. Early morning harvesting allowed grapes to retain the fresh character of the fruit.
Produced in an Alsatian style, the wine is fermented dry in stainless steel. The Pinot Gris presents pears with citrus notes to the nose and delivers balanced acidity to the palate. Pair with crab salad, trout, and vegetarian dishes or cheddar and gruyere.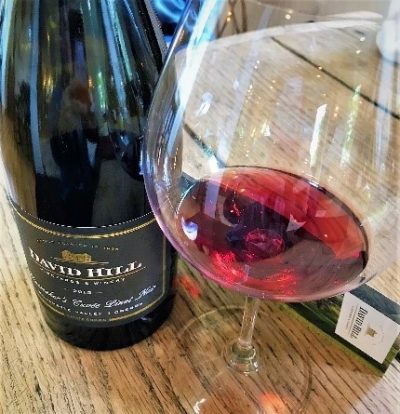 David Hill Winemakers Cuvee 2015 Pinot Noir
100 percent estate-grown fruit (planted in 1965); Laurelwood soil; Aged 14 months in new French oak barrels (15 percent).
Be ready for the WOW that blends scents and flavors – look for lavender, red fruit (cherry), chocolate and plus suggestions of nuts and toast. Pair with chicken and turkey.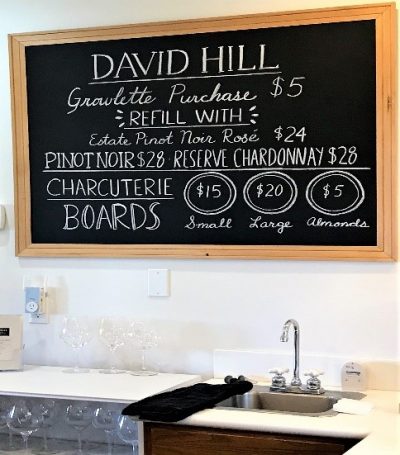 Plan Ahead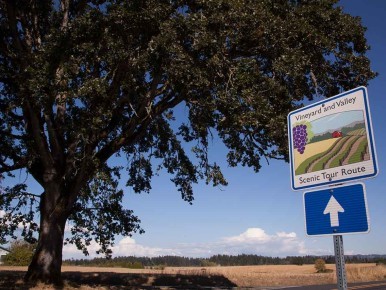 Tualatin Valley/Willamette Valley wineries are near Portland, Oregon, and visitors should schedule a few days to explore the wineries and the region. The tasting rooms are pleasant and wine savvy staffers are eager to introduce visitors to their wines.
For additional information, click here.
© Dr. Elinor Garely. This copyright article, including photos, may not be reproduced without written permission from the author.