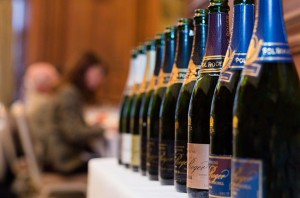 Royal Wedding wine: Pol Roger Champagne served
Pol Roger Champagne has been confirmed as one of the wines served to hundreds of guests at the official lunch reception following the Royal Wedding between Meghan Markle and Prince Harry in the grounds of Windsor Castle.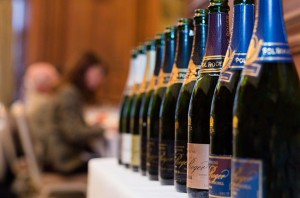 The Palace and Royal Household confirmed on Saturday (19 May) that a non-vintage Champagne, Pol Roger Brut Réserve NV, will be one of the names on a Royal Wedding wine list that has remained a closely guarded secret.
The Pol Roger Champagne, a blend of 30 base wines across at least three vintages, was on Saturday available for £45 per bottle from Waitrose and for £40.99 if bought as part of a mixed case of six wines at Majestic.
Pol Roger already has a Royal Warrant and is notorious in wine circles as the favourite Champagne of Sir Winston Churchill, Britain's famous wartime Prime Minister.
Pol Roger non-vintage Champagne was also served at the wedding of Prince William and Kate Middleton, now the Duke and Duchess of Cambridge, back in 2011.
Other wines to be served at the reception for Harry and Meghan, now the Duke and Duchess of Sussex, remained a mystery on Saturday.
There has been speculation around the possibility of a Californian wine making the cut, with Markle understood to enjoy the wines of several producers in her home state.
It has also been thought likely that an English sparkling wine could be served. Camel Valley in Cornwall was recently awarded a Royal Warrant, while Chapel Down was on the table at William and Kate's wedding.
There is also Great Windsor Park sparkling, dubbed the 'Queen's English wine' because it is made on the Windsor Park estate, near to where the newly-weds are celebrating.
Markle, meanwhile, has previously expressed a liking for Tignanello, the 'Super Tuscan' wine produced by Antinori.
However, only Pol Roger had been confirmed as on the list by the time of the reception, which was to be held for 600 guests in St George's Hall in Windsor Castle.
Canapes to be served:
Scottish Langoustines wrapped in Smoked Salmon with Citrus Crème Fraiche
Grilled English Asparagus wrapped in Cumbrian Ham
Garden Pea Panna Cotta with Quail Eggs and Lemon Verbena
Heritage Tomato and Basil Tartare with Balsamic Pearls
Poached Free Range Chicken bound in a Lightly Spiced Yoghurt with Roasted Apricot
Croquette of Confit Windsor Lamb, Roasted Vegetables and Shallot Jam
Warm Asparagus Spears with Mozzarella and Sun-Blush Tomatoes
---
The post Royal Wedding wine: Pol Roger Champagne served appeared first on Decanter.