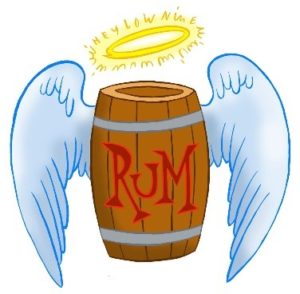 Rum, sand and sea: Grenada
Formula for a Vacation
There are many beaches in the world, and there are global opportunities to enjoy a shot (tot) or two of rum; however, there are not many parts of the planet where the rum is good, and the beaches are delightful. The locale that meets the criteria for great sand, sea and surf, and a wide selection of artistically designed rums that is perfect for a low-key holiday is Grenada.
What Is It
Rum is fermented and distilled from sugarcane juice byproducts (i.e., molasses). It starts out as a clear spirit and gains color as it ages in oak barrels. It is likely that the plant itself originated in Papua, New Guinea and was first enjoyed in ancient China or India where fermented sugarcane juice was a beverage of choice. Marco Polo (14th century) writes about a "very good wine of sugar" offered to him in modern-day Iran.
How did the beverage get its name? There are many ideas: The Malay people drank "brum," the last syllable of the Latin word for sugar is "saccharum," others think the derivation is from the Romani word rum which means strong or potent. Samuel Morewood (1824) finds the word in British slang for "the best" – "having a rum time."
Rum Economics
Rum is gaining popularity (generating $2 billion in US sales) and creating a competitive environment for whisky. Scotch is recommended as it evokes feelings of elegance and brandy encourages relaxation; however, there is no beverage more versatile and popular that transcends demographics than rum.
Europeans developed a taste for rum in the 17th and 18th centuries. The sugar plantations in the Caribbean needed labor on the sugar cane plantations and sourced workers in Africa creating the circular (and profitable) exchange of slaves, molasses and rum. The popularity of the beverage spread through Colonial America and in 1664 a distillery was built in current day Staten Island which was followed by distilleries in Boston and Rhode Island. Rum was so popular that George Washington imported a barrel of rum from Barbados for his 1789 inauguration.
Rum established its relationship with English privateers who traded the commodity. Some of the businessmen became pirates and buccaneers and their love of rum continued. The link was strengthened by the work of Robert Louis Stevenson's Treasure Island.
The British Royal Navy link with rum began in 1655 with their capture of Jamaica. The rum was so readily available that the Navy substituted the daily ration of French brandy for the domestically produced rum. The daily rum ratio (tot) continued until 1970.
The colonists developed a rum habit in order to deal with their daily lives which included boredom, epidemic diseases, a coercive labor system, a highly complex social hierarchy of race, gender, religion, ethnic identity and an imbalanced sex ratio.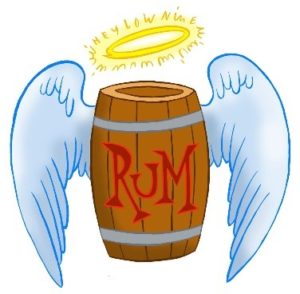 Rum of Choice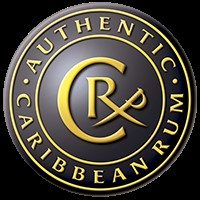 The good news is that an ounce of rum (80 proof) brings along only 64 calories, making it a delicious addition to just about every meal and appropriate for every part of the day. The spiritual home of rum is the Caribbean and the best rums in the region carry the ACR (Authentic Caribbean Rum) Marque. The designation was started 8 years ago and assures the buyer of provenance and quality. While the taste of rum will vary from country to country (based on tradition, heritage, and distillation, ageing and blending), rums with the ACR Marque validates the quality of the product.
Grenada and Rum
Helena "Tiare" Olsen, an award-winning rum journalist and connoisseur of find sprits from Sweden finds that the very best rums in the world [are]" … authentic, unadulterated … from … Grenada (Rivers).
Grenada supports 3 rum distillers: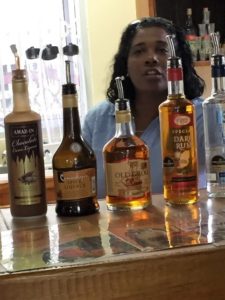 1. Grenada Distillers: Clarke's Court Rum (since 1937) (Location: Woodlands Valley, Parish of St. George)
• The company does not make 100 percent of its own rum but rather imports molasses from Guyana for distillation, fermentation and aging, based on the Clarke's Court tradition
• History: In 1771 Clarke's Court consisted of 800 acres. Some of the land was used for sugar cane, pasture, and food production. The inventory list includes 211 slaves, a hospital (for expectant mothers, and treatment of sick slaves), and a dwelling house for the owner, a house for white plantation staff and 60 houses for enslaved workers.
• Awards: Named 2017 Distillery of the Year at the World Spirits Awards/Bronze (Austria); received ISO Certification in 2005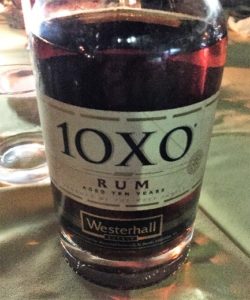 2. Westerhall Estate: (Location: St. David)
• Family owned since 1800
• Imports raw rum stock from Trinidad, then bottles and blends it in Grenada using wooden barrels formerly used for storing bourbon
• History: 120 Slaves originally ran the plantation (19th century) that was formerly knowns as Baccaye Estate. It was purchased by Sir William Johnstone of Dumfriesshires, Scotland (18th century). The estate included 951 acres planted in sugar cane, cocoa and limes. In 1862 a sugar cane processing machine was purchased from Glasgow and installed. The property was sold 7 times between 1835 and 1965. In 1965 the remaining 40 acres was sold to George William and John Otway and renamed Westerhall Estate Limited
• Awards include: World Rum Awards (2017): Best Dark Rum in UK, Caribbean Rum & Beer Festival (2015): Westerhall 10X0 Gold (aged rum category); Spirits Business Rums Masters (2014): Westerhall Vintage Gold (dark aged 8-12 years)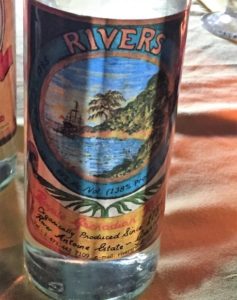 3. River Antoine (Location: St. Patrick's Parish)
• Produces agricultural products but best known for its rum which is made from hand cut, organic sugar cane, grown on the estate
• History: Started in the 18th century, it is the oldest functioning water-propelled distillery, not only in Grenada, but throughout the Caribbean
• Known for its 150-proof rum; not allowed through customs
• Award: 3rd Annual Caribbean Alcohol Beverage Rum Tasting: River Antoine Special Aged Rum (2012)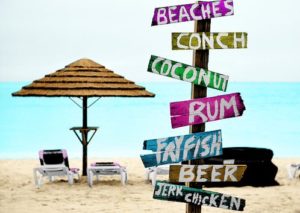 Rum Experience: Pairings – Drink and Dine
Lisette Davis, the Owner of Rumboat Retreat, is a rum expert and her B&B is an excellent location to experience Grenada rum, paired with gourmet – level cuisine. Rum is more than a cocktail to enjoy at a bar or party, or to sip neat on a cold winter evening; rum pairs well with a full-course dinner and Davis is anxious to work with her guests to prepare the best rum-focused dining experience.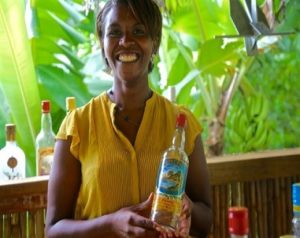 Going Gourmet
Start dinner with an Aperitif featuring Rivers Rum Ti Punch
– Mix muddled lime with dark brown sugar and a half shot of rum and club soda
– Sugar to taste
• Pair with ceviche or oysters
Entree: Plantation 3 Star Aged White Rum (with fresh orange or lime twist/slice)
• Pair with Grilled Octopus, or
Plantation Rum – 2004 (double aged in cognac barrels)
• Pair with Roast Turkey or Roast Beef
Palate cleanser: Clarke's Court Old Grog with Pineapple sorbet
Dessert: Clarks Court Superior light (neat or over ice)
• Pair with pineapple upside down cake or poached/baked pears or grilled pineapple with Crème Fraiche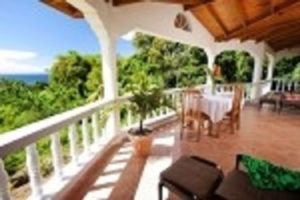 Rumboat Retreat is a delightful B&B that boasts a rum cellar with a vast collection of aged rums. To truly enjoy working your way through the rums, reserve a suite and spend the weekend. The beach is a short walk away and fishing /snorkeling/diving events can be scheduled.
Be Savvy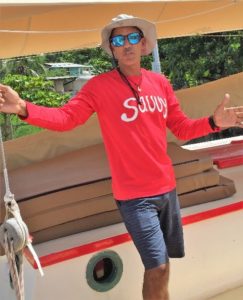 Schedule at day or a weekend with charming Danny Donelan, the Captain and Founder of Savvy Sailing Adventures. Donelan is also the Assistant Manager, Port Louis Marina by Camper & Nicholsons and the Secretary of the Marine and Yachting Association of Grenada.
Savvy Charter sailing options include a visit to the Underwater Museum Park and snorkeling; a sunset, half or full day cruise and two-day sails to the Grenadines. If you have Caribbean destinations in mind, Danny will work with you to plan the best way to travel by sea.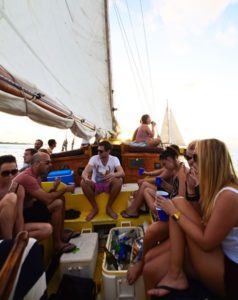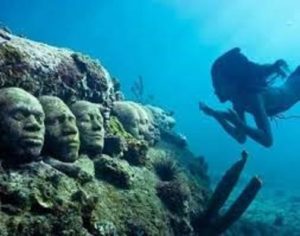 Be Attentive
The Government of Canada advises visitors to:
1. Drive on the left. Road assistance in not widely available and most roads are narrow and winding. Many of the roads do not have sidewalks – so – keep be mindful of pedestrians on the streets. It can get very hot in Grenada and the rainy season brings torrents of water that can deteriorate roadbeds – so drive carefully
2. Follow the seatbelt rules for drivers and passengers
3. Ferry services run between Grenada and the sister islands of Carriacou and Petite Martinique
4. Taxis are available for transit to hotels, airports, restaurants, etc. Confirm fare prior to departure
5. The currency: Eastern Caribbean dollar (XCD) and small shops may prefer this currency; however, major credit card are widely accepted
6. For US citizens, click here. If there is an emergency, call: 202 501 4444
7. The US Embassy in Grenada: +(1)(473) 444-1174, +(1)(473) 444-1175
8. Tourists have been victims of robbery, and credit cards, jewelry, cameras, US passports and cash are desirable, so visitors are advised to be cautious near hotels, beaches, restaurants, etc.
For additional information, click here.
© Dr. Elinor Garely. This copyright article, including photos, may not be reproduced without written permission from the author.

Currently reading:
157