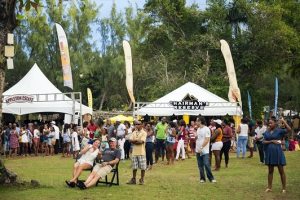 Saint Lucia Tourism Authority hosts successful Food & Rum Festival
The Saint Lucia Food & Rum festival marked its return with a proof of concept pilot held from January 12 to the 14. The festival featured a wide array of culinary and rum experiences across three days, drawing on the island's rich culinary heritage with participating restaurants throughout the island featuring rum inspired Prix Fixe menus over the weekend.
Festival Highlights
The Chairman's Reserve Spiced Rum Cocktail Challenge showcased the talent and creativity of the islands best mixologists as they competed for glory and the rights to create the island's first signature cocktail.
The inaugural Caribbean Rum Awards were a central point of the festival. The awards were curated by Caribbean Journal, with a team of nine judges, through a series of blind tastings that covered six categories which celebrated the deep history and excellence of Caribbean rums.
The Friday night 'fish fry' in the village of Anse La Raye became the grounds for the festival's launch party, offering rum tastings, rum inspired sauces paired with seafood and first-class entertainment along the bay front.
The celebrity dinner featured a brilliant collaboration between the island's national culinary team and award-winning chef, restaurateur and television personality, Marcus Samuelsson. Together they presented a Saint Lucian twist to Chef Samuelsson's Obama state dinner.
The Rodney Bay village became host to an evening of culinary decadence with the 'Rodney Bay Village Culinary Pavilion', featuring sampling booths from the surrounding restaurants coupled with live entertainment which transformed the street into a mini food fair.
The festival culminated in 'The Main Course' a culinary fair which showcased the delectable creations of restaurateurs, chefs and rum makers. The open-air festival featured sampling booths, live cooking demonstrations, rum tastings and a power packed live concert featuring the soulful sounds of R&B legend Freddie Jackson and the pulsating Soca rhythms of Teddyson "TJ" John.
"The collaborations were key to the success of the festival, providing both a platform for skills transference, mentorships and a sublime showcase of Saint Lucia's Culinary excellence. We believe the partnerships forged will only serve to further develop our product by elevating Saint Lucia." Stated Executive Chairperson of the SLTA Agnes Francis.
The festival attracted thousands of patrons and over a dozen international journalist representing 20 publications across the United States, Canada, the United Kingdom and Europe, who all lauded the festival's unique blend of experiences.
Caribbean Rum Awards Winners
White Rum
Best White Rum: Doorly's Macaw (Barbados)
Double Gold: Bounty Premium White Rum (Saint Lucia)
Gold: Brugal Special Extra Dry (Dominican Republic)
Best Rum
Best Rum: El Dorado 12 (Guyana)
Double Gold: 1931 by St Lucia Distillers (Saint Lucia)
Gold: Chairman's Reserve The Forgotten Casks (Saint Lucia)
Best White Rhum Agricole
Best: Rhum Neisson Bio 52.5 (Martinique)
Double Gold: Rhum Dillon Ti' Fle' Ble' (Martinique)
Gold: Rhum Clement Canne Bleue (Martinique)
Best Rhum Agricole
Best: Rhum JM VO
Double Gold: Rhum Depaz XO
Gold: Rhum Clement 10 Ans
Best Spiced Rum
Best: Siesta Key Spiced Rum (Florida)
Double Gold: Chairman's Reserve Spiced Rum (Saint Lucia)
Gold: Clifton Estate Rum (Nevis)
Best Gold Rum
Best: Bounty Premium Gold (Saint Lucia)
Double Gold: Island Company Rum (Trinidad)
Gold: Siesta Key Gold (Florida)
Chairman's Reserve Spiced Rum Cocktail Challenge Winners
1st Place
Bertrand Sydney – The Body Holiday
1st Runner Up
Dwight Joseph – Coco Palm Resorts
2nd Runner Up
Travis George – Windjammer Landing Villa Beach Resort