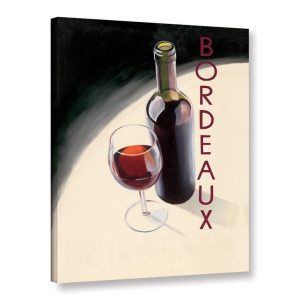 The best planet for wine? Planet Bordeaux
Planet Bordeaux represents Bordeaux and Bordeaux Superieur and is the largest winegrowers' association in France. The group includes 7 AOCs: Bordeaux Blanc, Bordeaux Superieur Blanc, Bordeaux Rose, Bordeaux Clairet, Bordeaux Rouge, Bordeaux Superieur Rouge and sparkling Cremant de Bordeaux – accounting for 55 percent of the Bordeaux wine region that produces 387 million bottles (2014).
The Event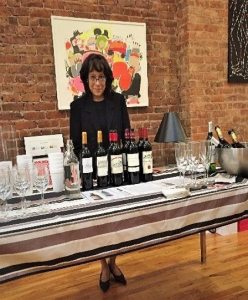 I had the good fortune to spend a chilly winter afternoon exploring a curated selection of delicious and delightful wines from Bordeaux – designed to introduce wine writers, and sommeliers to the wines of the region. The event was held at a New Yorkers' apartment in order to establish an ambiance appropriate for enjoying Bordeaux wines marketed as perfect for congenial meetings and casual conversations.
Guests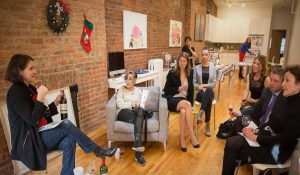 From left to right: Jana Kravitz, Press Relations, Planet Bordeaux; Dr. Elinor Garely, Editor-in-Chief, wines.travel; Severine Picquet, Founder, MPB Agency; Pauline Durupt, Media Manager, MPB Agency; Marisa D'Vari, Wine Expert/Blogger, A Wine Story; David Spencer, Publisher, Sante Magazine; Arlyn Blake, Writer, Food Calendar. Rear: Nefissa Sator, Sommelier, Wine Club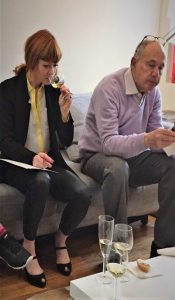 From left to right: Candy Olsen, Sommelier – Le Standard; Peter Hellman, Wine Writer
The Tasting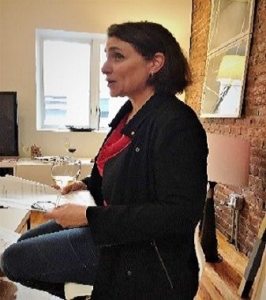 Jana Kravitz, Press Relations, Planet Bordeaux
The review of the Bordeaux wines was led by Jana Kravitz from Planet Bordeaux.
1. Jaillance Cremant de Bordeaux Brut. Cuvée de l'Abbaye. Appellation: Bordeaux; Varieties: Sémillon -70 percent; Cabernet Franc – 30 percent. Alcohol – 12 percent; 24 months cellar ageing
How wonderful life would be if every meeting started with a few glasses of this delicious, dry, fresh, elegant sparkling wine. Cremants are made according to the methode traditionelle. After producing a still wine, tirage liqueur is added for a second fermentation in the bottle. Since 1989 the term Cremant has been protected by French law which applies the term exclusively to non-Champagne sparkling wines that are made in France or the Grand Duchy of Luxembourg.
Jalliance was started by Henri Bonnet who brought 266 Die winegrowers together to form a cooperative. By popular demand it morphed into Jailliance in 2001 in order to expand the range of sparkling wines that could be offered to consumers. The Jaillance Cave de Die is the third largest agri-business in the Drome. Currently, the 224 members of the cooperative represent 72 percent of the AOC's wine producers, and 73 percent of the total vineyard areas that produce 73 percent of harvest. Exports accounted for 15 percent of turnover in 2014. Over 500,000 bottles of Cremant from Bordeaux are sold yearly.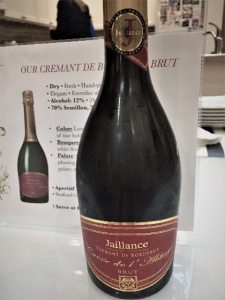 Notes
The eye is delighted with flecks of pale gold and captivated by the infinite movement of fine bubbles. The nose detects fresh and fruity notes of roses and white flowers, freshly picked strawberries, apples and pears, even a bit of lemon. This palate pleaser presents honey and butter and ends with wish for another sip. Serve as an aperitif or with poached salmon, grilled shrimp or Cobb salad.
2. Château Chatelier 2015 AOC Bordeaux Supérieur Rouge. Appellation: Bordeaux; Varieties: Merlot- 100 percent. Soil: Silt and clay-sand.
The 16th century monks grew vines at Chateau Chatelier and the Houbaer family have tended to these vines since 1890. Currently Jean-Michel Chatelier, the great grandson on the maternal side of the family owns the estate. The slopes overlook the Dorgogne River and the vineyards face the medieval town of Saint-Emilion.
The grapes are harvested by a machine that is equipped with a de-stemmer – eliminating contact between the stems and leaves. The grapes are sorted on a vibrating table. Fermentation occurs at a controlled temperature of 28 degrees C, with daily pumping over that includes traditional pumping with air as well as pumping over with nitrogen, enabling the pomace cap to be broken.
After alcoholic fermentation, during maceration, the vats are pumped over without contact with air. After tasting, the wine is run off. Malolactic fermentation follows, and the wine is kept at 20 degrees C. The lees are stirred gently every day for body and volume. The wine is racked again, in contact with air. The wine is oxygenated with the arrival of cold weather and it is able to breathe and release reductions. Aged in vats for 12 months.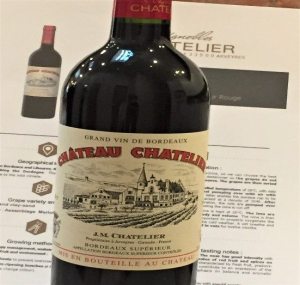 To the eye, deep purple trending to coral. The nose detects cherries, tobacco, wood and soil which suggests that the taste will be complex and sophisticated which, unfortunately is misleading. The palate experience is flat and uneventful. This bistro wine can be successfully paired with roast chicken or burgers, chocolate and cheese.
3. Chateau Turcaud 2015. Bordeaux Superieur Rouge. Appellation: Bordeaux; Varieties: Cabernet Sauvignon – 30 percent, Merlot – 70 percent.
In 1973 Maurice and Simone Robert bought Chateau Turcaud. The winemaker is Stephane Lemay. Today Chateau Turcaud is represented on the wine lists of the most prestigious restaurants in France, including Gerard Vie's Les Trois Marches in Versailles and Jean-Claude Vrinat's Taillevent in Paris.
The grapes are machine harvested and sorted by hand. Turcaud is aged for 18 months (2/3 in vat; 1/3 in barrels). A final blend is made before bottling at the Chateau.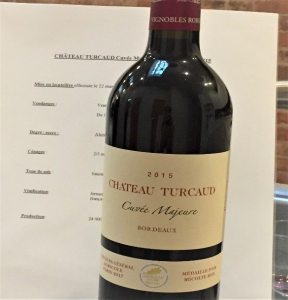 Notes
Deep ruby red leads the eye to a lustrous garnet hue. The nose is happy inhaling leather, tobacco, wet rocks, cherries and more cherries. The palate is treated to citrus blending gently with the tannins. The complexity of roses and cherries is interesting and becomes more intriguing as it warms to room temperature – becoming even more flavorful. Pair with roast beef, veal or chicken.
4. Les Hauts de Lagarde Blanc. AOC Bordeaux Blanc. Appellation: Bordeaux. Varieties: Sauvignon Blanc -60 percent; Semillon – 40 percent. Terroir: Clay /Calcareous.
This family owned vineyard has 180 hectares certified in the Entre-Deux-Mers region, with new cellars powered by 2500 m2 of solar panels. A mild climate combined with sunshine and regular rain plus the hillside location with clay-limestone soil, and gravel – creates the best conditions for wine growth and grapes. Vinified in thermos-regulated stainless-steel vats. Certified organic by Quality France and USDA NOP (National Organic Program) IMO Switzerland. Only Indigenous Yeasts used. Suitable for Vegans.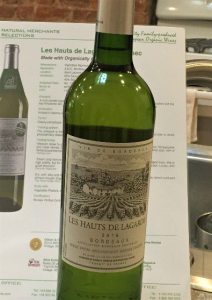 Notes
Shimmering golden yellow to the eye. The nose is delighted to inhale apples and citrus. Sauvignon Blanc presents white flowers, citrus and white fruits. This palate pleaser is soft and lush with a surprise hit of sweetness that is not entirely necessary. Pair with oysters, seafood, grilled salmon, goat cheese.
For additional information, click here.
© Dr. Elinor Garely. This copyright article, including photos, may not be reproduced without written permission from the author.