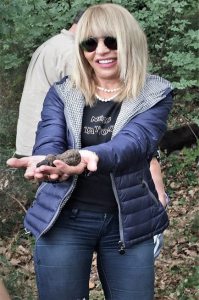 Truffle hunting in Umbria, Italy: Gourmets take note
Truffle Search
Brunello, Truffle Hunter since 1969 @ sanpietroapettine.it
Truffles and Umbria have been linked for centuries and the region produces the most high-end black truffles in Italy. Truffle hunting here combines the best of the culture and cuisine including: 1. Running outdoors, in the forest, with dogs; 2. Digging in the soil to retrieve the fungi; 3. Eating the delicious morsels in gourmet cuisine and 4. Pairing with appealing Italian wines.
What are Truffles?
Truffles are mushrooms without stems and fall into the "umami" taste category (very earthy). They are usually discovered under the ground, next to oak, pine, beech and pecan trees. Noted as a healthy source of protein (from 20-30 percent for each serving), truffles contain amino acids, and are cholesterol free. When dried, truffles have only 2-8 percent of fat (crude fat and lipid compounds – fatty acids, sterols, phospholipids, glycerides and linoleic acid). There are over 7 different truffle species found around the world, from Pacific Northwest to China plus North Africa and the Middle East. However, European truffles are concentrated in the Italian and French countryside's.
Truffles vary in size – from the dimensions of a peanut to the size of an apple or orange and look like lumpy potatoes. The bark is blackish or black and full of wrinkles. The pulp is purple with fine veins of white to reddish-brown.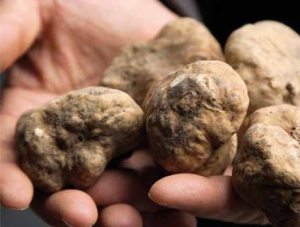 Black and White
Truffles grow in both black and white and are subterranean fungus that grow in the shadow of trees. The white truffle is more difficult to find than the black and highly valued. The white truffle grows at a depth greater than other truffles, emits a sharp perfume and prefers contact with the poplar and willow trees.
Good Exercise
Finding truffles requires time, strength, dogs, and patience. Hunters and their dogs walk for hours and hours looking for the tasty and precious fungus. Buried truffles release a natural aroma when they interact with certain plants, mammals and insects and trained dogs are able to pick up the scent. These interactions encourage new colonies of the truffle fungus to appear through spore dispersal.
A century ago, truffles were abundant in Europe and were a key ingredient in many foods. Over time they have been increasingly difficult to source and have become very expensive. Some experts believe the decline in truffles is linked to global warming and the leaching of fungicide into the soil.
Truffles are Fussy
Truffles are difficult to cultivate. There is a unique relationship between the truffle, the tree, the soil and animals and, as the truffle grows underground, the spores do not spread with the wind. It is their heavy aroma that attracts rodents who dig them up and eat them, spreading the spores through their waste.
Truffles also grow in and around the roots of specific trees; however, the soil must be aerated, have a pH between 7.5 and 8.0 and have good drainage. Even if all conditions are perfect for growing, it takes, on average, about 7 years for truffles to grow and the success rate if approximately 50 percent. If they do grow at the base of the trees, they must be harvested by hand with the help of trained dogs and the process cannot be mechanized.
The Money of Truffles
The president of the truffle foraging association in Acqualagna (one of Italy's most productive truffle-growing regions) noted that white truffles may retail at $2753-$6883 per kilogram (2014). Top black winter truffles sell for $1810 – $3620 per kilogram.
Demand outpaces supply and competition is fierce. Celebrities and c-suite executives willingly spend small fortunes for the delicacy: A Hong Kong business writer spent $120,000 for two pieces of white truffles weighing slightly more than 2 pounds. In 2012, Jay-Z spent $20,000 for truffles at a restaurant in Italy, and Macau casino tycoon, Stanley Ho, spent $330,000 on two pieces weighing 2.87 pounds (2010).
San Pietro a Pettine. Searching for Truffles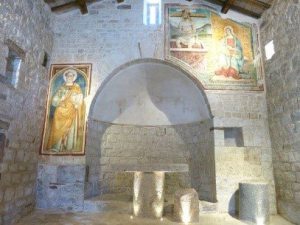 Restored Romanesque church of San Pietro on the property
No one should leave Umbria without a truffle hunting experience. San Pietro a Pettine offers visitors an up-close and personal truffle experience that starts with an introduction to truffle history, moves into a truffle hunting experience (with dogs) and ends with a delicious truffle-focused lunch.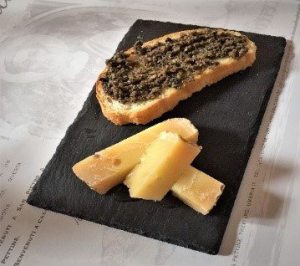 • Toasted country bread topped with a paper-thin slice of lardo before being smothered with grated truffles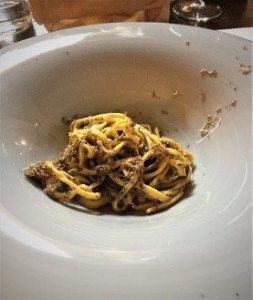 • Spaghetti al Tartufo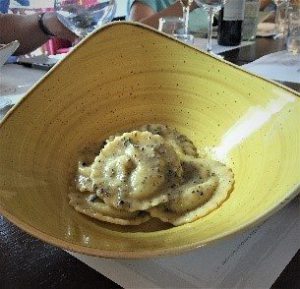 • Ravioli (filled pasta) with Black Truffles
Wines to Pair with Truffles

1. Marchese Antinori Cuvee Royale. Champagne Blend. Appellation: Franciacorta, Lombardy, Italy. Franciacorta is widely regarded as Italy's finest sparkling wine.
Wine Blend is the distinctive wine style used for sparkling wines made with Pinot Noir, Chardonnay and Pinot Meunier – most famously associated with the Champagne region of northern France.
The eye is delighted with a straw yellow hue, enhanced with golden highlights and endless effervescence. White flowers entice the nose and the finish is clean with citrus overtones.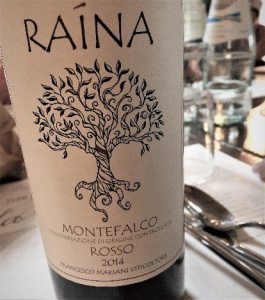 2. Raina Montefalco Rosso 2014. Appellation: Montefalco. Varieties: Biodynamic grown grapes: Sangiovese – 70 percent, Merlot – 15 percent, Sagrantino – 15 percent. Aged for 12 months in French oak, 6 months in stainless steel, and 8 months in the bottle.
The Montefalco DOC demands that the wine must include at least 70 percent Sangiovese. Sagrantino adds intense dark color and earthy spice to the wine's aroma profile. It is also a tannic variety that responds well to barrel maturation bringing black cherries and blackberries to the nose and palate. Merlot is used sparingly – but it smooths the edges of the Sangiovese and Sagrantino and adds fruitful buoyancy.
Red garnets to the eye, intense fruit to the nose (think berries, cherries) that directs the palate to a surprisingly dry and well-structured experience. Tannic – in this very good wine, adds to the sophistication of the taste experience.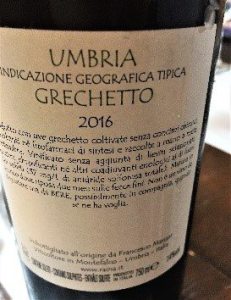 3. Rania Umbria Grechetto 2016. Varietal: Grechetto – 100 percent. Manual harvest in September. 6 hours on the skins in stainless steel tanks. Soft pressing and fermentation with its own yeasts. Aged 3 months in stainless steel tanks on fine lees, 5 months in the bottle.
Grechetto is a white Italian wine grape with a Greek history. It is used in the Denominazione di origine controllata (DOC) wine Orvieto. The grape's thick skins provide resistance to downy mildew which can attack the grapes late in the harvest season.
To the eye, yellow with green shadows. The nose picks out the scent of limes, almonds and wet rocks. The palate is pleased with a fresh and refreshing citrus suggestion.
For additional information, click here.
© Dr. Elinor Garely. This copyright article, including photos, may not be reproduced without written permission from the author.