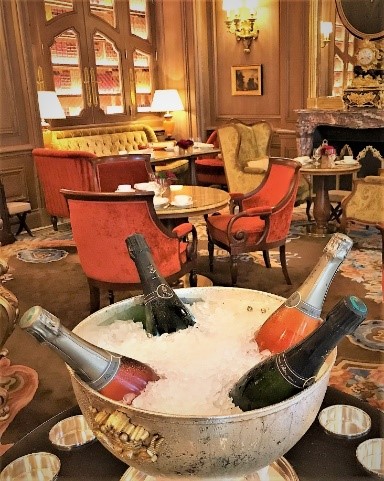 Putting on the Ritz: Rothschild style
Is there anyone on the planet who does not want a chilled glass of Barons de Rothschild Champagne waiting for them at the end of a hectic summer afternoon, with a reserved bottle (or 2) cooling in the refrigerator? The name on the label predisposes expectations of a delicious journey, and the sparkling wine never disappoints.
Getting Started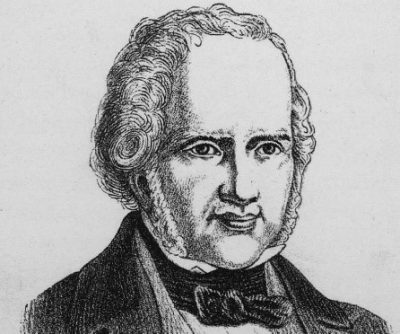 Mayer Amschel Rothschild, born in 1744, started the Rothschild dynasty and is credited with being the inventor of modern banking.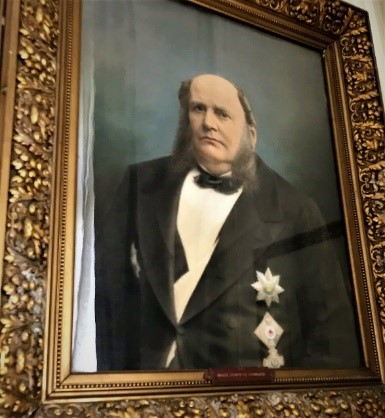 The Rothschild interest in wines began in 1853 when Nathaniel de Rothschild purchased (at auction), Chateau Brane-Mouton (in the heart of Medoc), because he wanted to serve his own wine to his important guests. He renamed it Chateau Mouton Rothschild. In 1868, James de Rothschild purchased Chateau Lafite.
Great-grandson, Baron Edmond de Rothschild grabbed onto the vision and increased wine holdings by acquiring two additional estates, Listrac and Moulis-en-Medoc (1973). Currently the wine division is directed by Baron Benjamin and Baroness Ariane de Rothschild.
Adding Champagne to the Portfolio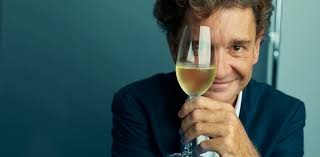 Today, Philippe Serey de Rothschild is the President of Champagne Barons de Rothschild, a new enterprise started by three cousins: Geneva banker, Baron Benjamin (owns Chateau Clarke); Baron Eric (owns Chateau Lafite and other estates), Baron Philippine and son Philippe Serey de Rothschild (owners of Chateau Mouton). This is the first time that the families have come together to produce one product, resulting in a combination of skills and expertise that delivers an OMG palate experience.
Believing that champagne would be an excellent addition to their wine portfolio they looked for an area that would provide:
1. Adequate supply of quality grapes (especially Chardonnay which is rare and expensive in Champagne) as to would be the primary grape in their champagnes.
2. Available vineyards (minimum of 10-15 acres).
They found the perfect spot in Cotes des Blanc region (Cave Vertus, Reims, France) and then signed long-term contracts with selected grape growers in the best Grands and Premiers Crus areas.
Vinification started in 2005 and the first bottle was sold in 2009 in Japan, with Switzerland and Belgium added shortly thereafter. The next stop was the USA. Currently Champagne Barons de Rothschild is available in 70 countries and distributes 500,000 bottles per year (with 2 million bottles stored in 2 cellars).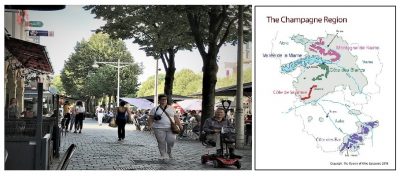 The company headquarters is in Reims, and the actual winery is located in Vertus on the Cote de Blanc.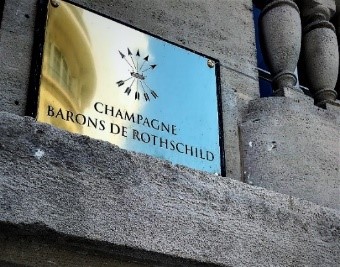 The Managing Director for the project is Frederic Mairesse, formerly Operations Director, LVMH, at Mumm et Perrier Jouet and Pommery & Lanson.
Viniculture
The Champagne production is based on the use of white grapes (Chardonnay) in small volumes and with perfect quality. The Chardonnay is planted on an eastern facing slope that is home to four villages: Avize, Cramant, Le Mesnil-sur-Oger and Oger. The soil is chalk beneath 30 centimeters of topsoil. The close contact between roots and shallow chalk delivers the Chardonnay signature of minerality, while the warm morning sun slices the humidity and reduces the opportunity for the invasion of powdery mildew.
The non-vintage blends include 40 percent reserve wines to ensure consistency. The champagnes are low dosage (only 6-8 grams per liter), to provide the expression of local terroir. Each champagne is aged a minimum of 4 years before being released.
Champagne Collection
The Champagnes cuvees include: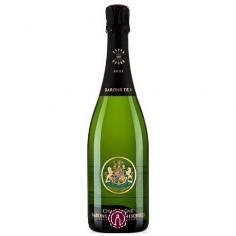 1. Barons de Rothschild Brut. 60 percent Chardonnay (from Grands and Premiers Crus of Cotes des Blancs area), 40 percent Pinot Noir (from villages of Verzenay, Ay, Mareuil-sur-Ay and Ambonnay in the Montagne de Reims Subregion).
Notes. Persistent stream of bubbles, pale gold to the eye. Nose finds pears, hazelnuts, almonds with flowers and brioche. Straightforward on the palate with sensuous roundness and balanced acidity. Long flavorful finish. (Kosher for Passover). Pair with scallops or shellfish, risotto, chicken or Brie de meaux and chaource (a soft cheese from cow's milk, made in the village of Chaoruce, France. Cheese presents a salty, buttery and milky taste).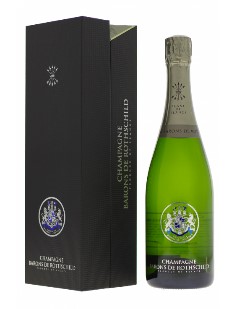 2. Barons de Rothschild Blanc de Blanc (100 percent Chardonnay grapes from Mesnil-sur -Oger, Avize, Cramant, Oger). The wine ages for 4 years in the cellar, followed by 6-9 months of aging in the bottle after disgorging. Results in a pure, delicate and complex cuvee. Uses a minimum of 40 percent reserve wines in the blend.
Notes. Pale yellow to the eye, with frothy, delicate bubbles. On the nose, the Chardonnay provides dominant notes of citrus, hints of dried fruits and fresh almonds. Fine effervesce lends a creamy sensation to the wine, and the finish is delicious with minerality and softness. Serve before dinner as an aperitif or pair with seafood, including lobster souffle, grilled sea bass with dill or a lemon tart dessert.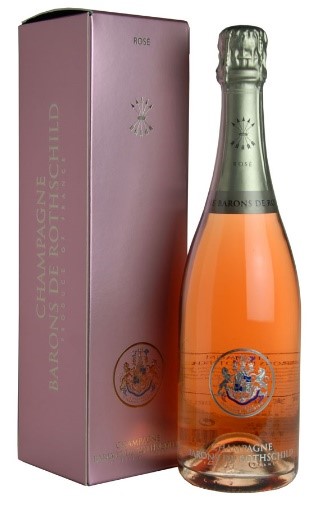 3. Barons de Rothschild Rose (85 percent Chardonnay, 15 percent Pinot Noir). The large percentage of Chardonnay brings finesse and liveliness to the rose while the Pinot Noir brings delicate yet complex notes that deliver lovely memories to the palate.
Notes. A fine thread of bubbles and a coral pink to the eye encourages the first sip while seductive aromas of fresh red fruit (raspberries), lemons, limes, and spices increase the tempo for a taste. Very low dosage and careful ageing after disgorging (3 months) brings a maturity that is delightful. Full flavor on the palate and a long finish. Serve as an aperitif or with sushi, sashimi or red tuna tartare. Pairs well with lightly cooked lamb and cranberry sauce as well as fresh strawberries.
Putting on the Ritz

In 2016, the Ritz London and Champagne Barons de Rothschild disclosed a new partnership, making the Rothschild Champagne and the Ritz Reserve available exclusively in the UK at The Ritz London and in France at The Ritz Paris.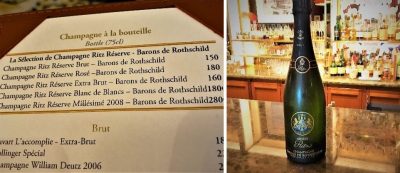 The Ritz properties are noted for old-world luxury and elegance and share the same values with the Rothschild family, making for a unique arrangement. The limited Champagne Barons de Rothschild-Ritz Reserve. According to Andrew Love, Deputy Director of The Ritz London, Champagne had always been part of the Ritz lifestyle.
The Ritz Cuvee is a blend of 60 percent Chardonnay, 40 percent Pinot Noir from the best terroirs of the Champagne region and aged for at least three years. It offers fine bubbles, pale golden color and hints of white fruit and warm brioche with low dosage.
© Dr. Elinor Garely. This copyright article, including photos, may not be reproduced without written permission from the author.