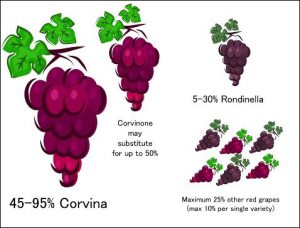 Amarone della Valpolicella direct from Italy
Amarone della Valpolicella (aka Amarone; translates to "the Great Bitter"), is an Italian dry red wine that starts as partially dried grapes that include Corvina (45-95 percent), Rondinella (5-30 percent) and other red grape varieties (up to 25 percent).
History
Located near Venice, Valpolicella is part of the province of Verona. The first reference to Recioto (a mountain region near Verona) was noted by Gaius Plinio Second (Retico). In the 5th century he discussed it in one of his 37-part book series, the Naturalis Historia, where Recioto was described as being a full-bodied red wine. In the 2nd century Lucius Lunium Moderatus Columella, noted the grapes in his agricultural books. Legend has it that Amarone was discovered accidentally because of a forgotten barrel of Recioto which continued to ferment the sugars into alcohol and changed the wine to become stronger and dryer than expected.
The first bottle of Amarone was produced in 1938 and in 1953 the wine started to be traded. The DOC status was awarded in December 1990. In 2009 DOCG status was given to Amarone and Recioto de la Valpolicella.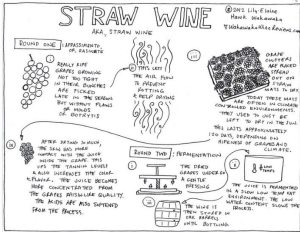 Time-consuming Process
The traditional production process for Amarone is very structured. Harvesting takes place during the first 2 weeks of October. The selected bunches have fruit that allows air flow between the fruit. Grapes dry (traditionally on straw mats) through the process termed appassimento or rasinate (to dry / shrivel). The process produces concentrated sugars and flavors. The resulting pomace is high in alcohol and tannins and the pomace from Amarone is macerated in Valpolicella wine to produce Ripasso Valpolicella.
.
Today, Amarone is produced in special drying chambers with controls. There is a minimal personal contact with the grapes, preventing the onset of Botrytis cinerea. The grape skins star in the production of Amarone as this component carries the tannins, color and intensive flavor to the wine.
The entire process can take 120+/- days – but it varies based on the producer and quality of the harvest. During the process, the grapes lose weight (from 35-45 percent for Corvina grapes; 30-40 percent for Molinara and 27-40 percent for Rondinella).
The drying process stops at the end of January (or beginning of February). For the next step the grapes are crushed and dried through a low temperature fermentation process (30-50 days). The reduced water content slows the fermentation and heightens the risk of spoilage. After fermentation, the wine is aged in oak barrels (French, Slovenian or Slovakia). Desiccations concentrate the juices within the grape and increases skin contact.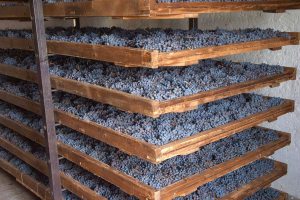 Aging. Drink It! Now or Later?
Amarone cannot be sold unless it has aged on wood for at least 2 years. Many wineries store the wine for 5 years based on older regulations. Amarone can age longer – but the taste changes from full fruit to a deeper, slightly bitter taste with a velvet finish. A good vintage Amarone can age for 20+ years.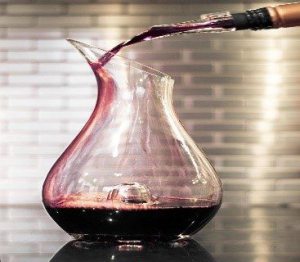 Decant
It is a good idea to decant a bottle of Amarone before drinking. The decanter should be glass with a wide bottom and narrow top. The wide bottom ensures that a large part of the wine is in direct contact with the air and brings out the flavors, breaks down the tannins, makes the wine softer and more enjoyable. The best temperature to serve is between 64-68 degrees F. Serve in large round wine glasses.

Pairing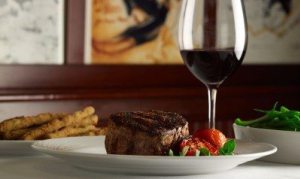 Amarone is a hearty red wine and pairs well with Risotto all'amarone, beef, game, beefsteak, wild boar, deer, pasta with truffle sauce, Parmigiano Reggiano and Pecorino Vecchio, old Gouda, Gorgonzola, Stilton, Roquefort or Danish blue cheese.
The Event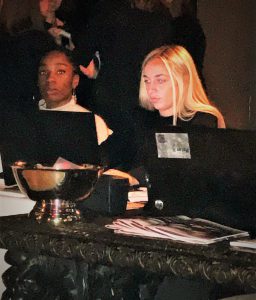 The Historic Families Amarone Tasting was recently held at the Del Posto restaurant (located on the west edge of the meatpacking district), in the wine cellar. The space offers old world elegance (with a trace of Las Vegas), and a large, enthusiastic wine industry response to the event turned the 3-hour wine tasting into a rush-hour crowd experience.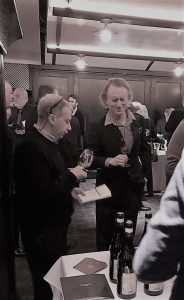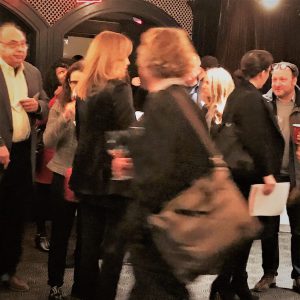 Where to Start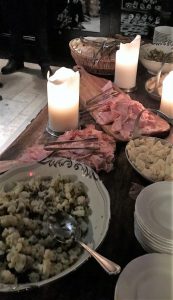 No matter how tempting the wine selection, it is always best to start with a nibble or two to get the palate ready for prime time. A gourmet selection of Italian charcuterie attracted the sommeliers, journalists, and wine sellers, who returned time and again to enjoy the sausage and vegetable selections.
Now for the Wines (Curated)
1. Tenuta Sant'Antonio. Campo Dei Gigli Amarone Della Valpolicella DOCG 2010. Varietal: Corvina and Corvinone – 70 percent, Rondinella, – 20 percent, Croatina – 5 percent, Oseleta – 5 percent. Aged for 3 years in new French oak plus 2 years in the bottle. Production: Municipality of Mezzane di Sotto-Monti Garbi District (Verona). Soil. White with dominant skeletal limestone, with a silty-sand fraction.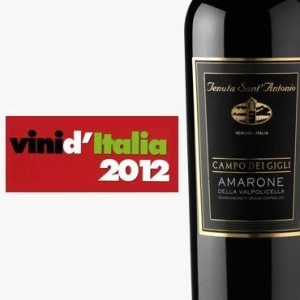 Notes:
The eye is delighted with deep ruby red hues that trend to purple. The nose discovers a soft smell of young cherries that is enhanced by raspberries and blueberries plus hints of wood, and chocolate making the taste experience "almost" too sweet. The finish is intense and long and the wine can age 15-20 years.
2. Speri. Amarone Della Valpolicella DOC Classico Vigneto Monte Sant'Urbano 2012. Varietal: Corvina Veronese and Corvinone – 70 percent; Rondinella – 25 percent, Molinara – 5 percent. Production: Municipality of Mezzane di Sotto- Monti Barbi District (Verona). Soil: Mineral rich limestone cretaceous, calcareous, clay terrain of volcanic origins that favors water retention.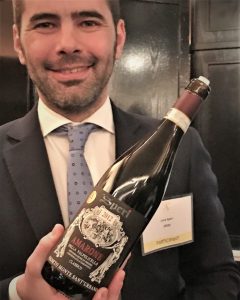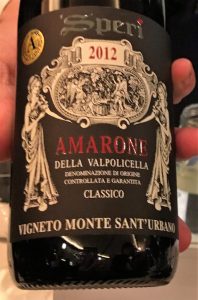 Notes: Ruby red to the eye is satisfying and suggests a delicious nose and palate experience; however, it is necessary to dig deep for hints of cherries, bananas, spices, and chocolate, woods and forests after a rain. The palate finds an unexpected young balsamic sweetness and young light tannins with a lingering complexity that requires thoughtfulness and consideration. Recipient of Bronze award: The TEXSOM International Wine Awards.
3. Musella. Amarone della Valpolicella DOCG Riserva 2011. Varietal: Corvina and Corvinone – 70 percent, Rondinella – 20 percent, Oseleta – 10 percent. Soil: Calcareous with red clay and tuff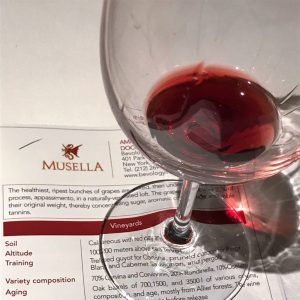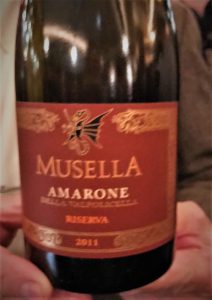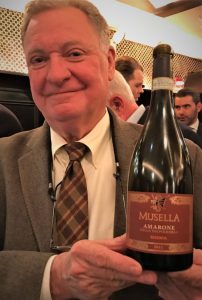 Notes:
Garnet to the eye and sweet perfume to the nose. The palate finds forests and moss mixed with sweet cherry fruit. High alcohol leads to a brandy-like finish.
4. Zenato. Amarone Della Valpolicella DOCG Riserva Sergio Zenatto 2011. Varietals: Corvina – 80 percent, Rondinella – 10 percent, Oseleta and Croatina – 10 percent. Grapes are sourced from the oldest of Zenato's vineyards in Costalunga estate in Sant'Ambrogio di Valpolicella. Low yields from old vines leads to greater concentration and the longer ageing of the Riserva treatment infuses depth and finesse. Pressing occurs in January through de-stemmer and pre-maceration of the skins on the must. Skin contact fermentation remains 15-20 days; wine aged in 7500-liter Slavonian oak vats for 4 years.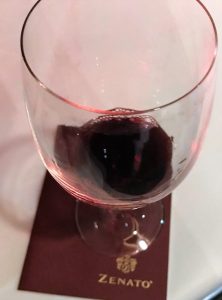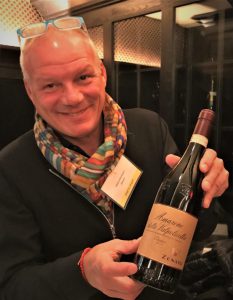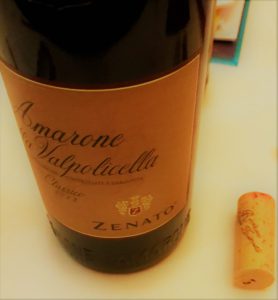 Notes:
Look for ruby red eye appeal and a bouquet of cherry red fruit, prunes, blackberries and spices makes for a happy nose; however, the most joyous part of this experience is the pallet where velvet soft and round tannins are enveloped by red fruits that conjure up visions of plush velvet pillows. Complex and long finish is a reward for being smart enough to own this wine. Not for the faint of heart, this wine delivers big flavors, bold body and a healthy dose of tannins with concentrated flavors.
5. Allegrini Amarone Della Valpolicella Classico DOCG 2013. Varietal: Corvina Veronese – 45 percent, Corvinone – 45 percent, Rondinella – 5 percent, Oseleta – 5 percent. Aged 18 months in oak and blended together for 7 months. Soil: varied, but mostly clayey and chalky of volcanic origin.
Allegrini is the major producer in the Valpolicella Classico area and the family dates back to the 16th century. The winery consists of 100+ hectares and all wines made under the Allegrini label are produced exclusively from the estate vineyards.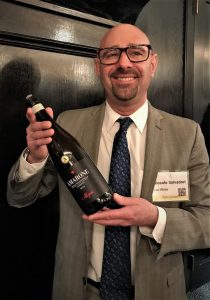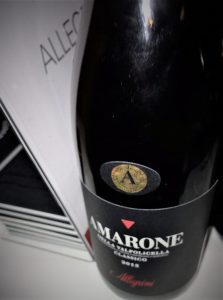 Notes:
The eye notes rusty red and the nose detects a mélange of fruit, wood and wet moss with an undercurrent of balsamic. The palate is surprised by green grapes with acidic notes and integrated tannins that attempts to balance the sweet finish.
Association of Amarone Families
The mission of the Association is to educate trade and consumers on the tradition and quality of this group of Italian wines. The 12 historic producers started the association in 2009 and includes the wine makers located on the green hills of the Valpolicella area near Verona, in the Veneto region of Italy.
For additional information, click here.
© Dr. Elinor Garely. This copyright article, including photos, may not be reproduced without written permission from the author.