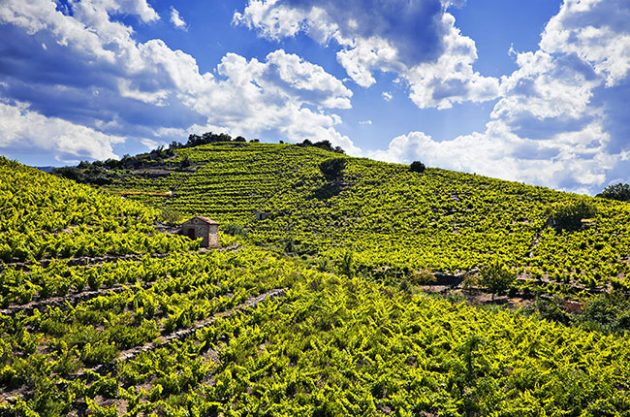 Anson: Are these rare grapes the future of Roussillon?
Jane Anson uncovers some long-lost gems in this tiny corner of southern France, near the Spanish border.
There must be some kind of sweet poeticism in holding a rare grapes festival in a village that is, to say the least, something of a challenge to find.
Off the beaten track hardly does justice to the location of Trilla. It's at one of the highest points of the Agly Valley in the Fenouillédes region of Roussillon, at close to 450 metres above sea level.
It's quite the climb up here, through wild landscape of craggy hillsides along hair-raisingly windy roads. This is not unknown winemaking territory by any means – the wider area is home to some of southern France's most exciting names in the shape of Domaine Matassa, Clos de L'Oum, Domaine Gauby, Domaine de l'Agly and La Soula – but it's little surprise that there are only 65 villagers (of seven different nationalities) who make Trilla their permanent home, and that over half of the houses are holiday homes rather than main family properties.
The nearest boulangerie is a good 20 minutes drive away and the only commerce is one very small bar with uneven opening times. This is not a place for the faint-hearted or overly sociable, even if the sunset over the surrounding hills takes your breath away every single time.
Trilla does, however, play a supporting role in protecting the treasures of the Roussillon – largely because one of these 65 permanent residents is André Dominé, journalist and writer who was born in Hamburg but who has lived in the village with his Mosel-born wife since 1981. Dominé was a novelist early in his career and has published dozens of books on French wine and gastronomy, including the magnificent Wine that runs to 900 pages and has been translated into 17 languages (it started, as you might expect, as Wein). He now also runs one of France's most unusual – and for my money worthwhile – wine festivals.
'The Roussillon region has one of the most important collection of old vines in the whole of France,' he tells me over supper in the village's former wine cooperative, long since closed down and now converted into a private house. 'And yet as demand for the local sweet wines fell away, many of the vineyards that produced them were abandoned or grafted to more fashionable grapes such as Syrah'.
The loss of indigenous grape varieties, as he sees it, is a destruction of the region's natural heritage equal to any terrible planning decision, and he has dedicated much of his time over the past decade to drawing attention to its impact, through his writing, through tastings, and since 2011 with La Fête des Vieux Cépages.
Like many small villages in France, festivals are seen as a way of attracting visitors and bringing in tourism euros. Trilla used to be the site of a rock music festival that must have seemed a little out of place in a village populated pretty much entirely by retirees. It was the local mayor who first had the idea of changing it to a wine festival celebrating the region's indigenous grapes – and handed its organisation to Dominé.
The festival showcases grapes such as Grenache Noir, Lledoner Pelut, Ribeyrenc, Oeillade, Muscat de Rivesaltes. As I last met Dominé at a conference in Rioja defending the forgotten terroirs of Spain, it is no surprise that every year a producer from further afield is invited to Trilla for the festival – Marcel Deiss from Alsace in 2015, Marta Rovira Carbonell from Mas d'en Gil from Priorat this summer.
'There are dozens of local grapes to highlight just from the Roussillon,' he says, 'but what is happening here is being mirrored elsewhere. The characteristics of indigenous flora is increasingly valuable in the face of climate change,' he adds. 'These local grapes that were dismissed in the 1960s for their high acidity are now being taken seriously for the exact same qualities. There are increasing numbers of young winemakers rescuing plots of abandoned grapes, or replanting existing vineyards with traditional varieties. This is what we are trying to draw attention to,' he says.
Rare Grape Protectors
Domaine Pierre Gaillard AOP Banyuls Hors d'Age Solera
Pierre Gaillard has three estates across the region; Clos de Cuminailles in Malleval, Domaine Madeloc in Banyuls-sur-Mer and Cottebrune in Faugères. This stunning Banyuls is 90% Grenache Noir and 10% Grenache Gris, grown on schist soils and aged in the solera method based on vintages from the mid 2000s onwards. Extraordinary aromatic richness on display, from roasted caramel to saffron spice and everything in between.
Domaine Gauby Vieilles Vignes, Cotes Catalanes 2013
One of the powerhouses of southern France, this stunning white wine is a blend of Macabeu, Grenache Blanc, Carignan Blanc, Grenache Gris and Charonnay, with vines aged from 30 to more than 100 years old. Bottled unfiltered and unfined, there is a natural richness to the body, honeysuckle and mandarin orange with lilting acidity.
Le Clos de Gravillas, A Fleur de Peau 2016
An orange wine made by skin maceration of the Muscat grape, this is rich in flavour, marmalade, almonds, salty nectarine slices. From winemakers Nicole and John Bojanowski, a French-American couple who moved to Minervois 20 years ago and work organically with minimum sulphur.
Domaine Thierry Navarre 2016 Vin d'Oeillades
The Oeillades grape is a close cousin of cinsault, grown here on schist slopes, producing supple, fruity wines that are easy to love. Thierry Navarre is truly a name to watch when it comes to rescuing forgotten grapes – he currently works with over 15 varieties from his property in Saint Chinian. This is totally moreish, light at 11.5%abv and low in tannin.
Domaine Vaquer Blanc de Blancs Tradition 1985
We finished the evening with this stunning salty-edged white, surprising and mouthwatering, that still feels fresh and fragrant even approaching 35 years old. Oxidative, rancio notes combine with honeysuckle and dried apricot as it unfolds across the palate. Amazing.
More Jane Anson columns on Decanter.com:
Jane Anson talks through the changes…
Jane Anson analyses Liv-ex's new version of Bordeaux hierarchy…
Inside a billionaires' playground…