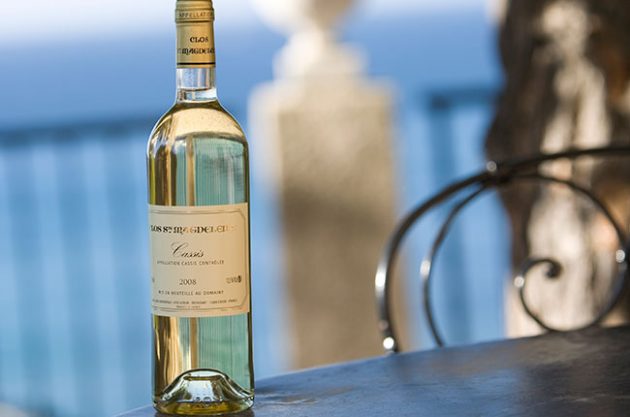 Anson: Hidden Provence – The white wines of Cassis
Jane Anson explores one of the few areas of Provence where white wine still dominates.
I guess it was the thought of Virginia Woolf writing To The Lighthouse while smoking cigars and knocking back a few glasses of Cassis white that stuck in my mind.
It meant that when I first visited the vineyards of Cassis in Provence back in 1999, in a tiny rental car whose handbrake kept failing to master the steeply-sloped landscape, Château de Fontcreuse was pretty much my first stop.
I was determined to locate the site of a tiny cottage on its grounds that the Bloomsbury Set used to rent over long summers, and where Woolf wrote parts of both To The Lighthouse and The Waves (she wrote in her diary in June 1927 that she was working on her novel in the evenings, 'near the sea, a garden under the window, when the gramophone is playing late sonatas').
I didn't realise then just what an exception Cassis white wines are.
Provence, it seems dumb to point out now, is the land of rosé. This is not an exaggeration. It's swimming in the stuff. A full 87% of all wine made in the region is pink, with 141 million bottles this year alone, around 35% of France's entire production.
It's these statistics that makes the salt-stung air of Cassis so unusual. Built along a series of rocky limestone inlets known as Les Calanques, the tiny fishing village of Cassis is 20km down the coast from Marseille, at the far corner of Provence.
Unlike the perma-tanned resorts of Antibes and Cannes at the eastern end of the Côte d'Azur, Cassis is still – except for market days on Wednesday and Friday – a place where you can appreciate the beauty of the Mediterranean without sitting for hours in traffic on a summer afternoon.
And like all of Provence, they make wine here, even if on a smaller scale than many of the inland sectors of the region. It's an appellation with just 12 winemakers and 215 hectares (around two-thirds the size of Central Park), and was one of the first AOCs to be created in France back in 1936, along with Sauternes and Châteauneuf du Pape.
Eighty years on, and it remains something of an exception. This is land that could be extremely profitably sold off to housing developers hungry to build chic holiday villas, as house prices here are around 40% higher than the French average.
Laws protecting the land have tightened since the creation of the Calanques national park in 2012, and it is now France's only appellation to be located entirely within protected parkland.
And unlike the rest of Provence, rosé takes a back seat – 71% of the production is based on blends of the white grapes of Marsanne and Clairette, with varying accompaniments of Ugni Blanc, Terret Blanc, Sauvignon Blanc and Bourboulenc.
Woolf is almost certainly why these are wines that I have loved for many years, since way before I moved to France, and they are bottles that I reach for – along with the whites of the northern Rhône, Rueda, Priorat – in the colder months.
They are perfect as summer softens into autumn and their richly striking collision of citrus, wild herb and saline flavours make for a perfect accompaniment to butternut squash risottos, wild mushroom tarts, smoked fishes.
This summer I headed back to Château de Fontcreuse, owned by the charming Jean-François Brando, and lined up its beautiful whites against those of neighbours Clos d'Abizzi, Domaine de la Ferme Blanche and Domaine Saint Louis and Clos Sainte Magdeleine, all producing whites that burst with this distinctive mix of aromatics.
Most are accessed directly from the few main roads that lead down to Cassis along the slopes of Cap Canaille, at 400 metres the tallest coastal cliff in France, but I was most excited to visit Clos Sainte Magdeleine, tucked down where the cliff face meets the sea.
It's within walking distance of the main port, pretty much next door to the two-star Michelin restaurant Villa Madie, but down a tiny side road that is impossible to find without a little insider knowledge.
It's also home to the president of AOC Cassis, Jonathan Sack-Zafiropulo, fourth generation of a Greek industrialist family who moved to Marseille in the 19th century and Cassis in the 1920s. At 40 years old he is part of the younger generation who are renewing interest in the appellation.
I wish my great-grandparents had been smart enough to buy this estate. Secluded behind high limestone walls, a mustard yellow Art Deco château sits alongside vast underground cellars that date back to the 1850s.
But it's the vines that take your breath away. Whether on chalky terraces rising above the main estate, or on their own tiny peninsula jutting out into the Mediterranean, all have perfect sea views with breezes that give not only the iodine lick so distinctive to these wines but the cleansing air that makes organic viticulture such an achievable aim.
Sack-Zafiropulo farms everything organically here (something that is true for 70% of vineyards in Cassis) with increasing biodynamic practices, and makes only whites and Cinsault-dominated rosés. The appellation does have a 3% scattering of reds, but he prefers to, 'go to Bandol for my red wines'.
'Cassis has been known for its white wines right back to the 16th century, when the Albizzi family moved here from Florence,' he tells me as we head out to the furthest corner of the vineyard, leaning over the low walls to watch teenagers jumping from the rocks into the sea below.
'Until Phylloxera it was dominated by sweet wines made from the Muscat grape and when replanted in the 20th century the winemakers, including my great grandfather, chose to continue with white grapes but this time for dry wine.'
These are white wines that can age, developing a honeyed, saffron spice in the Clos Sainte Magdeleine 2011 that we tried (something that Sack-Zafiropulo has captured in the younger wines with his cuvée Bel-Arme, that undergoes malolactic fermentation 'to soften the acidity and show off the gastronomic side of these grapes').
And they are also a large part of why Cassis has managed to fight off the darker excesses of tourism. Along with fishing, the wine industry helps locals resist the developers and keep Cassis a working town with year-round industry.
Something that makes this pale Provence footnote worth celebrating all the more.
More articles like this:
It isn't just about rosé…
If you want to make it in French high society…
Inside a billionaires' playground…
Find out where the winemakers of Provence go out for dinner…