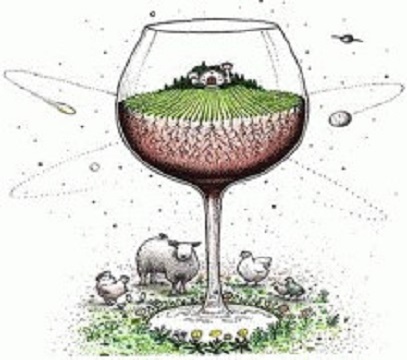 Biodynamic Bordeaux
Elementary
The Bordeaux wine region in southwestern France produces some of the most desired wines and vintages in the world. Once considered a center for traditional viticulture, Bordeaux is quietly, but effectively, changing its farming procedures and embracing organic and/or biodynamic agricultural practices. Yes, the challenges continue (humid climate, sizeable estates, risk-averse owners); however, these issues are being overcome "biodynamically," and wines estate owners/managers are delighted with the results.
History
The concept of biodynamics started in 1924 when philosopher and scientist, Dr. Rudolf Steiner lectured to farmers on ways to integrate science with the spirits in nature. While the concept has evolved through the work of farmers and researchers, the reality is that thousands of gardens, farms, vineyards, ranches and orchards, having adopted this program, are thriving.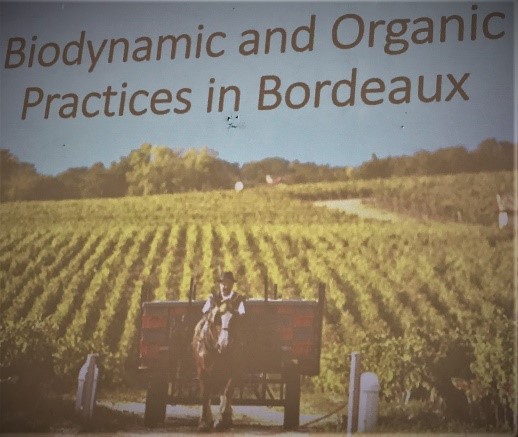 Certification
The vineyards that qualify as biodynamic receive recognition through the Demeter Biodynamic Standard certification program established in 1928 and managed worldwide by Demeter International. In excess of 5000 farms, representing over 400,000 acres are certified biodynamic in 60 countries. Biodynamic certification in the US is managed by Demeter USA and uses the USDA organic standard as a foundation – with additional requirements:
1. Demeter Biodynamic Farm Standard requires that the entire farm, and not just a specific crop, be certified and,
2. Crops and livestock are integrated and animals are treated humanely
3. Imported fertility is kept to a minimum
4. Biodynamic preparations are regularly applied
5. At least 50 percent of the livestock feed must be grown on the farm
6. At least 10 percent of the total farm acreage must be set aside for biodiversity
7. Organisms (GMOs) are not used
8. Only certain organic preparations are used to battle insects /plant diseases
9. Chemical and artificial fertilizers, herbicides, pesticides, growth hormones and genetically modified are not permitted
10. The farm must meet standards of social responsibility
Green is Good
In Bordeaux, there are currently 30+ vineyards practicing organic and/or biodynamic farming and includes almost 8000+ ha (2017). The greatest concentration of biodynamic wine estates are located on the right bank of the Garonne, the locale for the smaller, family-run estates where the chateaux owners believe the cosmic movement impacts positively on their vineyards and adapt their work to the lunar calendar.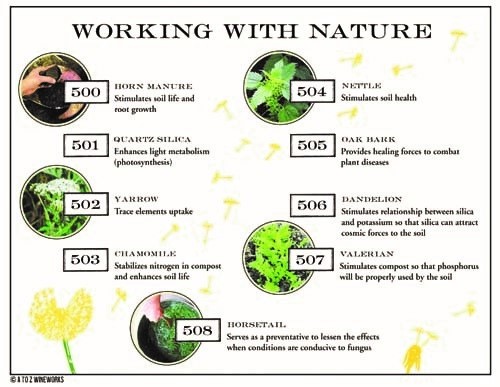 The biodynamic philosophy includes the belief that there are magnetic forces from the earth and a cosmic force from the sun. Following the regime requires the burying of cow's horns full of manure at the autumn equinox and digging it up in the spring. Horn silica has been determined to increase plant immunity, strengthens photosynthesis, and enhances ripening.
Compost blends (40 percent carbon waste, 40 percent green waste and 20 percent other organic scrap matter) might include dairy cow manure, straw, vineyard wood chips, concentrations of yarrow, chamomile, valerian, stinging nettle, dandelion and oak bark. This mixture is stored in non-glazed earthenware pots surrounded in peat to stop the radioactive waves and electric interferences from penetrating the pots.
Horsetail tea assists in the prevention of fungal diseases and balances the watery element in plants and soil. The biodynamic spray and compost preparations develop the plant environment into a dynamic relationship between the soil, water, air, warmth and cosmos creating an atmosphere that enables the vines to become more resilient to pests, diseases and extreme climate conditions.
Good for Tourism
For vineyard managers with tasting rooms and estates open to the public, describing the chickens and how they have reduced the caterpillar population is a wonderful talking point. Other vineyards are storing dried plants such as nettle and chamomile, adding them to infusions and spraying them on vines to fortify them against disease. Visitors are allowed access to the fragrant drying room before tasting the wines.
Challenges
The temperature and terroir of Bordeaux continue to challenge winemakers. Mildew can sweep through a vineyard in less than a day, and destroy an entire crop. Fortunately, the winemakers who have moved to biodynamic farming find positive changes in the microbial life in the soils and demonstrate a greater sense of place plus there is more consistency and the vines are less prone to vintage variation.
Costs Incurred Going Biodynamic
Change is not free and there are expenses to be considered when going biodynamic. There is likely to be a need to purchase new and lighter equipment, with machinery that is better adapted to grassing between the rows (cover crops). Vineyard managers may have to invest in livestock, allowing the manure (vineyard-to-farm) to begin generating its own fertility. Other animals may be added to the mix as sheep eat the cover crop between the rows of vines and chickens eat caterpillars which are fond of vine leaves.
Biodynamic farming may reduce the size of the yield but it is likely that this will be offset by more disease-resistant grapes making wines easier to ferment, and improve aging, producing a more consistent yield and making a more delicious wine which people like to drink – increasing profitability.
Duclot Seminar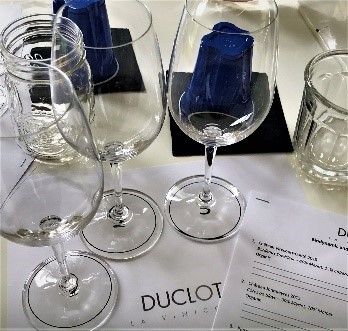 At a recent wine-tasting event sponsored by Duclot, one of the major wine merchants of important Bordeaux wines, a few biodynamic Bordeaux wines were introduced. The Duclot Group started in 1886, and owns a stock of several million bottles of wine. The company belongs to the Moueix family via Videlot, the holding company that also owns Petrus in Pomerol.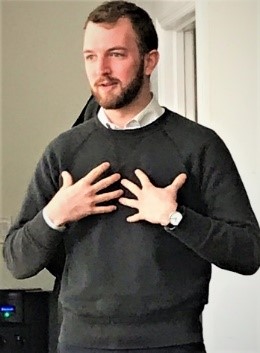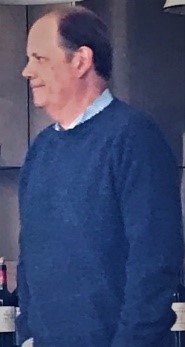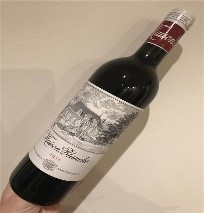 Chateau Maison Blanche (White House) 2014. Montagne St. Emilion. 55 percent Cabernet Franc, 45 percent Merlot. Biodynamic
This is the estate's only wine, made exclusively from cabernets and merlots from old vines, planted in historic terroirs of clay-limestone. To meet Montagne Saint Emilion appellation, wines must contain a minimum of 11 percent alcohol and from vineyards planted to a density of less than 5500 vines per hectare.
Grapes are picked by hand. The must is placed in concrete vats coated with glass panes and ferments naturally without additives. After 3-4 weeks, the fine wine is drained by gravity, and returned to the vat for malolactic fermentation (also natural), without seeding. The wine is aged in French oak barrels 15-18 months, naturally, without addition of chips or anything else, withdrawn at the end of every 3-4 months and readjusted with sulfites and bottled without pasteurization or sterilization. There are no additional yeasts, bacteria, nitrogen, tannins, enzymes, chips, tartaric acid added.
Notes. Merlot – dark, juicy fruit; balanced through blend with Cabernet Franc's herbal aromas and structure. Ruby red to the eye while the nose finds woody and earthy aromas. Pair with Pork, Salami & Prosciutto, Lamb, Venison, or Steak with red wine sauce.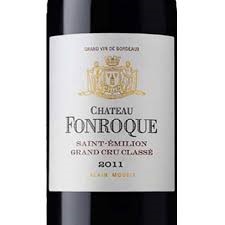 Chateau Fonroque 2011. 85 percent Merlot, 15 percent Cabernet Franc. Saint – Emilion Grand Cru. Biodynamic (first Grand Cru Classe winery in Saint Emilion to become biodynamic)
Since 1931 this Saint Emilion estate has been part of the Mouiex family. With 17.5 hectares (approximately 38 acres) of vineyards (considered large for Saint Emilion) with clay and limestone terroir. Aged 18 months in French oak barrels (40-50 percent new). Organic certification was achieved in 2006 and biodynamic certification in 2008.
Notes. Ruby red to the eye, dynamic aromas of chocolate, cherries, wood, olives, truffles and earth to the nose. Fresh, medium tannins with links to fruit and oak entertain the palate. Deliciously complex with a smooth finish. Pair with Veal, Pork, Beef, Lamb or Duck or with Asian cuisine.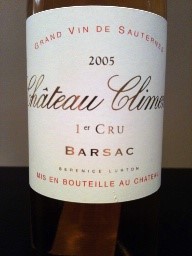 Chateau Climens 2005. Sauternes- 100 percent Semillon. Appellation: Barsac
Semillon is a golden grape that produces France's sweet wines, most notably Sauternes. The grape is considered easy to cultivate. It ripens early but buds later than it's a common blender partner, Sauvignon Blanc. In the 1960s Semillion was the most planted grape in Bordeaux. Foggy mornings and sunny afternoons encourage the development of Botrytis cinerea, leading to the luscious, long-lived wines that are collected globally. Terroir? A thin layer of clay sand rich iron covers a fossil-rich limestone platform which favors natural drainage.
Chateau Climens is considered the "Lord of Barsac." Climens appeared for the first time on a contract dated 1547 and received First Growth status in 1855. Since 1992, Berneice Lurton has directed the Chateau.
Located on the left bank of the Garonne, this enclave is within the Graves region in south-west of Bordeaux, and the Sauternes-Barsac appellation is a tiny region growing the most prestigious sweet white wines in the world.
Notes. Golden yellow to the eye, with aromas of apricots, peaches, mangos, nectarines, honey, marmalade, and minerals to delight the nose. The palate is rewarded with honeyed fruit and lines of acidity. A soft and silky texture leads to a finish that is absolutely yummy! Pair with fruit-based desserts.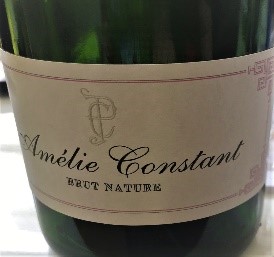 Amelie Constant Brut Nature Rose Cremant de Bordeaux. 90 percent Merlot, 10 percent Cabernet Franc. Biodynamic
The domaine has been in the Despagne family for over 3 centuries. Nicolas Despagne supervises the farming, vineyard and winemaking. Located in the southwest of the Montagne commune between Lalande-de-Pomerol and Saint-Georges – Saint – Emilion. The vineyard covers 32 hectares where the terroir is mostly clay. The average age of the vines is 45 years. Grapes are hand-harvested and aged for 18 months on its lees (twice the length required by appellation laws). The vineyards were certified Demeter in 2013. The Cabernet Franc grapes are harvested by hand and pressed slowly. The juice is fermented in stainless steel vats and filtered. Produced using "la methods traditionelle," the wine is left to undergo secondary fermentation and age on its lees for 2 years. For the dosage, the juice from other disgorged bottles is used to top off bottles.
Notes. Elegant smells of fresh cherries, strawberries, red currants, and cranberries. Fine and persistent bubbles with bright acidity and a creamy texture. Pair with Seafood, Shellfish, or as an aperitif.
The Event
Journalists, sommeliers, restaurant f/b managers and other wine trade managers were introduced to the biodynamic and organic wines of Bordeaux.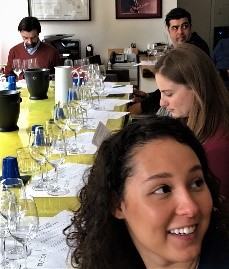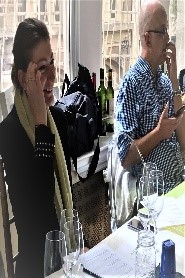 © Dr. Elinor Garely. This copyright article, including photos, may not be reproduced without written permission from the author.