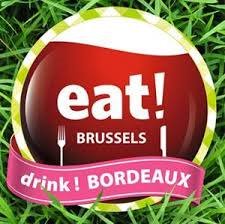 Brussels' festival devoted to master chefs and to wonders of Bordeaux wines is back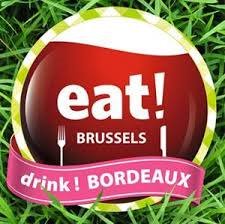 eat! BRUSSELS, drink! BORDEAUX
From 6 to 9 September, Brussels Park will once again be hosting the eat! BRUSSELS, drink! BORDEAUX festival. A score of about 20 Brussels' chefs will be there to delight visitors with their signature dishes. To enhance those delicacies, some fifty winemakers and traders from Bordeaux will be presenting a broad range of wines that exemplify the diversity, quality and accessibility of Bordeaux's produce. How better to arouse and indulge the senses of amateur visitors?
During the 7th edition, the festival will welcome a score of local chefs, confectioners and chocolate makers. Each one will be presenting their star dish. Chefs from towns and regions that hold bilateral relations with Brussels will also be there to reveal exciting new flavors. What's more, the festival is an opportunity for visitors to become part of the celebrations by attending the master classes and workshops that will be delivered on Bordeaux wines.
What's new:
o Some 20 of Brussels' most representative chefs will be joining the celebration and adding their own spice to what's on offer at the festival. They will each be presenting visitors with a signature dish that symbolizes their culinary identity, costing just 9 euros!
o The festival will have 4 new, original themes for the Masterclasses: Crus classés from Graves, grands crus classés from Saint-Émilion, grands vins from Médoc from the 2015 vintage, Sweet Bordeaux & Belgian cheeses.
o This year, the eat! Brussels, drink! Bordeaux festival provides an opportunity to meet several of Brussels' best cheese-makers and pastry chefs. They will acquaint you with new flavors from their original selection. Each day they will take turns offering a tasting plate of their best artisanal products.
o The eat! Awards: This year, the eat! Awards will make their appearance. They will reward the chefs who were most successful during the event.
o The Bordeaux Wine School will invite amateurs to take part in original wine workshops. Fun and flavor all at once!
Brussels is a melting pot for the world's gastronomic cultures and its reputation on the international scene is no secret. With twenty-six Michelin star restaurants (in Brussels and its close surroundings), the European capital boasts more stars than cities of the likes of Berlin, Rome or even Milan. But Brussels does not owe its culinary excellence to its Michelin restaurants alone. And that is exactly what we aim to prove at eat! BRUSSELS, drink! BORDEAUX by gathering together some of the most promising chefs of the moment. They will each bring a signature dish at a set price, enabling foodies and gourmets alike to discover some amazing flavors in the privileged setting of Brussels Park.
Equipped with a Wine Pass, both amateur and expert visitors will be ready to explore the riches of all of Bordeaux's DOs and regions courtesy of the area's winemakers and traders inside the various halls. A fantastic way to discover hidden treasures or sample some all-time classics.