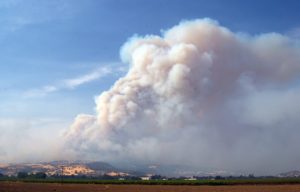 California Wine Country has not burned down
On the night of Sunday, October 8, Northern California Wine Country was hit with a dangerous "perfect storm" of atmospheric conditions combining: warm temperatures, extremely low humidity, bone-dry fields and forests, and very strong winds. Beginning at 9:52 pm, 17 wildfires sprung up throughout the wine country counties of Napa, Sonoma, Lake, and Mendocino counties. These were considered wildland urban interface fires, meaning forest fires within close proximity to human habitation and businesses. And these fires were big and fast-moving, among the worst in California's history. The result was a tragic toll on some communities, notably in Santa Rosa in Sonoma County. Some people lost their lives, many were evacuated, and some people are still displaced.
Yet it could have been much worse. Firefighters mobilized quickly, and crews from around California and beyond poured in to battle the Atlas, Nuns, Tubbs, and Redwood Valley fires among others. As heavy smoke shrouded much of Wine Country, teams of first responders made headway against the blazes and of this writing, almost all of these fires have been extinguished. Volunteers helped out, and nearby unaffected communities rallied to assist. Happily, the smoke has long since blown away as Wine Country gets back to business. Most wineries, restaurants, hotels, and related businesses are back open and undamaged. Another fortunate development was that when the fires hit, about 90% of the grapes in Wine Country had already been harvested. And it turned out that the healthy vineyards proved to be a very effective firebreak.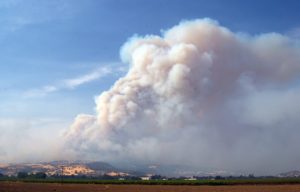 Dr. Anita Oberholster is Cooperative Extension Specialist in Enology, University of California, Davis. This university offers America's premier Enology and Viticulture program. She said, "Although any loss is heartbreaking, we currently have confirmed reports of 15 wineries that were totally destroyed or severely damaged by the fires. This is a very small percentage, and we urge potential visitors to continue their planned visits and support the grape and wine industry in Northern California." Approximately 1,200 of California's 4,600 wineries are situated in Lake, Mendocino, Napa, and Sonoma counties.
"Aside from heavy smoke the first few days, there was no damage to us or our employees' property in the Napa area. We had many cancellations of visits these first two weeks," said Delia Viader, President of Viader Vineyards & Winery.
Shelley Post is the President of Four Sisters Inns, a group of premier inns primarily located in Northern California. Two of their properties remain closed, but the others are fully open for business. "We had an interesting mix of people staying at our properties including some good regular guests, people displaced by the fires, and first responders from all over," said Post. "Our hearts reach out to all of those people affected."
Like some other hotel properties, the Fairmont Sonoma Mission Inn was able to help to feed displaced locals and first responders. They also opened their locker rooms to anyone who needed hot showers. The luxury hotel sustained no damage and has fully reopened to the public.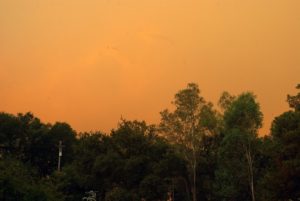 "There's no physical damage to our properties, but our psyche has been disrupted! We've experienced tremendous anxiety, sadness, and stress caused by the loss of lives, the length and uncertainty of the wildfires, and their destruction, said Amelia Ceja, President and Founder of Ceja Vineyards. "We extend our deepest appreciation to the brave firefighters, first responders, and community members for their tireless efforts."
Violet Grgich, Vine President, Grgich Hills Estate, said: "Most important, all of our employees and their families are safe. Sadly, we had three employees lose their homes due to the fires, but we did not lose any buildings or vineyards."
Smoke Taint?
Another potential post fire issue is that of "smoke taint" that may occur in the 2017 grape vintage. There is no absolute consensus, but most suggest that this will not be a factor considering that most grapes were already harvested, and smoke did not last for an extended period of time. In fact, 2017 was looking like an outstanding year for the grapes.
Ehlers Estate in the Northern Napa Valley town of St. Helena was untouched by the fires. "The fragrance of the fermenting grapes is now far stronger than the smell of smoke," said Winemaker Kevin Morrisey. "We'll get through this, as we always do. We're farmers after all."
Remi Cohen, Vice President and GM of Cliff Lede Family Wines in Yountville, said: "Thankfully, most wineries in Napa and Sonoma were nearing the completion of harvest by the time the wildfires started. At Cliff Lede Vineyards, only 3% of our fruit remained on the vines when the fires began." The Owner, Cliff Lede, is originally from Edmonton.
Dr. Oberholster from UC Davis stated: "At low levels, smoke adds complexity to the wine. It is only at very high levels that it will be seen as a fault or taint and can decrease the quality of the wine. We do not expect a significant economic impact on Northern California's wine regions due to the fact that only a small percentage of wines may be affected by the fires and smoke."
David Duncan, President & CEO, of Silver Oak Winery, said: "Other than the tasting rooms being closed for a week, we had little direct impact from the fires. All of our fruit was picked, and the wines in the winery will be totally unaffected."
Megghen Driscol, Communications Director, Terlato Wine Group, told me: "The vast majority of our fruit was picked prior to the fire; in fact, we were night harvesting Chimney Rock's estate fruit the night the fire broke out! A few of our smaller vineyard blocks still had fruit on the vine after the fire, and because of road closures, we had to halt harvesting for a few days. Once we were allowed back in, we elected to continue picking. We are taking a very methodical approach to these lots and are not rushing to judgement."
Violet Grgich said: "We've sent samples of the fermenting wines to ETS lab in St. Helena, and we have no discernable sign of smoke taint. We'll keep a close eye on the wines, of course. Overall, we think this will be a very good vintage!"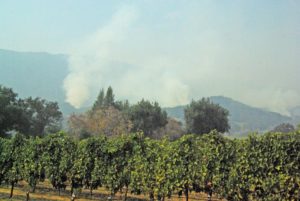 Helping:
Many people across the world have asked how they can help. Most in Wine Country simply say: "Come back – California Wine Country is alive and well. Patronize the restaurants, inns, and wineries. Purchase California wines at home." This will undoubtedly help local families and businesses to slowly recover. Additionally, many wineries in Napa Valley are donating tasting room fees as well as hosting fundraisers for fire relief. For those who wish to donate recovery and relief efforts, the Napa Valley Vintners recommends the Napa Valley Community Disaster Relief Fund.
"Visiting will help Sonoma County's hospitality community get back to work," said Tim Zahner, interim CEO of Sonoma County Tourism. "Fans of the area are urged to continue to support Sonoma County wineries, breweries, cheese makers, farmers, and local artisans. Purchases of items that were bottled in, made in, grown in, brewed in, or otherwise came from Sonoma County help local families recover economically."
"We encourage our neighbors and guests from across the country to visit us to enjoy our delicious wines and legendary hospitality and please also support our wine country community in the Napa and Sonoma Counties," said Amelia Ceja.
Most hotels and Inns are fully open, but visitors should check in with Airbnb before flying out. Restaurants and wineries are virtually all open, and in fact, now less crowded than usual. The small Charles M. Schulz-Sonoma County Airport has also reopened.
Soda Rock Winery's Sales Director Isabelle Adams said: "Our doors are open, and we look forward to welcom[ing] our customers once again. My new mantra: rebuilding Sonoma one case at a time."

Currently reading:
246