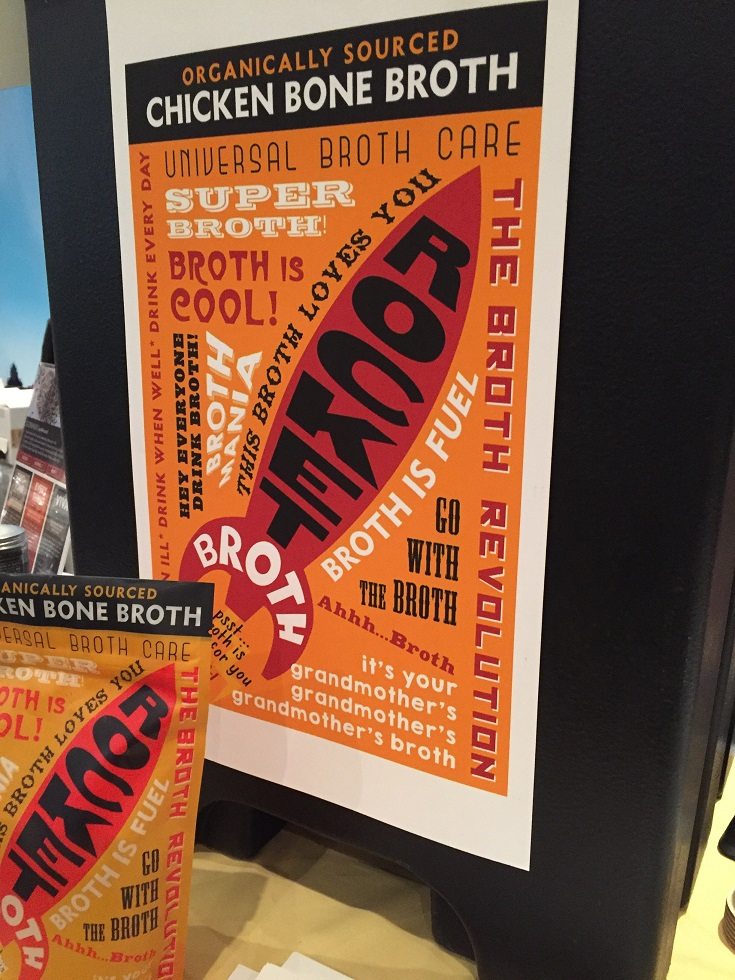 Chefs, restaurant managers, supermarket buyers: Heads up. Break down the barriers to new food
I like to eat, and I like to try new products. Life can be really boring (food-wise), because new food options are unavailable thanks to the barriers created by food distributors and wholesalers.
If buyers for department stores and cosmetic retailers (think Sephora) were as timid as food distributors and buyers, consumers would be wearing nothing but pink and red nail polish, all hair would be black, brown, or blonde (instead of pink and purple and green), and men would not be wearing makeup at their weddings.
It is time that people responsible for buying the food that shows up in restaurants and on supermarket shelves got gutsy and let consumers get to enjoy the delicious options presented recently at the Fancy Food Show at Javits Convention Center, NYC.
Specialty food development appears to be a wonderful arena for creative entrepreneurs and the following describes just a small selection of what to look for in the coming year(s) – if we can motivate distributors to tear down their barricades and permit food diversity.
Factoids
In 2014 Specialty Food sales exceed $100 billion, an increase of almost 22 percent over 2012, to $109 billion, according to the report issued by the State of the Specialty Food Industry, produced by the Specialty Food Association and Mintel.
The top 10 best-selling categories include:
1. Cheese: $3.71 billion in sales; 7.2 percent of the retail market
2. Coffee, Coffee Substitutes, Cocoa
3. Frozen/ Refrigerated Meat, Poultry, Seafood
4. Chips, Pretzels, Snacks
5. Bread, Baked Goods
6. Candy, Individual Snacks
7. Condiments, Dressings, Marinades
8. Frozen Lunch/Dinner Entrees
9. Yogurt, Kefir
10. Nuts, Seeds, Dried Fruit, Vegetables
(Does not include private label sales, random weight perishables or sales through Trader Joe's or Whole Foods Markets.)
Food Barricade
According to Specialty Food producers, they are unable to reach consumer markets because:
1. Distributors do not want to take on a product without sales already in place.
2. Chefs love the product(s) but do not want to take them on without distributors in place.
3. Costs! The price of getting any brand in the natural and specialty sections on the shelf in multi-store chains is expensive. Small food purveyors cannot afford the chargebacks, the required ads, demos, and promotions. The result: lack of diversity for consumers.
4. Retailers expect specialty food manufacturers to have the same amount of marketing funds as the mainstream brands – and this is unrealistic.
5. Lack of information and poor communication between the different levels of the distribution supply chain.
Food Trends
1. Local, sustainable, whole grains, humane food production
2. Smoked flavors, healthy foods, pickled everything
3. Gluten-free, use of beets, kale, seaweed, coconut and other good-for-you ingredients
4. Return to simple, clean, and old-fashioned (real grass butter, fermented foods, ancient grains)
5. Smaller stores, more specialty grass-fed products, home gardening, greater delivery options
Curated New Food Options
The recent Fancy Food Show at Javits was HUGE – with thousands of new and redesigned products available to enjoy. So many taste options and so little time! The following are but a few of the outstanding products to look for at supermarkets, restaurants and online.
1. Rocket Broth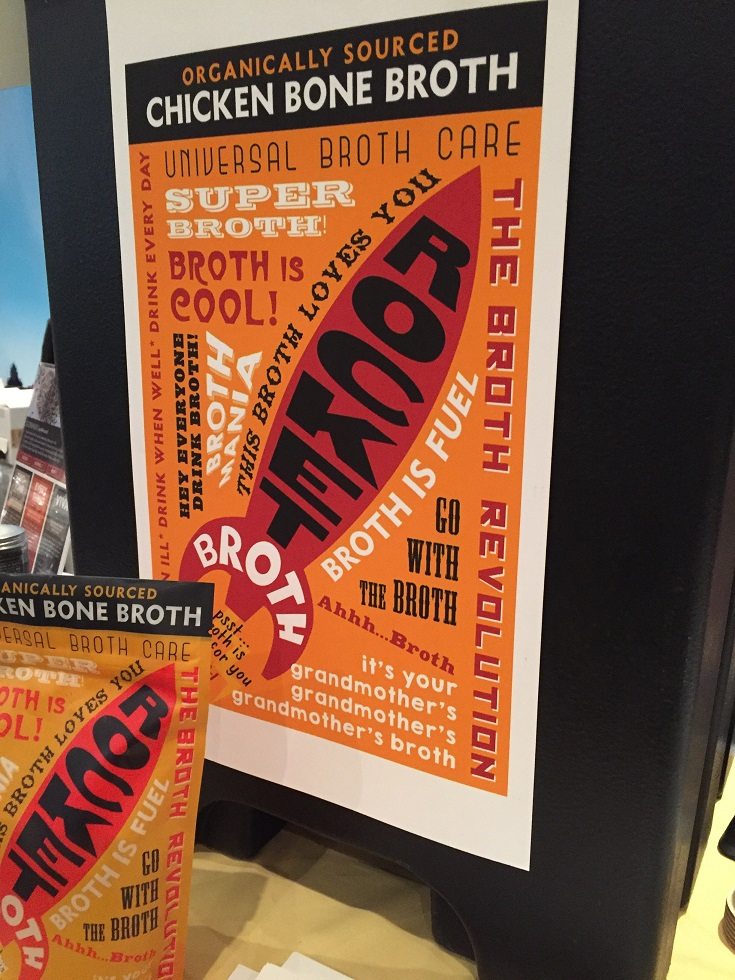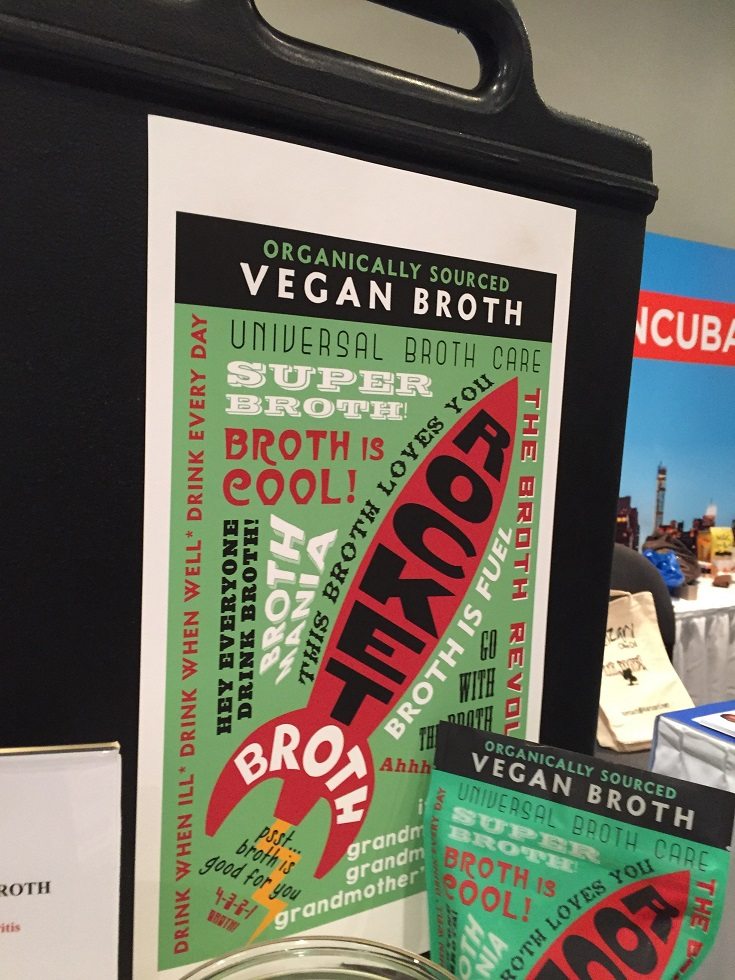 I like soup (especially for lunch). If you purchased consume broths at the supermarket – you know that regardless of price, the product is supersaturated with salt, offers limited flavor and is usually awful. Rocket offers a viable alternative. Taking a leadership role in the broth revolution Rocket delivers organically-sourced, hormone-free, antibiotic-free soups, and, it is delicious. It is made using traditional broth-cooking methods that slow-simmer the bones and include fresh vegetables. Created by nutritional therapist, Sheryl Moller, and Cree LeFavour, Rocket deserves space in consumer and commercial kitchens and at bars and pubs.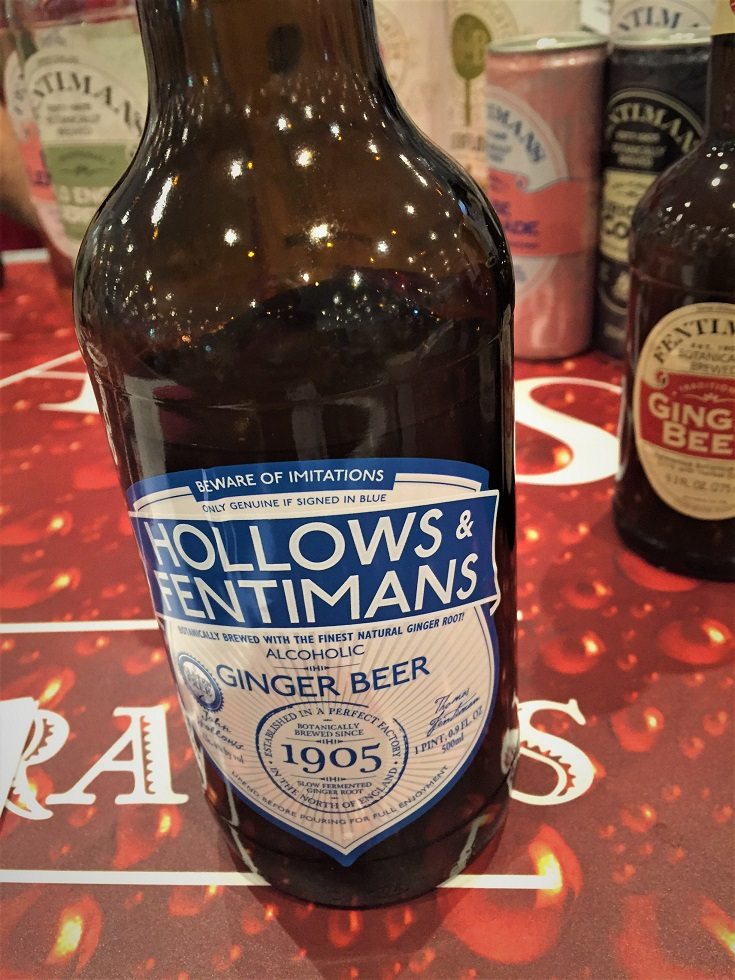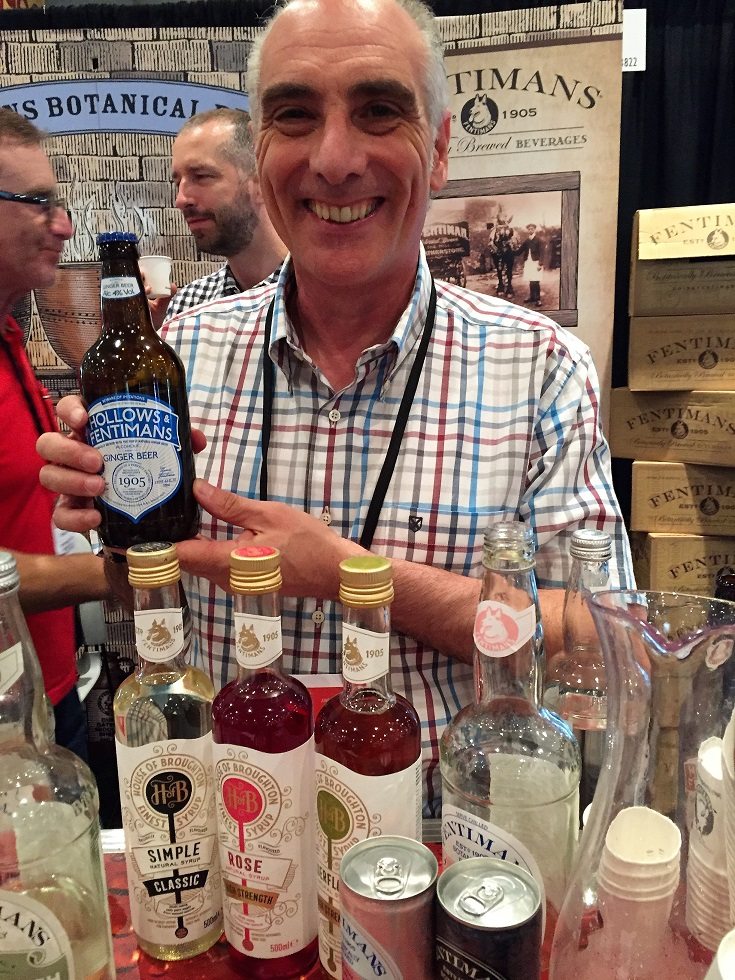 2. Hollows & Fentimans is an appealing mix of ginger, juniper and yarrow extracts. The process includes fermenting milled ginger root. The flavor is perfect in the summer, served over ice with a lime wedge, and in the winter – the ginger is not only refreshing it is perfect for easing the discomfort from colds and flu.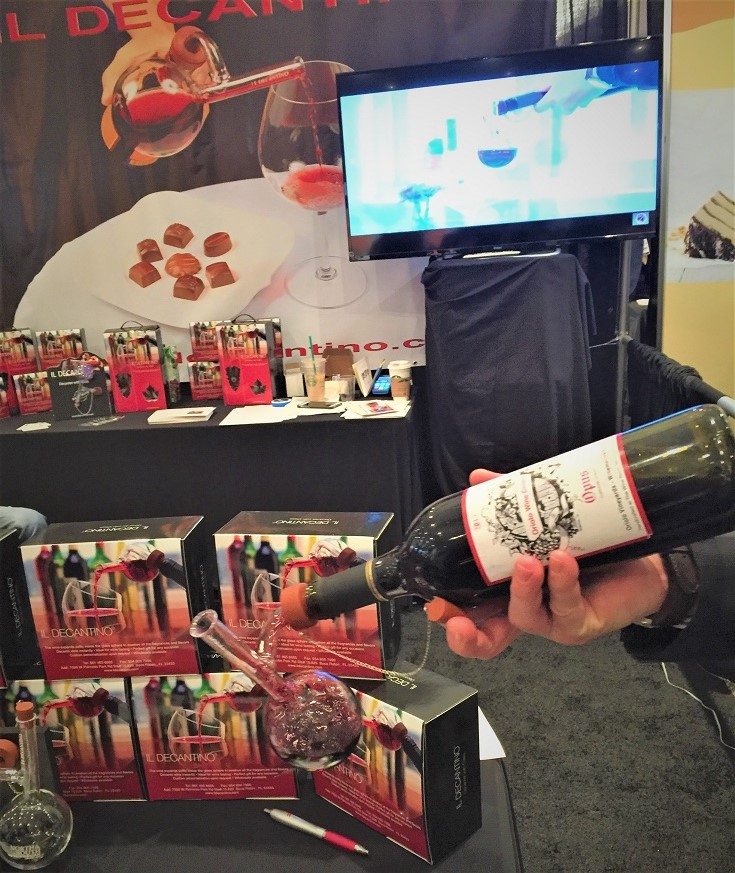 3. Il Decantino decants wine glass-by-glass and serves as a portion regulator. Handcrafted glass from Europe is durable, strong and dishwasher safe. When the cork is removed, the decanter rubber tip is inserted into the neck of the bottle. The cork is removed from the pouring spout and the wine bottle is tipped forward filling the glass bulb and aerating the wine. When the bulb is filled, the unit is tipped and the glass is filled.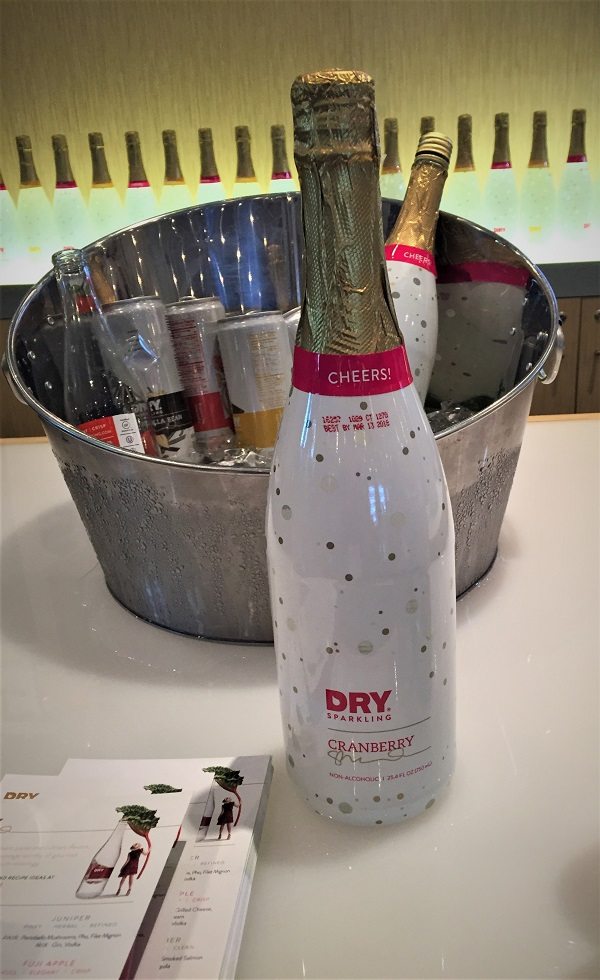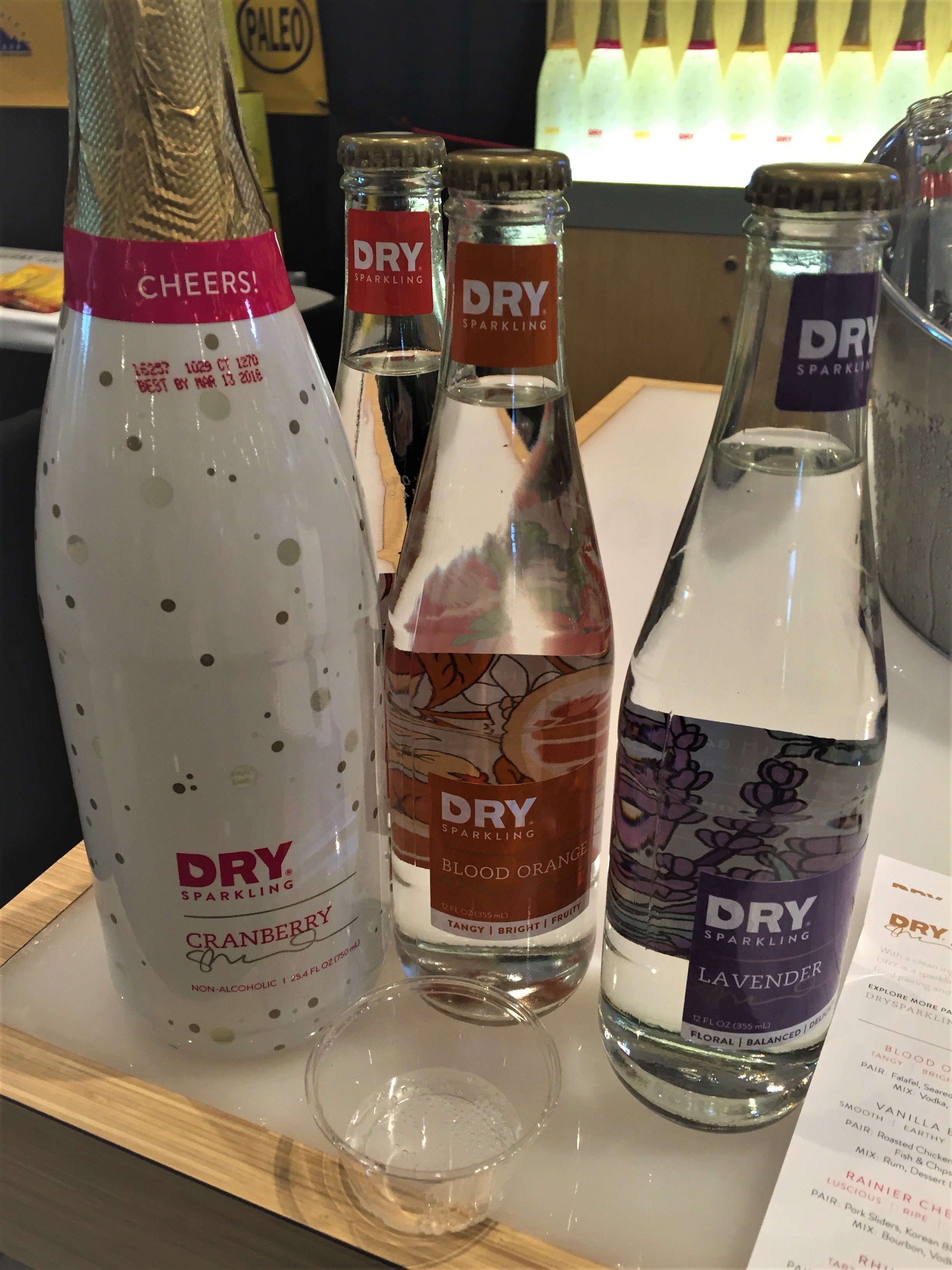 4. Sharelle Klaus started the company in 2005 to design a beverage that was not wine but would pair well with food. The outcome: Dry Sparkling beverages (Ginger, Watermelon, and Cranberry) that pair with garlic prawns, sushi and grilled chicken and also add interest to vodka, gin, and whisky.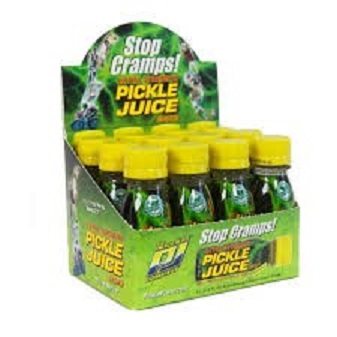 As I meandered through the Fancy Food show aisles, I spotted a sign and had to stop. The sign read: Suffering from Muscle Cramps? Pick Pickle Juice.
Muscle cramps are the worst! It does not matter if the cramp happens in the swimming pool after a few laps, or at 3 AM – the pain is excruciating. Drugs do not help. Screaming does not help. Massage, walking, time and prayer are the only methods currently available to get the pain to stop. However, if pickle juice would make the difference – then – I will drink pickle juice. Dr. Kevin Miller thinks pickle brine helps cure cramps because it triggers a nerve reaction and "might spark…a neutrally-medicated reflex," that helps give the right cues to misfiring muscles.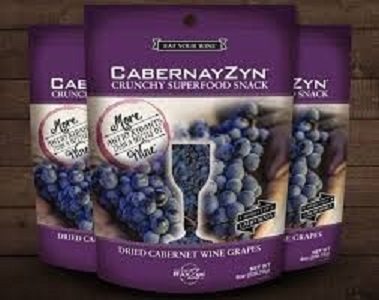 6. The WineRayZyn Co. produces a tiny and delicious snack that tastes good and is actually healthy. Developed in Napa, California, by a family with award-winning vineyard and organic farming experience, these sun-dried wine grapes are available in Cabernet (blackberry, fig and currant flavors), Chardonnay (apricot and toasted caramel) and Merlot (raspberry and plum) and the Dark Chocolate covered CabernayZyns are certified Kosher. The grapes are high in fiber, low in fat and cholesterol and have more antioxidants than wine.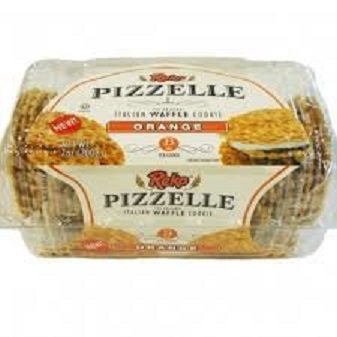 7. Reko Pizzelle Italian Waffle Cookie
This delicious 23-calorie, kosher Italian-style cookie is from the Abruzzi region of Italy. Authentically made and preservative free – these little bits of tastiness belong on every menu.
Competition
Consumers drive demand. Markets, restaurants, food/beverage outlets are successful because they understand their target markets. It is true that large organizations can offer a wide selection of products and have a competitive advantage in purchasing, distribution and marketing; however, if they continue to offer the same products day after day and year after year – they will find consumers drifting to other channels to meet their food demands. As traditional markets continue to play it safe, and ignore the desire for food diversity, they will find that size does not matter. Small entrepreneurial organizations are finding they can compete effectively through offering locally sourced and specialty products, providing superior service and/or serving a local market along with efficient, value-priced online/direct sales.
Eliminate the Middle. Deal Direct
In the USA, the specialty food market is highly fragmented with the 50 largest companies accounting for less than 20 percent of sales. This is good news for consumers – food entrepreneurs are moving away from their home kitchens and making their delicious and innovative products available to all of us by dealing directly with us! We wish you the best of good luck.
© Dr. Elinor Garely. This copyright article, including photos, may not be reproduced without written permission from the author.