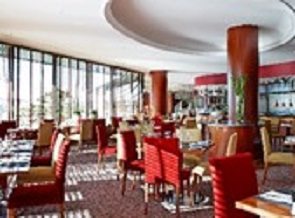 Corinthia Hotel Prague's celebrity chef, Jean-Paul Georges Manzac, creates superfood menu for Prague's annual Grand Restaurant Festival
Corinthia Hotel Prague is once again participating in the annual Grand Restaurant Festival in Prague that runs from now until February 28, 2018.
A culinary feast for foodies, the Festival allows anyone interested in gourmet dining to visit the best and most expensive restaurants but at special Festival prices.
The 2018 festival theme is Superfoods and Corinthia Hotel Prague Executive Chef Jean-Paul Georges Manzac has created a delicious three-course superfoods menu, at a range of prices: one-course at 250 CZK (approx. US$12.22), two courses at 500 CZK (approx. US$24.42) and three courses at 600 CZK (approx. US$29.32).
"The superfood phenomenon is becoming increasingly important throughout the world," says Chef Jean-Paul. "Nowadays, people want to live healthier, to care for their soul and body, to experiment. That is why Grand Restaurant Festival 2018 inspired the chefs to prepare the festival's degustation menu."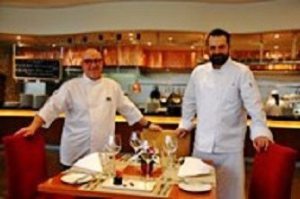 Executive Chef Jean-Paul Georges Manzac with Pastry Chef Vladimir Krofta
To qualify, at least one of the courses had to contain a superfood. Guests can sample Corinthia Prague's gourmet menu at The Grill restaurant which normally specializes in meat and fish dishes cooked over an open charcoal grill.
The three-course gourmet menu is as follows:
· Ceviche of sea scallops with turmeric, avocado and shaved fennel, sardines with ginger, coriander and artichokes
· Roast rack of venison with amaranth crust, espuma of spinach and oyster mushroom, sweet potatoes fries
· Gluten free dark chocolate cake with acai berries, honey and coconut cream foam
Chef Jean-Paul, a French national, was appointed to the hotel last October. One of the Czech Republic's celebrity chefs, he is best known in Prague for his French modern brasserie, Brasserie M, which was awarded the Michelin Bib Gourmand three years in a row, and later for the combined French bistrot and butchers shop La Boucherie & Bistrot M.