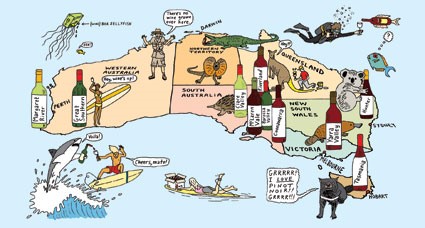 Delicious Wines Fashioned in Australia
Looking for an easy and delicious way to explore Australia?  May I suggest getting a wine glass, reading my notes, and discovering the wonders of Australia by sipping a few of its wines.
Wines by Design
Australia is the smallest continent, but the sixth largest country, slightly smaller than the continental USA. It features snowcapped mountains, arid deserts, sandy beaches, and rainforests – with only a fraction of land suitable for wineries.
Most of the wine growing areas are located on the southern edge of the continent. There are a few coastal areas in this region that are suited for Pinot Noir and Chardonnay. Other regions, further inland, are perfect for Shiraz. The rainy region located near the Adelaide Hills is noted for Riesling, Pinot Noir and Chardonnay. The further inland area of Barossa Valley produces Shiraz from it nutrient and water-deficient rocky soils.
Important to Economy
Some people are unaware that Australia has developed a wine industry that successfully competes internationally. As of 2019, the country had 146,128 ha under vine, of which Shiraz controlled 39,893 ha (30 percent) and Chardonnay, the largest white variety, with 21,442 ha (16 percent) of the market. There are approximately 2468 wineries and 6251 grape growers employing 172,736 full and part-time employees across 65 wine growing regions, contributing over $40 billion annually to the Australian economy.
The Australian wine industry is the world's fifth largest exporter of wine – sending approximately 780 million liters a year to other countries with most being consumed in New Zealand, France, Italy and Spain; approximately 40 percent of production is consumed domestically. Australians drink over 530 liters annually with per capita consumption of 30 liters (50 percent white table wine, 35 percent red table wine).
Wineries Start, Stop and Start Again
In the 18th century, vine cuttings arrived in Australia thanks to the effort of Governor Arthur Phillip (1788) who brought them to the penal colony from the Cape of Good Hope. The first attempts of wine making failed but finally the settlers figured out their mistakes (an important consideration was location), and wine became available for sale in the 1820s.
The first winery was established in 1828 (Wyndham Estate) and is the birthplace for Australian Shiraz. Gregory Blaxand was the first to export Australian wine and the first winemaker to win the silver medal of the Royal Society of Arts (1823) in London.
The importance of wine to the Australian economy continued to expand and in 1830, vineyards were established in Hunter Valley. In 1833 James Busby, regarded as the father of the Australian wine industry, brought back a selection of grape varieties including classic French grapes and grapes for fortified wine production after visiting Spain and France. John Barton Hack developed a vineyard in Echunga Springs, near Mount Barker, and in 1843 sent a case of his wine to Queen Victoria, the first gift of Australian wine to an English monarch.
As more European settlers arrived the wines improved. Emigrants from Prussia (mid-1850s) established the South Australian Barossa Valley winemaking region while winemakers from Switzerland established Geelong wine region in Victoria (1842).
Outstanding Wines
The region is warm, dry and Mediterranean, making the country ideal for wine production. In 1873 Vienna Exhibition the French judges, tasting blind, praised the wines from Victoria; however, they withdrew their comments when the provenance of the wines was revealed on the grounds that wines of that quality must clearly be French.
Australian wines continued to win awards in French competitions. A Victorian Syrah (Shiraz), competing in a 1878 Paris Exhibition was likened to Chateau Margaux. One Australian wine won a gold medal First Class (1882) Bordeaux International Exhibition and another won a gold medal "against the world," in the 1889 Paris International Exhibition.
Trends
In the mid-20th century wine production centered on fortified wines. They were popular because the additional alcohol protected the wines from microbiological attack, making it suitable for storage and transport. Fortunately, during this period there was an influx of immigrants from Germany and Italy and they expanded the wine industry in the Barossa and Riverina regions.
In the 1960s Australians produced sweet and sparkling wines and in the late 1960s full-bodied reds were popular. The 1970s brought an interest in gewürztraminer, gewürztraminer Rieslings and Rhine Rieslings. By the end of the 1970s Australians preferred semi-sweet and dry white wines and Chardonnay became the preferred beverage. By the 1980s the Australian wines were being enjoyed in European markets as they had earned a reputation for being fresh, fruity whites and robust reds. By 1995, Australia controlled 1.5 percent of the world's wine trade and today it is estimated to be at 3 percent, making it the seventh largest wine producer in the world, producing more than 1000 million liters of wine each annually.
In recent years, organic and biodynamic wines have become popular. In 2004 Australia hosted the First International Biodynamic wine forum in Beechworth and Victoria has coordinated biodynamic wine producers from around the world.
At a recent Australia wine event held in Manhattan, I found a few Australian wines that have become my new BFF:
1. 2013. Jim Barry. The Armagh. Clare Valley Shiraz
Clare Valley is located approximately 80 miles north of the state capital, Adelaide. Shiraz excels thanks to the daytime temperature variations that provides deep color and heavy concentration of flavors. The local soil is varied with a mix of fertile alluvial elements, weathered rock and limestone.
The vineyard sites, in the norther Mount Lofty Ranges, vary in height and are located on slopes, windswept plateaus and valley floors, creating a diversified growing environment. Each individual location, depending on soil, light/wind exposure, produces distinct types and qualities of wine.
Winemaker:
Jim Barry graduated from Roseworthy Agricultural College in Australia (1947) becoming the first certified winemaker in Clare Valley and the winemaker for the Clarevale Cooperative winery, the major winemaking enterprise in the region at the time.
After working with the Cooperative for more than a decade, Barry and his wife purchased a 70-acre plot that would become Armagh vineyard (1964). In 1974 the family produced its first wines. Today, the Armagh Shiraz is considered one of the top wines in Australia. It is made from 100 percent estate grown vines and is entirely family owned and operated. Grape harvesting is done by hand and in several selective operations that may span several weeks, ensuring that only fruit of optimum ripeness is picked.
The vineyard produces approximately 80,000 cases of wine. The red wines are usually soaked for a minimum of 24-hours before fermentation begins in traditional open-top tanks. The wines are then barrel aged in a combination of French and American oak for 11-24 months where they undergo secondary (malolactic) fermentation. Most are fined with egg white before bottling.
Notes.
A beautiful red hue to the eye. The nose finds ripe berries, dried flowers, raisins, and plums, while the palate delights in spice and chocolate with fine tannins and delightful vanillin oak leading to a long finish that brings along berries and orange zest suggestions. Excellent but pricey. Pair with beef and venison.
2. 2015. Yalumba. The Octavius Barossa. Shiraz
Yalumba is located near Angaston, South Australia in the Barossa Valley wine region. In 1847, British brewer, Samuel Smith, emigrated to Australia with his family from Wareham, Dorset, aboard the ship, China. He built a home on the River Torrens and then moved to Angaston where he purchased 30-acrea block of land, naming the property Yalumba, after an indigenous Australian word for "all the land around."
The first vines were planted in 1849, beginning the Yalumba dynasty. Today Yalumba is Australia's oldest family-owned winery. The Octavius Old Vine Shiraz comes from the Barossa vineyards starting at the beginning of the 20th century. After traditional vinification the wine is matured in Yalumba-coopered French and American octaves, barriques and hogshead for 20-22 months.
The winery is part of the Australian wine alliance, Australia's First Families of Wine, a multimillion-dollar venture that highlights the quality and diversity of Australian wine. The main criteria:
1. Family owned
2. A "landmark wine" in the portfolio as listed under Langton's Classification and/or 75 percent agreement by group that a wine is considered "iconic"
3. The ability to do at least a 20-year vertical tasting
4. History dating back a minimum of 2 generations
5. Ownership of vineyards more than 50 years old and/or ownership of distinguished sites which exemplify the best of terroir
6. Paid up member of the Winemakers Federation of Australia.
Notes.
A deep red hue attracts the eye. The nose finds depth of aromas from berries and decaying soil, to forest trees and dark coffee. Tannins add excitement to the palate experience and the fruit forward journey continues through to the long finish. Pair with beef, lamb, venison, poultry.
3. 2016. Yangarra High Sands McLaren Vale. 100 percent Grenache (estate grown in Blewitt
Springs, McLaren Vale). Wild yeast ferment, 10 – 11 months maturation in 100 percent older French oak. No fining, just filtration. Vine age: 69 years; 210 m above sea level. Viticulturalist: Michael Lane. Winemaker: Peter Fraser (since 2001).
Grown on the highest point of the white/gray, ancient sandy dunes, at the top of the estate, the gnarly old bush vines were planted by Frederick Arthur Smart and his sons in 1946. The eldest son, Bernard Smart lives adjacent to the property.
The vineyard is certified biodynamic with Australian Certified Organic organization. There is no use of synthetic herbicides or fungicides; however, what is used is compost and other biodynamic preparations as well as grazing sheep in winter; minimal mechanical soil disruptions.
The fruit is hand-picked and mechanically berry-sorted, with only 50% crushed. Five-day cold soak at approximately 10 degrees. Open fermenters are used, wild yeast ferment. Plunging only takes place during fermentation. No pressings are used. Individual barrels are selected individual to showcase the pedigree of the deep sand – intense fragrance compared with intense fruit expression and a gritty long tannin structure.
The Yangarra property was acquired by Jackson Family Wines in 2001.
Notes.
Clear red to the eye while the nose finds dried cherries and minerality, hot stones, violets, peppers and herbs. On the palate the tannins are complex and plentiful – leading to a berry, and wild-herb dramatically long finish.
4. Chambers Rosewood Grand Rutherglen Muscat NV
Founded in 1858 by William Chambers and his son Phillip, the Chambers family has made wines at Rosewood for more than six generations using the solera method. Many of the low -yielding vines are over 100 years old.
Notes.
Pale rose ocher to the eye, the nose finds oak, brown sugar, prunes, raisins, apples, kiwi, honey and honey comb, tempered by a hint of citrus and spice. The palate is pleased and entertained by a mix of sweetness and a syrupy quality that adds to the complex taste experience. Delicious! Sip slowly, a drop goes a very long way. Serve chilled or at room temperature with dessert, cheese, and nuts.
The Event
The Australian Far From Ordinary Roadshow is part of the Australian government marketing plan, investing US$50 million to enhance the profile of Australian wine, increase market opportunities for the wines produced in the country as well as increase tourism.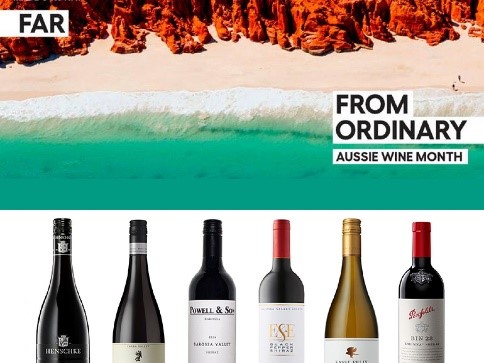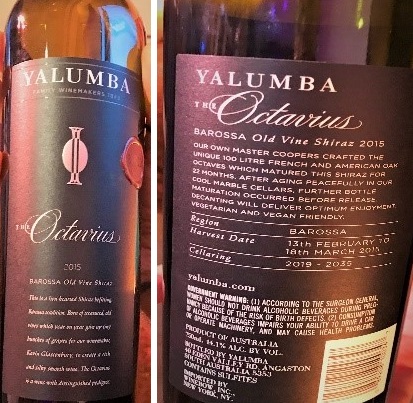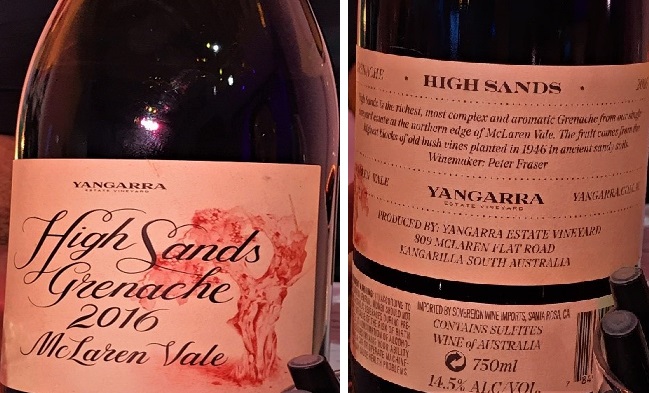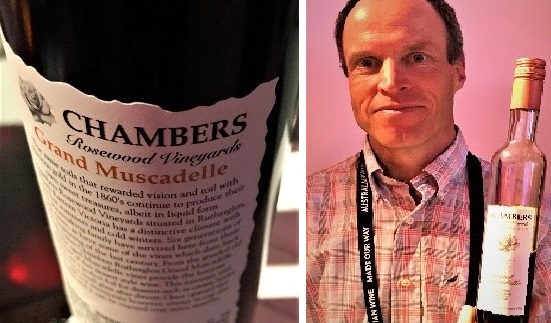 Wine growers, wine makers, wine buyers and sellers, sommeliers, wine educators, wine writers and other wine trade professionals spent the afternoon making friends with the Wines of Australia.
For additional Information: www.australianwinediscovered.com
© Dr. Elinor Garely. This copyright article, including photos, may not be reproduced without written permission from the author.