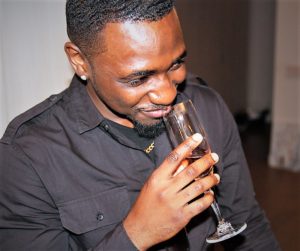 Italian sparkling wines piques interest of recording artist Tay Bell
When Sarah McGovern, the Brand Manager for Guarachi Wine Partners, suggested I write a wine review of their newly acquired Cuvee Deor: The Gold Collection, Italian sparkling wines, I thought it would be interesting to not only share my thoughts on these wines, but to also include the opinion of Recording Artist and Song Writer, Tay Bell.
Since the age of 8, Bell has been connected to music. From the church choir, to learning the violin and piano at the Bronx Preparatory Charter School; from interning at the Warner Music Group to writing songs for Jamie Foxx, Ashati Sevyn Streeter and Candace (Compound), Bell's life means music.
Bell was a finalist in Andre Harrell's Superstar Soul Search (2010) and Grammy nominated producers Self Service, Chik Santana and Dahoud Darien, have mentored Bell in his career. As part of New Wave Music and producer Remo the Hitmaker (2013), he has been collaborating on projects in New York and LA and fans will hear him perform, live, in Hawaii at the September, Invitational Polo event at the Waimanalo Polo Field, Oahu.
Deor Means Golden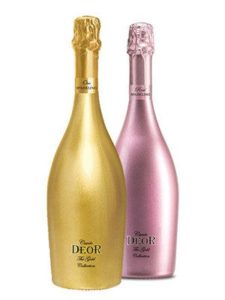 Deor Gold Extra Dry Sparkling and Deor Pink Extra Dry Sparkling – are fun wines that are perfect for informal but important events that range from birthday parties and anniversaries to signing on a new client, or launching a new album. Sparkling wines, whether it is Champagne, Prosecco, Sekt or Cava, conjure up images of glamour, glitz and celebrity. In addition, the "bling" packaging of Deor makes it the right wine for rising superstars.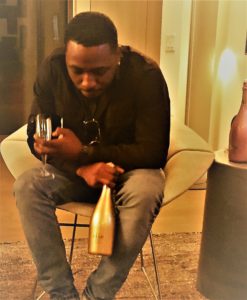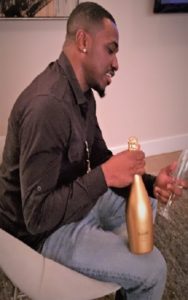 1. Deor Gold Extra Dry sparkling (90 percent Garganega; 10 percent Moscato)
Garganega, Italy's 6th most widely planted white Italian grape is grown in the Veneto region of northeast Italy, in the provinces of Verona and Vicenza. This grape has managed to hide its global popularity and has remained relatively unknown although the variety dates back to the Middle Ages. It is likely to have germinated in the zones where it continues to thrive – the province of Verona.
The vine is very enthusiastic and puts out lots of fruit; this works if the grower seeks quantity but not good for quality. Today, producers have taken Garganega to the next level by pruning back vines to reduce yields, accelerating ripeness for more flavorful berries. Garganega wines are light-medium-bodied, with rounded core notes of pears, white plums, almonds, citrus and gentle spice with a crisp acidity.
Moscato grapes may be one of the oldest cultivated varieties in the world with a unique aroma that is frequently described as "Muscat Aroma." Scientific studies have identified the scent as linalool, and found naturally occurring in mint, citrus flowers and cinnamon. Moscato wine offers sweet flavors of peach, orange blossom and nectarine.
Elinor Garely: The Deor Gold is a shimmery shade of very light yellow with hints of lime green tones. The nose is very happy with the smell of fresh citrus (limes) and honey with suggestions of daffodils and peonies. The palate enjoys limes and florals, tempered with a sophisticated and pleasing acidity that encourages and satisfies with the next sip.
Tay Bell: Looking closely at the clear to green hue – Deor Gold is beautiful to the eye. The nose is rewarded with the aroma of grapes, lemons, limes, and flowers that are balanced with an undertone of earthiness and green grass. On the palate, the smooth fizz is delicious and imparts a hint of citrus including lemons and limes.
2. Deor Pink Extra Dry Sparkling (85 percent Merlot, 10 percent Raboso, 5 percent Moscato)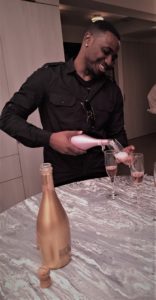 The word Merlot may be a derivative of the French word merle (blackbird) and definitely describes the color of the grapes. This varietal delivers a soft, hearty flavor combined with early ripening – making it popular for blending. Because Merlot offers lows acidity it serves as a balance in many Italian wine grapes and is frequently found in blends in Veneto. It is noted for its light body and herbal notes.
Raboso grapes (from raboxo in the native Venetian language means "angry") may be named as such because the mouth becomes "angry" when this wine is sipped while it is young. Historically it was favored by Venetian navigators who called it vin de viajo (wine of travel) as it was the most resistant to aging and transport. When left to age in wooden barrels, it acquires a deep ruby color with a garnet tinge, a broad and full bouquet of wild violets with a concentrated note of sour cherry with a dry, pleasantly astringent palate.
Elinor Garely: The eye is surprised with a mauve to pink coral bubbly view while the nose is rewarded with fresh garden flowers and young sweet strawberries. The palate finds sweet pineapple and hints of fresh red berries that lead to a pleasant citrus finish.
Tay Bell: To the eye a lavender hue with flecks of gold and lots of happy bubbles. The bouquet is generous but definitely sophisticated and delivers hits of florals (rose petals and lavender), with hints of grass and pineapples. The palate detects a tangy, fruity, very berry note reminiscent of roses tempered with citrus acidity. Each sip resonates with a fruity sweetness that is offset by light acidity.
© Dr. Elinor Garely. This copyright article, including photos, may not be reproduced without written permission from the author.