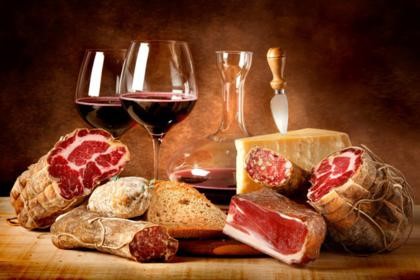 Italy: Wines of Emilia-Romagna
Located in northern Italy, Emilia-Romagna is a prolific wine region covering more than 136,000 acres under vine (2010). The 15-mile area spans almost the entire width of the northern Italian peninsula and is located between Tuscany (to the south) Lombardy and Veneto (to the north) and the Adriatic Sea (to the east). This unique region is the only part of Italy with both east and west coast borders.
Emilia is named for the Via Aemilia, a road built by the ancient Romans connecting Bologna to the cities of Modena, Reggio Emilia and Parma to the northwest. The Romans also developed the eastern portion of the province which stretches to the Adriatic Sea and includes Ravenna, once the capital of the Western Roman Empire.
Lambrusco
The signature wine for Emilia is Lambrusco. Archeologists located fossilized remains of the Vitis Labrusca plant dated between 12,000 and 20,000 years old. It is presumed that the Etruscans cultivated grapes and started wine production in the 7th century BC in the Po Valley, bringing viticulture to Central Italy. The wine industry flourished during the Roman Empire and was documented by the poet Virgil and scholar Pliny the Elder – with a special salute to the Lambrusco grape.
In the 1970s the Riunite brand introduced Lambrusco to the USA. It was fizzy and sweet, and meant to be consumed while young, developing a very bad reputation. Fortunately, the wine makers currently focus on quality and not quantity making a product that is really worth drinking.
The Lambrusco production center is Sorbara, in the province of Modena and located in the heart of Pianura Padana, a large and flat valley of the Po River. The terroir is mainly maritime with fluvial sediments; the absence of slopes makes it very challenging to make interesting wines.
Emilia-Romagna has two DOCG wines: Colli Bolognesi Classico Pignoletto (province of Bologna and Savignano sul Panaro, province of Modena) and Romagna Albana (province of Forli-Cesena). Both areas or production have hills and benefit from the close proximity to the Adriatic Sea (approximatey 60 miles).
In 1970, several Lambrusco varieties received the DOC appellation (the second-best appellation for Italian wines after DOCG) and included Lambrusco di Sorbara, Lambrusco Salamino di Sant Croce and Lambrusco Grasparossa di Castelvetro; in 2009 Lambrusco di Modena was added to this appellation. Lambrusco has a strong connection to local traditions and it is now protected by Italian wine laws and winemakers are producing a quality product.
Wine by Association
Emilia-Romagna is approximately the 2nd or 3rd largest producing wine region in Italy, following Veneto and Puglia. Enoteca Regionale Emilia Romagna is the association established (1970) to promote and improve regional wine production. Currently there are over 200 members who produce wines, balsamic vinegar and spirits as well as other organizations and regional sommelier associations.
Grapes Alone
Wine varieties: Vitis labrusca species rather than Vitis vinifera! Emilia Romagna's famous Lambrusco varieties are derived from the Vitis labrusca species. The area is noted for its rare local DOC wines, red Cagnina di Romagna and white Pagadebit di Romagna.
Malvasia (aromatic white, and fragrant; dry version pairs with appetizers, pasta, white meat and fish)
Lambrusco (red to eye, fruit to floral to the nose, light acidity and moderate alcohol to the palate; regular version with bubbles pairs with pasta e fabioli and boiled meat; spumante/semi-sparkling version pairs with appetizers, charcuterie, medium-aged cheese)
Trebbiano (dark gold to amber to the eye; subtle suggestions of lemons and stone minerality on the palate; generally dry/crisp/fruit with a bitter almond note on the finish; excellent for blending in still light wines or a base for brandy production; dry white wine pairs with seafood pasta, white pizza, roast chicken; accounts for 1/3 or all white wine in Italy)
Barbera (ruby red, intense color; dry, full-body and intense on the palate; pair with pork and lamb)
Bonarda (ruby red to the eye and fruity to the nose; palate experience runs from dry to sweet; pair with meat sauce, roasted meat, sharp cheese)
Sangiovese (the most important wine of the region is ruby red with hues toward violet; dry and well-balanced on the palate; pair with roasted and grilled meats)
The Event for Vini d'Italia
Gambero Rosso (Red Prawn) is an Italian food and wine magazine started in 1986 by Stefano Bonilli. It was first published as a supplement to the newspaper Il Manifesto and established a new category of food writing, making it a model for the next generations of Italian wine/food writers.
The Trebicchieri (Three Glasses) awards are a recognition of Italy's finest wines. For 2019 the Guide includes reviews of 22,000 wines, researched by a panel of 53 experts who selected these wines after sampling the many thousands submitted for evaluation. The results are a finely narrowed curated selection of wines determined to be impeccable.
The annual guide is Italy's authority on the country's wine, food and travel. The guide ranks the year's newly released wines, awarding the top rating, the Tre Bicchieri, to less than one percent of the wines tasted each year. Only wineries achieving the Tre Bicchieri designation are invited to participate in the highly regarded global tour.
The Master Class in New York was led by Marco Sabellico, Senior Editor of Gambero Rosso. Participants included wine writers, educators, sommeliers, food/beverage managers, importers, distributors, retail and wholesalers in the wine and related industries.
Curated
Lambrusco di Sorbara Secco NV Cantina Di Sorbara "Gino Friedmann." 100 percent Lambrusco grapes, Sustainable farming
This cooperative winery started in 2012 with the merger of Cantine di Carpi (est. 1903) and Sorbara (est. 1923). Approximately 1200 members and 6 production facilities produce 45 million liters of wine per year. The two wines dedicated to attorney Gino Friedmann, a pioneer of Modena's cooperative producers, impressed the wine panelists – especially the 2017 Ommagio a Gino Friedmann fermented in bottle.
Notes. Vibrant bubbles and beautiful red hue to the eye. The nose discovers ripe blackberries and citrus. Drink slightly chilled and pair with salmon, pork, salami, risotto, pizza or Parmesan cheese.
Opera 02 di Ca' Montanari. Grapes: 95 percent Lambrusco Graspaross, 5 percent Lambrusco Salamino. Rooted in sandy/clay soil along Modena hills. Organic production. First fermentation in stainless steel tanks with maceration on the skins 4-5 days; second fermentation according to Charmat or Martinottti Method. Winemaker: Luca d'Attoma.
Notes. This ruby red/violet semi-sparkling wine delivers red fruit, cherries and herbs to the nose. On the palate it is fresh and dry and slightly tannic on the finish. Pair with salami, risotto with mushrooms, pasta with meat sauce and pizza.
Lusvardi Rose. 100 percent Lambrusco (Salamino, Grasparossa). Vinification: De-stemming and crushing of the grapes followed by 12 hours of cold soak maceration; racking and soft pressing of the skins. Second vinification directly by the grape must in stainless steel pressure tanks. Organic production. Lusvardi Winery is a small Italian producer owned by Rita and Andrea Lusvardi.
Notes. A sparkling rose following the Charmat method using hand-picked organic grapes. Crystal clear rose with bright pink tones to the eye, lively and persistent perlage, wide intense perfume; berries and green apples intertwine with floral aromas on the palate. Perfect as an aperitif, or with fried fish, shell fish, or light vegetables.
San Valentino Bacaia Sangiovese Superiore. 100 percent Sangiovese. Fermented in stainless steel and concrete tanks; aged for approximately 8 months in 2-year-old 500 liter French wood casks.
Ruby red to the eye, the nose loves the dark cherry aroma, the hint of cloves and cinnamon. Good acidity leads to a long delicious finish.
Torre San Martino, Vigna Claudia. Region: Colli di Faenza DOC Riserva. Grapes: 40 percent Cabernet Sauvignon, 40 percent Merlot, 20 percent Cabernet Franc. Terroir: Sandstone. Fermented in stainless steel with controlled temperature; maceration – 22-25 days and after the malolactic fermentation. Aged for 12 months in reused barriques and 6 months in bottle.
The Hills of Faenza is a DOC of the Emilia-Romagna wine region and lie to the south in the province of Ravenna. The foothills of the northern Apennines have become important to aspiring viticulturalists.
Notes. Deep red to the eye, the nose detects fruity and balsamic scents, with menthol notes. The taste is full-bodied, fresh and balanced. Pair with pork and aged cheese.
For additional information: https://www.enotecaemiliaromagna.it/en/
© Dr. Elinor Garely. This copyright article, including photos, may not be reproduced without written permission from the author.