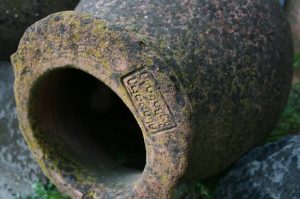 Jefford On Monday: Georgia – the tasting challenge
Andrew Jefford tastes his way through the latest that Georgia has to offer.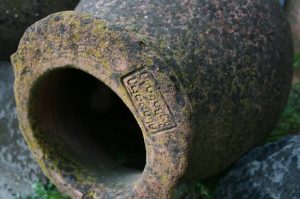 Despite all the attention that Georgia has attracted over the last decade, my guess is that there will still be some readers of this column who have yet to taste their first Georgian wine. What can you expect?
Traditional qvevri wine (wine made in buried clay jars) is Georgia's headline-grabber, despite the fact that it accounts for less than five per cent of Georgian production. It exists in both red and 'white' (deep gold or amber) form.
Red qvevri wines don't greatly differ from conventionally vinified red wines – since skin-soaking is a part of all red-wine vinification, and since they spend less long with the skins after vinification, often going into oak at around the two-month point.
The gold or amber versions made from white grapes, by contrast, truly constitute a separate genre of wine: they get up to six months' skin contact (and sometimes stem-contact, too): longer than even the most comprehensively 'extracted' red wines. The result is deeply coloured, more or less tannic, relatively fruitless, low-acid, usually unoaked wine with a fascinating spectrum of other notes and allusions, and with great mealtime aptitude.
The Georgian Wine Association organized an International Qvevri Wine Competition in 2017 and is repeating the exercise this coming May. Georgia's larger producers, too, have been surprised by the international interest in qvevri wines and are now taking the style very seriously — so the range and consistency of qvevri wines is fast improving. Small-scale and natural wine producers can make outstanding qvevri wines, but they have also marketed hideous failures, too.
The other main hook for Georgian wine is its 525 indigenous grape varieties. It's a wonderful genetic patrimony – but it's largely theoretical at present, since one red variety (Saperavi) and three white varieties (Rkatsiteli, Mstvane and Kisi) dominate most of the commercially available wines. Other white varieties you might see include Goruli Mtsvane (despite the name, a completely different variety grown in Kartli from the 'ordinary' Mstvane or Mstvane Kakhuri, grown in Kakheti), Krakhuna, Tsitska and Tsolikouri; Georgia has international varieties aplenty, too, notably Chardonnay and Cabernet. Many classically made white wines are blends of varieties of general 'Georgian' style (light, fresh, graceful and vinous, with vegetal as well as fruit notes).
When I was in Georgia earlier this month I did, though, have a chance to visit Georgia's viticultural research station at Mtskheta and taste a small range of micro-vinified wines from lesser-known varieties with the director, Dr David Chichua. The most interesting of these were three reds, Adanasuri (structured and almost austere, like a Piemontese red), Simonaseuli (juicy and fleshy, but with ample depth and structure too) and Mujuretuli (a grippy yet perfumed variety which lends itself to the semi-sweet Kindzmarauli so popular in Russia), suggesting that it is perhaps a shame that Saperavi has such a stranglehold on Georgia's red-wine scene.
Another aspect of Georgian wine which has yet to make much of an international impact as yet is regional differences. Georgia has eight different wines regions (Kakheti, Kartli, Samtskhe-Javakheti, Imereti, Racha-Lechkhumi and Kvemo Svaneti, Guria, Samegrelo-Zemo Svaneti and Adjara) as well as 18 individual PDOs. Kakheti, though, is hugely dominant, with around 80% of production, and the palpably different weight and style of wines from the other regions struggles to get a hearing, apart from one or two celebrated properties (like Ch Mukhrani in Kartli, for example). Regionalism in Georgian wine, like the articulate expression of the country's varietal wealth, remains a project for the future.
The final challenge for consumers are labels. These are improving quickly in Georgia, but Georgian place names and variety names are not easy for non-Georgians to read, and any bilingual label using both Georgian script and English to communicate both the legally required information and a little of the wine's story inevitably has to resort to tiny point sizes – and, in my case at last, the wielding of a Sherlock-Holmes-sized magnifying glass. The Georgian labeling revolution still has a little way to run.
Is it all worth it? Yes, certainly: the world offers us no other wines like these, and prices remain very competitive for quality and interest of this level. Who would not want to try an example of wine's sixth genre – the tannic amber 'white' based on six months' skin contact in a buried qvevri? And who would not want to drink wine from what may well be the Eurasian vine's birthplace, and from a location with an attested 8,000-year history of wine creation?
Tasting Georgia
Wines made in qvevris are noted as such; all the other reviewed wines are classically vinified.
Casreli, Chitistvala, Qvevri, Kakheti 2016
Although this wine is labelled with the name of the uncommon white variety Chitistvala, it is in fact made of equal percentages of that variety's fruit with Kisi and Rkatsiteli, too. Dry, dusty but haunting scents of crab apple and blood orange, and a very striking, deeply tannic flavour perfumed with the same fruits, yet not dry or bitter in flavour but rather softening and filling towards the finish. Provocative and good. 90 (11.7%)
Dakishvili Family Selection, Amber Dry Wine, Hand Made, Qvevri, Kakheti 2015
A brilliant blend of Rkatsiteli, Mstvane and Kisi vinified in qvevri by Temur Dakishvili: glowing amber in colour, with scents of nuts, mushrooms, plant sap and sweet curds. Supple, long and vivavacious, with ample walnut and apricot wealth of fruit and generous, soft, slippy tannins and plump, ripe, well-rounded acidity. Gourmet amber wine. 93 (13.5%)
Dugladze, Kisi, Dry Amber, Qvevri, Kakheti 2017
Dugladze is a large company with significant brandy sales, but its qvevri range (bravely bottled in curvaceous transparent glass flasks, like a Provence rosé wine) are well-crafted, accessible and articulate. This very young qvevri Kisi has much more aromatic focus than most, with notes of fruit, moss, jasmine and preserved citrus peel, while on the palate it is full, long and gratifying, with soft tannins and low acids, avoiding the dry acerbity of some Kisi wines. An admirable introduction to the style. 90 (12.3%)
Khareba, Krakhuna, Imereti 2017
Khareba is a large company working hard of late to renovate its offer – in part with some well-packaged, complex blends bringing together varieties from both Eastern and Western Georgia under the 'Prince Giorgi' and 'Queen Tamar' names. Among its classically fermented varietals, I was particularly taken with this Krakhuna from the Imerati region: fruit blossom, shy Alpine flowers and sweet apple scents, with clear, fresh, pungent, bright and crisp flavours of impressive delicacy. 88 (12.5%)
Mosmieri, Saperavi, Kakheti 2015
One of the darkest and deepest Saperavi wines I tasted during my recent visit, this fine effort certainly needs five years' ageing and would be best decanted if drunk earlier than that. Packed with intense blackberry, blackcurrant and sloe fruit, but with the extractive force to frame and balance that characteristically vivacious fruit. Sappy and sturdy. 91 (14.5%)
Ch Mukhrani, Réserve Royale (White), Kartli 2015
This classically vinified white is made from Goruli Mtsvane alone, grown in Mukhrani's vineyards in Kartli. A scent both fresh and sweet, but which resists trivial allusions; not far from linden blossom. Those fugitive scents are apparent in the flavour, too, allied to a soft creaminess; pure and fresh on the finish. A wine of rare poise – and the beautiful packaging helps it look the part; a perfect fine-dining white as well as a deft rendition of the light, graceful Kartli style. 91 (13%)
Orgo, Rkatsiteli, Qvevri, Kakheti 2016
This wine, from Giorgi Dakishvili and his son Temur, is labelled with admirable simplicity: 'Dry Amber Wine from Old Vineyards'. Only vines of 50 or more years old are used, with the fruit being carefully selected and some stems being used, depending on the vintage; fermentation is in relatively new, 2,000-litre qvevris. It's light amber in colour with scents of grain, of mushrooms growing on damp logs, plum jam, rain on dry earth and flowers, too: spotless and pristine. On the palate, the wine is concentrated, commanding and seizing, with ample fine-grained grip, soft acidity and plump ripeness. Once again, it's spotlessly clean, with flavours of grape and apricot, mushroom and umami: perfumed, elegant and long. 95 (13%)
Orgo, Saperavi, Qvevri, Kakheti 2015
Deep black-red in colour: quiet, clean and classy aromas of mulberries, blackberries and the living forest floor. Deep and concentrated on the palate; the acids are beautifully bonded to that rooty black fruit, and the tannins of middling weight and fine texture. It's in the finish that you see the the distinctive exotic Saperavi spice, like a distant Caucasian echo of a fine Northern Rhône red. 92 (13.5%)
Orgo, Tsolikouri, Qvevri, Racha-Lechkhumi 2016
This wine is sourced from Tsolikouri grapes (13%) grown in the Western Georgian region of Racha-Lechkhumi, on limestone soils at around 550m; the variety is late-ripening (this was harvested at the end of October) yet retains its acidity very well. It's deep gold rather than full amber in colour, with less mushroomy warmth than for the Rkatsiteli, and more apple, grape, and leaf. On the palate, it is bright, elegant and darting, acid-structured rather than tannin-structured, though the acids are rich, hinting at apple, lemon, pear, quince, even pomegranate. A genuine contast in style, clearly illustrating regional and varietal differences. 92 (12%)
Tamada Qvevri Dry Amber, Kakheti 2014
This qvevri Rkatsiteli from fruit grown in the village of Vardisubani comes from the Tamada range of PDO wines from large producer GWS (Georgian Wines and Spirits Company). It's bright gold in colour, with a pretty scent combining doughy richness, walnut butter, umami and a sweet barleysugar note (the wine has a year in used barriques after its time in qvevri). On the palate, it is an accessible and attractive reading of the qvevri style with rounded apple and apricot fruits, ripe and soft acidity, limpid textures and a nutty finish: clean and fresh ("let's have qvevri wine without diseases," says chief winemaker Philippe Lespy). 90 (12.5%)
Tbilvino Qvevris, Saperavi, Kakheti 2015
Few among Georgia's large volume producers have higher quality aspirations than Tbilvino, and qvevri wines are an intrinsic part of that; the company is building a new winery at present to specialise in qvevri and ambitious classically fermented wines. This excellent Saperavi from their own 200 ha of red varieties is qvevri-fermented with 30% stems. Very dark in colour, it has a burr of bramble fruit and autumn hedgerow generosity. On the palate, there's a fine balance of vivacity and richness typical of the variety, but the qvevri fermentation and the use of stems seems to have brought a complexity of aroma, a textural intrigue and a nut-oil freshness of flavour which makes this wine deeper and more complex than its classically fermented Tbilvino peers. 91 (13%)
Tsarapi, Rkatsiteli, Qvevri, Avtandil Bedenashvili, Kakheti 2014
It's fun to explore Georgian white grape varities, but wines like this make you realise that Rkatsiteli is hard to better. Dramatic, authoritative aromas of orchard fruits, fresh flowers and umami are followed by a vivid, crystalline palate weaving apple, quince and pear together with beeswax, tea and a little mushroom, too – but the fruits retain their primacy. There are fine, abundant tannins and a well-judged complexing oxidative note, too. 92 (13%)
Tsinandali Estate, Rkatsiteli, Qvevri, Kakheti 2016
Tsinandali is the zonal name of one of Georgia's most popular PDOs (for a classically fermented blend of Rkatsiteli and Mstvane), but at the centre of the PDO lies the historic estate of Tsinandali, originally founded in the nineteenth century by Prince Alexander Chavchavadze and about to bottle its 175th vintage. This qvevri white is a pure Rkatsiteli, barely deeper than gold in colour, with scents of walnut and beeswax polish. There's quiet apricot fruit as well as walnut on the palate, and gently textured tannins: graceful, poised, elegant and fresh. 91 (12.5%)
Vinoterra, Kisi, Qvevri, Kakheti 2015
Vinoterra is the name used at the German-owned Schuchmann winery for qvevri-made wines. This Kisi wine is light gold in colour, with restrained, refined aromas of dried wild flowers and dried apricot. On the palate, too, it is understated and elegant, all nuances and hints but without ever slipping into obviousness, and again the subtle floral, faintly walnutty style of this aristocratic Georgian variety is well to the fore. 91 (13%)
Vinoterra, Saperavi, Qvevri, Kakheti 2015
The grapes for this qvevri-made Saperavi are from the celebrated village of Napareuili, which has a PDO of its own for Saperavi-based reds. The wine goes into new French oak for a year after the qvevri fermentation. Fresh, clean and refined scents, with underbrush and spice over dark, curranty fruit. The classically vinified Schuchmann reds also have that fresh elegance and curranty reserve on the palate, but this qvevri version is warmer, richer and chewier, with a lovely inner glow to it which shines through the elegance of the house style. 90 (13%)
---
The post Jefford On Monday: Georgia – the tasting challenge appeared first on Decanter.