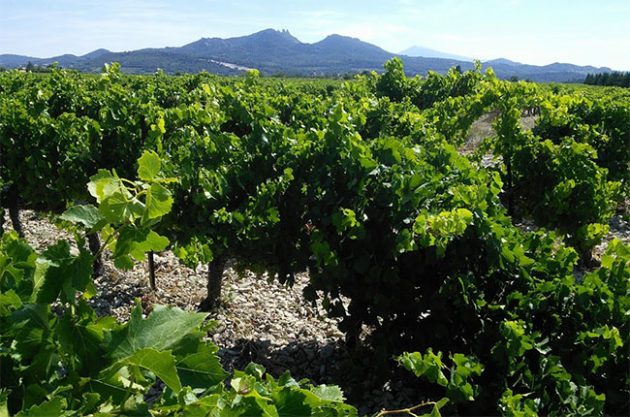 Jefford on Monday: Profiling prince charming
Andrew Jefford sets off in search of Vacqueyras.
If you're a young, Rhône-loving wine enthusiast, here's a lifetime project for you. I don't need to tell you that the southern Rhône dwarfs its northern counterpart; in appellation terms, the north is almost fully planted, whereas the south has huge potential for expansion. That expansion is articulated by the slow elevation of communal or 'village' identities from Côtes du Rhône to Côtes du Rhône-Villages, then eventually to 'named' village status (18 communes enjoy that at the moment). For the elect, the final consecration may eventually come with the awarding of a cru appellation. There are eight of these at present in the south.
So what's the project? It would be to understand the nature, potential and personality of each of those 26 named communes and crus. That's a stern challenge — since they all occupy the same climate zone and all use more or less the same varieties.
I think I can discern the difference between big, meaty, warm, luxurious Châteauneuf and the brisker, brighter and more pungent Gigondas, but after that … Do I feel confident about distinguishing a Rasteau from a Vinsobres? Not yet, no. Not at all. Let alone constructing a personality profile for Plan de Dieu, Massif d'Uchaux, Sablet and Séguret.
You have to engage, though, so over the first half of this year, I've been intermittently trying to grasp the personality of Vacqueyras. I've long loved the wines of Serge (and now Frédéri) Férigoule at Le Sang des Cailloux, but an appellation is much more than a single producer, so I set about tasting as much as I could at the Avignon Decouvertes tasting back in April, and followed that up with a recent visit.
Vacqueyras is one of three cru appellations which shares the slopes of the Dentelles de Montmirail, the other two being Gigondas and Beaumes de Venise. The stairway-like Gigondas, which has the largest share of upland slopes and is most exposed to the Mistral from the north, is coolest; sheltered Beaume de Venise the warmest (hence its alternative Muscat vocation).
The 1,400 ha of Vacqueyras is lower lying than Gigondas, and perhaps more homogenous in soil profile, too. Over half the appellation (at least 800 ha, and some say more) is accounted for by what is known locally as the 'plateau des garrigues' – a flat though elevated area of small rolled pebbles deposited by the wandering Ouvèze in former times. Subsoil clays and marls sustain the vines through the long, hot summer.
The other soil types include the resistant sands known locally as safres, often found in monumental blocks like giant erratics – Grenache is always very happy on sandy soils. Close to the lower slopes of the Dentelles, too, you also find marls at the surface, with fewer stones covering them.
I asked all of the producers I met with how they saw the appellation compared to its peers. Perhaps surprisingly, 'elegance' and 'grace' were words which often came up, mentioned among others by Cécile Dusserre of Domaine de Montvac and Christophe Galon of Domaine les Semelles de Vent. Even Gigondas, most growers felt, had more power and force than Vacqueyras, thanks to its generally deeper soils. (Many growers, remember, have plots in both appellations, and some in Châteauneuf, too.)
Digestible, scrutable, translucent and perfumed fruit was another Vacqueyras hallmark – imagine a kind of burgundy profile in a southern Rhône context and you won't be too far out. Vacqueyras tannins tend to be present though gentle, privileging that openness and an airiness of texture; there is nonetheless a stoniness to counterbalance the fruit. It was, in fact, the disarming perfumed loveliness of fruit over a stony figured bass in the Sang des Cailloux wines which was what first drew my attention to this area.
The wines are undervalued; I didn't visit a single cellar offering both Gigondas and Vacqueyras where the Gigondas wasn't priced more highly than its neighbour. Growers lament this — but it's hard for any producer in France to buck the trend dictated by bulk-wine prices in any given appellation, and generic Gigondas sells for more than generic Vacqueyras.
At present, some 97 per cent of Vacqueyras is red, but this is sure to change. "There's a huge demand for whites here," said Serge Férigoule; "everyone is planting them." "The only problem with the whites," added Albin Combe of Domaine La Fourmone, "is that they sell too well; we always run out before the next vintage is ready." Indeed when local 'oenogeologist' Georges Truc studied the soils of Vacqueyras, beginning in June 2013, one of his main findings was that the limey clays and marls which underlie the appellation, and which dominate those vineyards sited away from the plateau, were very well suited to white wines. Oh yes and he, too, stressed the 'charm' and 'finesse' of the red wines.
There we are: Vacqueyras is the Prince Charming of the south, set alongside dapper, spruce, intense Gigondas and the broad-chested, bass-voiced Châteauneuf. Now, who's ready to tackle the next 23 crus and communes?
Tasting Vacqueyras wines
Whites:
Domaine La Fourmone, Le Fleurantine, Vacqueyras Blanc 2016
This blend of Clairette and Grenache Blanc with a smaller contribution from Roussanne, half oak-fermented, hints at yellow plums, aniseed and fennel in scent, with a poised, perfumed palate of great style, substance and yet freshness and poise, too. This well-run domain is sited just underneath the Dentelles on principally marl soils, and is aiming for 25 per cent white wines before long. 91
Domaine de Montvac, Melodine, Vacqueyras Blanc 2015
The varietal choice for Vacqueyras whites is less restrictive than that for reds, and Cécile Dusserre's Melodine is a blend of complanted Clairette, Roussanne and Bourboulenc, together with Viognier, fermented in demi-muids of which 10% are new. Very subtly perfumed, with both stonefruit from the Viognier and wild flowers from the Roussanne, while the other two varieties provide a fresh, sappy backbone. 90
Reds:
Domaine La Fourmone, Les Ceps d'Or, Vacqueyras Rouge 2015
This blend of old-vine Grenache and Mourvèdre has beguiling blackberry and cherry-floral scents and pure, perfumed flavours with ample grace, weight and freshness. 91
Domaine de Montvac, Variation, Vacqueyras Rouge 2015
Cécile Dusserre's search to maximise the intrinsic elegance of Vacqueyras is evident in this pure old-vine Grenache, extracted with the lightest of touches: light in colour; smoke and fine spice aromas; elegant in the mouth. There is a weight here but without fleshiness, just stony purity. Grenache spice continues to mark the toothsome flavours, all the way to perfumed liquorice on the finish. 91
Domaine les Ondines, Cuvée Passion, Vacqueyras Rouge 2015
This old-vine cuvée is a blend of 70 per cent destemmed Grenache and five per cent destemmed Cinsault with 25 per cent of whole-bunch Syrah. Fresh, floral, precise and enticing aromas with a succulent, perfumed palate: chic, enticing, but complex and long, too. 92
Domaine le Sang des Cailloux, Doucinello, Vacqueyras Rouge 2014
A balloon of perfumed fruit, drifting in the wind: cherry, herbs, stone ballast in a little basket. No cuvée quite sums up the charm of Vacqueyras like this one. 91
Domaine le Sang des Cailloux, Lopy, Vacqueyras Rouge 2014
The old-vine cuvée is certainly deeper but barely darker or denser than the Doucinello: that same baby's-skin finesse is still much in evidence. Violets, stones, pure plums: a breath of southern springtime, with fine-brushed textures, downy softness but great length, too. 93
Domaine le Sang des Cailloux, Oumage, Vacqueyras Rouge 2014
This is an occasional, pure old-vine-Grenache riff from Serge Férigoule produced in tiny quantities (just 1,500 bottles or so). It's as rich as you'd expect – but remember that this is Vacqueyras, not Châteauneuf, and so the silkiness, the elegance, the tenderness and the perfume which this great grape is capable of in the right place comes vapouring out of the glass. A nightingale Grenache. 95
Domaine les Semelles de Vent, Cuvée Séduction, Vacqueyras Rouge 2015
Some 70 per cent of Grenache with the balance made up of Syrah, grown both on pebbles over limey clay and sandy safres, this is a dark, exuberant red with vibrant, almost explosive plum fruits and a slightly chewier style of tannin than many of its peers. Almost Gigondas-like density and energy here – and very good with it. 91
More Andrew Jefford columns on Decanter.com:
Andrew Jefford visits Franconia…
Andrew Jefford hunts down wines to try…
Andrew Jefford on the hunt for value in Piedmont…
The politics of wine colour…