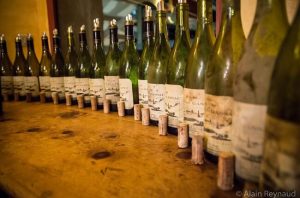 Jefford on Monday: The liquid novel – white Mas de Daumas Gassac
Andrew Jefford tastes his way through a historic vertical.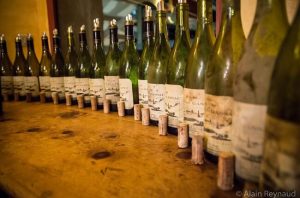 Brothers Samuel, Roman, Gaël and Basile Guibert organised a 30-vintage vertical tasting of their family's celebrated red Mas de Daumas Gassac back in 2014. I wrote (in the June 2014 issue of Decanter) that the wines were "sui generis: the sensorial offspring not merely of a place, but of a historical moment, of a fierce will and of a curious, non-conformist vision." The vision was that of their father, Aimé Guibert, who was present at the tasting; he died in 2016.
Mas de Daumas fans, though, will know that there is also a white wine, and a little earlier this year the family repeated the exercise with those whites. If the reds are sui generis, though, how does one accurately convey the utter originality of the whites? They're sui generis squared.
When Aime Guibert presented the first vintage of his red wine to the world in 1978, it came groomed with a logic and an argument, based on the championing of its soil by celebrated Bordeaux geologist Henri Enjalbert, and with its core of 70% Cabernet Sauvignon, vinified according to the tenets of Bordeaux's greatest late C20 oenologist, Emile Peynaud. Yes, it was an ambitous Languedoc baby — but it was born under a Médocain star.
The white Mas de Daumas, by contrast, is perhaps best seen as a kind of liquid novel: a pure work of the imagination rendered physical and poured into bottles rather than across paper pages. Here's the story.
Peynaud was "totally against the idea," recalls Samuel Guibert. "He said to my Dad, 'You've managed a Grand Cru for your red. Stay there. You don't need to go and do a white as well. The Languedoc's not a land for whites.'"
Guibert held his ground. He started planting white varieties in 1976, and the first white wine was released a decade later. "My Dad was convinced that Languedoc could produce wine with sufficient freshness and acidity, in the cooler climate of the Gassac valley." The vineyards are 250-500m above sea level, remember, with most of the white varieties planted above 300m.
He initially planted Chardonnay (cuttings from Comte Lafon), Viognier (cuttings from Georges Vernay, whom he greatly admired) and Muscat (Petit Grain to begin with, but later Ottonel and d'Alexandrie, too).
Guibert and his wife Véronique de la Vaissière loved to travel, though, and wherever they went, they brought back a few cuttings of other vines and planted them. The red wine is made from around 30 per cent of 'other' grape varieties, and the white, too, has copious exotic genes.
The difference is that in the white wine, two of those 'other varieties', Petit Manseng (cuttings from Charles Hours) and Chenin Blanc (cutting from Huët), saw their presence gradually amplified. "As the existing vineyard aged," Samuel remembers, "the wines gained complexity but lost freshness and acidity. That was where Petit Manseng and Chenin Blanc came in. They are an amazing tool to preserve that freshness." Petit Manseng has been as high as 39 per cent of the blend (in 2004) and Chenin Blanc up to 15 per cent (in 2015).
The 'other varieties', meanwhile, include — in alphabetical order — Albariño, Amigne, Bourboulenc, Falanghina, Fiano, Grechetto, Gros Manseng, Khondorni, Marsanne, Neheleschol, Petit Courbu, Petite Arvine, Roussanne, Sémillon, Sercial and Tchilar. (Khondorni and Tchilar are not listed in Wine Grapes, but are said to have been brought back from Armenia by Aimé Guibert.) In recent years, the percentage of these lesser varieties has varied between 11 per cent and 17 per cent.
It's not possible with a patchwork of varieties to pick every one "at perfect maturity", so some element of mixed ripeness has always been one of the keys to the character of the red Mas de Daumas Gassac.
This is even more true of the whites, as Samuel Guibert confirmed. "Absolutely. The Chardonnay and the Viognier usually come in slightly overripe, at 14 per cent or 14.5 per cent abv, whereas the Chenin Blanc, the Petite Arvine and the Sercial come in at 12 per cent abv. It's a patchwork not just of grape varieties but also of acidity and alcohol levels. The Petit Manseng brings a huge amount of acidity whereas the Viognier is very low in acidity. They all bring something different. That's what we are looking for." All of the different varieties are picked by vineyard zone within a 10-day period.
White Mas de Daumas Gassac, therefore, is a test case for those who are interested in the sensorial effects of mixed ripeness on a finished wine. It's generally low pH (never higher than 3.35 since 2004) and has high acidity (6.3 g/l measured as tartaric in 2017, for example; even in the hot vintage of 2003 it measured 5 g/l).
That's not all. Another originality is that it is a 'dry' wine … rounded out with some residual sugar. "It's a deliberate strategy," confirms Samuel. Why? "In some of the early vintages, when we made the wines fully dry, there was a bitterness which was not to our liking." As the Guiberts retain this residual sugar by chilling the wine towards the end of fermentation, the level has varied considerably: sometimes fermentations have stopped swiftly leaving ample sugar, but on other occasions the yeasts have been more tenacious and the sugars have continued to erode before fermentation stops.
The 1996 vintage was sweetest with 16 g/l while the 2013-2015 trio have between 11.6 and 12.2 g/l; the aim is to fix sugars at 5g-6g for the future. There was some use of oak up until 1999, but no longer.
The final singularity is the use of copious skin contact. "This was a concept invented by my Dad based on what he was already doing for the reds." At harvest, the grapes are destemmed and cooled, and then everything undergoes a three- to seven-day maceration period with rack and return and juice blending three times a day … before pressing and fermentation, which is cool (14C to 22C). Orange-wine fans shouldn't get too excited: as the must is chilled and in the aqueous rather than the alcoholic phase, what's being extracted is principally aromatics rather than tannins. After fermentation, the wines rest in steel and are bottled at around the six-month point. (Prior to 2000, they were lightly wooded.)
That's Aimé Guibert's novel written in white wine, still faithfully duplicated (with the odd tweak) by his sons — and still very popular (the mailing-list release price of the white is exactly the same as that of the red, at around 35 euros a bottle). My five top tasting notes from among the whites are given below, but subscribers to Decanter Premium can hook up with tasting notes for all 22 of the vintages — as well as specially written notes for recent vintages of the red wine (2010 to 2016 inclusive, with a peek at a barrel-sample of the 2017).
Tasting Mas de Daumas Gassac Blanc
A quick summary? Mas de Daumas white is aromatically complex, vivacious and nuanced. In general, it comes across as more 'northern' and less 'southern' than the Languedoc location would suggest. Look out for orchard fruits (both temperate and tropical), a zesty balance in the mouth and a well-rounded finish. Its proportions, like those of its red sibling, can often surprise with their delicate classicism: these are in no sense rich, warm or 'big' wines, but rather shapely and fresh, with a lively drinking balance.
---
---
Five to try
Mas de Daumas Gassac Blanc, IGP St Guilhem-le-Désert Cité d'Aniane 2017
The 2017 is a slightly lighter, dryer and more acidic wine than the 2016, and for the time being the scents aren't as refined and intricate as in 2016. With the highest percentage of Petit Manseng for a decade, though, it's no surprise that the palate has a drama and thrust unrivalled in recent years, with fine orchard fruit and mango aromas to help cover the green-apple drive. Glycerol and a little creamy warmth beckon at the end of this high-energy vintage. 92 (13.50%)
Mas de Daumas Gassac Blanc, IGP St Guilhem-le-Désert Cité d'Aniane 2016
Like its 2017 sibling, the 2016 Mas de Daumas Gassac is a great success. This pale gold wine has pretty scents in which blossom and floral notes (almond, acacia, mimosa) have the upper hand over fruit for the time being. On the palate, the wine is rich yet pretty and fresh, too, with slightly less insistent acidity than its younger sibling (there's 24 per cent Petit Manseng here compared to 33 per cent in 2017). That doesn't mean any shortage of fruit, though; it's just framed in a kind of nougatine richness in which the 6.2 g/l of residual sugar sits very happily. Fine flavour architecture marks this very complete wine. 93 (14.00%)
Mas de Daumas Gassac Blanc, Vin de Pays de l'Hérault 2008
At around the ten-year mark, Mas de Daumas Gassac Blanc seems to flip from youth to maturity, acquiring notably deeper colours (this is old gold), modulated fruit flavours and elements of oxidative complexity. The vivacious 2008 (with its 34 per cent Viognier, 29 per cent Petit Manseng, 18 per cent Chardonnay and 11 per cent mixed varieties) has sweet apple and hay-loft scents into which a creamy nuttiness is beginning to steal. This vintage had just 6.7 g/l of residual sugar, and is still singing with mixed fruits (apple, grape, greengage, apricot and peach), but in addition to that full-frontal zing there is plenty of drive and follow-through, and a vinous finish. Great as an aperitif which could cope with first-course dishes, too. 93 (13.05%)
Mas de Daumas Gassac Blanc, Vin de Pays de l'Hérault 1996
Yes, this was the sweetest Mas de Daumas Blanc ever (16 g/l), but the fact that it has aged so well is testament to the success of the strategy. Together with the (disappointing) 1992, the 1996 was the deepest coloured wine in the vertical tasting: Russian gold with amber glints. The aromas are autumnal: stored attic fruits, with a weight of fallen leaf and a toffee-apple tang. In the mouth, the wine is ample, mellow and richly fruited without being weighty or torpid. Crushed peach, apple, plum, pineapple, mango and guava: they're all in here somewhere in this intensely fruity white. High acidity helps diffuse and absorb the sweetness. I wouldn't keep it any longer but well-stored bottles should be showing attractively just now. 93 (12.75%)
Mas de Daumas Gassac Blanc, Vin de Pays de l'Hérault 1989
Unquestionably the finest wine from the first decade of this three-decade vertical, the 1989 was still in good shape, with a surprising precision, clarity and sweet lift to it. It's old gold in colour, with harmonious aromas which bring together creamy peach, lemon-verbena freshness and the sweet exoticism of pineapple; there's little nuttiness here, by contrast. On the palate, it's both vivid and forthright, its poised acidity sustained and packed with fruit flavour and nuance, but with the harmony of maturity in evidence, too. A long, refined finish completes the picture. 93 (13.15%)
---
The post Jefford on Monday: The liquid novel – white Mas de Daumas Gassac appeared first on Decanter.