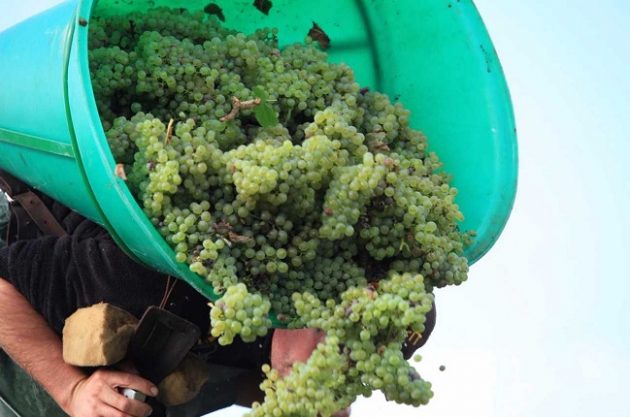 Loire 2017 harvest shows mixed fortunes after frost
There has been a stark contrast in fortunes across the Loire in 2017, with spring frost hitting some areas much harder than others, but an early crop means that quality is looking good overall, reports Jim Budd.
Clean juice from Muscadet through to Pouilly-sur-Loire suggests good quality

Muscadet and Savennières yields hit hard

Central Vineyards see yields rebound from 2016
Loire 2017 is an early vintage of promising to very promising quality but volumes are very variable due to the uneven damage caused by the late April frosts.
According to estimates published in July by the French Ministry of Agriculture the Loire is predicted to up by 7% at 2,3 millions hl on 2016. However, but this is still a small vintage as the frost and mildew affected 2016 vintage was 25% below average.
Picking started picking at the end of August, especially for Crémant. 30th August was the official start for the Muscadet harvest, the eighth earliest start in recent years. However, heat wave 2003 was 11 days earlier – 19th August.
Much of the Loire harvest was over by mid-October.
Tasting the 2017 grape juice from Muscadet through to Pouilly-sur-Loire all of them appeared to be very clean, precise with ripe fruit and well balanced. Although it is difficult to know clearly at this stage how the finished wines will turn out, the quality of the 2017 looks to be good. Certainly many of the grapes were very clean with little rot.
While quality appears to be good through out the Loire volumes made are very variable.
Following an early bud-break there were a series of frosts in the last two weeks of April. The effects on the harvest have been very variable.
Parts of Muscadet were very badly affected – Fred Niger in Le Landreau made only three hectolitres per hectare. Nearby Domaine Pierre Luneau Papin, Bonnet-Huteau (La Chapelle-Heulin) and Vincent Caillé (Monnières) were also severely hit. In contrast Jérémie Hutchet (Château-Thebaud) was barely affected.
In the Fiefs Vendéens Thierry Michot's white varieties were greatly reduced by frost, while his reds are very good.
Much of Savennières made very little wine, except for the eastern part. In contrast much of Bourgueil and Saint Nicolas de Bourgueil had a plentiful harvest – a relief after being severely frosted in 2016.
In the Central Vineayrds Mentou-Salon had a generous harvest after making virtually nothing 2016. Parts of Pouilly-Fumé are well down, while the Coteaux de Giennois has made more than initially feared. Volume in Sancerre may be a little down but here again the quality should be high.