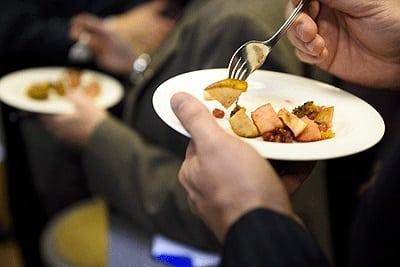 MGM Resorts International hosts culinary extravaganza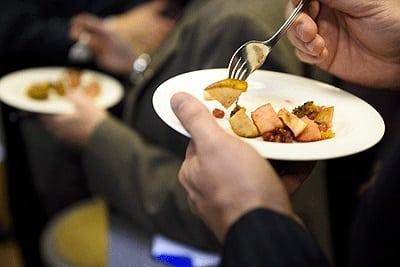 MGM Resorts International hosts culinary extravaganza
MGM Resorts International invites gastronomy connoisseurs and foodie fans to revel in an epicurean adventure October 12-14. World-renowned chefs, award-winning restaurants and the city's top beverage experts will unite to create a memorable culinary experience sure to delight the palate. A selection of MGM Resorts International's finest food and beverage offerings will be highlighted at Mandalay Bay, Delano Las Vegas, Luxor and the Las Vegas Festival Grounds during a special three-day weekend of celebrity chef dinners, cocktail demonstrations, wine offerings, multi-course menus and more.
The MGM International gourmet festivities include:
The Chef's Table: an EPICurean experience
Mandalay Bay and Delano Las Vegas will kick-off the weekend with a collaborative six-course Master Chef event at Alain Ducasse's Rivea followed by exclusive dinners, wine presentations and high-energy brunches individually hosted by celebrity chefs Michael Mina, Charlie Palmer, Hubert Keller and Shawn McClain.
Friday, October 12
6:30 p.m. Dine Under the (Michelin) Stars: A Six-Course Master Chef Event
This star-studded dinner will feature a tasting menu created by Mandalay Bay and Delano's award-winning chefs including Alain Ducasse, Michael Mina, Charlie Palmer, Shawn McClain, Hubert Keller and Susan Feniger. The evening will begin with a cocktail reception at Skyfall Lounge followed by a multi-course dining experience at Rivea. Each participating chef will prepare a course showcasing their signature cooking style. The dishes will be accompanied by a special selection of wines, curated by Mandalay Bay Director of Wine Harley Carbery.
Saturday, October 13
10:30 a.m. A Family Affair: A Bloody Mary Brunch presented by Michael Mina
Hosted at STRIPSTEAK, celebrity chef and restaurateur Michael Mina will pull out all the stops with his rendition of brunch classics. The menu will include Pancakes with Foie Gras Butter, Pork Belly Poached Egg with Béarnaise Foam, Egg Scramble with Kaluga Caviar and Mina's famous Beignets served with a trio of pot de créme. Chef Mina will be stirring up his wife's signature line of Diane's Bloody Mary mixes for all to enjoy.
11:30 a.m. Wine the Day Away presented by Chef Charlie Palmer
Chef Charlie Palmer and Foley Family Wines Master Sommelier Robert Smith will present a one-of-a kind, four-course lunch at Aureole. Each dish will be paired with a premier selection of Foley Family Wines selected by Smith. Renowned for having one of the country's most notable wine collections, Aureole has been a Wine Spectator "Grand Award" recipient since 2000.
5 p.m. – 10:30 p.m. Hey Chef! A Social Meal with Chef Shawn McClain and James Trees On October 13 and 14, James Beard Award-winning chef Shawn McClain will team up with local Las Vegas culinary sensation James Trees of Esther's Kitchen to create an exclusive menu centered around sharable plates. Guests are invited to sip and socialize over dishes such as the Foie Gras Torchon Toast, Bacon and Fontina Pizza, Ricotta Gnudi and Agnolotti with Mint Pesto.
Sunday, October 14
10:30 a.m. Hubert Keller presents Secrets of a Chef: Brunch Edition
Bravo's Top Chef Masters alum Hubert Keller will share his cooking secrets as he demonstrates how to prepare an assortment of his signature brunch favorites. Following this glimpse into the kitchen, guests will head to Fleur's center bar to create their own cocktail concoctions with a master mixologist to accompany a five-course brunch menu served in the main dining room.
5 p.m. – 10:30 p.m. Hey Chef! A Social Meal with Chef Shawn McClain and James Trees
Martha Stewart Wine & Food Experience
Presented by USA TODAY NETWORK and MGM Resorts International, Martha Stewart Wine & Food Experience Las Vegas is a savory exploration featuring chefs, restaurateurs, mixologists and gourmet leaders who will interact with guests as they enjoy wine, craft beer, spirits and specialty bites. The event will take place at the Las Vegas Festival Grounds on Saturday, October 13 from 1 p.m. – 4 p.m. MGM Resorts International restaurants, such as Harvest by Roy Ellamar (Bellagio), MICHAEL MINA (Bellagio) and Rivea (Mandalay Bay), will be featured along with local Las Vegas chefs and venues.
Luxor – The James Beard Foundation's Celebrity Chef Tour
The James Beard Foundation will partner with the U.S. Bank Altitude Reserve to present an exclusive dinner as part of its Celebrity Chef Tour traveling dinner series on Saturday, Oct. 13. Featuring seven renowned chefs from around the country, the dinner will bring a taste of the historic, New York-based James Beard House to Las Vegas' Luxor Hotel and Casino for a meal diners won't soon forget.
The evening will begin at 6 p.m. with a cocktail reception hosted by Luxor Executive Chef Justin Frederickson, followed by a dinner featuring dishes curated by a lineup of noteworthy chefs including Larry Forgione (The Foley Food & Wine Society, Healdsburg, CA), Andrew Friedman (Author, New York), Mary Sue Milliken (Border Grill, Los Angeles and Las Vegas; and 2018 James Beard Foundation Women in Culinary Leadership mentor), Nancy Silverton (Pizzeria and Osteria Mossa, Los Angeles and Newport Beach; Mozza2Go and Chi Spacca, Los Angeles), Jimmy Schmidt (FoodShed Exchange, Detroit, MI), and cookbook author and restaurateur Jeremiah Tower.