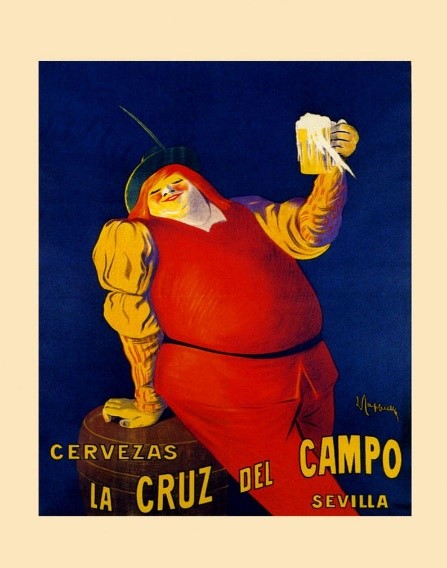 Move Over Wine: Make Room for Beer from Spain
The Change in Spain
We easily associate wine with Spain; however, this country is also home to Europe's oldest beer production, dating back over 4,400 years ago in Soria (located on the Douro River to the east of Castile and Leon).
Wine was pushed aside when the Romans introduced viticulture. This changed in 1516 when Flemish-born Charles I assumed the Spanish crown and beer, once again, became important. Flemish brewers were put in charge with clear-cut recipes that included wheat, malted barley, oats, clean water and hops. Hops were so important at the time, that stonemasons incorporated reliefs of hop flowers into the construction of Leon's Cathedral.
Beer as a drink for the masses gained importance at the second half of the 19th century, coinciding with the expansion of Spain's railway. Before this, the principal ingredients such as hops and malted barley often had to be shipped in, arriving in port cities like Sandtander and Barcelona, where many of the country's first breweries were started.
Drinking Beer
If you live in Spain and/or visit Spain, you are going to be drinking lots of beer. Beer consumption in Spain reached almost 40 million hectoliters (2017), according to Cerveceros de Espana, representing a 3.7 increase over the previous year. Women are drinking more beer with consumption increasing by 12 percent (2017). Beer is being consumed in hotels and restaurants (63 percent) and is the most popular cold beverage in this market.
Beer Economics
Beer production in Spain increased by 3.2 percent in 2017 (37.6 million hectoliters), making it the 4th largest beer producer in Europe, and the 11th worldwide (Brewers of Europe, 2017). The top 3 producers of beer are Germany, the United Kingdom and Poland followed by Spain, the Netherlands, France and Belgium.
In 2017, Spanish beer exports reached 2.9 million hectoliters, increasing 240 percent over the last 10 years, demonstrating the quality of beer from Spain and the global appreciation and demand for the product. The main destinations for Spanish beer are Portugal, China, UK and Ireland (2017).
Beer, Beer Everywhere
It is not difficult to locate a bar in Spain – there are at least 280,000, one for every 165 people, the highest ratio in the European Union. According to the country's National Drug Plan, each Spanish citizen consumes an average of 11.2 liters each year, twice the global average (6.2) and higher than Europe (10.9). Although beer is the favorite alcoholic beverage (consumed by 50 percent of the population) other beverages are enjoyed, with 28 percent enjoying spirits and 20 percent focusing on a glass of wine. The largest mid-week drinkers in Europe are the Spanish, drinking beer regularly on Mondays, Tuesdays and Wednesdays.
The world's biggest beer drinkers include:
Czech Republic – 142.4 liters per capita (or one every +/- 35 hours)
Seychelles – 114.6
Austria – 104.7
Germany – 104.7
Namibia – 102.7
Poland – 99.
Ireland – 97.5
Lithuania – 97.1
The United States ranks #21 in beer consumption (74.8 per liter, per person; 2016), a decrease from 2015 of 0.1.
Recipe for Healthy Beer
What does it take to produce a bottle of beer? The main ingredients are natural and include cereals, water and yeast.
The bitter and aromatic Hop is a wild plant that gives the beer its unique tastes. It is a member of the cannabis family and can be male or female; however, beer requires the female which has a flower and is shaped like a pineapple. The hop flowers have a substance called lupulin and this delivers the bitter taste characteristic of beer. It also forms the foam of beer and helps to preserve it. Hop is antibacterial, anti-inflammatory and has sedative properties so it provides health advantages as it helps to reduce stress and is used in the treatment of insomnia.
Barley is a member of the grass plant family. While other cereals like wheat can be used to make beer, barley is the most important. The cereal has proteins and starch – necessary for the beer yeast to grow. There are several types of barley; however, the barley used in beer must be suitable for malting the grain and has to be thick, rounded and yellow. Good barley grain has to absorb water easily and germinate quickly so that is produces the maximum amount of malt.
Malt gives beer its color, aroma and taste and is therefore a very important ingredient. The malt decreases risk of cardiovascular illnesses and osteoporosis and is also a vitamin supplement.
Yeast, a living organism, is added to beer because it connects with the sugar of the malt and is responsible for fermentation, the time when all the ingredients are mixed and the alcohol and aroma are produced. After fermentation, the beer matures in bottles or barrels. The bubbles appear courtesy of CO2.
Water is important because 90 percent of beer is water and therefore impacts on the taste. It is not possible to use just any type of water; it has to be pure and safe, without any taste or smell. Of course, water is healthy and aids in digestion and constipation.
The folic acid prevents anemia and is recommended for pregnant women and carbon gas aids in blood circulation. Polyphenols prevent circulation diseases and flavonoids increase bone density during menopause. One liter of beer each day delivers 35 percent of recommended daily vitamins and a pint of lager contains approximately 180 calories, roughly equivalent to a slice of pizza.
Selecting the Picture-Perfect Beer: Estrela Galicia
With Spain as Europe's 4th largest producer of beer, (after Germany, UK and Poland), there are dozens (perhaps hundreds) of malts, and ales demanding attention. Increasingly, beer is ordered to accompany meals as it is versatile and affordable.
Decisions, Decisions
Hijos de Rivera S.A.U, the largest independent brewery in Spain, produces Estrella Galicia in A Coruna – and it is absolutely delicious. The company was started in 1906 by Jose Maria Rivera Corral when he returned to Galicia after travels in Cuba and Mexico. The current annual production is noted at 2.8 million hl.
For over 100 years Corporacion Hijos de Rivera has operated independently as a 100 percent Spain-based and family-owned company. The product line includes beer, mineral water, wine, cider, sangria and liquor and are available throughout Spain and in more than 30 countries worldwide including Brazil, Australia, China, Russia, the Philippines and the USA.
With an investment of $27 million, there are plans to build a new factory in Brazil as part of expansion plans that will increase sales outside of Spain. The brewery, based in Minas Gerais state (southeast Brazil), and will produce 20 million liters of beverages annually. It is anticipated that the new facility will increase Estrella Galicia sales outside Spain to 10 percent, from its current 6 percent. Brazil is the brewer's largest market outside of Spain.
Galicia. Home of Hijos de Rivera Corporacion
Galicia is located in the north-western area of the Iberian Peninsula and near the Atlantic Ocean. Portugal lies to the south and to the east is Castilla y Leon. The winds from the Atlantic Ocean makes Galicia one of the wettest parts of Spain with the coastal areas receiving more than 50 inches each year. The area also receives lots of sunshine (more than 2000 hours per year).
Beer Notes: Curated
1. Estrella Galicia. ABV 5.50 percent
The brand was introduced in 1972 in the Pilsner Style Lager and is the breweries flagship brew. It is lagered up to one month. 5.5 percent alcohol.
This bright yellow beer is a result of selecting malts and hops that are bitter. The cooking, fermenting and maturing process runs for 20 days, giving the beer the delicious taste of hops. It is produced using water from the city of A Coruna and followed by creating a delicate balance of Pilsen and roasted malts, equal part Nugget hops from Spain and Perle hops from Germany, plus a proprietary house yeast strain.
Pair with cheese, vegetables, mushrooms, fish stew and roasted chicken.
2. 1906 Black Coupage. ABV 7.2 percent
A beautiful dark strong lager that highlights coffee and liquorish that are a result of four malted Czech barley malts and Nugget and Sladek hops plus Hijos de Rivera's own yeast strain. The roasted aromas suggest malts and coffee and deliver an intense and lasting bitter palate experience.
Pair with lamb and pork, and Tiramisu.
3. 1906 Reserva Especial. ABV 6.5%.
The 1906 is one of the longest matured of Spanish lagers. Bright amber color to the eye, with toasted malt aromas and hints of caramel and coffee flavors on the palate along with hop aromas that are light floral and herbs. The finish is gentle and balanced.
Pair with spicy shrimp or grilled beef.
4. 1906 Red Vintage. ABV 8 percent
The eye finds a deep amber color and the nose detects sweetness reminiscent of caramel that leads to a warm finish. Red Vintage was developed from an old Hijos De Rivera historical recipe.
Pair with octopus, and fish stew, blue cheese, and smoked salmon.
© Dr. Elinor Garely. This copyright article, including photos, may not be reproduced without written permission from the author.