NYC 8 ½ = Wine + French Cuisine
Roughly speaking, there are 16,000-24,000 full-service restaurants, and almost 19,000 counter-service dining options in Manhattan – so it is never difficult to find a place to eat in this town. What does present a challenge is finding a restaurant that rates "delicious" the first time, and holds onto that designation the second and third time (for almost 2 decades).
8 ½ is part of the huge Patina Restaurant Group who own and manage restaurants from New York to Japan. Have you dined at the Grand Tier Restaurant at Lincoln Center's Metropolitan Opera House? It belongs to Patina. Have you stopped in at the Rock Center Café for lunch? It belongs to Patina…as does the Sea Grill, Café Centro and the Beer Bar at Grand Central Station, among many others. So, it is not a surprise that there is a soupcon of professionalism that is part of the 8 ½ dining experience.
Location
Manhattan's casual French brasserie, 8 ½, has been part of the west 57th Street landscape since 2000, and continues to be frequented by neighborhood locals, business executives from nearby corporations and tourists who stroll in to drink and dine – finding the spot thanks to recommendations from hotel concierges.
The building was commissioned in the 1960s by billionaire Sheldon Solow, built in 1974 by Skidmore, Owings & Merrill's Gordon Bunshaft and named the "Bell Bottom Building." The giant "9" was commissioned to distract pedestrians from the "reflections of unsavory angles of other buildings," in the structures sloping glass front. Hugh Hardy (Hardy Holzman Pfeiffer Associates) converted the former storage space into an enormous (by NY standards) and expressive drinking/dining zone and "complements Gordon Bunshaft's classic modernism and expresses the owner's desire for simplicity and bold color."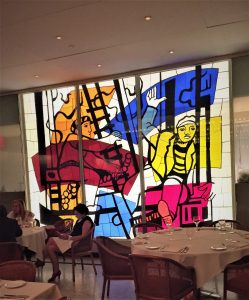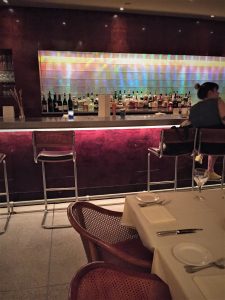 The midcentury modern setting continues to resonate well with repeat guests. Because it is so spacious, it is an excellent dining selection for business meetings where privacy and secrecy go hand-in-hand with an extensive wine list and interesting but traditional French cuisine. The Matisse and Giacometti works of art could be in a museum or a Park Avenue apartment; however, the good news is that they and the stained-glass copy of Fernand Leger's "Les Constructeurs," are all within the confines of this legendary restaurant as are the iconic Marcel Breuer bar stools.
The space features an onyx bar, white terrazzo floors, mirrored columns, lots of flowers and deep leather booths more suitable to Wall Street tycoons than Middle America tourists with summertime pastel pants and brightly printed shirts.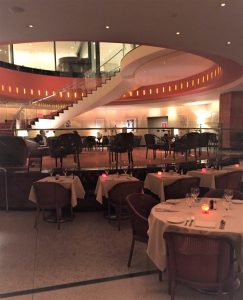 However, what continues to amaze guests is that a restaurant that is built below-grade and has no windows can still present as a grand and open space. What helps to bring on the OMGs is the spiral staircase that makes us conjure up Grande Dame entrances and over-the-top celebrities like Monroe and Hayworth.
Let's Drink
It was the hottest day of the year (to date), and I joined a colleague at 6:30 PM for dinner at 8 ½. Except for a few suited business executives talking over cocktails, the dining room was almost empty…which was fine with us. Having all this cool empty space on a hot June evening doubled the enjoyment of the evening.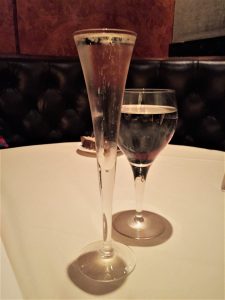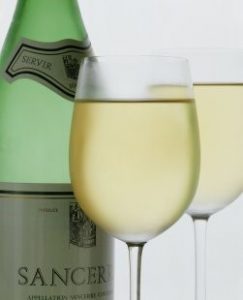 I started the dining adventure with a glass of Prosecco Lamberti NV Valdobbiadene, Italy, while my colleague delighted her palate with a glass of Jean Vincent (2013) Sancerre from Loire Valley, France.
Lamberti NV Valdobbiadene, Italy. Prosecco DOC (100 percent Glera grapes)
The fruit for this "fruit-forward" sparkling wine is selected from the best hillside vineyards in the Veneto. Grapes are harvested just before full maturation to preserve acidity. The base wine is re-fermented in enclosed pressure tanks for the prise de mousse, utilizing the Chamat method for secondary fermentation (this will enhance the Glera grape's aromatic qualities).
To the eye, crystal clear with a blush of gold, to the palate a comingling of fresh flowers with a hint of green apples, peaches and other tropical fruits plus a hint of spice. Lively bubbles please the tongue – leaving the palate clean and crisp with a balanced acidity and a yearning for the next sip.
Jean Vincent (2013) Sancerre. Loire Valley, France
Sancerre is a small wine district in central France, noted for its crisp, aromatic white wines from Sauvignon Blanc. The classic Sancerre is white, acidic and offers pungent aromas of gooseberries, grass, nettles and a hint of minerality.
Clear with a blush of blonde to the eye; to the nose honeysuckle, green bell peppers, and granny smith apples. The palate is pleased with suggestions of peach and flowers. The high acidity balances the sweetness and leaves a positive and lasting memory.
Let's Eat
The enjoyable next step is select something to eat. I decided on the Prix Fixed dinner that included a salad and steak pomme frite. While the salad was tasty on the palate, the presentation was not photo-friendly.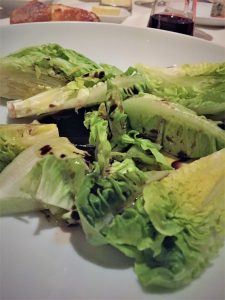 Ahh the steak. Prepared medium rare and amazingly perfect – making every bite a sensational taste experience. The fries were well-seasoned but lacked the crispy texture I prefer.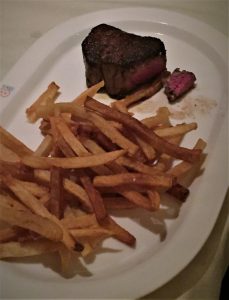 I paired my entrée with Don and Sons (2013) Pinot Noir from the Sonoma Coast of California and the Bordeaux Quai Lumiere (2012) from the Chateau Haut- Meneau.
Don and Sons (2013) Pinot Noir. Sonoma Coast, California. 100 Pinot Noir
Delightfully purple velvet to the eye, the nose detects very ripe black cherries, cherry parfait and sweet chocolate cherries with an undertone of vanilla. The palate detects cherry sweetness throughout the tasting moment. This is not a complex palate experience and it is a bit too smooth and too flavor – forward; however, the depth of numerous layers of terroir and sun increases the longer it remains open to the air. This is a wine that needs at least 30 minutes to show-off its attributes.
Chateau Haut-Meneau (2012). Quait Lumiere. Bordeaux, France. Cabernet Sauvignon 50%, Merlot 50%. 6 months in tanks and 12 months in new oak barrels. Award: Hong Kong International Wine & Spirit Competition. Bronze (2015).
Deep ruby red to the eye, delivering woods and fruits to the nose. Suggestions of complexity and depth that are not completely delivered to the palate. A simple cherry-sweet finish suggests the need for a more artisanal / artistic approach to this wine experience.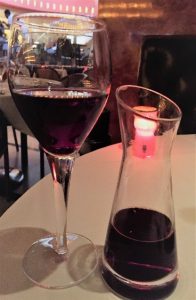 More Food
My colleague ordered a selection of East and West Coast oysters.
The East Coast oysters tend to be salty, large, and juicy. They may be more complex (than their West Coast cousins) because of their longer growing period and slow development. The West Coast oysters are known for cucumber and melon notes and usually mild in salt and smaller than their East Coast relatives. The shells are beautiful with fluted edges and round with a deep cup. From the perspective of my colleauge– they were both winners.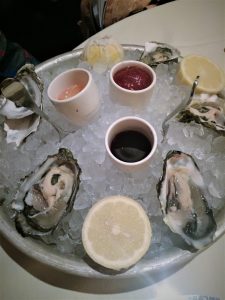 Her entrée: Moules (Mussels) Frites Mariniere (in the style of the fisherman) with white wine, garlic and thyme. Had she been in the mood, she could have ordered the Picante with tomatoes and espelette pepper. The sensuous bivalves are meaty and cream – colored, plump and juicy and fully opened. (Dead mussels don't open when cooked and should not be eaten!) She declared them to be delicious and reluctantly offered me one to taste. I seconded her review. Fabulous.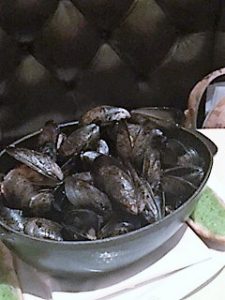 To complete the dining experience, she selected P'tit Basque, Pyrenees, France – from the Cheese Menu that was made from pure sheep's milk. As a semi-soft cheese – remember to let it warm to room temperature in order to enjoy its earthy and nutty flavor. Nestled in Skidmore, Owings & Merrill's celebrated "Bellbottom" building on West 57th Street in Midtown Manhattan, Brasserie 8½ offers notable "nouvelle" French cuisine in a super-plush atmosphere. Accessed by a spectacular sweeping staircase, the restaurant is accented by original works by Henri Matisse and a one-of-a-kind glass sculpture by Fernand Leger.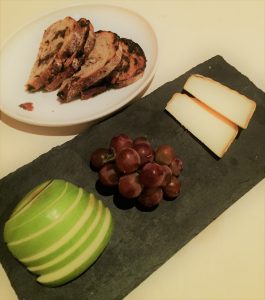 I selected an iced espresso and it was perfect for preparing for the journey home in a muggy and hot New York evening.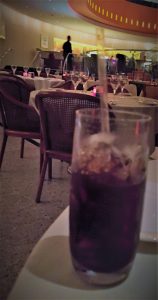 Recommendation
Whether you are a local New Yorker or just want to eat like one, put 8 ½ on your itinerary. This restaurant enables diners to put a check mark next to every box (Ambiance, Service, Food, and Wine). Enjoy.
Nestled in Skidmore, Owings & Merrill's celebrated "Bellbottom" building on West 57th Street in Midtown Manhattan, Brasserie 8½ offers notable "nouvelle" French cuisine in a super-plush atmosphere. Accessed by a spectacular sweeping staircase, the restaurant is accented by original works by Henri Matisse and a one-of-a-kind glass sculpture by Fernand Leger.
More: www.brasserie812.com/
Would you like your restaurant reviewed by Dr. Elinor Garely? Contact [email protected]