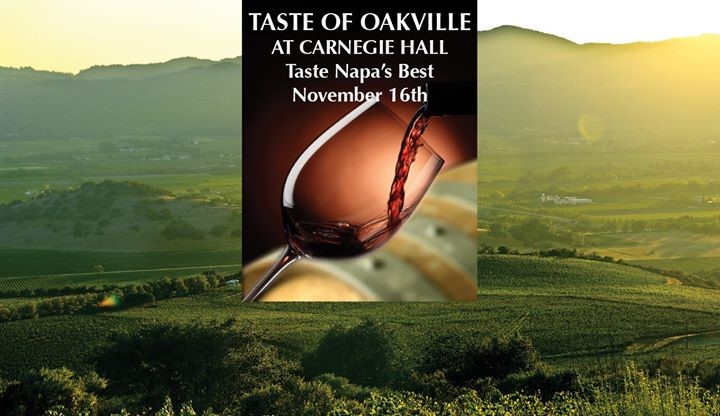 Oakville winegrowers present at Carnegie Hall
The weather forecast was horrific! Threats of snow and sleet and other atrocities (that can bring Manhattan to a standstill) dominated the news. Did I really want to go outside, schlep to the westside and Carnegie Hall to learn about the wines of Oakwood, California, a specific AVA area in Napa Valley? My taste-buds said yes! So – on went the boots, gloves, scarf, hat, and – off I went.
While the weather outside was frightful, the weather inside Carnegie Hall was delightful. Scores of wine growers, buyers, sellers, and writers shared my enthusiasm for the Oakville wines, and the event was an unqualified success.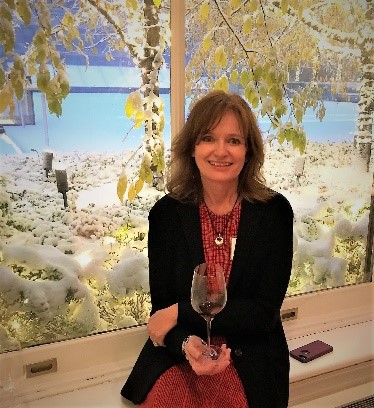 Know Oakville AVA
In 1993 Oakville, CA was officially established as an American Viticultural Area in Napa Valley. At one time native oak trees populated the area but now it is noted for winemaking thanks to the soil, topography and climate that produces Bordeaux varietals and rewards wine groupies with rich texture, firm tannins, and notes of mint and herbs.
The group of 70 vintners and growers who make and promote the wines of the area are collectively known as the Oakville Winegrowers. The area includes Robert Mondavi, Joseph Heitz, Groth, Far Niente, Opus One as well as Dalla Valle, Harlan Estate and Screaming Eagle.
The Oakville AVA covers a 2-mile area of Napa Valley and extends 600 feet up Vaca Mountains to the east and the Maycamas Mountains to the west. The area is south of Rutherford, north of Yountville, in the south-central Napa Valley.
The red wines of the area (especially Cabernet Sauvignon) are usually identified as rich, full-bodied with hints of cassis, black currant, black-licorice and cedar. The Sauvignon Blanc is also important as evidenced by the single vineyard releases of Robert Mondavi Winery.
With almost 50 wineries and many open for tastings and special events, this area is perfect for wine enthusiasts and wine tourism.
Terroir
The soils of the Oakville district include:
residual soils – created from the breakdown of the various bedrock units
alluvial soils – materials washed down from the adjoining hills during torrential rain events
fluvial soils – along the axial port of the valley where the Napa Rivers flow and finer grained loam comes from up-stream locations and deposited from flood waters.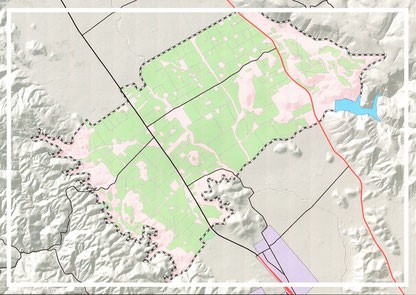 Climate
Cool northern air of the San Francisco Bay and the warmer inland air of California's central San Joaquin Valley combine to provide a temperate Mediterranean climate in Oakville. The weather is distinctive because of its transitional mid-valley location. During the growing season Oakville is approximately one degree cooler than Rutherford, 3 degrees cooler than St. Helena and 8 degrees cooler than Calistoga. The average low temperatures in Oakville are generally in the low 50s in March, with highs in the mid-80s in July and August. Daytime highs reach the mid-90s in the mid-summer before the sun sets behind the Mayacamas Mountains. Rainfall increases from the south to north and Oakville receives approximately 35 inches of rain per year, mostly in winter and early spring.
Creative Entrepreneurs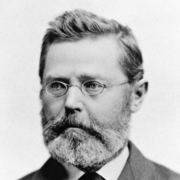 Henry Walker Crabb
Napa started to become an important wine region in the late 1870s. From 1878-1889 the village was the center of one of California's most important wine districts. H.W. Crabb was the first to made Oakville a premium wine district. He arrived in California in 1853 and settled in San Lorenzo. In 1868 he purchased a 240-acre parcel in Oakville and by 1877 he had 130 acres of the best vines available and was producing 50,000 gallons of wine. The winery was called To Kalon (Greek for most beautiful). (Today the vineyard is larger and most of it is in the hands of the Robert Mondavi Winery and Andy Beckstoffer, Grower).
Another pioneer with vision was John Benson who arrived in San Francisco via Panama aboard the ocean steamer Oregon on April 1, 1849. He bought 306 acres from the estate of Napa Valleys' George Yount in the fall of 1871. In 1885 he established Far Niente Winery and by 1876 was producing 15,000 gallons of wine, below Charles Krug's 165,000 gallons but still important and impressive.
It's About the Grapes
Cabernet Sauvignon (46.53 percent planted)
The Oakville AVA is noted for Cabernet Sauvignon, one of the most widely planted wine grapes in the world. Native to Bordeaux, Cabernet Sauvignon was first planted in the late 19th century in Napa Valley. According to DNA research at UC Davis, the grape is a result of an accidental cross-pollination of Cabernet Franc with the white grape Sauvignon Blanc in a French vineyard.
Cabernet Sauvignon is a late ripening grape and is frequently left on the vine into October so it can reach its full potential. The grape is known for its small berry size and relatively large pips (seeds) relative to pulp volume. The grapes produce an unusually complex and long-lived wine due to an uncommon concentration of polyphenols (gives red wine its color, antioxidants and tannins). Cabernet Sauvignon has potential to improve with age. It makes it a complex stand-alone variety as well as a dynamic blended wine when combined with Merlot, Cabernet Franc, Petit Verdot and Malbec.
The unique flavors/aromas of Cabernet Sauvignon include black currants (described as cassis), bell peppers, blackberries, black cherries, mint, dried herbs and/or cedar. Ideally it is identified as black currant fruit with little or no vegetal bell pepper flavor.
Cabernet Sauvignon can be tannic when young and it is a perfect match for high protein foods (steak and roast rack of lamb) that tend to soften the tannins of the wine. Dishes seasoned with dried herbs or bitter greens (arugula or endive) have a tendency to pair well with these wines.
Cabernet Franc (3.55 percent planted)
A black-skinned French wine grape, Cabernet Franc is known as the third grape of Bordeaux and found in many of the world's blends where it adds herbaceous accents of tobacco and dark spice. The varietal wines present light to medium bodies, and show vegetal characteristics (i.e., green bell peppers). Cabernet Franc ripens at least one week earlier than Cabernet Sauvignon. This varietal has a thinner skin and lower acidity than Cabernet Sauvignon and is known for its hardiness.
Other widely planted varieties include: Merlot (8.62 percent), Cabernet (4.67 percent), Sauvignon Blanc (Fume blanc) (4 percent), Zinfandel (3.79 percent), as well as Petit Verdot, Chardonnay, Malbec, Semillon, Petite Sirah, Sangiovese, Syrah, Sauvignon Musque, Tempranillo, Viogneir and Barbera.
Taste of Oakville @ Carnegie Hall. Curated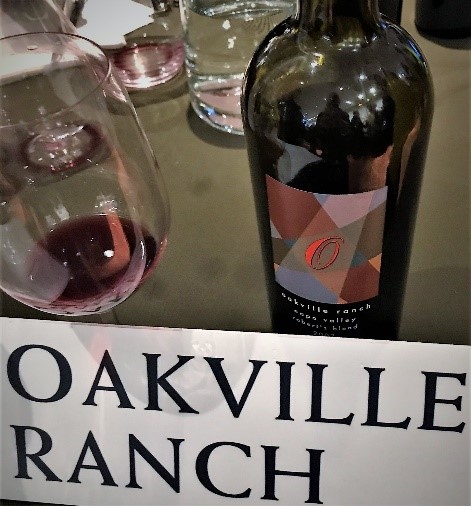 2002 Oakville Ranch Robert's Cabernet Franc
Oakville Ranch was the first mountain vineyard (today totals 75 acres) in the Oakville sub-appellation. At 1400 ft. above the valley floor, the vineyard was replanted in 2006 by organic viticulturist Phil Coturri. With clay over volcanic rocks, high elevation and western exposure, Oakville Ranch produces powerful rich structured wines. The vineyards are certified organic and focus on sustainability.
The winter of 2002 was dry; it was followed by a moderate spring and a May rain. Mild conditions throughout the summer, except for a few heat spikes in September, imparted the grapes with an extra push as harvest approached. Result: wines with juicy, fresh acidities and brightness creating an excellent vintage of balanced, concentrated, high quality wines that age well.
Varietals include Cabernet Sauvignon (70 percent), Cabernet Franc (10 percent), Chardonnay, Zinfandel, Petit Verdot and Petite Syrah (20 percent).
Notes: Dusty and dark purple to the eye with hints of lilacs, cherries, berries to the nose. Although there are almost no tannins to spark a burst of rich complex flavor, the wine delivered to the palate is light and lush with full-fruit. Perfectly paired with roast turkey and cranberry, roast chicken, grilled beef; goat cheese, camembert or fontina cheese.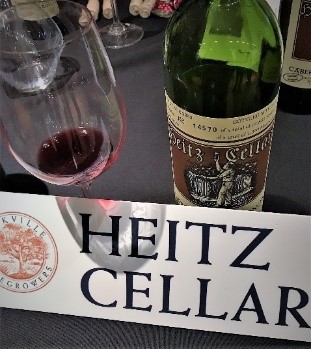 2009 Heitz Martha's Vineyard Cabernet Sauvignon
Heitz Cellar is part of the Napa Valley history since 1961. Started by Joe and Alice Heitz, the vineyard has been directed by three Heitz generations. Today, Kathleen Heitz Myers and David Heitz run the family business as president and winemaker. When the Cabernet Sauvignon was introduced in 1966 it was the first Napa Cabernet with the vineyard designation on the label. The appellation is certified organic by CCOF. Awarded Platinum Medal, Superlative; received 97 points out of 100 on March 21, 2014.
Notes. The eye discovers deep purple trending to pink edges. The nose finds suggestions of mint, berries, cherries and green peppers, while the palate is rewarded with fruit that is juicy and sleek with hints of oak, ginger and vanilla, with refined tannins. Pair with slow cooker beef stew or roasted leg of lamb.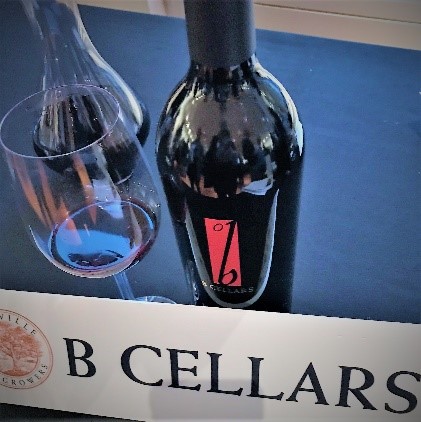 2016 B Cellars Ehrlich Vineyard Cabernet Sauvignon
B Cellars was co-founded by Duffy Keys and Jim Borsack with the mission to produce handcrafted, complex, beautifully balanced, food-friendly wines. The name B Cellars and the degree symbol represents the metric term BRIX, indicating the optimal sugar content for the grape at harvest time.
In 2014 the winery relocated to Oakville where it is surrounded by Opus One, Silver Oak and Plumpjack in the Oakville AVA. The estate includes a state-of-the-art wine production facility, a cave network for barrel storage, tours, tastings and space for private events as well as a Hospitality House featuring an interactive, open hearth kitchen with comfortable seating. The winemaker is Kirk Venge.
Notes. Deep purple to black delights the eye, while the aroma of plums, old leather, chocolate, black cherries, kirsch, cassis and violets plus hints of cocoa beans, sage and lavender seduce the nose. The palate is delighted with a berry-like sweetness while silky tannins and the super-concentrated fruitiness of black fruit leads to a long finish. Pair with venison, pork, beef, lamb or hot and spicy chili.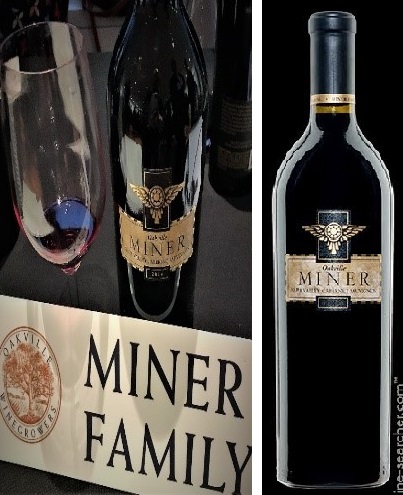 2014 Miner Family Oakville Cabernet Sauvignon
This is a family owned winery along the eastern hills of the Oakville appellation. Started in 1998 by Dave and Emily Miner, the family crafts reserve-style wines by sourcing fruit from Napa Valley and other California vineyards. The winemaker, Stacy Vogel, develops the wines based on old world winemaking techniques and modern technology.
Notes. Deeply purple to the eye. The whiff of black fruit and hints of dried herbs, mocha and cedar delight the nose. The tannins are lush and add to the complexity of the taste experience. Pair with steak, or roast rack of lamb.
2010 Nickel & Nickel Cabernet Sauvignon, John C. Sullenger Vineyard
Planted entirely with Cabernet Sauvignon, the 30-acre vineyard covers the area from Highway 29 east to the Napa River. The vineyard started in 1997 by Gil Nickel of Far Niente, the winery focuses on varietal wines from single-vineyard designations. Each site is encouraged to express its own signature. The winery uses solar panels and is a net-zero user of electricity. The grapes are organically grown.
Notes. Deep dark purple attracts the eye, while black cherries and blackberries, tobacco and earth delight the nose. Velvet on the palate with hints of earth, chocolate and leather with very subtle tannins. Robert Parker suggests that it, "should drink nicely for 15-20 years." Pair with beef or venison.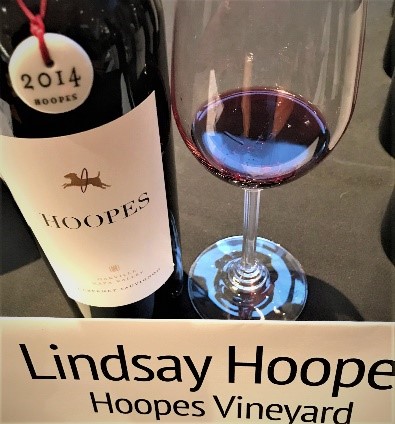 2014 Hoopes Vineyard Cabernet Sauvignon. Blend: 86 percent Cabernet Sauvignon, 9 percent Merlot, 3 percent Petit Verdot and 2 percent Petite Sirah. Awarded the TEXSOM international Wine Award, Bronze (2017).
Before Spencer Hoopes started in the grape-growing/wine producing business he was an anti-trust lawyer and entrepreneur. In 1983 he planted 10-acres in the Oakville AVA, and the grapes were bought by some of the better wineries in Napa Valley. Fifteen years later, he started to bottle his own grapes, creating aromatic wines with the family name on the label. Today he owns 3-labels (Hoopes, Hoopla and Liparita), several properties and a winery.
In 2013 Lindsay Hoopes joined the family business and today is the operations manager. Before joining the family wine enterprise, she worked for Williams Sonoma and as an Assistant District Attorney in San Francisco. The Hoopes philosophy, "Minimize after-harvest manipulation of the grape so that you can enjoy the most important ingredient in its true form. This is true grower-made wine.".
Notes. Deep purple to pink edges to the eye. The drought and moderate temperatures of 2014 has produced a ripe and fruity wine with sweet mature tannins. The smell of cigars, linked with creamy vanilla and damp earth mixes beautifully with ripe plums and sweet cherries. The oak supports a finish of milk chocolate with integrated tannins.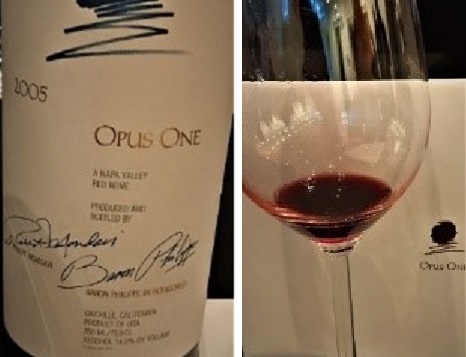 2005 Opus 1. Blend of Cabernet Sauvignon (88 percent), Cabernet Franc (3 percent), Merlot (5 percent), Malbec (1 percent) and Petit Verdot (3 percent). Macerating for 29 days, aged in French oak for 18 months.
This is a joint venture between Robert Mondavi and Baron Philippe de Rothschild. In 1984 the 1979 vintage was released. It is a landmark winery in the Napa Valley and includes 169 acres of vineyards.
Notes. Deep ruby red to purple velvet delights the eye while cranberries, strawberries, Bing cherries, flowers and chocolate pleasures the nose. Look for herbs, and dark chocolate, tobacco and earth linked to the tannins that add character and complexity to the palate. Perfect to enjoy during a winter snowfall in front of a fire place and dining on a hearty rib roast.
For additional information, visit oakvillewinegrowers.com.
© Dr. Elinor Garely. This copyright article, including photos, may not be reproduced without written permission from the author.