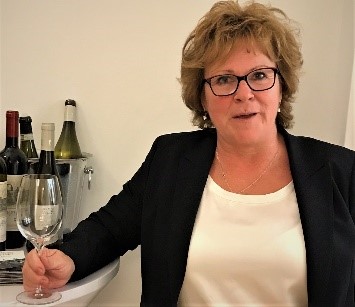 One Woman. Many Wines
Lia Tolaini Banville and her father, Pier Luigi Tolaini, started importing wines from Italy 16 years ago (2004), expanding the operation in 2016 to include wines from France, Germany and the UK. In 2011, Banville added Italian spirits to her portfolio, introduced a wholesale division and, a few years later, extended her reach to include Washington, DC and Virginia. Leading a team of 34 people, the Banville portfolio includes over 50 hand-picked domestic and international brands. The company believes that the best wines are products of great terroir with the vineyard and a sense of place adding to the quality of the wine.
Inspired Leadership
Lia Tolaini Banville was born in Canada and introduced to Italy and wine at the age of 6 when she and her father visited Aunt Laura in Lucca (Tuscany). Her aunt introduced her to cooking, wine and business. Graduating from the University of Manitoba in Canada, with majors in art and economics, Banville traveled to Florence to study art but turned to wine in 2004 when she started Donna Laura Chianti wines in Castelnuovo Beradenga, in memory of her aunt.
Banville's approach to viticulture and winemaking is very personal – she believes in nurturing and encouraging a wholesome environment shaped by her aunt with respect for the soil, vines and future of the land. Vineyard practices include green harvesting as necessary, planting cover crops to enrich the nutrients in the soil and eliminating the use of harmful chemicals to maintain a pristine, sustainable ecosystem. The winery incorporates organic principals, modern technology, limited use of sulfites and a sterile environment
At a recent Manhattan event, I was introduced to many of the delicious and remarkable wines/spirits that are part of the Banville collection. These are a few of my personal favorites.
Casoni Amaro. Emilia-Romagna, Italy. Includes: 20 botanicals, aromatic herbs, vegetables, burnt sugar, natural aromas, alcohol and water.
In the mid-19th century, a time when Napoleon abdicated his position as the French Emperor and the Americans and the British were at war, Giuseppe Casoni began to distil liqueurs in the small town of Finale Emilia, bordering the provinces of Modena, Ferrara and Bologna, Italy.
After WWII, Enea Casoni rebuilt the distillery and in 1970 passed on the business to his son Mario, who developed Casoni's international profile and the company is now in its sixth generation of family management under his direction.
The process producing Amaro includes cold extraction of minced aromatic herbs in a hydro-alcoholic solution over a 30-day period. The resulting liquid is poured into tanks where it rests for one month. After filtering, the Amaro rests for an additional 30-days to balance and blend all the aromatic flavors.
Amaro should not be confused with amaretto, an Italian liqueur that is sweet and traditionally flavored with bits of apricot and/or almonds or with Amarone, a rich Italian dry red wine from Valpolicella.
Notes.
Goldenrod to the eye while spice, herbs and bitter orange mingle with cardamom and Absinthe enchant the nose. The palate is flooded with lovely syrupy viscous herbs and spices. Historically, amaro producers have claimed it is an aphrodisiac, a pain reliever and/or an antitoxin; however, most people agree that it is delicious as an aperitif or a digestif. It can be served neat, or over ice and/or paired with tonic, coke or ginger ale. Some bartenders add fresh lime juice and Europeans add orange juice; however, it also blends well with coffee and espresso.
2. 2017 Domaine Clos de la Chapelle Pommard 1er Cru Les Chanlins. Burgundy, France. Grapes- Pinot Noir. Organic and biodynamic.
The vineyard is located in the heart of the Cote de Beaune, between Beaune and Volnay (once the home of the Dukes of Burgundy). The village is surrounded by slopes of densely planted vineyards, at altitudes from 250-330m – facing east and southeast. Pommard produces one of the most renowned AOC's of France.
Clos de la Chapelle is under the auspices of the Notre Dame de Pitie – dedicated in 1540 when the Chapel was constructed. History suggests that it was the winegrowers' prayers at the Notre Dame de Pitie that saved the population from cholera (1840). In 1870 – 1871 the Prussians were turned away from the village, in deference to the chapel and powers of Notre Dame de Pitie.
During the domain's early period, Louis Pasteur requested 50 bottles of wine from Victor Boillot as samples to use in his research and testing of wine diseases. The Emperor (Napoleon III) recognized Pasteur's research as, "being capable of saving millions of francs for France."
Pasteur's letters to Victor Boillot spanning several decades provides details concerning the alteration of the non-heated wines and arrived at the conclusion that, "one heating was enough to protect the wines from germs and keep them during transportation."
Notes.
Following the harvest, the grapes cold soak for 5-days at 30 degrees C in temperature-controlled vats. The wine ferments for 5-7 days with one punch down and one pump-over per day. The wine is then aged between 12-18 months and bottled without fining or filtration
Deep ruby red to the eye, the nose finds aromas of minerality and black fruit plus mint chocolate. The palate is delighted with soft and round tannins leading to a soft but sensuous cherry finish. This is a full-bodied red and amazingly delicious.  Best served at room temperature with Boeuf Bourguignon, Coq au Vin or strong cheese.
3. 2013 Alex Cooper Zinfandel. California. Grapes: 83 percent Zinfandel, 17 percent Petite Syrah
The Alex Cooper Project is a partnership between sommelier and restauranteur Rodney Alex, music producer Rick Cooper and Doug Rafanelli (third generation farmer) and winemaker Guy Davis of Davis Family Vineyards. The wine is a late harvest selection of grapes from Rafanelli's vineyard.
Rodney Alex has been in the wine business in Chicago for over 20 years. The Alex Cooper Project was his first foray into the winemaking. Inspired by his first wine experience (Beringer White Zinfandel), he developed a lifetime interest in the industry.
When he graduated from Loyola University (1955) he got a job in sales with Direct Import wine Company. After years in sales, he transitioned to the restaurant industry, serving as a waiter, moving into management and then starting his own businesses (Taste, Juicy Wine Company and Rushmore Fine American Food).
In 2010, Alex moved west to start a wine brand. With the assistance of Guy Davis, he was introduced to vineyard owner Doug Rafanelli. The Rafanelli family has been farming Dry Creek Valley for 3 generations. Alex contracted fruit from Raffaella and started making wine. Recognizing his need for a business partner to launch his brand, he teamed with Rick Cooper, a record promoter with 40-years in the music industry (he brought Fleetwood Mac and The Grateful Dead to campus at Northern Illinois University). Together they brought The Alex Cooper Project to the marketplace.
Notes.
After a light cold soak, the grapes are fermented in stainless steel open top vats with gentle punch downs once a day until primary fermentation is complete. The wine is then refined in Pinot Noir barrels that are at least five vintages old. Malolactic fermentation takes place in the spring and the wine is bottled and aged for 3-5 years before release.
The eye is attracted to a dark purple hue while the nose finds dark fruit and spice, vanilla, oak, smoke, and musk. The palate discovers a blend of black cherry, raspberry and white and black pepper leading to an interesting long finish.
4. 2016 Domaine Gerard Quivy Charmes Chambertin Grand Cru. Grape: Pinot Noir; Vineyard age: 60-80 years; Soil: limestone and clay
The vineyard is located in Gevrey Chamberlin Village. The Quivy winery is located in an 18th century private town house with its own cellars, vat house, tasting cellar and outbuilding. Built at the beginning of the 18th century, the buildings are classified as Historical Monuments. The winery occupies 7 ha and makes Grands Crus (Charmes and Chapelle Chambertin), Gevery 1er Crus (Les Corbeaux) and Gevrey Chambertin Village.
The area dates back to the year 64- AD where it was a monastic property. In the early 13th century it passed to the canons of Langres, retaining ownership until the French Revolution (1789). The name Chambertin has been used since the 13th century and once shared imperial approval with Clos de Beze. Napoleon would drink nothing else. Grand Cru status was officially granted on July 31, 1937
Traditional method of vinification with low temperature fermentation in a combination of wood and stainless-steel tanks. Aged in oak barrels (80-90 percent new) for an average of 20-21 months. Charmes-Chambertin is an AOC and the Grand Cru vineyard is located in the southern part of Gevrey-Chambertin. Gerard's cooper is Maison Francois Freres at St Romain en Bourgogne. Only organic fertilizers are used in the vineyard without pesticides or chemical fertilizers. The Quivy plot in the Grand Cru Charmes-Chambertin is small, producing 500 bottles.
The vineyard lies on hill slopes with hard rocks. On the upper portion, brown soils are found, partly alluvial, partly scree and many centimeters deep. Below this area, the soil is a mix of clay, and limestone. Up slope the rocks are of Bathonian origin while below – the marls and limestones belong to the Jurassic period and numerous marine fossils are found on the surface, recalling the sea which covered the area 150 million years ago.
Notes.
The eye finds a deep ruby hue (think black cherries). The nose finds strawberries, black currants, tobacco, mushrooms and spice. The palate is rewarded with power from ripe cherries, strawberries and oak Pair with duck, veal, poultry or goose.
The Event: NYC Portfolio Tasting Banville Wine Merchants
© Dr. Elinor Garely. This copyright article, including photos, may not be reproduced without written permission from the author.