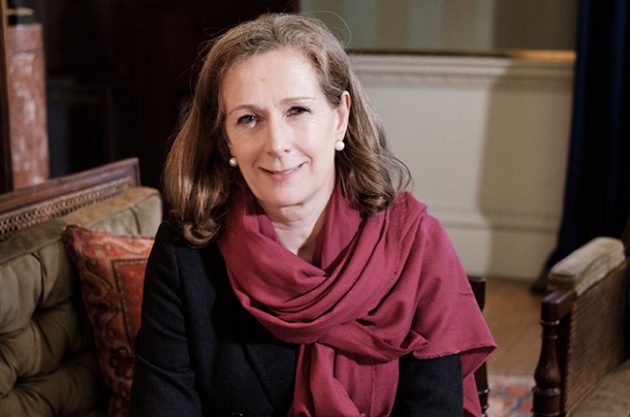 Parting thoughts: Decanter's Sarah Kemp shares her wine memories
As Decanter MD Sarah Kemp steps down from the helm after more than 20 years – and more than 30 years with the magazine overall – she reflects on her memories and how a 16th birthday present opened her eyes to the fine wine world.
Parting thoughts of Decanter MD Sarah Kemp
---
People talk about the wine 'industry', but it is not that; it is a magical world – full of amazing people and places, with all the drama of a Tolstoy novel
---
I grew up in a small village in West Sussex, a convent girl of a generation where girls weren't expected to work; my teenage ambition was to marry a handsome Arctic explorer, live in an old rectory, have six children and masses of dogs.
I am sure it would have been a perfectly lovely life, but then for my 16th birthday my father gave me the second edition of Hugh Johnson's Wine Companion.
My father, a journalist who spent most of his time in war zones, loved books. He regularly sold review copies and bought our presents (other review copies) at a small bookshop off Fleet Street.
He had no interest in wine, and nor did I – but he bought the Wine Companion for me because it was illustrated by Paul Hogarth, one of his favourite artists. I remember looking through the pages and discovering an exotic realm of châteaux and fascinating people. I was hooked.
I have been fortunate to spend 32 years at Decanter and to run the organisation for more than 20, lucky to be in the world I fell in love with as a teenager.
People talk about the wine 'industry', but it is not that; it is a magical world – full of amazing people and places, with all the drama of a Tolstoy novel. And that's even before you get to the wine.
My father never understood my fascination with wine, and to the day he died he regularly asked if I had ever thought of getting a proper job.
Heading off to tastings, or vineyards to meet producers, did not seem like work to him, but as my friend and colleague John Stimpfig says: 'It is work, but not as other people know it.'
I remember my job interview well. It consisted of a few questions, followed by a tour of the building: 'This would be your office. It is close to the cellar and opposite the tasting room.'
I was then taken to lunch where several bottles of Champagne were drunk. Of course, I accepted.
---
---
Back in 1985 there was not much immediate communication, let alone the internet. Fine wine was Bordeaux, while Burgundy was considered 'unreliable', and Australian wine was known as 'kangaroo's armpit'.
Today, we accept that good wine can be made all over the world – from the desert zones of Argentina to the mountains of Shangri-La. It isn't easy now to imagine life, and wine, before the revolution (or should that be the evolution, still ongoing?).
Some things have not changed at all, as wine runs like a river through our lives. When people joined Decanter they were often surprised that the book I recommended to them was not a book on grapes or techniques, but Wine and War, by Donald and Petie Kladstrup.
I'd explain that wine was not a job to most people who made fine wine, but part of their family patrimony and culture, so you have to be objective but remember that you are only being objective about something which is, in the end, subjective.
My aim was always to create a bridge between producers and the wine lover, our readers; to share this magical world.
And for that you need the very best writers, established or rising stars. I remember with affection and pride persuading a suspicious Stephen Brook (over lunch at the old L'Arlequin in Battersea) to write for us.
An equally suspicious Andrew Jefford took some talking to before he joined us.
Later, I was thrilled to see Jane Anson become an important voice. My pride in publishing them remains considerable.
Steven Spurrier has been another muse, and signing him up as consultant editor was an incredibly important move in creating the Decanter which is renowned around the world today.
---
---
Wine has given me so much more than I could ever have dreamt of.
It has given me a lifetime of memories: Raveneau's Blanchot Grand Cru 1986 on a wet day in Chablis at L'Etoile; Château Lafite 1959 at a dinner in honour of Michael Broadbent with Eric de Rothschild and Serge Hochar; Comtes de Champagne 1996 at Glyndebourne listening to Nina Stemme; La Faraona 2010 at Alvaro Palacios' Man of the Year dinner; Burgundy en carafe with choucroute garnie at a very jolly multilingual pickers' lunch at Bonneau du Martray; Grosset's Polish Hill Riesling at Doyle's on the beach in Sydney on Boxing Day, and so many more.
Wines not drunk alone and scored, but enjoyed with friends old and new.
My father could have had no idea that that review copy would change my life.
It was my door into the world of wine – and it's a world that has given me an eternal sense of wonderment, a richness beyond all. It has also been my pleasure to share that richness with you.
Sarah Kemp joined Decanter in 1985 and took overall charge in 1996. After stepping down from her role as MD, Kemp will continue to consult for Decanter.
Related content:
Long-standing MD calls time after two decades at top…
A brief history of Decanter 1975 – 2015 1975 Decanter is launched by Colin Parnell and Tony Lord 1977 Michael Broadbent writes…
Click on the bottom right hand icon to make the images full screen, and use the arrows to click through.…
Do you remember your first sip?…