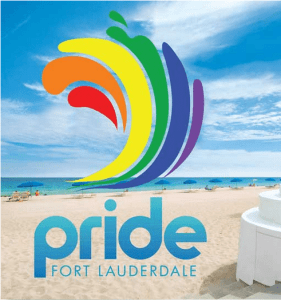 Pride Fort Lauderdale celebrates nation's only "Love Pride" February 11
Pride Fort Lauderdale will celebrate the nation's only "Love Pride" on Sunday, February 11 from noon to 8 p.m. on the iconic Fort Lauderdale Beach. Grammy Award-winning singer and songwriter Estelle and internationally-acclaimed actress, singer and flamenco guitarist Charo, best known as a guest star on the iconic 70s show "The Love Boat," will headline the festival.
"We're so excited to celebrate with residents and visitors from across the world in Greater Fort Lauderdale – where they can be free to be who they are," said Richard Gray, vice president, LGBT+ market, of the Greater Fort Lauderdale Convention & Visitors Bureau. "We are a welcoming destination to all people, regardless of whom they choose to love, how they choose to identify, the color of their skin, or what religion they believe in, and we are looking forward to another successful world-class festival."
This is the 41st anniversary for the festival. It is also the region's first Transgender Pride, with an appearance by leading transgender model and singer Laith Ashley, star of the Oxygen network's series "Strut." Celebrity DJs Tracy Young, Deanna and Power Infiniti will be spinning from the main stage throughout the day.
"We have held annual celebrations and tributes to the LGBT+ community and its unique culture for 40 years, and are excited to host another inclusive and diverse Pride Fort Lauderdale this year," said Miik Martorell, president of Pride Fort Lauderdale. "We think celebrating 'Love Pride' is fitting just before Valentine's Day and to celebrate how inclusive Greater Fort Lauderdale is."
Admission to the main event will be FREE and proceeds will fund scholarships for LGBT+ youth and grants to local community organizers. Pride Fort Lauderdale is expected to draw more than 60,000 people to Fort Lauderdale Beach Park.
Affiliated events are also being planned for the larger LGBT+ community, including women, families, transgender men and women, seniors, sports enthusiasts and people in recovery.
The Greater Fort Lauderdale Convention & Visitors Bureau has been proactively targeting and welcoming the LGBT+ market since 1996, when it became the first Convention & Visitors Bureau with a gay-centric vacation planner and dedicated website on a CVB homepage. Since then, the destination has continued to break down barriers and facilitate essential visibility for the LGBT+ community at large. The destination now welcomes 1.5 million LGBT+ travelers annually, spending $1.5 billion.
It also features one of the largest Pride Centers in the country, the first and only World AIDS Museum and Education Center, and is home to the Stonewall National Museum & Archives, one of the only permanent spaces in the U.S. devoted to exhibitions relating to LGBT+ history and culture.