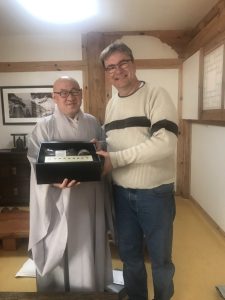 Pyeongchang Olympics opens Korean Tourism to Temple Stays
Korean Tourism is hot, popular, exotic, delicious, spiritual, and now includes a temple experience some visitors may turn into a life-changing travel and tourism experience. The biggest tourism winter sports events ever held in South Korea, the 2018 Winter Olympics, Pyeongchang County, Gangwon Province, South Korea, just ended. Having hosted the world, it gives this country with a sophisticated and ultra-modern infrastructure, including roads, trains, planes, and bus links, an opportunity to open their doors wide to international visitors.
eTN Publisher Juergen Steinmetz visited Naksan Temple in Gangwon Province during the recent Olympics and talked to the monk there. He stayed at the four-star Naksan Beach Hotel next to the entrance to Naksan Temple.
Can you hear the sound? Does it open your mind? Does it awaken you?
Can you hear it? 200 million people around the world filled with the sound of happiness. Instead of staying a hotel, a tourist now has the opportunity to experience true happiness with oneself at a Temple Stay.
My English-speaking tour guide Elisabeth studied Buddism and explained: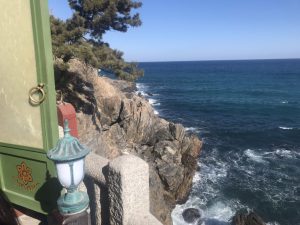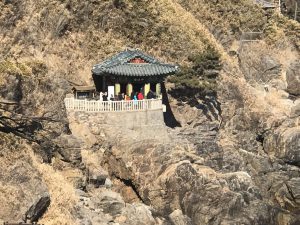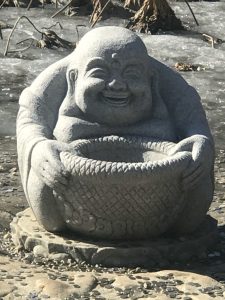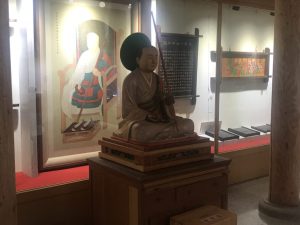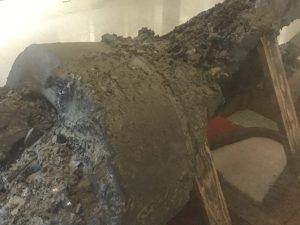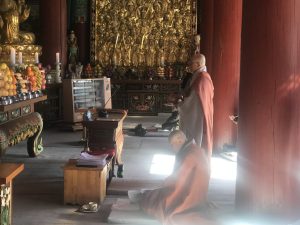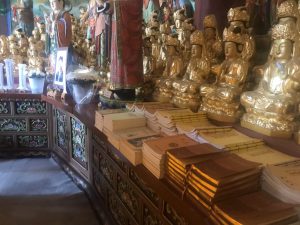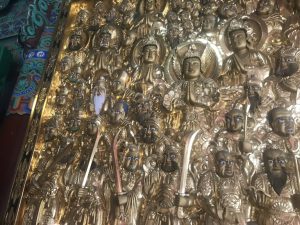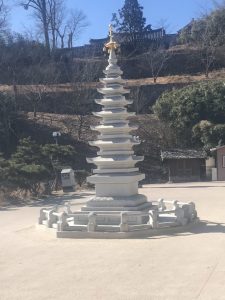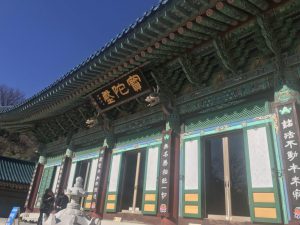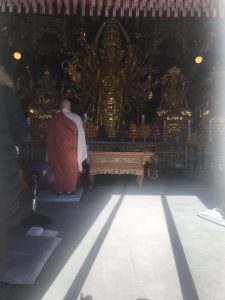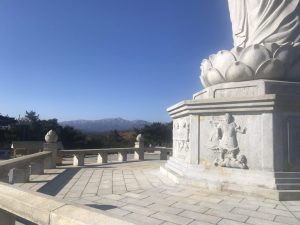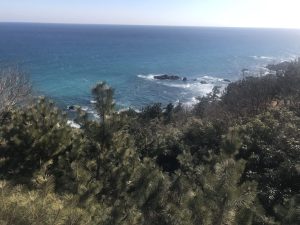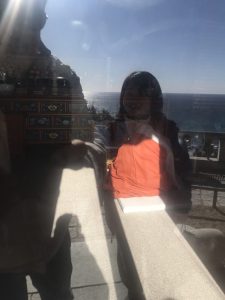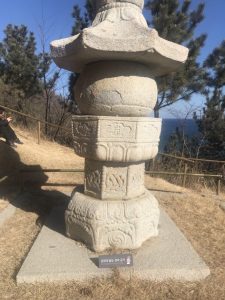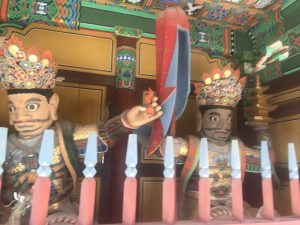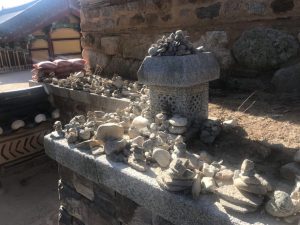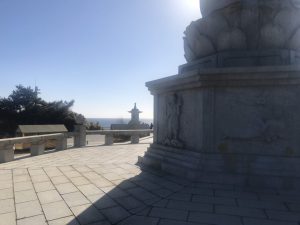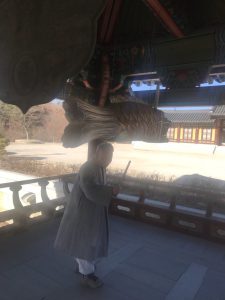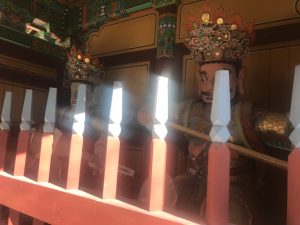 With over 1,300 years of history, innumerable Buddhists, regardless of their social positions and status, are continuously visiting this temple to see real relics of Gwaneum. This temple has a breathtaking scenic beauty of nature, the East Sea, with many sacred treasures, and a cultural heritage. Naksansa has been one of the holiest and attractive of places, not only for Buddhists but also for foreign tourists visiting Korea.
Naksansa is one of the most favorite places with its 1,000-year-old historic temple, sacred treasures, and cultural heritage. Most of Buddha's halls and pavilions in Naksansa were burnt to the ground by a catastrophic forest fire on April 5, 2005, but the temple is being reconstructed.
Tourists wanting to visit this temple should dress clean, neat, and conservative. One should avoid bright-colored clothes, outlandish clothes, heavy makeup, strong perfume, and excessive accessories. One should not wear revealing clothing such as sleeveless tops, mini skirts, and short shorts. Bare feet are not allowed in the temple.
One should be quiet and gentle within a temple. Please be careful not to speak loudly, shout, run, sing, or play music. Men and women should avoid intimate physical contact. Eating and drinking should be done only in designated areas.
A unique opportunity for tourists to be part of this spiritual experience is a Temple Stay.
This program lets you experience the life of Buddhist practitioners at traditional temples which preserved the 1700-year-old history of Korean Buddhism.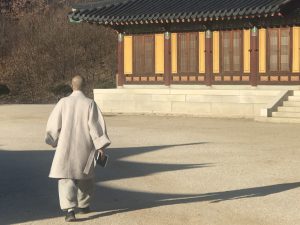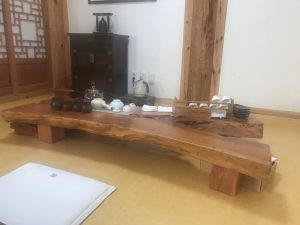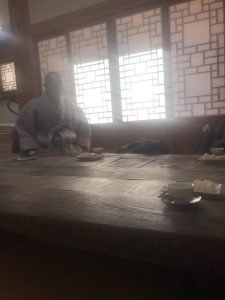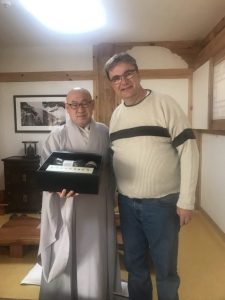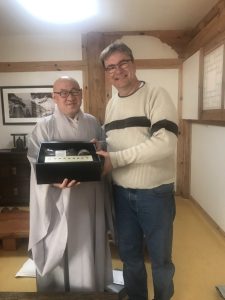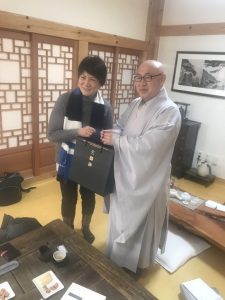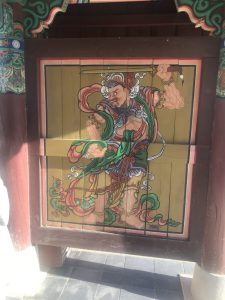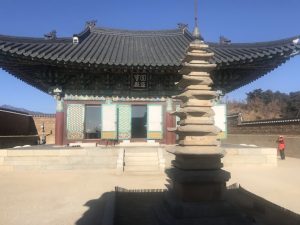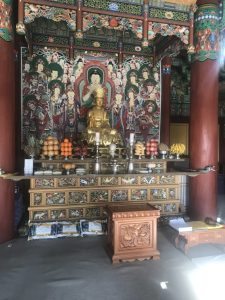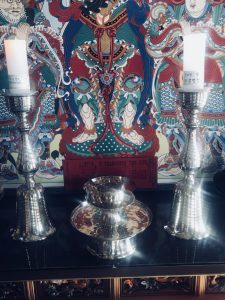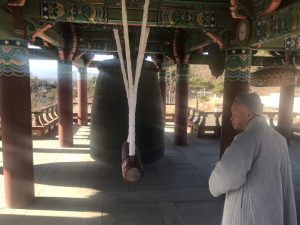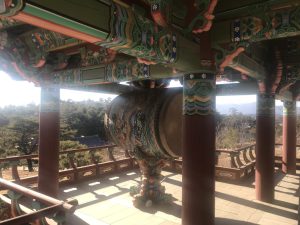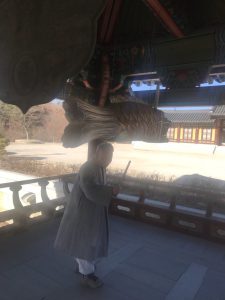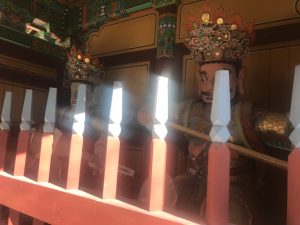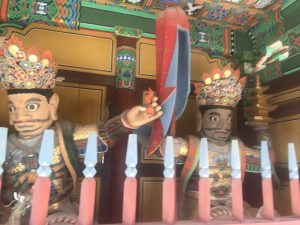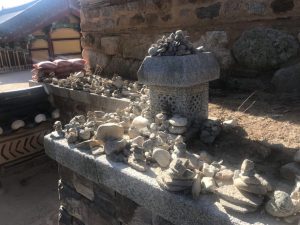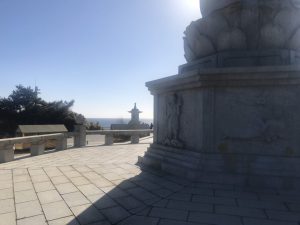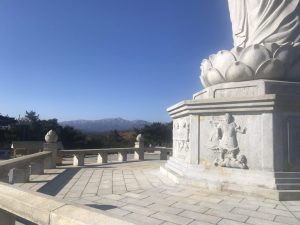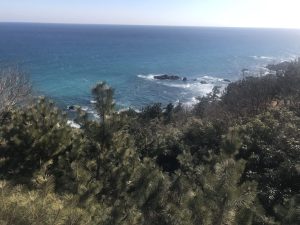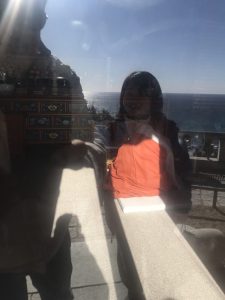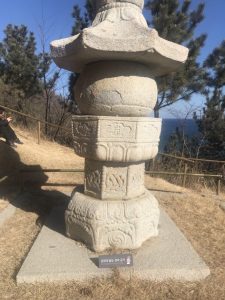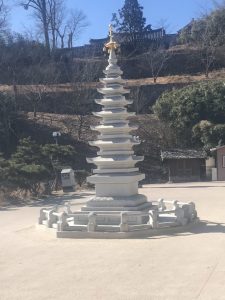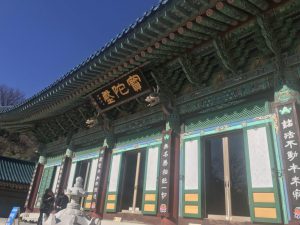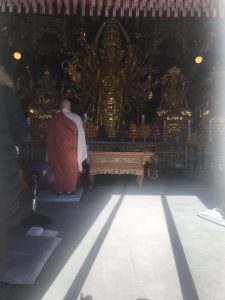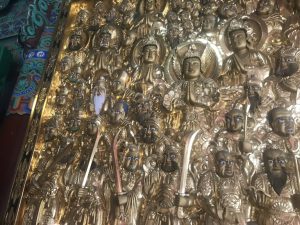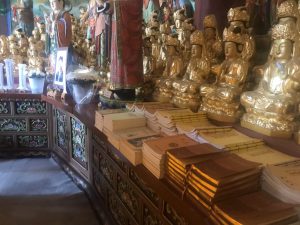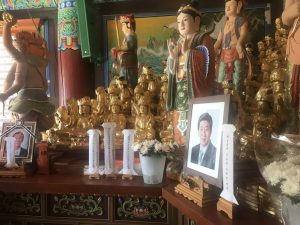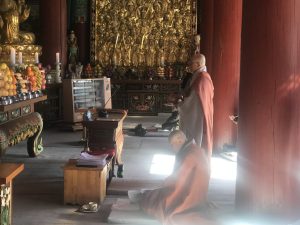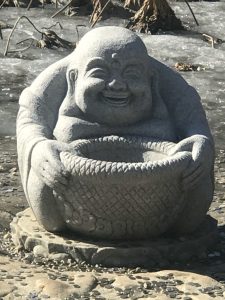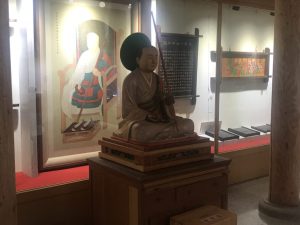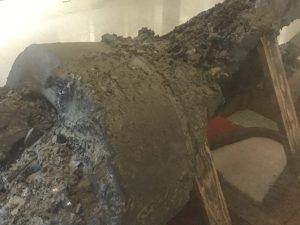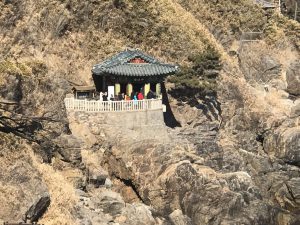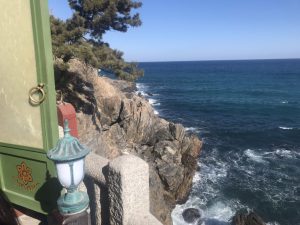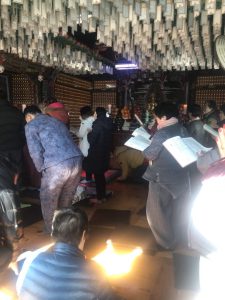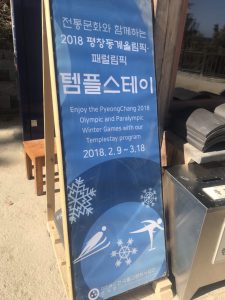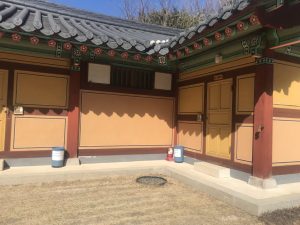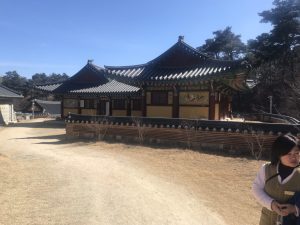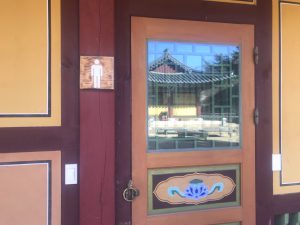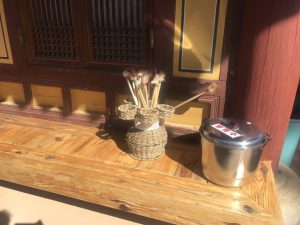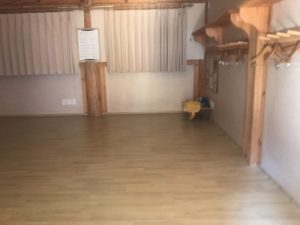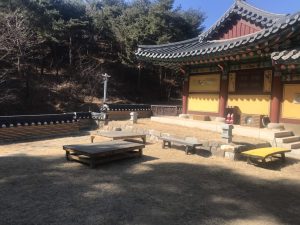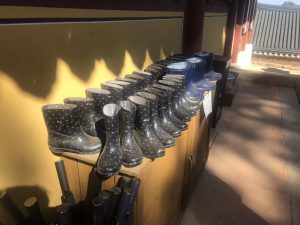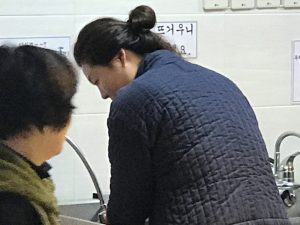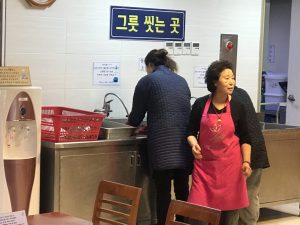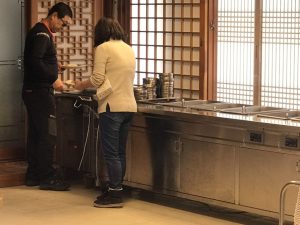 The whole world slumbers in the dark hours before dawn, but as the majestic temple bell tolls, it awakens the universe, and the day begins in the mountain temple, as it has for the last 1,700 years.
Templestay is a cultural experience program that lets one get a taste of the incredible cultural heritage which has blossomed during the 5,000 years of Korean history, as well as experience the cultural consciousness transmitted throughout Korean Buddhist history.
Here are some of the suggestions and rules for visitors to experience the one- or two-night Temple Stay program. Elisabeth explained, "This is not a hotel stay, it's a special experience you could not find anywhere else."
Community life
A temple is a place for community life, so please put things back in their proper places after you use them, and always be considerate of others. Please use the proper door. Take off your shoes and arrange them neatly. Also, check to extinguish the candles and incense if you are the last person leaving the Main Hall.
Silence
In the temple, we reflect on our own minds. We should reduce talking in order to have ample time for self-reflection and so as not to disturb others. Other than chanting, reciting the verses for eating, tea time, and asking questions during the lecture times with Sunims, please keep silence.
Greeting
We do a half bow with a respectful mind whenever we meet people in the temple. Please do the same when entering or coming out of the Main Hall.
Chasu
Chasu is the posture used when we walk within the temple or in front of a sunim. It's a posture to show a humble mind and silence. The method of doing Chasu is to fold your right hand over your left hand at the center of the belly.
Yebul
Please do not miss any chanting ceremonies (Yaebul). When you enter the main hall, please do three full bows facing the Buddha, then go to your seat. Please don't use the front door for sunims in the Main Hall, but use the side doors.
You can realize the Buddhist method of eating ecologically, called BaruGongyang (monastic formal meal), which allows one to live in harmony with nature. Through the practice of Dado (tea ceremony), you can find true stillness and tranquility in a cup of tea. While walking along a peaceful forest path, you can listen to your inner voice, and through the practice of 108 prostrations, you can learn the technique of putting down your inner desires and attachments.
It's a time to search for your true self and become one with your original nature.
A Temple Stay allows you to clear your mind so that you can have a wider experience of the world, and that this serves as a turning point when you return to your everyday life.
A bowl of food and a droplet of water, learning compassion from a tiny blade of grass. Instead of the racket of the city, we can finally become our true selves through the noble silence flowing within this place.
The Korean Buddhist Cultural Foundation contributes to the health of the people through temple food and is engaged in various projects to inform more people around the world of traditional Korean food culture.
The temple food, a precious human cultural heritage with more than 2,500 years of history, is a prototype of Korean food culture that has been together with our nation for 1,700 years.
"After discussing the option of a temple stay with monks, I understand it's a program to ease and relax your busy mind by introspection and contemplation. You can enjoy watching the sunrise, reading a book, and can freely pray anytime for self-reflection except for meal times and ullyeok (community work)," said Steinmetz.
Naksansa
Naksan Temple is located at Mountain Obong, one of three famous mountains, with Mountain Gumkang and Mountain Seorak in the east of the Taebaek mountain range. The name of Naksan Temple originated from Mountain Botanakga, where it is believed that Bodhisattva Avolokitesvara (Gwaneum) always resides and gives Dharma. Gwaneum is symbolized as the compassion of Bodhisattva in Mahayana Buddhism. With over 1,300 years of history, innumerable Buddhists regardless of their social positions and status, are continuously visiting this temple to see real relics of Gwaneum. This temple has a breathtaking scenic beauty of nature, the East Sea, with many sacred treasures and cultural heritage.
Naksansa has been one of the most holy and attractive places, not only for Buddhists but also for other ordinary people including foreigners in Korea.
There are many other famous legacies like the landmark statue of Haesu Gwaneumsang (Seaward-Looking Bodhisattva Avalokitesvara Statue is one of the largest statues in Asia), Botajeon, enshrined many kinds of Bodhisattva including seven other Bodhisattva Avalokitesvara such as Chunsu Gwaneum (Sahasrabhuja aryaavalokiresvara with one thousand hands), and Memorial Hall of Venerable Master Uisang, with records and relics related with his achievements. Naksansa is one of the most favorite places with its 1,000-year historic temple, sacred treasures, and cultural heritages. Most of Buddha's halls and pavilions in Naksansa were burnt to the ground by a catastrophic forest fire on April 5, 2005. However, in spite, the disastrous conflagration, Naksansa, with its 1,000-year history, is gradually being reconstructed, with the strong support of the people and the Buddhists.
The sacred treasures and cultural heritages in Naksansa:
1. Wontongbojeon
It's the main hall of Bodhisattva and the symbolic structure as the sacred place for Gwaneum belief. This hall is also called Wontongjeon or Gwaneumjeon to enshrine Gwaneumbosal (Bodhisattva Avalokitesvara).
2. Geonchil Gwaneumbosal Seated Statue (Treasure No. 1362)
The statue is enshrined in Wontongbojeon, Naksansa. It's the seated Avalokitesvara statue, the great compassion of Bodhisattva. In view of the artistic technique of expression, we believed it was made in the early Joseon Dynasty, followed by traditional style in the late Koryo Dynasty. In general, it has good balanced proportions, especially excellent facial expression. Also, the crown of Avalokitesvara has maintained its artistic technique, following the ancient forms. It's highly regarded as a very important material to study the crown of Buddhist statues in modern days.
3. Chilcheung or Seven Story Stone pagoda (Treasure No. 499)
This pagoda was designated as a national treasure no. 499, located in front of Wontongbojeon. It's said this pagoda was built when Naksansa was renovated in the years of King Sejo, the Joseon Dynasty. It's a good material to study pagodas in the Joseon dynasty because it still has the relatively complete shape of a pagoda, including the partly damaged steeple area.
4. Wonjang (Kangwondo Tangible Cultural Heritage No. 34)
These are the surrounding square type walls of Wontongbojeon. They were first built when King Sejo in the early Chosun dynasty ordered more buildings to be constructed in Naksansa, This wall has dual function. It not only separates the holy place from the main hall of Gwaneumbosal, but also gives an artistic effect of space architecture.
5. Botajeon
This hall symbolizes Naksansa as one of the representative holy places of Gwaneum with Wongtongbojeon and Seaward Gwaneum statue. Inside the hall, there are enshrined statues of 7 representative Gwaneum, 32 Eungsin, and other 1,500 Gwaneum.
6. The seaward standing Gwaneum statue
It is the most famous, landmark architecture among Buddhist treasures in Naksansa. Visiting this statue for worship has become a fixture in the itinerary of tourists who visit the East Sea.
7. Haesu Gwaneum Gongjoong Saritap (Treasure No. 1723)
This seaward Avalokitestvara mid-aired sarira stupa has been designated as National Treasure No. 1723. Buddha's jinsinsari (holy sarira of the Buddha) was founded in 2006 when it was under restoration due to the catastrophic mountain fire in 2005. It is said that this stupa was originally built by the great wish of Monk Seokgyeom in 1692.
8. Dongjong (Grand Bell)
It was built by the instruction of King Yejong in the Joseon Dynasty to dedicate to his father, King Sejo, who had close ties with Naksansa in 1469. This bell was one of the historical monuments built before 16th century in the Joseon dynasty and an important historical material to study traditional bells from that time. It was burnt unfortunately by the catastrophic mountain fire in 2005. However, it was restored to its former splendor on October, 2006 and enshrined in the pavilion of Bell.
9. Hongyemun (Kangwondo Tangible Cultural Heritage No. 33)
It is said that this twin, rainbow-shaped, stone gate was built in 1467. At that time, there were 26 counties in Gangwondo. Each one of the stones were sourced from those counties by the instruction of King Sejo from the Joseon dynasty. The pavilion on the gate was built on October 1963 but was damaged by the catastrophic mountain fire in 2005. It was restored in 2006.
10. Uisangdae (Kangwondo Tangible Cultural Heritage No. 48)
This is the place where the Venerable Master Uisang scouted for a prospective place to build Naksansa, after returning from Dang, China. It's also the place where he practiced Chamsun (Buddhist meditation). This is one of the eight famous spots in Kwandong (the eastern Korea region). As it has a landscape of singular beauty, located at a hillside fronting the majestic view of the sea, it has been a favorite place for poets in the olden days and still a must-see place when you visit Nasansa nowadays.
11. Sacheonwangmun (The Gate of the four heavenly kings)
This pavilion is a shrine for Sacheonwang (the four heavenly kings or guardians), Dharma (teachings of Buddha), for those who protect the temple, and all Buddhist supporters. It's amazing that this pavilion was not damaged by the Korean War in 1950 and the catastrophic mountain fire in 2005.
12. Hongryeonam (Kangwondo Cultural Heritage No. 36)
According to the legend, Gwaneum (Bodhisattva Avalokitesvara) appeared to the venerable Master Uisang before he established Naksansa. The venerable Master Uisang came to here all the way from the faraway city of Kyungju, the capital of the Silla Dynasty, with the earnest wish to see Bodhisattva Gwaneum. As he was waiting, he saw a bluebird enter into a stone cave. Regarding it as an auspicious moment, he prayed seven days and nights in front of the cave. Eventually, Gwaneum, on top of a red lotus on the sea appeared to him. On that spot, he built a small temple, a hermitage in the name of Hongryeonam and called the stone cave where the bluebird entered the cave of Gwaneum.
Gangwon Province, South Korea
Gangwon is a mountainous, forested province in northeast South Korea. Ski resorts, Yongpyong, and Alpensia, in the county of Pyeongchang were host sites of the 2018 Winter Olympics. In the east, Seoraksan National Park has mountainside temples and hot springs. Odaesan National Park's gentle slopes lead to the Stone Seated Buddha, while the steep cliffs of Chiaksan National Park offer more challenging trails.
You can get to Naksansa Temple by passing through Iljumun and Hongyaemun Gates. When you enter the temple from Hongyaemun Gate, you can see black bamboo trees and tiled earthen walls on either side of the sanctuary.
North of Naksan Beach, besides the copper bell, is a back door, with a path that leads to Uisangdae Pavilion and Hongryeonam. Uisangdae is a pavilion built on top of a cliff by the sea and was built where Ui-sang used to sit and meditate. Hongryeonam is known as a small Buddhist temple, built above a stone cave by Ui-sang. Under the sanctuary floor, there is a 10-cm hole through which you can peak through to view the sea.
Past Uisangdae Pavilion, up the path on the hill at Sinseonbong, there is a stone statue of Buddha called Haesugwaneumsang. It is the largest of its kind in the Orient and can be seen from as far as Mulchi Harbor.
There is so much for both domestic and foreign visitors to explore – and it's all original with very little commercial intent. Right now is the time to take advantage of this open door to Korea.
Click here for more information on Temple Stay programs at Naksan Temple.