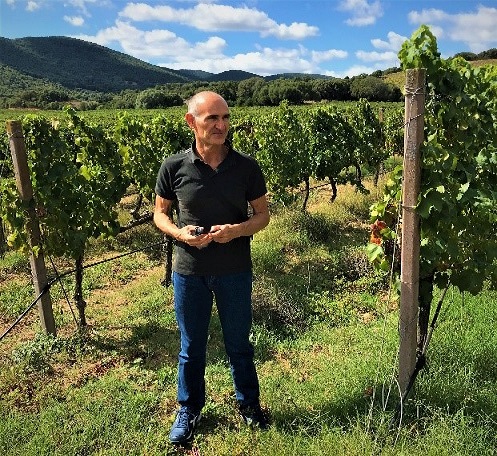 Sardinia: Experience the wines for a taste adventure
What is Old is New Again
There are many reasons to visit Sardinia, an island that has become a go-to destination thanks to the PR efforts of the rich and famous Aga Khan and his friends. Today it is populated by global celebrities who spend the warm days and cool nights on their yachts, in their $30,000 per day suites, and shopping at Prada.
Fortunately, there is room in Sardinia for the rest of us who are interested in exploring new places and tasting new wines; the island beckons sommeliers and wine lovers with unique/delicious taste experiences.
Unlike the wines of Sicily, Sardinia wines have a very low profile. Some researchers believe this small footprint in the global wine market space is a result of not having a research institute like Sicily's Istituto Regionale del Vino e Olio, and not organizing a consortium of wineries to promote the local wines on the international stage. This behavior appears to be a serious mistake as the general consensus is that Sardinian wineries are producing excellent well-made wines that would appeal to wine lovers everywhere. The real reluctance of Sardinia wineries to compete for a larger share of the global market remains shrouded in mystery.
About Sardinia and Wine
The Greeks called the island Ichnusa (footprint). According to legend, when Zeus created the earth, he gathered the left-over pieces, threw them into the sea, and stepped down – creating Sardinia. Invaders through Sardinian history have included the Phoenicians, Romans, Pisans, Catalans, as well as billionaires and tourists.
Spain left its mark on the island; Cannonau, is the Sardinia word for granacha, or grenache. It should not be a surprise to find this grape in Sardinia when it is remembered that for about 400 years Spain ruled the territory, starting in the 14th century. D.H. Lawrence described Sardinia as "left outside of time and history" and determined it was "lost between Europe and Africa and belonging to nowhere."
In 2004, researchers found the remains of vines and sediment that could be dated back more than 3000 years to 12 BC in Sardinia. It is thought that the early wines/vines came from Mesopotamia; however, recent findings may find this not to be true. According to gene traces and tests performed on the Sardinian vines, the DNA test found grapes on this island to be the oldest in the world
If this is correct, unlike other Italian wine regions where the vines were imported by the Greeks and Romans (based on the conquerors), Sardinia, with the oldest vines, started winemaking, transferring the grapes and skillset to Mesopotamia.
Sardinia is among Europe's largest island (after Great Britain, Ireland, Iceland and Sicily), has a population of 1.7 million (approximately), with 25,000 hectares under vine. The average land ownership is very small – just 0.8 hectares per farming family, making co-operatives a way of life in Sardinia. This system does lower production costs and allows excellent wines to be produced in an economically sustainable manner.
Start with the Terroir
The geography of Sardinia is hilly with some mountains and plains. The terroir includes limestone and volcanic deposits and the Mediterranean climate delivers hot, dry summers and chilly, rainy winters. Over the years, the local agricultural products produced included corn, olives, fruits and vegetable, and of course, grapes. Some residents are farmers, tending sheep, goats and cattle, while others fish for tuna, anchovies, lobsters and salt.
In the areas of Santa Teresa and Olbia the granite soils create the perfect environment for Vermentino di Gallura, a memorably delicious oak-free, bright, refreshingly acidic wine that suggests green apples, ripe citrus fruit and ripe pears, lurking in the glass that shows transparent to light straw hues in the white wine. This is the only DOCG wine in Sardinia (the top-level rank of the 4-tier Italian classification system).
It is believed that this wonderful wine is a result of a perfect blend of sun and sea that happens because the grapes are planted facing north, allowing the plants to catch a cool breeze during the very hot weather. The grapes also benefit from wind and the difference between temperatures in the day and night, maximizing the wines acidity and flavor.
Another popular Sardinia favorite is Cannonau (aka French Grenache, Spanish Garnacha), a widely planted grape (5344 hectares). The vines flourish in the warm and gravely terroir. The wines produced are high in alcohol, low in acidity and deliver nose-pleasing aromas of dark red berries, plums and tobacco while the palate finds chocolate and coffee from oak casks.
Other Grape Varieties (curated from 116 known varieties) in Sardinia include:
Carignano DOC (1563 hectares). Produces red and rose wines. The red is dry and fruity, with a ruby to violet hue.
Cagnulari. Native to Sardinia producing a rich, red wine that is lush and elegant.
Torbato. Brings ancient Greek and Spanish heritage to the grape and produces an aromatic white wine.
Monica DOC (1354 hectares). Produces a light red wine that is aged 6 months. Fruity with hints of plums or blackberries with prominent tannins.
Nuragus (1352 hectares). Produces a white wine that is slightly acidic and should be enjoyed while young.
Nieddera. Grown in the Cabra region near Oristano, it is sometimes called Bovale and comes with a Spanish origin, producing a robust red; may be combined with Vernaccia di Oristano to make a dessert wine.
Semidano. Produces a golden wine that is intense and soft with delicate balance. Considered a dessert wine.
Brands to Consider
This unique winery was started decades ago by Piero Mancini, a Sardinian dentist who had a passion for viticulture, spending his weekends finding his way to create wines that would be beyond what was then available. As the years passed his love for the soil and the nexus between the terroir and the grapes brought a selection of wines to the market that are outstanding and memorable. Today the winery and vineyards continue to be managed by the family, including Alessandro (agronomics and business); Antonio (technical and administration) and Laura (marketing and communications).
The winery is located in Olbia, at Cala Saccaia. The vineyard covers approximately 120 hectares in the north-east of Sardinia, in four Gallura areas: Balajana, Lu Scolombrino, Montelittu and Ciabattu, producing Vermentino di Gallura DOCG pus Cannonau di Sardegna DOC, Vermentino di Sardegna DOC, Moscato di Gallura DOC as well as Merlot, Cabernet, Pinot and Chardonnay.
The terroir is composed of granite broken into find sand. The minerality of the soil gives the wines their underlying palate experience of wet stones, crushed rocks, salinity and savory earthiness. Mancini vineyards range from 50-300 meters in elevation with various exposures but mostly south-facing. Vermentino thrives in the hot Mediterranean climate, and is able to maintain and sustain firm acidity in the heat of coastal Sardinia.
Wines from Piero Mancini (curated).
Piero Mancini. Adelasia. Vermentino di Gallura DOCG Spumante Brut. (My personal favorite). Exclusively Vermentino grapes, handpicked and selected in late August. Vinification in steel tanks at controlled temperature. Second fermentation using the Charmat method in small autoclaves for long periods on the yeasts.
Notes. To the eye, bright straw-yellow enhanced by tints of green with persistent and fine perlage. The nose finds delicate and refreshing white floral notes, herbs, sage, and citrus. On the palate, edgy, refreshing acidity heightened by drops of saline minerality. Serve as an aperitif or pair with seafood, or chicken.
Piero Mancini Cucaione Vermention di Gallura DOCG Superiore. Fermentation off skins at 18 C.
Notes. To the eye, straw yellow with green hues. The nose is delighted with a bouquet of rosemary, bay leaves, peach and mineral notes. Balanced and soft on the palate delivering yellow apples and pears enhanced by hints of salinity; a suggestion of almonds at the finish. Pair with shell fish, Vegetarian cuisine,
Mancini Primo. Vermentino di Gallura DOCG Superiore. Vinification off skins at 18 C.
Notes. Straw yellow trending to hints of green attract the eye, while the nose finds fruits/flinty aromas. The palate detects spice and vanilla leading to a smooth and intense finish. Serve as an aperitif or pair with fish.
The winery started in 2008 through an alliance between Nathan Gottesdiener, a German industrialist, and Massimo Ruggero, Siddura CEO. The Siddura Winery is located near Luogosanto in the Gallura region of northeast Sardinia. The terroir is noted for its granite rocks, sand, clay, and loose soil that is frequently arid. High mountains surround the coast that presents fjords, rock cliffs and small islands.
The Siddura cellar is located in an underground building that uses the geothermal potential of the site and employs a unique control system for fermentation in individual tanks. The entire production chain, from grape to bottle, takes place using diverse containers from concrete tanks to barrels.
Siddura Wines has adapted Israeli technology (Netafirm) for their vineyards. The "talking plants" system allows plants to "alert" managers when water reserves are low. This immediate communication between the plant and the specialist addresses the dryness of the soil due to temperature increases or low rainfall. The technology constantly monitors the water levels while sensors, inserted into the plants and the ground, emit sounds that are sent to the processor notifying Luca Vitaletti, the agronomist, to the water situation via PC or smartphone. If there is a water shortage or poor rainfall the specialist intervenes immediately through the use of irrigation.
This winery is an award winner and was recently noted by the Vinibuoni D'Italia 2020 guide, published by the Italian Tourism Club. This reward combines industry experts and consumers and identifies the best local wines as determined by wine experts and the recognition is respected by foreign and Italian markets.
Siddura (saddle in Gallurese) Wines (curated list) include:
Bacco (God of Wine). 100 percent Cagnulari grapes. Fermentation in stainless steel tanks; maturation in stainless steel and oak barrels. Noted as having an aging potential of up to 8 years. Manual harvest between the end of September and early October; first must obtained through soft pressing. Vinification continues with a subsequent maceration and fermentation in temperature-controlled steel vats for 15-18 days. Wine matures on noble lees in steel tanks and barrels; ageing – a minimum of 2 months.
Notes. Ruby red to the eye trending to deep purple; the nose detects herbs, fruits (cherries and raspberries), musk and florals. Minerality and tannins sparks interest on the palate and leads to a long smooth finish. Pair with charcuterie, ragout (meat sauce), grilled or stewed meat, medium or long-aged cheese.
Beru. 100 percent Vermentino grapes (grown at 250m above sea level). Vermentino di Gallura DOCG Superiore. Manually picked grapes, alcoholic fermentation in barrels 10-12 days. Maturation in French oak barrels for 9 months and can be aged for up to 6 years.
Notes. Golden yellow to the eye; nose delighted with florals, peaches, apples, thyme and honey. The palate is pleased with a clean fresh taste experience enhanced by hints of vanilla and honey; suggestion of almonds at the finish. Pair with seafood, fish, and hard cheese.
Maia (Magic). Vermentino di Gallura DOCG Superiore. Handpicked grapes during mid-to-late September; fermented in stainless steel tanks for 12-15 days; maturation in stainless steel, producing a wine with aging potential for 2-4 years.
Notes. Straw yellow to the eye; the nose finds spices, ripe pears, apples and a hint of toasted almond, while the palate is delighted with mellow flavors leading to a finish that speaks to minerality. Pair with seafood or soft cheese.
Nudo. 100 percent Cannonau. Grapes are pressed immediately after harvesting, followed by a soft pressing; the must is stopped at a low temperature in stainless steel tanks for a few days; 15-day fermentation. The grapes are selected from a small sun-filled field in the Siddura valley facing east, toward the sea of the Costa Smeralda.
Notes. The eye is delighted with soft pink trending to coral while the nose finds the aroma of fresh fruit with slight acidity (grapefruit and pineapple), combined with hints of florals. The palate discovers dry and fresh flavors. Pair with eggplant parmigiana.
Nuali. 100 percent Moscatel (Moscato Bianco); alcoholic content of 14 percent. Sardinian DOC. The grapes dry on the plant and harvested by hand. After destemming the must, rich in sugar, is separated and fermented in thermo-conditioned steel tanks.
Notes. A sweet dessert wine that presents a golden hue to the eye. The nose finds apricots and orange peel while the palate is delighted with velvets announcing white flowers and spice. A hint of minerality decreases the sweetness creating a fresh mouthfeel. Pair with Thai and Korean cuisine, summer salads, peach cobbler and apple desserts.
The Future is Now
The Sardinian climate is never boring, presenting a mix of wonderful sun (an average of 7 hours of daylight) that is tempered by the sea, winds, and mountains. Visitors from around the world are discovering the destination thanks to the excellent wines and interesting cuisine.
The most prolific red grape is Cannonau, a clone of Garnacha (Grenache) from Seville, Spain. Cannau di Sardegna is also known as Sardinia dynamite. When paired with a lamb stew, pasta, or roasted pig, it competes effectively with many of the Italian red elites.
Vermentino di Sardegna is the major white wine export. Spanish in origin, it is light, crisp, delicious and a perfect mate to fish cuisine.
At the end of the day, it is highly unlikely that there will be a bad local wine served with lunch or dinner during a visit to Sardinia. Because the wines of the region are just starting to trend, they can be acquired at a budget-friendly price.
Keep a few bottles of Sardinian wines available for the holidays if you want to please all of your guests, all the time.
Piero Mancini Wines
Siddura Wines
© Dr. Elinor Garely. This copyright article, including photos, may not be reproduced without written permission from the author.