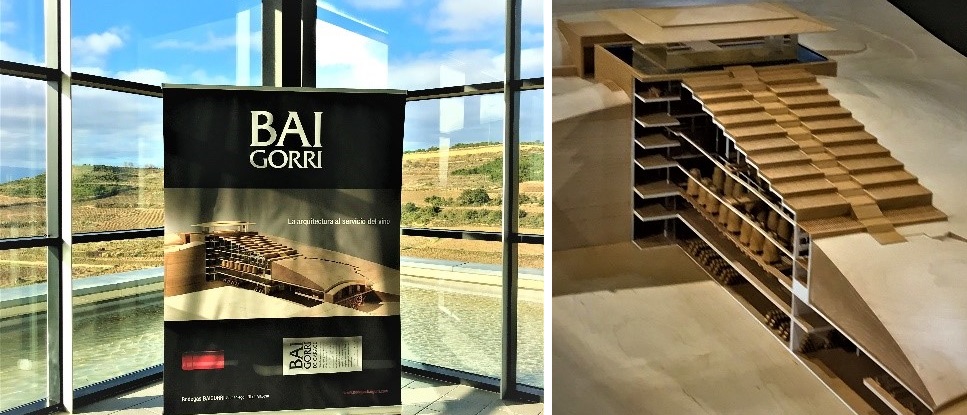 Spanish winery architect brings attention to Baigorri wines
There are wineries and then there is Baigorri (started in 2000), currently owned by Pedro Martinez Hernandez. This Rioja winery is an outstanding architectural achievement and engineering marvel, set in a beautiful landscape that creates the perfect environment for the production and enjoyment of world-class wines.
Located between Logrono and Laguardia, in the town of Samaniego, on the north bank of the Ebro River (in the most northern part of Rioja region), the approximately $25 million winery emerges from its landscape as a tribute in Rioja Alavesa (officially Cuadrilla de Laguardia), one of 7 valleys comprising the province of Alava, Spain's area noted as an important wine growing region. As a result of its position, high in the Rioja Valley, and its unique calcareous clay soil, the wine produced has great aging ability.
Inaki Aspiazu, Guipúzcoan Architect. Gravity-led Reception System
Currently the winery has 136 acres (55 hectares) of organically grown grapes under cultivation, many from old vines that are deeply rooted and harvested by hand; however, grapes are also purchased from 10 growers with whom Baigorri has long-term contracts.
The architectural gem is surrounded by miles of vineyards; look to the left to spot the town of Samaniego and to the right are the boundaries between the two Riojas; look behind for the Sierra de Cantabria, protecting the land from humid winds of the north, creating its own microclimate.
The winery combines old-world knowledge of winemaking with engineering prowess and current technology. The first visible building is a glass enclosed reception center offering a panoramic view of the surrounding vineyards and villages while the superimposed floors cascade like a staircase where grapes enter at the top.
The winery is 7- stories (98.4 feet; 30 meters) deep below the surface, and thanks to gravity, the fruit and must move through the process to become world-class wines. There are no hoppers, pumps or mechanical methods used, insuring that the individually selected grapes and the resulting wines are insulated from any potential damage. The outcome of this combination of careful vine management, rigorous selection and innovative architecture creates wines with distinctive profiles.
The gravity allows the grapes to "gracefully" arrive whole to the point of fermentation. Current technology includes small conical fermentation tanks of stainless steel while New French oak barrels (used for aging), deliver wines with balanced wood and fruit.
Rioja. Land of 1000 Wines
It was not until the end of Francisco Franco's control of Spain and his death (1975) that the Spanish people developed an interst in making their own quality wine. This area of northern Spain is ideal for wine production due to climate conditions. New wineries, looking to take advantage of the opportunity, held competitions for the designs of their estates. Notable architects selected from these competitions included Frank Gehry, Santiago Calatrava, and Zaha Hadid. Inaka Aspiazu was selected to design the winery for Baigorri.
The Rioja wine district is located in the provinces of La Rioja, Alava and Navarra and divided into 3 regions: Rioja Alta, Rioja Alavesa (located in the west and influenced by the Atlantic) and Rioja Baja to the east, (influenced by the Mediterranean). The Ebro river, bisecting Spain, runs through the Rioja region, creating a series of microclimates which produce a diverse range of wines.
The Rioja region is approximately 62 miles (100 kilometers) south of Bilbao, and is the most famous denomination of origin for wines in Spain. Traditionally these wines are soft, delicate blends of red grapes made from a single varietal in a modern style characterized by intense ripe fruit.
Rioja wines represent 40 percent of sales of quality wines in Spain and an increasing share of 100+ international markets. Rioja was granted Denomination of Origin status in 1926 by the Spanish Ministry of Agriculture and in 1991 became the first Qualified Denomination of Origin in recognition of the high quality attained by its wines and strict quality control imposed on grapes and wine in the region.
Currently, Spain is the third largest producer of wines in the world and the largest grower of vines by area. It is also the country using the largest number of native varieities (400+). Historically Spanish wines were simple and strong and classified as alchoholic bulk wines that needed early consumption. Today the focus has changed, and Spanish wines compete successfully on the world stage.
Baigorri Wines (Curated)
Baigorri Blanco Fermentado en Barrica 2015. Viura (Macabeo) -90 percent; Malvais – 10 percent (6-8 months in French oak)
This white wine from Rioja and prepared by Baigorri winery is produced in a modern style. The grapes come from old vines grown sustainably. The grapes are destemmed by hand and selected on vibrating sorting tables. Subsequently a maceration is performed with the skins for a few hours. It is then fermented and aged in new French oak barrels with its lees, moved regularly for about 6-8 months.
Goldenrod to the eye, the nose finds ripe white fruit with hints of balsamic and spices (perhaps from the oak aging). The palate finds a creaminess, a bit of smokiness and interesting complexity and considered elegant, with a good balance between wood and fruit. Pair with grilled or baked fish or white meats with mushroom sauces, cheese and nuts.
Baigorri Garnacha 2014. 100 percent Garnacha (14 months in French oak)
The vines date back 80 years (single vineyard in Rioja) and grown at 0.53 feet above sea level. The cool climate brings delicacy to the wine. The eye finds dark cherry-red hues and the nose detects cinnamon, nutmeg and cloves, plus florals and red fruit that are aromatic with a pleasant balance of tannins and acidity linked to hints of rose petals and red berries that are delivered to the palate – ending with a long mineral finish. Pairs well with beef, chicken, pasta with a red sauce, tuna and piquant cheese.
For additional information, go to spainfoodandwinetourism.com.
© Dr. Elinor Garely. This copyright article, including photos, may not be reproduced without written permission from the author.