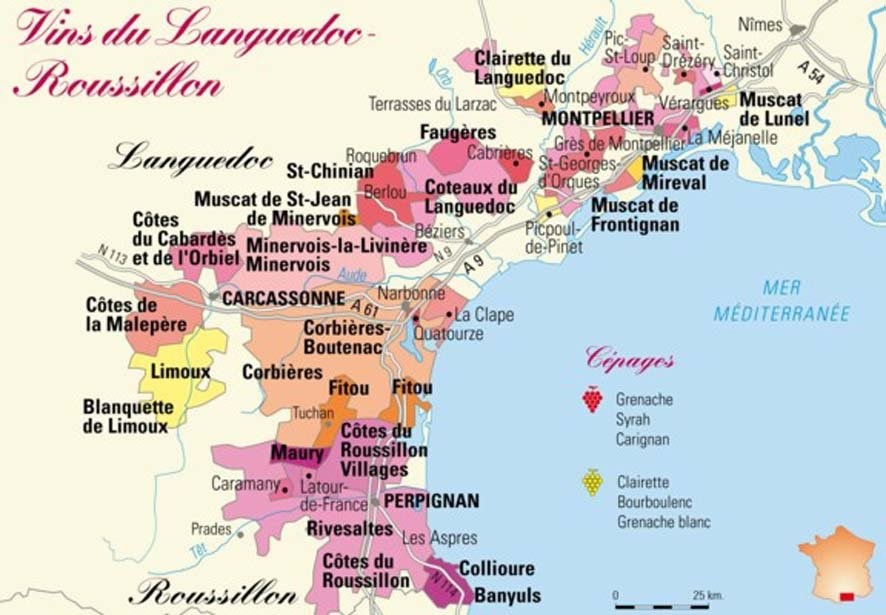 The French Vineyards of Occitanie
Occitanie is considered one of the newest French wine regions and it is located only 2 hours from Barcelona. The name for the region references a large southern European realm where people spoke a Latin-derived language called Occitan. This French vineyards region covers a territory similar to that ruled by the Counts of Toulouse in the 12th – 13th centuries and presents a Mediterranean coast on the southeast and is adjacent to Provence-Alpes-Cate d'Azur on the east, Auvergne-Rhome Alpes on the northeast, Nouvelle-Aquitaine on the west and northwest and shares foreign borders with Andorra and Spain on the south. This area is one of the oldest wine regions in the world, with documented Greek planted vineyards from the 5th century BC.
The area combines the neighboring Languedoc-Roussillon and Midi-Pyrenees regions, and is home to Montpelier, Toulouse and Perpignan. This is also the birthplace of sparkling wine (1531), in the town of Limoux, produced by the monks at the Abbaye de Saint-Hilaire, 150 years prior to the birth of Dom Perignon who introduced the sparkles to the area that made it famous – Champagne. The local bubbles were sipped by Thomas Jefferson and it was the only sparkling wine in Jefferson's personal cellar.
Languedoc-Roussillon, was once noted as the country's "wine lake" because it produced mass volumes of wine for the French military during WW1. For years it made the country's cheapest wine – for the troops. Fortunately, recent efforts have focused on quality over quantity, and this attentiveness has been successful. The region currently includes 549,194 acres of vineyards (more land than all of Australia), producing 327,360,000 gallons of wine (75 percent red, 13 percent white, 8 percent rose, and 2 percent sparkling and fortified / sweet). Of these wines, there are 36 AOC wines (29 red, white and rose, 3 sparkling and 4 sweet).
Grapes
The most widely planted grapes are: Cabernet Sauvignon, Carignan, Cinsault, Merlot, Mourvèdre, Syrah, Grenache (noir and blanc), Muscat, Bourboulenc, Clairette, Mauzac and Picpoul. The soils are a mix of schist, sandstone, scree, limestone, clay and sandy-clay. Famous appellations include Muscat de rivesaltes, Blanquette du Limoux, sparkling wine, Corbiere, Minervois, Saint-Chinian, Pic Saint-Loup, Picpoul de Pinet and Colioure.
Curated Selection from a recent event: The Sud de France Portfolio 2019
1. Haus Alpenz. 2010 Domaine de Rombeau. Rancio Sec. IGP Cotes Catalanes. Grapes: Grenache Blanc, Grenache Gris, Macabeu
Until recently, Rancio Sec was almost exclusively enjoyed by locals as it was a traditional product a winemaker would produce for friends and family for special occasions.
The wines are made by vinifying local grape varieties (macabeu, grenache blanc and grenache noir), aging in exposed conditions where heat, light and oxygen combine to transform the final product. The process destroys the primary fruit characteristics and replaces them with complex tertiary flavors and aromas (cocoa, curry and walnut). Research suggests that the practice dates back to an ancient Roman era, with Pliny the Elder describing the wines exposed to, "all the insults of the air."
Wines declared Rancio are aged in demijohns for 3 years before being transferred to a solera, where they mix with older wines for at least 2-years before being bottled. It is typically served as an aperitif or paired with seafood (i.e., Roussillon anchovies).
In 2004, Rancio Sec was declared an endangered viticulture tradition by Slow Food International. A small and dedicated group of producers lobbied the French government to create a separate IGP (Indication Geographique Protegee) rule for Rancio Sec producers to follow:
1. The wine must be oxidized and aged for 5 years,
2. Made from a base of the Roussillon's typical grape varieties, and
3. Must not contain any residual sugar.
Because of the flexibility or the rules, Rancio Sec is very diversified in terms of color, flavor profile and depth of oxidation. Located in Roussillon, Domaine de Rombeau dates back to 1727 when the de la Fabregue family arrived in Rivesaltes from Lyon. By 1850 the family was the first in the region to bottle wine. Philippe Raspaud is the 6th generation winemaker and today he farms 90 ha, producing wines including the famous Rancio sec, aged primarily out of doors in glass bonbonnes, barrels and foudres before blending with the with the assistance of Fernand Baixas, winemaker emeritus.
Notes.
Light goldenrod to the eye with hints of green, the nose finds delicious ripe yellow apples, yellow raisins, prunes and chestnuts. The palate is happy with raisins and honey leading to a light and fresh finish with a hint of spice. Pair with tapas, curried lamb, salted anchovies, Comte or dry goat cheese, or as a digestif. Served lightly chilled.
2. Haus Alpenz. Puig-Parahy, Pyror Rancio sec. IGP Cotes Catalanes NV
The vineyards of Puig-Parahy started in 1446 when Etienne Parahy built a house and vineyards in Passa. Today, 7 centuries later, his descendant, George Puig is the winemaker and custodian of the ancestral family home and ancient cellars holding wines that date from the late 19th century.
The Pyror Rancio Sec is in keeping with the family tradition and is made from white grapes (Grenache blanc, Grenache gris and Macabeu). Soils are a mix of argile-calcaire, galet and various schists. All wines are fermented with native yeasts.
The barrels used to blend Pyror are from the early 1960s and were used by Puig's father and grandfather and maintained as perpetual barrels with small amounts withdrawn every few years. The wines slowly concentrate in the ancient oak and chestnut barrels, gaining a combination of polish and rusticity.
Notes.
Golden rod hue attracts the eye, while the nose discovers yellow apples and raisins leading to palate pleasures of lemons and honey. Serve as a digestif slightly chilled.
3. Cape Classics. 2014. Domaine de la Reserve d'O, Hissez AOP Terrasses du Larzac. 60 percent Syrah, 35 percent Grenache, 5 percent Cinsault.
The vineyard was started in 2005 by Marie and Frederic Chauffray and is comprised of 25 acres on the plateau of Arboras in Terrasses du Larzac, located in the Languedoc and farmed biodynamically from inception. The wines are certified organic and biodynamic by Ecocet and Demeter Biodynamic
The fruit is sourced from the highest altitude and lowest yielding parcel, Hissez O is aged in large old 600-liter oak barrels, adding richness and texture to the wine.
Notes.
Burnished mahogany to the eye; deep dark cherries, earth, wet rocks imparts a delicious aroma to the nose. The soft but sturdy tannins and hints of minerality lead to a long finish – producing exactly what you want from an elegant red wine. Pair with beef stew or slow-braised ribs.
4. 2014 Chateau Haut-Blanville 1955 AOP Gres de Montpellier. 98 percent Syrah, 2 percent Grenache
Gres de Montpellier is a term reserved for red wines produced from Grenache, Syrah and Mourvedre (occasionally Carignan and Cinsault which are limited to no more than 30 percent of the blend). In order to achieve this appellation, the minimum age of the vines is 5 years.
The year – 1955 – acknowledges the year that the vines for this wine were planted. The grapes, originally Bourboulenc (native white from south of France), were grafted over to Syrah under the direction of Bernard Nivollet, who, with his wife, Beatrice, are considered pioneers in crafting single parcel wines based upon terroir identification in the Languedoc.
The trellised vines are planted on a plateau, 492 feet of altitude, overlooking the Mediterranean Sea on the south side, the Pyrenees mountains on the southwest side and the Cevennes mountains on the north side. The soil is composed of limestone and bauxite (red soil) and extremely rocky.
The grapes are harvested by hand, undergo a long maceration (5 weeks) to allow for color and to extract the maximum tannins and aromas from the grapes. The wine is transferred to new French oak barrels (French Cooper Radoux Blend), medium toasted, and aged for 3 years. After the racking, the wine is not filtered or fined prior to bottling, making it 100 percent vegan friendly.
Notes.
Intense nose with nuances of eucalyptus, dark fruit, pepper and caramel. Full bodied on the palate, rich and complex; tannins soft and fine with hints of spice, cashew, coffee and leather. Pair with roast meat, lamb, or aged cheese.
The Event. The Sud de France Portfolio 2019
The mission of Maison de la Region Occitanie is to liaise with local and foreign businesses to facilitate the region's access to export markets. Hundreds of wine makers, wine buyers and sellers, sommeliers, wine writers and other wine trade professionals attended the masterclass and tasting in Manhattan.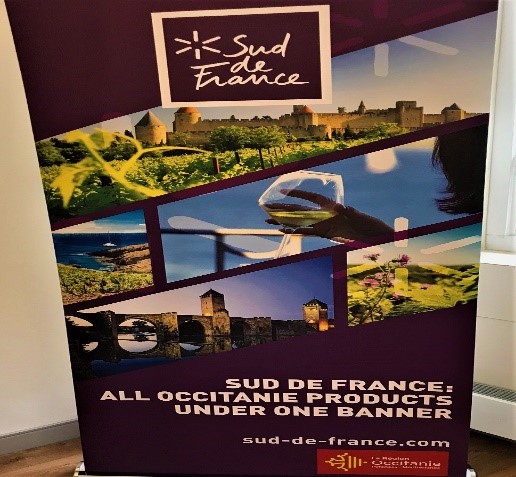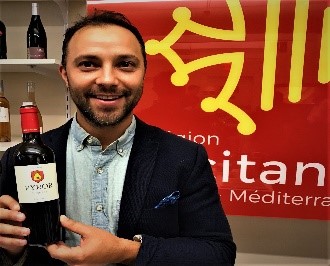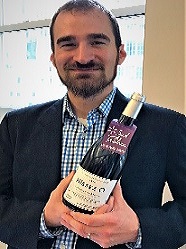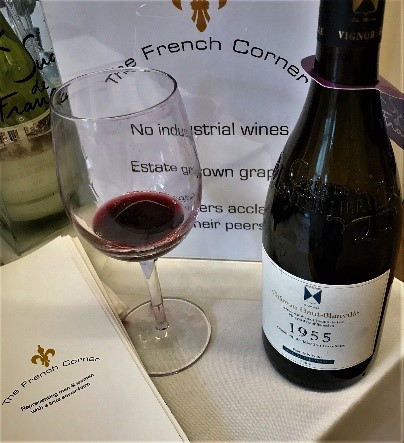 © Dr. Elinor Garely. This copyright article, including photos, may not be reproduced without written permission from the author.