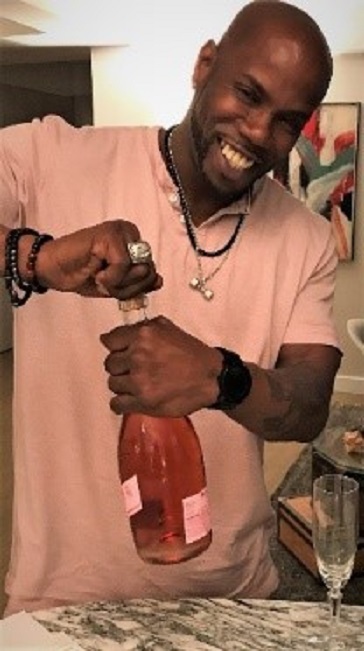 The Prosecco Selected by Trainer to the Stars and C-suite Executives
Question: Can you identify the wine that is low in sugar and calories and recommended by Shawn Benson, the trainer to the stars of stage and screen as well as road warrior executives?
Answer: Prosecco! This bubbly white wine delivers only 80 calories (per 125 ml), fewer calories than a glass (125 ml) of red wine (approximately 107 calories), a glass of medium dry white wine – (95 calories), or a single vodka and tonic (approximately 97 calories). Champagne carries 130 calories!
Prosecco is also low in alcohol (approximately 12.5 percent) while Spanish sherry, California Petite Syrah or Zinfandel delivers approximately 14.5+ percent alcohol.
Grapes
Prosecco must contain at least 85 percent Glera grapes, but can include: Tregigiana, Bianchetta, Perera and Verdiso, Pinot Bianco, Pinot Grigio, Pinot Noir or Chardonnay. The Glera grapes must be grown in the Prosecco DOC (Denominacion di Origine Controllata). Champagne, is made from a combination of Pinot Meunier, Chardonnay and Pinot Noir grapes.
Prosecco is Italian. Champagne is French
Prosecco is produced in the Veneto Region of Italy and Champagne originates in the Champagne region of France and is double fermented, producing a fizz that is unique to sparkling wines. Prosecco's secondary fermentation takes place in steel tanks, unlike "traditional method" wines like Champagne, where the secondary fermentation takes place in the bottle.
Prosecco tends to taste lighter than other sparkling wines, with less yeasty notes; however, it does deliver delicate fruity flavors and aromas.
The price of Prosecco may be lower than Champagne because the secondary fermentation takes place in steel tanks (often described as the Charmat sparkling method), making production less expensive. The Conegliano – Valdobbiandene region is a part of Italy that receives lots of rain, making the best vineyard location on the southern facing slopes with good drainage and gentle winds that dry the grapes after the daily showers. The area, approximately 15 miles north of Venice, has been making Prosecco for over 300 years.
Production
Prosecco produced almost 600 million bottles from the 2018 harvest, making the region twice the scale of Champagne. Prosecco sales are approximately $1 billion; however, Champagne remains the sparkling wine leader by revenue. In 2018, Champagne producers sold more than $5.6 billion of this bubbly beverage.
Prosecco faces challenges. In the DOCG areas of Asolo and Conegliano-Valdobbiadene, almost all the suitable land for vineyards in in production. In the last 10 years the average land prices have quintupled and prime vineyard land (i.e., hills of Cartizze), sells for $1,000,0000 per acre.
To address the issue, some producers are changing production methods to in-bottle fermentation producing dryer sparkling wines (or extra brut with 0-6 grams of sugar/liter). When this method is used, the results are more Champagne-like, presenting a palate experience that is more urbane, refined and polished. This new process is likely to raise prices to $30-$50 per bottle and may present a surprise to consumers who are accustomed to spending $15 a bottle (although it is still less than Champagne pricing).
Prosecco: A Healthy Option
In moderation, Prosecco can improve the function of blood vessels. University of Reading researchers determined that the polyphenols in Prosecco slow down the removal of nitric oxide from our blood, so that it has more time to act on blood vessels, improving blood flow. Increased blood flow decreases both blood pressure and the likelihood of clots forming making it less likely for consumers to suffer from cardiovascular disease and strokes.
A Denmark study (of 70,000 people) found that 7 or more glasses of wine per week lowered the risk of diabetes by 25-30 percent. A glass or two of Prosecco can help develop immunity against the 200 viruses that trigger the common cold. A study of 4000 people found that Prosecco drinkers lowered their risk of catching a cold by 40 percent.
The Palate
Prosecco is about youth, freshness and elegance and presents primary aromas of fruit and flowers, with pear, apple, citrus, stone fruits, wisteria and roses playing lead roles. Prosecco bubbles are light and delicate, frothy and full of zest.
Noted for crisp and refreshing with minerality and moderate levels of alcohol, Prosecco is a light wine that works as an aperitif as well as a companion to fish and poultry, prosciutto-wrapped melon, and sushi. It also works as an ingredient in cocktails.
Brut Prosecco: pair with fish or vegetable hors d'oeuvres, light seafood – based pasta, baked fish
Extra Dry: delicate pastas and white meats, creamy cheeses (never mature or blue cheese)
Dry: spicy food
Shawn Benson. More Than a Trainer
For over 15 years, Benson, a certified personal trainer, has been developing successful regimens for movie stars (think Gwen Stefanie), NFL players (including Curtis Samuels), rappers (imagine Bryant Roger) models, singers and c-suite executives (such as Dr. Anthony Bowen). Benson is also a Fitness Trainer Consultant at Saatchi & Saatchi in NYC and travels with clients as their personal trainer, visiting tourism destinations that include St. Barts, Cayman Island, Chiang Mai and Cebu, Philippines.
Benson has competed in several natural bodybuilding competitions in the New York tri-state region. To many he is a familiar face, as he had personally modeled for several marketing campaigns such as New York Sports Clubs and Nike. He has also graced the runways during fashion week as a swim and underwear model.
As a personal trainer, Benson is frequently asked to suggest wines that taste good but will not negatively impact on diet and dietary limitations (i.e., diabetes). His current recommendation is Mionetto Prosecco.
Mionetto. Prosecco for the Stars
Since the end of the 19th century, Francesco Mionetto has produced Prosecco in the small Italian village of Valdobbiadene, establishing a reputation for quality, and tradition linked to innovation. A consistent award winner, the wines have received national and international recognition. As the world's leading Prosecco brand, it is the number one seller in the USA thanks to Enore Ceola, CEO.
Benson Recommendations
Mionetto. Luxury Cartizze DOCG
The Glera grapes are cultivated for this limited production sparkling wine – grown exclusively in a 246-acre area on the steepest hills of Valdobbiadene where the grapes are harvested in the second half of September. The wine is made from the soft pressing of the grapes with must separated from the skins. Secondary fermentation (Charmat method) occurs in temperature-controlled stainless steel.
Notes: The eye is delighted with gold reflected from the fine, intense and persistent perlage. The nose finds intense aromas of pear and apple built on a foundation of citrus. The palate is rewarded with a soft, creamy, well-balanced, elegant and fresh experience of sugared almonds.
Shawn Benson: Aromas of grapefruit and apples, highlighted by citrus and apples on the palate with a hint of acidity on the finish.
Anthony Bowen: Aromas of melon, pear, apples and spice with citrus, pears and apples on the palate leading to a short, tart finish.
Pair: Easily linked with desserts, cakes and pastries, fruit salads and tarts, as well as shell fish. Delicious as an aperitivo or as a base for Bellini's.
Mionetto Prosecco DOC
Made from organically grown Glera grapes from a certified winery in the town of Vazzola, in the hills of Treviso. The winery practices organic farming techniques and grows the grapes without synthetic chemicals or fertilizers. To reduce its carbon footprint, Mionetto uses recycled materials for the bottle, label and shipper. The grapes are harvested in the second half of September with primary and secondary fermentation in temperature-controlled stainless-steel vats. The wine is vinified separately to ensure purity.
Notes: The eye discovers a brightly flaxen hue leading to hints of green with persistent and delicate perlage (indicator of quality). The nose is rewarded with the flower blossoms, honey and golden apples, layered onto the piquant aromas of pineapples and oranges. The palate finds pleasant acidity highlighted with apples, pineapples, pears and kiwi, leading to a clean and dry finish.
Shawn Benson: Pale yellow to the eye, delighted with aromas of grass to the nose, and peaches and vegetal hints to the palate. Long and delightful finish.
Anthony Bowen: Pale yellow to the eye, grass, oak and vegetal hints to the nose with grass, lychee and pears on the palate, leading to a long enjoyable finish.
Pair: Seafood risotto, mussels and fish, turkey or chicken or as an aperitif.
Mionetto Gran Rose.
A blend of red varietal grapes and a soft pressing of the grapes that are left to macerate for a short time, giving the sparkling wine a vibrant and delightful peach color with sprighly lively bubbles. The nose finds florals, violets, pink grapefruit, pomegranate and black currents with suggestions of strawberries and raspberries. Well balanced acidity directs the palate to a delightful finish with a hint of florals and sweetness.
Shawn Benson. Delighted with salmon hue, spicy aroma, highlighted by tropical fruits and flowers. Moderate finish for this young and spritely Prosecco.
Anthony Bowen. Salmon color to the eye, spicy with tropical fruits and flowers to the nose, and toast, melons, blackberries and almonds to the palate. Well-integrated flavors lead to a moderate length finish.
Pair: Fresh seafood, grilled fish or as a aperitif.
© Dr. Elinor Garely. This copyright article, including photos, may not be reproduced without written permission from the author.