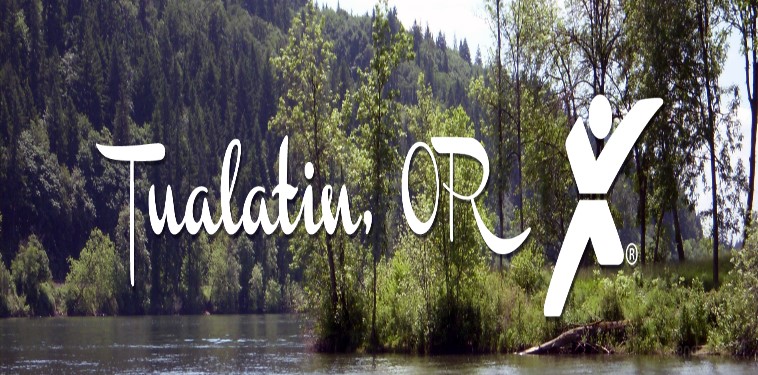 Tualatin Valley, Oregon winemakers go LIVE
Winemakers in Oregon are definitely producing world-class wines; however, their mission goes beyond the bottom line. Many wineries in Oregon are actively and sincerely focusing on sustainability in their wine making systems and procedures by seeking LIVE certification: Low Input Viticulture and Enology. Certification means that the winemaker has reduced the overall amount of raw materials used in production – from water, and fuel, to fertilizer and chemicals. LIVE is one of two sustainable certification agencies in the United States – the second is Salmon Safe and deals with issues of watershed health. Approximately 300 LIVE certified wineries are in the Pacific Northwest, with new vineyards joining daily.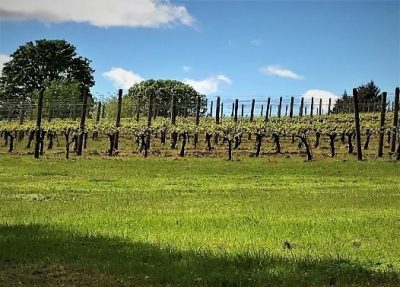 Protection
The certifications assure consumers (and the planet) that the enterprises are maintaining strict sustainability practices in growing grapes and wine production in order to maintain a healthy ecosystem. Research finds that by following LIVE guidelines, the wines in the bottles offer a stronger sense of the terroir with an undiluted, tender-loving-care quality that strengthens the link between the fruit and the land.
Curated Wineries
Raptor Ridge Winery (LIVE and Salmon Safe Certified)
The relationship between Scott Shull and Oregon wines began in 1989 when he was an independent producer. In 1995 he selected a crest in the Chehalem Mountains AVA and started Raptor Ridge. Today, Raptor Ridge is considered a specialist in Pinot Noir and Pinot Gris.
Shull was born in Kentucky and grew up in Des Peres, Missouri, teaching himself how to make wine while attending UC Davis, Oregon State University and Chemeketa Community College. He is also a consultant with Intel Corporation where he coordinates ecological strategies.
Currently he is a member of the Willamette Valley Winemakers Club, on the board of Oregon Pinot Camp and past board member of Governor Ted Kulongoski's Brand Oregon campaign. Shull is also the founding director of the Oregon Wine Board and president emeritus of the Chehalem Mountains Winegrowers Association.
Gustafson graduated Cum Laude from California State Fresno with a major in Food Science/Winery Production with minors in chemistry and French and brings many years of experience to the wine industry. She has been associated with wineries in Sherwood, Oregon; Paso Robles, CA; McLaren Vale, SA Australia and Bordeaux, France.
Raptor Ridge produces nine different cuvees including Pinot Gris, Gruner Veltliner, Rose, Tempranillo, and unique vineyard designates and blends of Willamette Valley Pinot Noir and Reserve Pinot Noir. To bring a closer relationship between the wines and guests, the winery offers vine-side tastings, chef-inspired pairings and yoga retreats.
Raptor Ridge. Pinot Gris 2017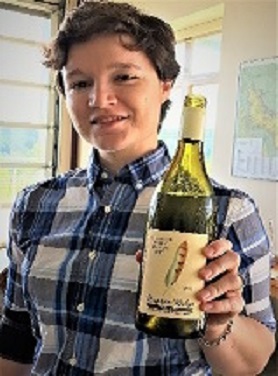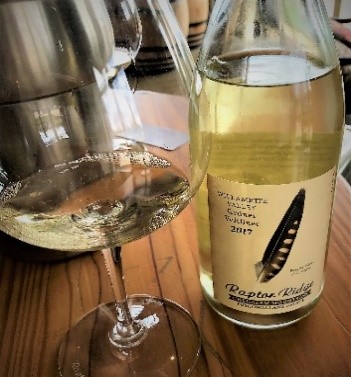 A light blonde hue suggests a bright and crisp palate experience while the aroma detects hints of passion fruit and flowers. There is a delicate balance between acidity and fruit makes this a favorite with seafood, clams casino or lemon chicken.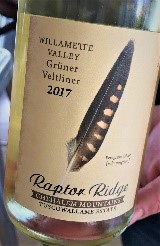 Raptor Ridge. Gruner Veltliner 2017
Planted in 2006 on the Chehalem Mountains Estate, Tuscowallame (where owls dwell) Vineyard, located at approximately 500 feet elevation on Laurelwood soil resembling loess soils of Austria. Fermented 9.4 percent of the total volume in neutral French oak barrels, using VL1 yeast. The balance of the wine was fermented in stainless steel tank using 58W3 yeast. It is considered "distinctive" as it is one of a very few Gruner Vetliners in the Pacific Northwest.
With balanced fruit, acid and minerality, it works well with spicy Asian cuisine as well as raw oysters and poached salmon.
Apolloni Vineyards (LIVE and Salmon Safe Certified)
Born into a winemaking family in the Arezzo region of Tuscany, Italy, where his vineyard grapes date back 150 years, Apolloni brings a love of terroir to his Oregon winery. He took a temporary hiatus from the vineyards to get a degree in engineering from Carnegie Mellon and an MBA from the University of Michigan. He has also studied viticulture and enology at UC Davis.
After years in the corporate culture, he returned in 1999 to his primary passion of winemaking.
With his wife, Laurine, Apolloni purchased 62 acres (only 5 acres were planted vineyards) and has added twenty additional acres that are devoted to Dijon clones of Pinot Noir.
Apolloni's Italian roots strongly influence his winemaking style and represent Italian traditions that delivers a dry palate experience that is fruit forward as well as crisp and clean. Only French oak barrels (50-100 percent new oak) are used to create unique aromatic nuances and gentle tannins.
The estate is located in the Northern Willamette Valley and presents the perfect environment for Pinot Noir. Located on south facing slopes (from 350 to 600 feet elevations), the vineyards are planted in the Dijon clonal varietals from France, on disease resistant rootstock. He has also designated untouched land to encourage natural habitats for animals, and insects and composts plant materials post fermentation.
Apolloni believes in carefully cropping fruit and the hand removal of leaves from vines, providing each cluster of grapes with the ideal amount of sunlight. The vineyard is not organic; however, organic materials are used whenever possible. If and when chemicals are used, they are carefully selected and applied. Most of the time, sunlight, air, soil and rain are the major contributors to the distinctive quality of the vineyards and the wines.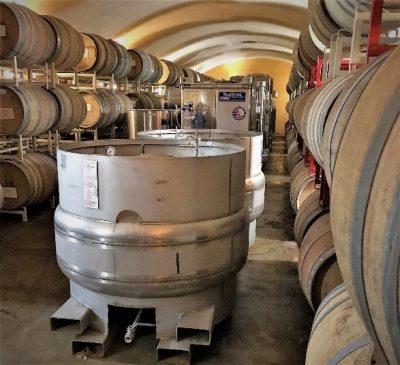 Apolloni Sparkling Rose
Pinot Noir and Viognier. Willamette Valley. The wine combines whole-bunch pressed fruit and saignee method; fermented in stainless steel.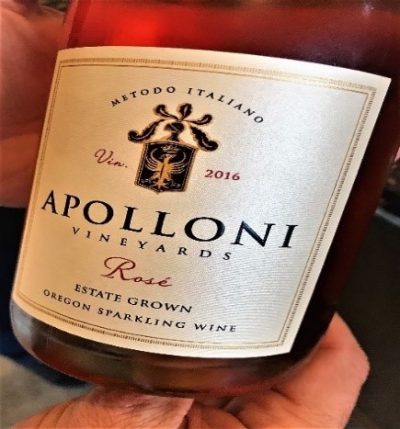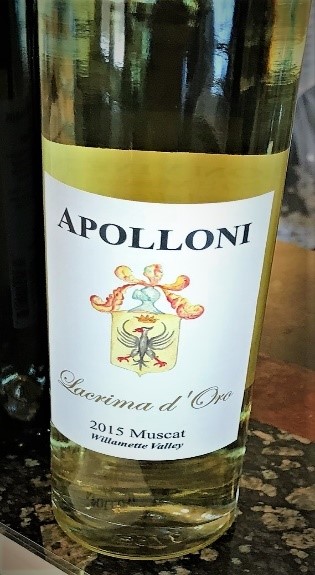 The eye is delighted with a cranberry/coral hue, suggesting the flavors of summer and winter in the glass. The nose finds cranberries, rosemary, strawberries, ripe bing cherries and fresh roses. A delicate fizz on the palate brings light acidity to the taste experience along with suggestions of very ripe fruit. Enjoy as an aperitif or paired with grilled fish, roasted chicken and a green salad.
Apolloni Muscat Lacrima D'Oro (Tears of Gold/Italian). 2015.
Muscat grapes are fermented in French oak and the floral aroma makes it almost "heady." The unique flavors of orange liqueur, honey, jasmine flowers, and candied apricots are tempered with a light acidity making it perfect match for spicy Asian dishes, cheese and nuts. It can also be enjoyed as an aperitif, a desert wine, mixed in cocktails, or poached with fruit.

After an enjoyable afternoon at the Apolloni Tasting room, engage in a game of Bocci Ball.
Bright Future in Oregon Wines
In 2017 Nielsen consumer wine research determined that Oregon's annual sales volume had increased 17 percent, compared to 2.3 percent for Washington, 3 percent for California and 2.8 percent for the US, finding that no other region is growing as quickly as Oregon.
Research finds that consumers pay, on average, $39 for a bottle of wine from Oregon – purchased through direct sales (Ship compliant data). These wines are successful even when they are priced slightly higher, on average, than wines from other US regions. Now is the right time to buy wines from Tualatin and save them a delicious tomorrow.
For additional information, click here.
© Dr. Elinor Garely. This copyright article, including photos, may not be reproduced without written permission from the author.