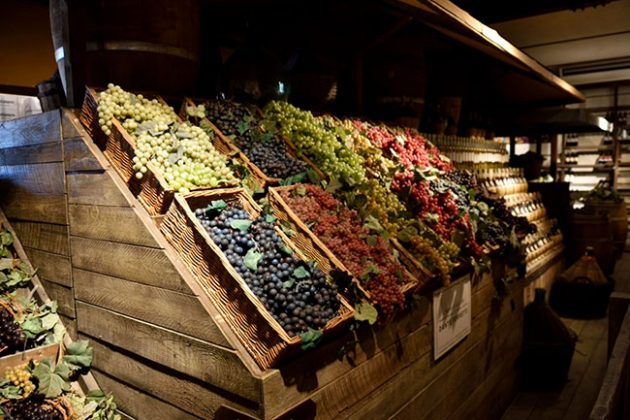 Tuscan coast wine resort opens in Bolgheri
A new wine 'town' with holograms of famous Italian winemakers, tastings, restaurants and self-catering apartments has opened in Bolgheri on the Tuscan coast.
Bolgheri's 'World Wine Town' is positioned as the Tuscan coast's answer to Bordeaux's Cité du Vin.
In June 2017, the wine resort threw open its doors in the recently restored Casone Ugolino, a farm estate once owned by the Della Gherardesca family.
It has been 15 years in the making, with €12 million of funding from private investors and banks, including entrepreneur Franco Malenotti, former owner of fashion label Belstaff.
What to do at the new Tuscan coast wine resort:
On the edge of Castagneto Carducci, wine lovers can enjoy the MUSEM, a wine museum on two floors focusing on the region's history with Gaddo della Gherardesca, Piero Antinori and Niccolò Incisa della Rocchetta relating their families' winemaking stories as latest-generation holograms. Michele Satta and Pier Mario Meletti Cavallari telling all about Piastraia and Grattamacco.
Visitors are wowed by the barn-like space, designed by three-time Academy Award winner Dante Ferretti.
Entrance to the museum costs eight euros and includes a tasting. Additional tastings can be purchased on a wine card. It is open everyday 11am – 8pm, except Monday.
---
---
If you're feeling peckish after your immersion in the wine world, sit down for lunch or dinner at one of the centre's three restaurants: Osteria Vinality, a reconstruction of an old Tuscan inn; the more contemporary Pizzeria "Metri 0"; and Mercato del Borgo serving local fare.
You can even stay the night or base your Tuscan holiday here in the 20 self-catering apartments, rooms and villas.
A wine education centre, dubbed V-Campus and aimed at a younger generation, is scheduled to open in May 2018.
Tourism on the up
Super Tuscans Sassicaia, Ornellaia and Masseto may have put Bolgheri on the world wine map in the 1970s and '80s, but only in the last five years has international tourism soared along the Tuscan coast, almost doubling around towns like picturesque Castagneto Carducci, according to the Tuscan regional statistics office.
Tuscan coast winery investments
This increase is drawing investment. Feudi di San Gregorio's newly opened Campo alle Comete makes it one of the first Southern Italian cantine to invest in Bolgheri DOC, purchasing the scenic estate from Guicciardini-Strozzi in early 2016.
Meanwhile, Antinori is building a €9 million winery with a shrub-topped roof.
Further north, near Riparbella in the upper Tuscan coast, Massimo Ferragamo, of Montalcino's vast Castiglion del Bosco, is to open a wine shop at his Prima Pietra estate in September 2017.
Helen Farrell is editor-in-chief at The Florentine, an English language news magazine based in Florence.
More articles like this:
The Chianti Classico Consorzio has opened its first wine education centre aimed at tourists visiting the Italian region.
Bordeaux's 80-million-euro wine theme park is likely to be high on many wine tourists' agenda following its opening by French…
Wine writer and travel agent Filippo Bartolotta recommends his top 10 wineries to visit for a quintessential Tuscan experience…
Plan your next holiday around one of these wine festivals held in picturesque regions…
For aesthetes and gourmands alike, a visit to Florence – capital of Italy's Tuscan wine region – is a must,…
Jane Anson tastes 44 vintages of Sassicaia…