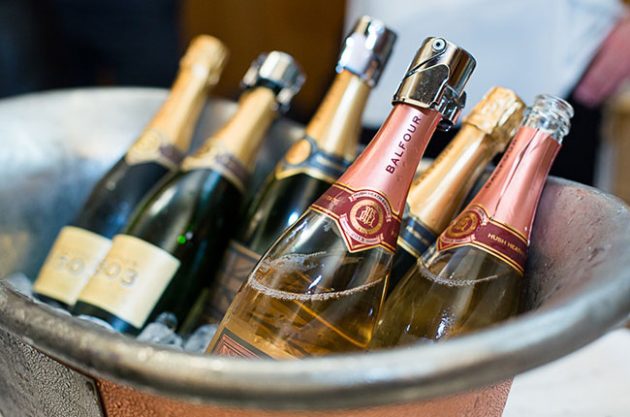 UK ambassadors should 'serve British', says Foreign Office chief
UK embassies around the world should be serving English and Welsh wines, as well as other British food and drink, a senior Foreign Official has said at the annual gathering of the ambassadors and senior diplomats.

UK ambassadors encouraged to serve English wine

English sparkling wine and British gin were served at the conference reception, held at the Foreign and Commonwealth Office (FCO) on 11 July 2017.
Ambassadors at the event were encouraged to do the same at their own embassies – an issue that has caused frustration among UK wineries and drinks makers for several years.
Sir Simon McDonald, head of the diplomatic service at the FCO, encouraged the officials 'to serve British at home and abroad.'
Trade body the Wine and Spirit Trade Association (WSTA) arranged for the six English sparkling wines and four British gins to be served.
The WSTA said that it will also be helping with a 'match-making service' to help UK embassies worldwide to source British products.
'It is only right that we should encourage the UK Government's representatives around the world to showcase the very best of British,' said Miles Beale, chief executive of the WSTA.
'The UK drinks industry is calling on all parts of government to be bolder than ever in its support for British exports.'
Earlier this year, a bill was put forward to the House of Commons to force British embassies to serve English sparkling wine over other choices like Champagne, Prosecco and Cava.
---
---
In 2016, Downing Street made English sparkling wines Ridgeview and Chapel Down the official sparkling wine suppliers, to be served at receptions. English sparkling wine had been a regular reception wine at government events in the UK for several years before this.
'Our embassies and high commissions across the globe can help this grow if they take the lead from Number 10 and serve British at events they host overseas,' said Beale.
Buckingham Palace has also served English wines at state dinners, including for Chinese president Xi-Jinping and Colombian president Juan Manuel Santos.
The wines offered to the ambassadors last week were: Berry Bros & Rudd, English Sparkling Wine from Kent; Bolney Bubbly from Sussex; Chapel Down from Kent; Hattingley Valley from Hampshire; Nyetimber from Sussex and Ridgeview from the South Downs.
More stories like this:
Around 150 guests attended the Xi Jinping dinner held last at Buckingham Palace, the official residence of the Queen. Guests…
SEE a list of wines uncorked for the Xi Jinping state banquet at Buckingham Palace, plus a full food menu…
What was served at Buckingham Palace…?
Queen joins ranks of English wine producers…
Analysis shows good momentum for English wineries…
Parliamentary bill calls on embassies to do more…