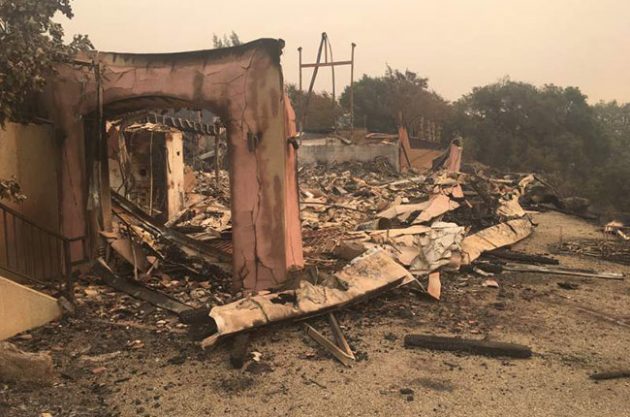 Update: California fires latest
The latest on the wildfires devastating California, and how to offer help…
According to the latest reports from CNN, the death toll caused by the California wildfires has now risen from 11 to 17 as the fires continued to devastate parts of Northern California.
Fires were still raging in Sonoma, Napa and Mendocino, with higher winds predicted over the next few days making containment even more hazardous and difficult.
In Sonoma County alone more than 180 people are still reported missing. Local authorities therefore expect the death toll to rise.
The fires began on Sunday evening driven by high winds and dry conditions and have so far destroyed at least 2,000 homes and businesses as well as laying waste to vineyards and wineries. CNN reported that 115,000 acres of land have been burned.
As reported on Decanter.com, Signorello Estate has been burned to the ground, as well as Paradise Ridge. In addition, the Napa Valley Vintners has received preliminary reports that at least four physical wineries belonging to NVV members have suffered total or very significant losses due to the fire. At least nine other members reported damage to their winery, outbuildings or surrounding vineyards.
However, Napa Valley Vintners has yet to hear from some members in the most vulnerable areas of the valley including along the Silverado Trail, in Calistoga, and in the Mt Veeder/Patrick Road/Henry Road areas. Other wineries have not been able to access their properties and do not know what condition they are in.
The Valley has seen power outages and it has not been easy to communicate via email, text or phone. This situation is likely to continue for the next 24 to 48 hours, said a NVV spokesperson.
Although it is too soon to know the impact on the vintage overall, Napa Valley Vintners estimate about 90 percent of the grapes had been harvested. Those remaining are almost entirely Cabernet Sauvignon, which should have minimal damage from smoke taint, thanks to the thick skin.
The Napa Valley Vintners is working with local agencies to help coordinate relief and recovery efforts. It has also reactivated the Napa Valley Community Disaster Relief Fund for anyone wishing to make donations. The fund was first set up in 2014 after the South Napa earthquake.
In spite of challenging communication problems in the wake of the fires, the California Wine Institute has also provided details of a number of websites where people can donate funds and where those affected can receive much needed assistance.
Mendocino
Mendocino County Disaster Fund
Napa County
Napa Valley Community Disaster Relief Fund
Tubbs Fire Safety Check-in Facebook page
Drop-off location – Napa Valley College Gym (2277 Napa Vallejo Highway)
Sonoma County
SHARE Sonoma County has created temporary home sharing for those who have lost their housing due to the recent fires: [email protected]or 707-765-8488, ext. 126
Drop off location – Santa Rosa, bring donations to the Veterans Memorial Building and Hall (1351 Maple Avenue)
Drop-off location – Petaluma, bring supplies to the Petaluma Community Center (320 N. McDowell Boulevard) or the Sonoma-Marin Fairgrounds (175 Fairgrounds Drive)
Yuba County
Drop off location – Yuba County, drop-off donations of water, food, and diapers can be left at the Yuba-Sutter Fairgrounds Evacuation Center (442 Franklin Avenue, Yuba City)