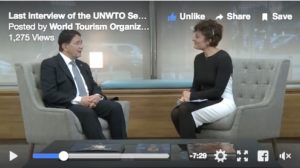 Watch! Last interview with Taleb Rifai as UNWTO Secretary General includes a wish for tourism
Dr. Taleb Rifai is about to leave Madrid on a one-way ticket home to Amman, Jordan. This is the last interview the UNWTO Secretary-General has conducted under his mandate!
Dr. Rifai said in the interview with UNWTO Communication officer Rut Gomez Sabrino : "I was moved when the world thanked me in Chengdu at the UNWTO General Assembly. I was so used to be the one saying thank you."
Taleb worked tirelessly from the minute he took charge of his office in 2009 until Friday, the last working day for UNWTO this year. Under his leadership tourism was elevated from a side industry to one of the major economic pillars and a contributor of peace in this world.
Memorable moments at UNWTO, the evolution of the tourism sector in the last years and confidences about his future integrate the short chat that took place at UNWTO Headquarters in Madrid. Rifai's conclusion was: Everything I had planned, I fulfilled, except for one important point on my whitepaper – the expansion of member countries in UNWTO. Rifai's final request for the next leadership was to build on this and work on attracting countries like the United States, Canada, the UK or Australia to join this important UN specialized agency.
Without a doubt, the travel and tourism world owes Dr. Taleb Rifai a big thank you. It remains to be seen how loud this thank you will echo in Washington, London, Canberra or Ottawa in the near future and under a new leadership. Considering Canada, for example, left UNWTO in 2012 out of protest over Robert Mugabe from Zimbabwe. Times had definitely changed and the big issue on hand in 2012 is no longer an issue tolday.
The focus of a new UNWTO may be on Europe and countries with a close relationship to Georgia once Zurab Pololikashvil from Georgia is in charge. Perhaps touching on the issue of membership in Rifai's last interview was a "hint of advice" for Pololikashvil.
Click on the video below to watch and listen to the Facebook interview.
(Posted to the UNWTO FACEBOOK page)
Tourism is several thousand years old in the Kingdom of Jordan. Amman, Wadi Rum, Dead Sea, Petra, Jerash are some of the must-see destination a visitor to Jordan should experience. With Taleb Rifai returning home, with his standing, influence, and experience in the international tourism community, Jordan is poised to become the number one hot spot in the world of travel and tourism. Taleb's recent visit to Damascus may be an indication how a re-integration of Syria can be of help for global security and tourism in Taleb's home region.