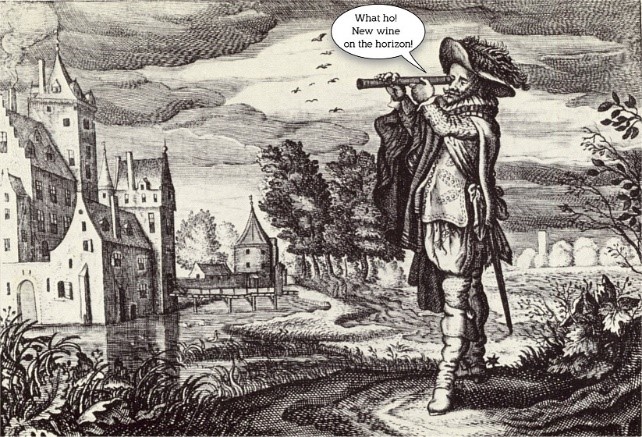 Wine Discoveries
At a recent event announcing the acquisition of The Robert Parker Wine Guide by Michelin Guides, wine reviewers introduced a few of the wines they personally enjoyed throughout 2019 and shared as a prelude to a "Matter of Taste" event.
While 10 wines were available, my favorites included:
2015 Domaines Lupier La Dama, Navarra, Spain. Organic and Biodynamic. Grape: Grenache.
La Dama is owned by Enrique Basarte and Elisa Ucar. This small winery is located in San Martin de Unx, in the province of Navarra, Spain.
In Spain, Grenache (Garnacha) is the second most planted red grape variety. On the island of Sardinia, the grape is known as Cannonau and it is believed that the grape originated here and was taken to Spain by the Aragonese who occupied the island in the 14th century. In the 19th century phylloxera brought benefits to Garnacha because the native vines were devastated; however, the robust Garnacha was able to replenish the vineyards and revive the wine industry.
The Garnacha variety is vigorous and hardy, resists wind and drought and is suitable for arid climates. Frequently grown in hot environments, the alcohol levels of Grenache – based wines can be high, often greater than 15 percent ABV. The berries have thin skin and ripen late in the growing season although the acid and tannins can be variable depending on growing conditions and cropping levels.
La Dama is a red wine made from Garnacha grapes selected from 15 different plots of land with 75-year old vines. Some of the vines date back to the beginning of the 20th century, grown on different soils, with different orientations and altitudes ranging from 400 – 750 meters, and express the character of their terroir. The wine is aged for 14 months in 700, 500 and 300l French oak barrels
Notes.
The eye is delighted with deep ruby red hues trending to black. The nose finds aromas of rose petals, orange peel, herbs, cherries and wet wood. The palate gets to experience chalky tannins and a hint of stone as a foundation for black currants, leather, tobacco, and leather. The long dry finish delivers cherry – ness and minerality that is memorable. This wine pairs well with braised, stewed and grilled meat, including beef, veal, pork, chicken and game. It also befriends cassoulet and less spicy styles of Asian cuisine.
2013 NV Ulysse Collin Extra Brut Blanc de Blancs Les Roises, Champagne, France. Chardonnay.
Composed of 50 percent reserve wines and 50 percent base wine from 2013 vintage, entirely from Les Roisses; disgorged in March 2018 after 48-month sur lie with under 2 grams of dosage.
Olivier Collin, the son of the Ulysse Collin wine family, is from the village of Congy, 15 miles south of Epernay in the Coteaux du Petit Morin. Since 1812, the family has grown grapes in this small rural zone southwest of the Cote des Blancs.
Through the years the family sold their production to the large Champagne house, Pommery, until Olivier (who graduated from law school and studied oenology in Bordeaux), entered the scene. While a student, Collin interned with Anselm Selosse learning about biodynamics, healthy soils and wines of terroir. With the intent of breaking the link from the Negoce grasp and motivated by the terroir view of Selosse, Collin retrieved the first 4.5 ha in 2003 and the remaining 4.2 ha in 2005, producing his first vintage in 2004 – a single wine from a chalky 1.2 ha plot of Chardonnay (Pierrieres).
The fruit is thoughtfully farmed, fermented with native yeasts and little sulfur, aged in barrel and bottle, and finished with a scant dosage and low pressure. With a terroir focus he stopped using fertilizers and herbicides, replacing them with organic compost. Yields are modest and the grapes are hand-harvested at high ripeness and exclusively Chardonnay and Pinot Noir.
Collin is considered a "new wave" wine maker (Champagne vignerons) – a grower making single-vineyard, ultra-terroir specific wines. His major objective is to make great still wines; the bubbles offer liveliness.
While many producers use only the first press juice, Collin uses the second press (taille) that is vinified and aged separately then blended in one year (or later) adding to the robust, richly textured character.
Fermentation is spontaneous in wood with a moderate dose of sulfur. Aged in used barriques and foudres (20-40 percent of each vintage retained and aged longer as a reserve wine). The base wines are aged for 2 years before blending and bottling. The bottles are aged sur lattes – 3 years for the Pierrieres and 4 years for Roises. Each is disgorged 2 times per year and finished with a minimal dosage (under 2 grams/liter) and bottled under less pressure than standard.
Notes.
2013 Ulysse Collin Extra Brut Blanc de Blancs Les Roises comes from 6-year old vines grown in clay terroir. Golden to the eye with tiny soft bubbles that quickly dissipate, the nose finds the seductive aroma of yellow apples, citrus, stone fruit, smoke and slate. The palate is rewarded with the sweetness of ripe pears offset by hints of rock salt. The finish is long and dry. Pair with salmon, tuna, shellfish, or a mild/soft cheese.
Chambers Rosewood Vineyards. Rare Muscat (Multi-Vintage), Rutherglen, Australia.
Muscat is one of the oldest and most popular grapes in the world. Researchers think that the grape originated in the Middle East and in use since the times of ancient Greeks. Muscat prefers a warm temperature and thrives in a Mediterranean climate (as found in Rutherglen, Australia).
The Rutherglen wine region is located within the North East Victoria zone of Australia. Located north of Beechworth, east of Glenrowan, it is an area noted for the production of fortified wine. The Muscats and Tokays are internationally recognized for unique style and quality. The vines were first planted during the gold rush era (started in 1851) and the region has some of the oldest wineries in the country. In 1997 Rutherglen was accorded GI (Geographic Indication) status.
The family started in the wine industry in 1858 and Stephen Chambers is a 6th generation winemaker who took over company leadership from his father, Bill Chambers in 2001. The Collins' Muscats are recognized throughout the world and noted for being complex, intense and well-balanced. Chambers continues the family tradition – producing fortified wines that are, according to Robert Parker, "…nothing less than national treasures," and "…some of the world's more remarkable dessert wines."
Notes.
The Collins Muscat is produced using the solera system from wine dating nearly 100 years and from vines 100+ years. The eye finds black mahogany hues while the nose detects ripe black cherries, dried black raisins, ground coffee, citrus (mostly orange), and tea tannins while the palate finds figs and a syrupy texture offset by a brisk acidity that ends with surprising intensity. Pair with cashew nut curry, chocolate and custard pie or poached fish fillet with salsa.
2011 Kir-Yianni Diaporos Block 5, Macedonia, Greece. 87 percent Xinomavro; 13 percent Syrah.
22 months in 225l oak casks and 6 months ageing in bottles. Origin: Block #5 of the Yianakohori vineyard in Naousa.
The Yianakohri Vineyard has a southeast exposure at an altitude of 280-330 m. The estate is divided into 33 vineyard blocks of different microclimates with varying exposure, orientation, slope, soil type, root stock, vine density and age. Rainfall is abundant during the winter; however, summers are very dry requiring regulated drip irrigation to prevent water stress. The grapes of Diaporos are sourced from the heart of Block #5 of the Yianakohori Vineyard, over a small lake. The soil is loam clay with a very high pH, suitable for the production of full bodied Xinomavro.
Seven-day pre-fermentation cold soak at 8-10 degrees C. The must undergoes a 10-15-day fermentation at controlled temperatures in open tanks with automatic pigeage (punching of the cap) devices. Fermentation and post-fermentation temperatures lie between 23-26 degrees C. The process aims at stabilizing the color of Xinomavro and softening the tannins. All the wine finishes with malolactic fermentation in new French barrels while frequent batonnage is applied. New French oak is used throughout the entire aging process.
Notes.
Deep red leading to purples and black to the eye. The nose finds aged black cherries, dried fruits, raspberries, vanilla (from new French oak), and wet forest trees while the palate is pleased with soft tannins and integrated acidity. The long finish is a delicate balance between the fruit and the tannins. Pair with veal and game.
2017 Martin Multhenthaler Riesling Viesslinger Stern. Wachau, Austria.
Riesling is a light – skinned, aromatic grape with a German heritage and considered the world's finest white grape variety. Riesling is happiest in the areas around the middle Rhine and lower Mosel, two of Europe's great wine rivers. Austria produces a large quantity of Riesling, most notably from Wachau and Kremstal regions. The style is primarily dry.
Viticulture in the Wachau region was introduced by Celtic tribes and continued through the 1st century BC by Romans. A large influence is attributed to the Bavarian and Sulzberger monks who built the steep, terraced vineyards along the river in the Middle Ages. The region is now classified as a UNESCO World Heritage site because, "a riverine landscape bordered by mountains in which material evidence of its long historical evolution has survived to a remarkable degree."
Wachau is a wine district on the Danube River in northern Austria. It follows the Danube for approximately 20 miles until Krems-an-der-Donau, the fifth largest city in Lower Austria and the commercial center for Wachau and the nearby districts of Kremstal and Kamptal. Wachau is noted for its full-bodied, pepper-tinged Gruner Veltliner and Riesling. Most Wachau vineyards are located on steep hillsides above the Danube. This is an excellent location during the summer for it receives abundant sun and the temperature is stabilized by the river below.
Martin Multhenthaler did not plan to be a winemaker. His grandparents and parents had a farm in Elsarn and supplied grapes to the cooperative. Multhenthaler planned on becoming a mechanic and his only early connection to wines was working as a driver for Freie Weingartner Wachau…a job he lost when the organization was restructured and he had to redesign his life.
In 2006 he assumed control of the family vineyards (3 hectares located at the bottom end of the Spritzer Graben). He was encouraged to convert to organic farming by a friend and fellow winemaker Peter-Veyder Malberg. From this step he decided to create top quality wines, and the rest is history.
He learned about winemaking by trial and error and by talking with the old farmers in the region. His objective is to let the vintage speak for itself and he refuses to let his wines be pigeonholed into a system of hierarchies.
Notes.
Golden yellow to the eye, the nose finds floral aromas, honey, honey suckle, and fresh yellow apples. On the palate the sweetness of the apples is balanced by an enticing spiciness. The long soft finish is reminiscent of spring and fresh fruits. Pair with quiche Lorraine, Thai green curry or key lime pie.
A Matter of Taste
2015 Domaines Lupier La Dama, Navarra, Spain
2013 Ulysse Collin Extra Brut Blanc de Blancs Les Roises, Champagne, France
Chambers Rosewood Vineyards. Rare Muscat (Multi-Vintage), Rutherglen, Australia.
2011 Kir-Yianni Diaporos Block 5, Macedonia, Greece.
2017 Martin Multhenthaler Riesling Viesslinger Stern
Wine writers, reviewers, buyers, sellers and other members of the wine trade attended the event.
© Dr. Elinor Garely. This copyright article, including photos, may not be reproduced without written permission from the author.