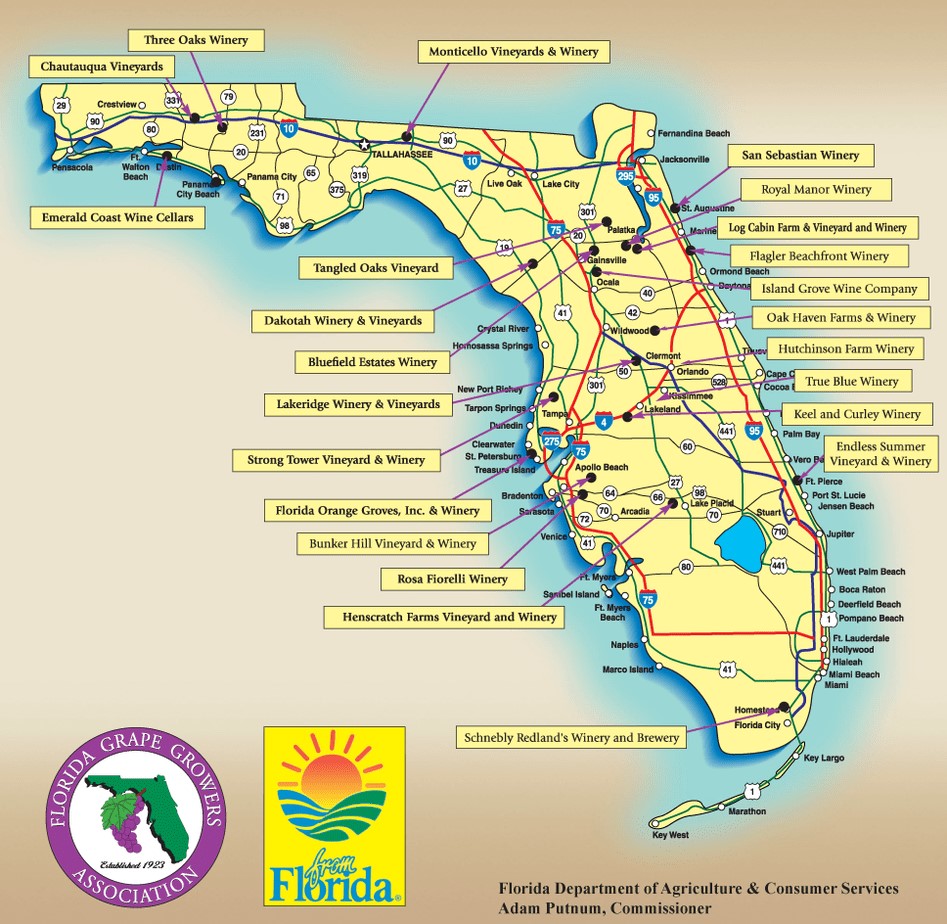 Wine your way to Florida
Yes, I know, wine tourism does not usually highlight the wines of Florida, and most visitors to this state are not crowding the wine tasting rooms. In fact, some travelers may not even recognize the fact that wine is part of the Florida economic engine.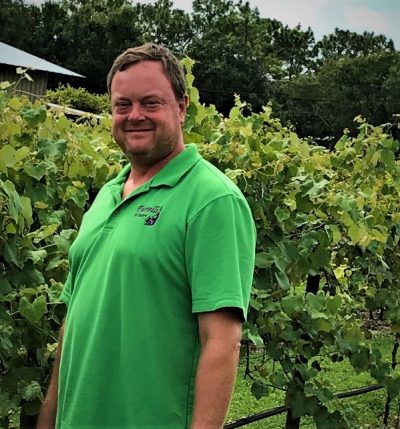 Economics
Stonebridge Research determined that the state's wine and grape industry has an $895 million impact (2010) on the economy. Florida is the 9th largest wine-producing state in the USA, with 1.8 million gallons (2015 data, US Alcohol and Tobacco Tax and Trade Bureau). This number may not be completely accurate as significant amounts of wines are rebottled in Florida and shipped to other destinations (including the Caribbean).  As of 2016 there were 25 certified "farm wineries" in the State of Florida and the wineries grow grapes (and other fruit), sell wine and offer tours of their operations and vineyards.
Blame it on the Weather
The weather conditions in Florida challenge winemakers. Between the heat, rain, humidity and Pierce's disease, wine production in Florida is not a slam dunk. To minimize these issues, many winemakers use the Muscadine grape and other native species common throughout the Southeast to produce their wines.
Muscadine
The earliest named variety of the Muscadine grape was Scuppernong, found thriving in northeastern North Carolina by Dr. Calvin Jones (1810). The Muscadine is well adapted to the warm, humid conditions of the southeastern US where many American and European grapes do not thrive. Muscadine does not like the frost and may be injured by winter temperatures that go below 10 degrees F. In addition, the vines do not appreciate low humidity; however, they are good performers in warmer grape growing regions.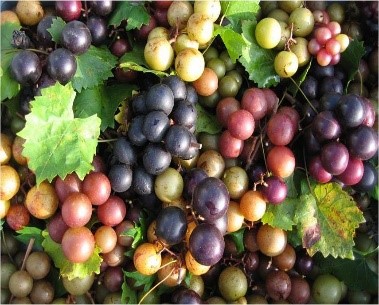 The fruit grows in small, loose clusters of 3-40 grapes (unlike the large, tight bunches of European and other American grapes). The round, 1-1.5-inch fruits have thick, tough skin and contain up to 5 hard, oblong seeds. They range in color from greenish bronze to bronze, pinkish red, purple and almost black. The sugar content varies from 16-25 percent for the sweet cultivars.
The Muscadine is part of the Vitis Rotundifolia family, the first native American grape to yield wine. The family name, Rotunda-fullia is accurate as the plump clusters of fruit bear greater resemblance to small apples than to grape berries.
The muscadine needs full sun with good air circulation. They thrive in a wide range of soils but prefer growing in well-drained sandy loams with a pH of 5.5 – 6.5. These grapes are essentially immune to phylloxera, nematodes and Pierce's disease; however, they may be prone to fungal diseases including bitter rot, and powdery mildew (attacks the fruit), angular leaf spot (affects the leaves) and black rot (attacks the leaves, flower clusters and fruit). Leaf hoppers, aphids and flea beetles are occasional insect pests and birds can create problems by gorging on the fruit.
Started in Florida
Some research suggests that Florida had a wine industry 300 years before California became a state, giving Florida the longest winemaking history in North America. Winemakers did attempt to grow vinifera varietal but the tropical climate and Pierce's disease prevented success. Vitis vinifera were imported and planted in 1770 and repeated in 1831, again – there was no success.
1930: University of Florida Aids
To address the issues of climate, Pierce's disease and other issues, the University of Florida stepped in to develop ecologically acceptable clones of the indigenous Muscadine. The next breakthrough was the development of Florida bunch varietals which crossed traditional cluster varieties with Muscadines -producing thin-skinned, disease-resistant grapes that were able to grow in large clusters. Bunch varietals include Stover, Blanc Du Bois, Swanee and Miss Blanc. Labrusca and Muscadine grapes were profitably cultivated before the Civil War (1861-1865), but the loss of Northern markets during this period stalled the industry.
In the 1870s, hybrid and Labrusca growers were active in East Florida (near Gainesville) in the area of the St. Johns River, south of Jacksonville and in the Orlando area (South Florida). In 1888, Emile DuBois, a grape and wine producer near Tallahassee started the Florida State Horticultural Society and the Grape Committee.
Between the 1880s – 1920s Florida grape growers planted more than 12,000 acres of vine – and each was unsuccessful because of the economics of grape cultivation and/or the grapes could not adapt to the weather.
Wine as an Industry
While other states make the claim, there is evidence to support the fact European settlers started the Florida wine industry, with this type of legacy why does the Floridian wine production maintain such a low profile?
Personality. Muscadine and other heat tolerant grapes that flourish in Florida do not have the same charisma as other varieties with higher (and more sophisticated) profiles.
Costs. Estimates of $35,000- $45,000 per acre for starting a vineyard: acquire the land, plant the vines, cultivate the crop through harvest, production, bottling, marketing, etc.
Marketing. Muscadine is not a popular grape and has been used, primarily, as a dessert wine for "Southerners" who "appreciate" sweet wines.
Trail Blazer: Fiorelli Winery (Bradenton)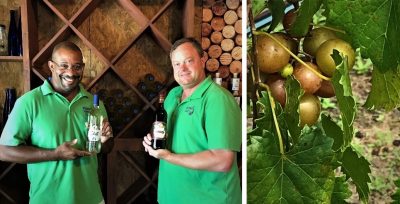 Do NOT leave the Sarasota/Bradenton area without visiting the Fiorelli Winery. Up until my recent visit, the fact that Florida was producing wine was purely a rumor. There was almost no discussion on the quality of the wine – only the fact that wine was being produced in the state.
The Fiorelli winery story starts in 1973 when Antonio Fiorelli and his wife Rosa left Casteldaccia, Sicily and moved to Miami, opening and operating a restaurant from 1980 to 2000. Fiorelli then purchased a 10-acrea property south of Lake Manatee in eastern Manatee County and planted fruit bearing trees that were dominated by grape vines. To learn more about grapes and wine, he became associated with the Florida Grape Growers Association and Florida A&M University. (To this day grapes from this vineyard are used for research at the Florida A&M University Center for Viticulture and Small Fruit Research).
When Antonio died in 2013, Rosa continued to run the business; it is only recently that she decided it was time to sell. A neighbor, Erik Hall, heard that Fiorelli's was up for sale and having an interest in wine making since he was a child (his father made wine), he decided to pursue the opportunity. In October 2015 Hall left his job as an aerospace engineer at Honeywell in Clearwater to follow his muse – becoming a full-time vintner. Hall is committed to his winery and intends to make award winning wines for domestic and international markets. At this time, he has grape varieties under cultivation that include Muscadine (the native grape of south central to the southeastern US), as well as hybrids resembling California Vinifera's. Because he is new to the wine "business," his wines have limited availability (production is small) and distribution is very limited (not yet available to local supermarkets or wine shops); however, the drive to the winery is pleasant and the wines are available for tasting and purchase in the tasting room.
Depending on the season and the cooperation of the grapes, there are 6-10 different wines available. The red wines will ping flashes of Malbec and Pino Noir while the whites suggest Pino Grigio.
Fortunately for Sarasota visitors, the Fiorelli Winery, (located in Bradenton) is a short drive time (30-60 minutes from downtown Sarasota) and part of the road trip runs through very pretty farm land. It is interesting to note that Fiorelli's is the only grape winery and vineyard on the Gulf Coast of Southwestern Florida.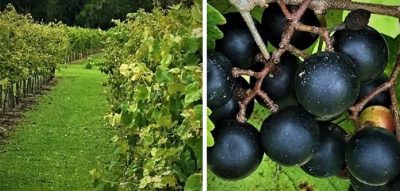 Current Options: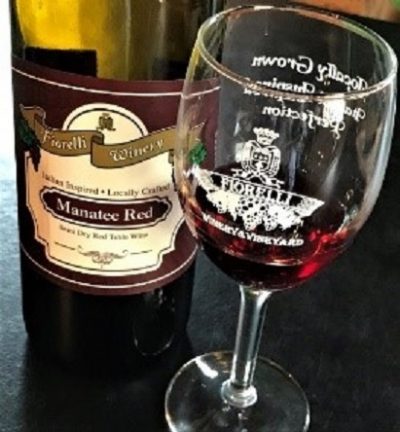 Manatee Red. A Red to Remember. Fruit forward – the wine asserts itself in the glass (deep ruby red to the eye) and to the nose (lots of hearty cherries and berries). The palate receives notes that this red varietal yearns for a partnership with something Italian (meat balls and spaghetti, pizza).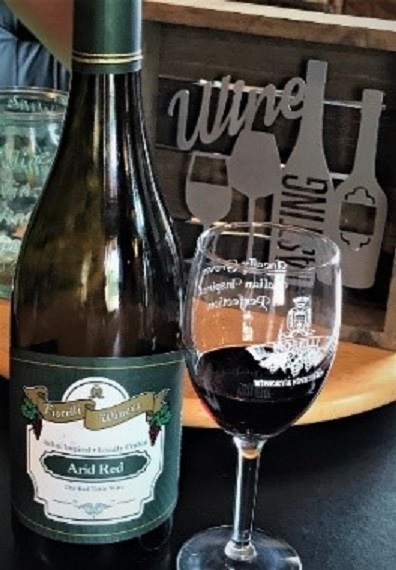 Arid Red presents a rich deep mahogany to the eye, and the nose finds earth, leather and oak. The palate is happy with this fruit forward red that is an audacious upstart with lots of talent waiting in the wings. Pair with sirloin steak, roast beef, Parmigiano Reggiano and figs or Asiago cheese wrapped in radicchio and prosciutto.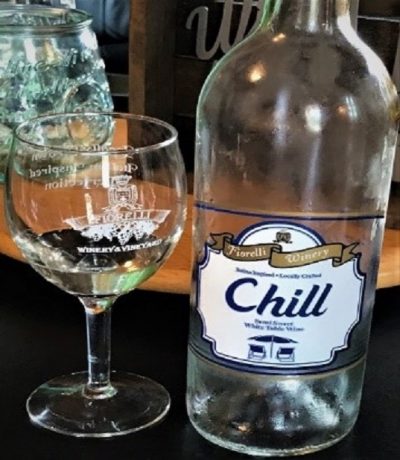 Chill. Bright and light, Chill is perfect for an aperitivo after a day at the beach or Sunday brunch. Flirty and fragrant, this wine is perfect for group parties – poolside. Pair with cold poached salmon, tuna salads and omelets.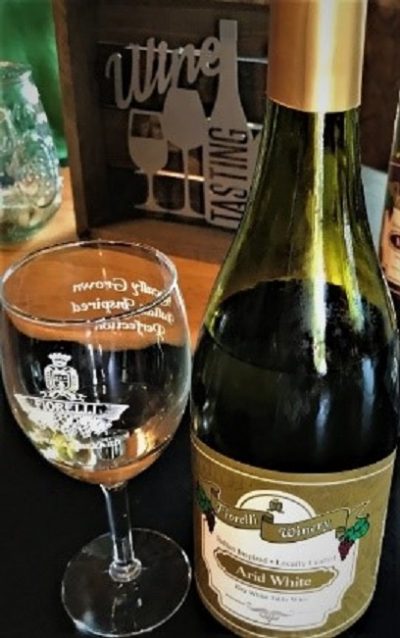 Arid White. Clear and bright to the eye with hints of citrus to the nose. The palate is happy with crisp and dry fruit that pairs well with pool-side summer salads, quiche and poached cod.
Fiorelli Wines are Good for You
Because the Muscadine grape is a major contributor to these delicious tasting options, it is important to note that this grape variety contains the highest level of antioxidants ever tested in a natural product. Research finds that moderate drinking of Muscadine wines can reduce heart attacks by 50 percent. Dr. Serge Renaud, a French scientist and pioneer in alcohol research finds that, "Antioxidants in wine help prevent damage to blood vessels… help prevent heart disease."
For additional information on the Wines of Florida, click here.
© Dr. Elinor Garely. This copyright article, including photos, may not be reproduced without written permission from the author.