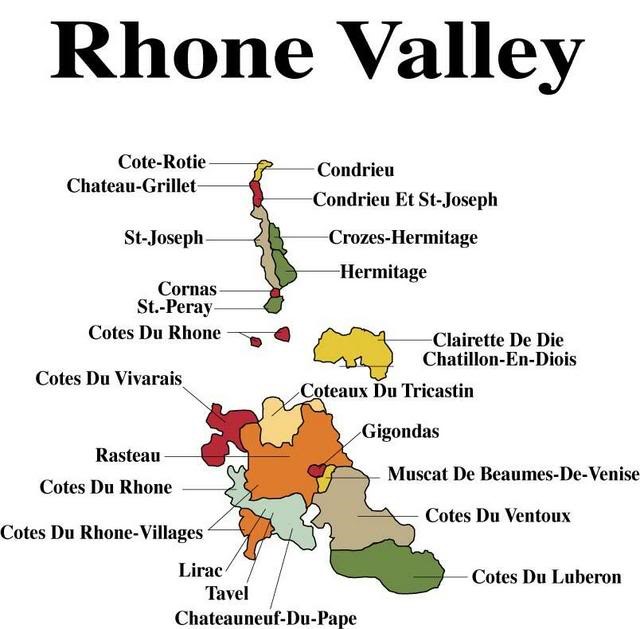 Wines from Cotes du Rhone: When Bigger is Better
Cotes du Rhone is the second largest appellation in France, exceeded only by Bordeaux. This massive wine producing region has over 44,000 hectares and 140,000 acres under vine. This adds up to over $100 million worth of wine production, every year. The largest buyers are from the UK, with France a close second.
The Beginning of Branding
Not only is the area massive, it is old; the Romans began cultivation and importance in the 18th century. In 1737 a Royal Decree determined that all wine barrels from the region had to be branded with the initials CDR (Cotes du Rhone), to ensure quality. Until the beginning of the 19th century the region was known as the Coste du Rhone and classified different terroirs and soil types ranging from rocky hillside to stony vineyards as well as land with sand, clay, rocks, stones and pebbles. The area was declared an AOC in 1937.
Grapes
Plantings include wines for red, wine, and rose sparkling wine, as well as dessert wine with 89 percent red, 7 percent rose and 4 percent white. The dominant red wine grapes include: Grenache, Syrah, Mourvedre, Cinsault and Carignan. For production of white wines, the grape varietals include: Grenache Blanc, Clairette, Roussanne, Marsanne, Bourboulenc and Viognier.
AOC law for Cotes du Rhone requires that all red wines, including rose, must include at least 40 percent Grenache in their blend. The requirement for white wines? At least 80 percent of the blend must come from Grenache Blanc, Clairette, Roussanne, Marsanne, Bourboulenc and Viognie.
Roses must include a substantial portion of red Grenache in the blend and are likely to be deeper in color and more intense than the pale-pink roses from Provence.
Pairs Well With Others
Cotes du Rhone wines are generally medium bodied, fresh, and spicy with red fruit characteristics, and they pair easily with beef, pork, duck, lamb, veal and Asian cuisine, as well as soft and hard cheeses. White Cotes du Rhone pair well with fish, shellfish, and sushi as well as hard and soft cheeses.
AOC Rules: 4 Levels
Cotes du Rhone AOC accounts for approximately 50 percent of Rhone wines, with most red grapes from Grenache and Syrah, as well as white blends. Winemakers can use any of the 21 Rhone grape varieties as long as the alcohol level is above 11 percent.
Cotes du Rhone Villages AOC. Villages represents a higher quality wine made from lower yielding vines and are usually higher in alcohol and may have aging potential.
Cotes du Rhone (named) Villages AOC. Look for the name of the village (16 designated in the area). These wines must be at least 12.5 percent alcohol and usually considered a slightly higher quality than "regular" villages.
The Crus
The most desirable of all Rhone wine is a premier cru deemed to have the best expression of the terroir. These wines are the most recognized among critics and are priced higher. This group includes: Cote Rotie, Chateuneuf du Pape, Cornas and Crozes-Hermitage.
Chateuneuf-du-Pape are among the most popular AOC in the southern part of the region. Producers of this wine may use more than 13 varietals in the blends, although Grenache must be the dominant grape.
Cornas is the smallest of the regions with restrictive production. Syrah is the major grape, and the only varietal grown and produced here. These wines generally spend a long time in the barrel and are noted for aging potential which is often necessary for them to soften. This is the boldest and most tannic of the Northern Rhone Syrah wines and delivers palate experiences of blackberry jam, black pepper, violet, charcoal, chalk dust and smoke with intense tannins. As the wines soften, they reveal kirsch and licorice flavors.
Cote Rotie (roasted slope). The grapes are grown on extremely steep hills and the wines are Syrah-based with intense flavor and aromatics that include black raspberry, black currant, violet and chocolate plus hints of olives, bacon fat, white pepper and charcoal smoke. Critics consider them bold yet precise with fine grained tannins. They are among the most expensive and coveted of all Rhone wines.
Cotes du Rhone Festival. New York City
At a recent Cotes du Rhone event in Manhattan, wines from the region were presented to a group of wine buyers, sellers, journalists and other trade professionals.
Wines Curated
Vins Jean Luc Colombo Les Abeilles 2018. Grapes: 60 percent – Grenache noir, 10 percent Mourvèdre, 30 percent – Syrah. Grapes are from: Cairanne, Rasteau and Vacqueyras, where the soils are sandy-clay with pebbles.
This winery in Cornas, Northern Rhone, is relatively new by French standards (1987).
Jean Luc Colombo is considered a progressive and influential wine-maker and known as, "The Winemaking Wizard of the Rhone." Born in Marseille, Colombo and his wife Anne started a pharmacy and oenology lab, creating the Centre of Oenology of Cotes du Rhome in Cornas (1984). As a consulting wine-maker for a few of the 100 of the best Domaines in the Rhone Valley, Provence and Bordeaux, since 1993, Colombo has focused entirely on wine, acquiring a vineyard and working as a négociant in the region. The Domaine currently has 30 acres under vine in Cornas with most of the production sold through the négociant business, with approximately 30 wines, the largest is the Cotes de Rhone.
The Colombo vineyards cover 325 acres with diverse microclimates. Ancient vineyards have been discovered on steep, south-facing terraced slopes with decomposed granite soils and stressed growing conditions which contribute to the quality and character of Cornas wines.
Cornas AOC has strict laws. Irrigation is not permitted and maximum yields are 34 hl/ha. It is one of the few appellations in the world dedicated to Syrah.
Vins Jean Luc Colombo has 3 vineyards in Cornas: Les Ruchets, La Louvee and Vallong de L'Aigle, with one multi-vineyard plot for the Terres Brulees. The Colombo's vineyards are sustainable and follow organic practices, banning the use of pesticides and encouraging natural biodiversity of the land by planting trees around each plot and allowing wildflowers to bloom.
Colombo is a lifelong beekeeper and dedicated the Cotes du Rhone wines and Les Abeilles (French for The Bees) is dedicated to the bees who help pollinate the vineyards and fruit trees. A portion of each bottle of Les Abeilles goes to Entomology research – in order to protect the bees.
For their significant contributions to their country, Jean Luc and his wife Anne have been awarded the French Legion of Honor, France's highest civilian award.
Notes: The nose discovers red berries with a full mouth experience that is both silky and spicy, with soft tannins. Drink in 3 to 5 years with grilled meat or with fresh cheeses. It also pairs well with mushrooms, and red meat in sauce. Works with desserts, including cake and puff pastries.
Domaine Pelaquie Laudun 2018. Viognier – 20 percent, Clairette – 20 percent, Roussane – 15 percent, Marsanne – 15 percent, Bourboulenc – 10 percent. All vines average 20 years. Terroir: Sand and clay on slopes with northern exposure, little rain, strong mistral wind. Hand harvested, fermented 4-5 weeks at low temperature. Aged on lees 3-4 months.
The Domaine Pelaquie dates back to the 16th century. Currently directed by Luc Lelaquie, the winery practices sustainable viticulture on the 70 hectares of vines developed in Cotes-du-Rhone, Laudun, Tavel and Lirac.
The Laudun wines are grown on the southern Rhone where the terroir has a high level of acidity and the soils are lighter because of sand mixed with clay and limestone, contributing a floral note to the wines, making them unique in the region.
Sandy soils and cooler microclimate assist in the cultivation of the Syrah and Viognier varieties producing fine wines in the cooler regions of the northern Rhone (50-60 miles north) in sandy, clay soils.
The grapes are harvested late in October and, as such, the whites have an intense and fresh nose and long finish.
Notes. The eye notes a golden yellow hue, while the nose detects florals and sweet ripe fruits leading a sweet and fruity finish. Pair with grilled fish and seafood.
M. Chapoutier Belleruche 2018. Cinsault. Grenache, Syrah. Rose. Biodynamic vineyards
Michael Chapoutier considers himself a "farmer" as he is constantly searching for the terroirs to reveal its secrets to him and finding the expression of the soils through the taste of wine.
The winery is located in Tain-l'Hermitage in the Rhone region of France and wines are made from appellations across the region.
The Chapoutier history in the Rhone region begins in the 19th century when, in 1879, Polydor Chapoutier acquired his first vineyard and started the enterprise. In the mid-20th century the business was directed by Max Chapoutier until he retired in 1977 when his sons Michel and Marc took over the leadership. Since the late 1980's Chapoutier has received international awards.
This is the first wine producer to use braille on the labels (1994), and by 1996 all wines bottled and sold by Chapoutier include braille. The concept started when Michel learned his friend, Gilbert Montagne, who is blind, stated on TV that he would have to be accompanied when he went into a wine store in order to make a wine selection. The braille information includes the producer, the vintage, vineyard and region as well as the wine color.
Notes. Coral to the eye with hints of blue. Light citrus, currants and raspberry to the nose and cherry/berry on the palate leading to a balanced finish. Pair with cold poached salmon or grilled meat as well as ham and potatoes.
For additional information, click here.
© Dr. Elinor Garely. This copyright article, including photos, may not be reproduced without written permission from the author.