Wines of Sonoma visit New York City
Wine is more than a delicious drink that enhances our mood, improves the dining experience (from pizza and burgers to venison and lobster) and helps artists to find their muse; wine can be an important economic engine.
A recent study about Sonoma winegrowers and wineries determined that they add more than $13.4 billion to the local economy based on 2012 figures. The wine industry, directly and indirectly, provided 54,000+ full time equivalent jobs in Sonoma County with $3.2 billion total wages paid. The wine industry generates nearly $1.4 billion annually in local, state and federal taxes and wine-related tourism generated more than $1.25 billion in 2012. In addition, Sonoma County's wineries and winegrowers contributed more than $25 million to charitable causes.
There are approximately 60,000 acres of vineyards and 400+ wineries in Sonoma County with 17 Appellations (AVA) including:
• Alexander Valley
• Bennett Valley
• Carneros – Sonoma
• Chalk Hill
• Dry Creek Valley
• Fort Ross – Seaview
• Fountaingrove District
• Green Valley of Russian River Valley
• Knights Valles
• Moon Mountain
• Northern Sonoma
• Pine Mountain-Cloverdale Peak
• Rockpile
• Russian River Valley
• Sonoma Coast
• Sonoma Mountain
• Sonoma Valley
Winemaking Entrepreneur
The first vineyards in Sonoma County were planted at the beginning of the 19th century by Spanish missionaries and Russian fur traders. Hungarian Count Agoston Haraszthy started the first premium winery, Buena Vista, in 1857. He also started the first stone winery structures in California, following the must current winemaking equipment available at the time. Haraszthy is also credited with building an underground network of tunnels and supporting hillside planting, stressing the vines and reducing the water intake – a process noted for generating flavor intensity in quality wines. In 1858, he wrote Report on Grapes and Wine of California which continues to be recognized as the first treatise to specifically address the unique climate and challenges particular to Northern California.
Prohibition Changes Focus
From 1920-1933, Prohibition made it illegal to produce or sell alcohol or wine in the USA although grapes continued to be planted and were used for home winemaking. By the end of Prohibition, wine production had decreased by 95 percent.
Finally, in the 1970s, the wine industry started to gain traction with quality as the mantra that was validated at the Judgment of Paris tasting in 1976 when Sonoma won with its Chardonnay made primarily with fruit grown in Sonoma County.
Today Sonoma County is a leader in California for adopting and implementing the California Sustainable Winegrowing Program, and applauded for their innovations in water conservation and resource protection. The area is also the leader in the CA Certified Sustainable Winegrowing Program with the goal of being 100 percent sustainable by 2020. Sonoma produces 6 percent of the wine produced in California with 22 white varieties, and 44 red.
Sonoma Advantages
While there are many parts of the world in or entering the wine industry, Sonoma continues to be successful because of:
1. Soil. The County has more soil types than France and they range from rich and loamy to volcanic and well-drained, providing a natural chemistry for growing a variety of top wine grapes.
2. Mediterranean climate (long dry summers/wet winters). The climate is nearly perfect for the growing of wine grapes as it minimizes disease during the growing cycle and increases the ripening timeline to produce well–developed and complex grape flavors.
3. Fog. With 60 miles of Pacific Ocean frontage, the largest coastal frontage of any California wine region, it affects the microclimates, soils and topography. The cool maritime fog develops as warm, inland air rises, replaced by cooler Pacific air and fog that is pulled across the country and is blocked by the Mayacamas range.
Owning the Business
Sonoma is home to 1500 farmers who grow the county's crop, selling the fruit to 500 local wineries. Some growers crush the berries themselves, transforming the juice into wines that are sold internationally.
Many celebrities have embraced the wine culture and in Sonoma, this group includes:
1. Celebrity Chef/Restauranteur Guy Fieri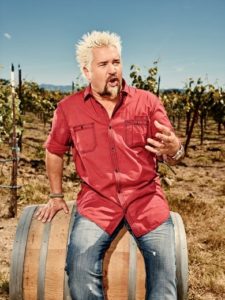 2. Film Director Francis Ford Coppola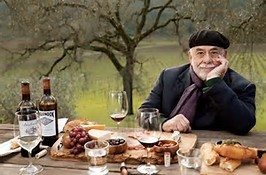 3. Musician Les Craypool (plays base and the lead vocalist of the band Primus)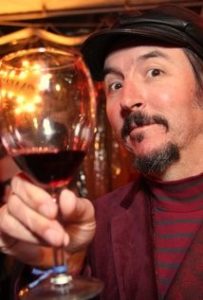 4. Musician/songwriter Jonathan Cain (Keyboardist and rhythm guitarist for Journey)
5. Screenwriter /Producer Robert Kamen (Karate Kid series, Taps, Lethal Weapon III)
6. Toy Story Director John Lasseter
Major Players in Sonoma Wines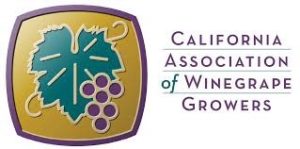 In Sonoma, the grapes are grown by independent farmers (approximately 85 percent) and not the wineries whose names appear on the bottle. Each year the Sonoma County wine group is valued at $400 million. The major players control approximately a fifth of the county's grape supply (analysis by The Press Democrat of country property tax records). The vineyards and winery assets on that land have an assessed value in an excess of half-billion dollars (and actual value may be higher).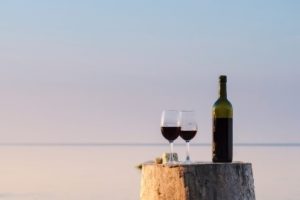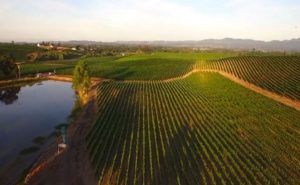 Jackson Family Wines and E&J Gallo lead the pack with each owning approximately 3200 acres. The vineyards, buildings, and equipment on Jackson Family Wines' land is valued at $251 million (on county tax rolls); Gallo's is valued at $105 million (county records). Silverado Premium Properties (Napa vineyard investment firm), ranks third, with 2400 acres of vineyards valued at $80 million. The Sagiacomo family and Ferrri-Carano winery west of Healdsburg fill in the remaining slots. The two own a combined 2300 acres of planted vineyards with an assessed value of $138 million.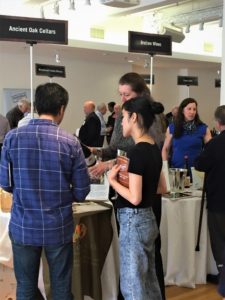 Sonoma Wines in the City
At a recent Manhattan wine event, 40 Sonoma County wines were introduced to industry buyers, sellers, sommeliers, journalists and educators. Of particular note:
• Gustafson Family Vineyard Estate Rose of Syrah, Dry Creek Valley. Fermented in Neutral French Oak, stored in Stainless Steel and bottled March 30th, 2015. 100 percent Syrah. Pair with chicken and turkey.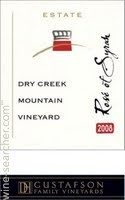 In 2002, Dan Gustafson, a landscape architect and real estate developer from Minneapolis found land in the mountains above Lake Sonoma and purchased 87 acres in the Dry Creek Valley appellation of Sonoma County. It is considered one of the best terroirs in California for the Zinfandel grape variety and noted for wines from Sauvignon Blanc.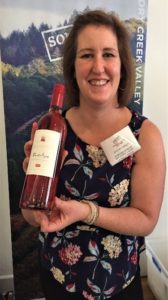 Notes:
The eye is delighted with pink coral and the nose is happy with delicious florals reminiscent of rose petals, tulips and honey enhanced by suggestions of tangy pomegranate, and sour cherries. The palate finds bits of sweetness offset with tartness and the minerality of green apples. The finish is clean and crisp.
Awards: Silver (October 2015). Sonoma County Harvest Fair Wine Competition; Gold Medal (April 2015). The Rose Competition; Silver (October 2015) Sonoma County Harvest Fair Wine Competition.
• 2015 Wax & Wane Chardonnay, Wren Hope Vineyards. Sonoma Valley, Sonoma County. Pair with halibut, cod, lobster, shrimp, crab or scallops. Works well with risottos, cream-enhanced soups as well as sauces and pasta.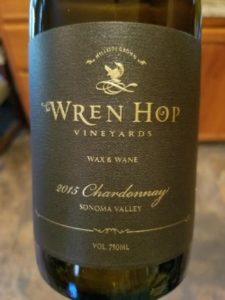 Wren Hope Vineyards is owned and operated by James McDonough and James McDonough Sr. The winemaker is Russell Bevan and vineyard management is directed by Glenn Alexander of Bacchus Vineyard Management. The viticulturist is Greg Bjornstad.
The organically-farmed 6-acre vineyard was named Wren Hop after the resident birds.
Notes:
Clear to the eye, with an interesting hit of floral mixed with baked spice pears, green apples and caramelized pineapple to the nose. The palate finds hints of honey, mixed with lilacs and daisies that are offset by oak and citrus. Batonnage is performed to enhance complexity and mouthfeel.
• 2016 Wildwood Vineyards Sauvignon Blanc. DRNK Sonoma Valley, Sonoma County. Pair with shellfish, oysters, goat cheese, and salad.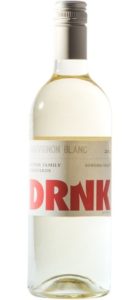 DRNK represents the initials for the family: Dale, Ryan, Nancy and Katie. Ryan Kunde produces small lot wines based on his knowledge of the vineyards and technology. Kunde is a fifth-generation winegrower on his family estate that dates to 1904.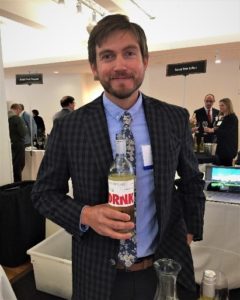 Notes:
Sheer white to straw yellow to the eye with lush green grapes and spring rain aromas to the nose. The palate delights with a crisp taste of lettuce and tartness of grapefruit, lemons and citrus. Lively and fresh finish.
For additional information: visit sonomawinegrape.org
© Dr. Elinor Garely. This copyright article, including photos, may not be reproduced without written permission from the author.